The ten players in each gender division best positioned to take home the top individual award once the dust settles in Rockford.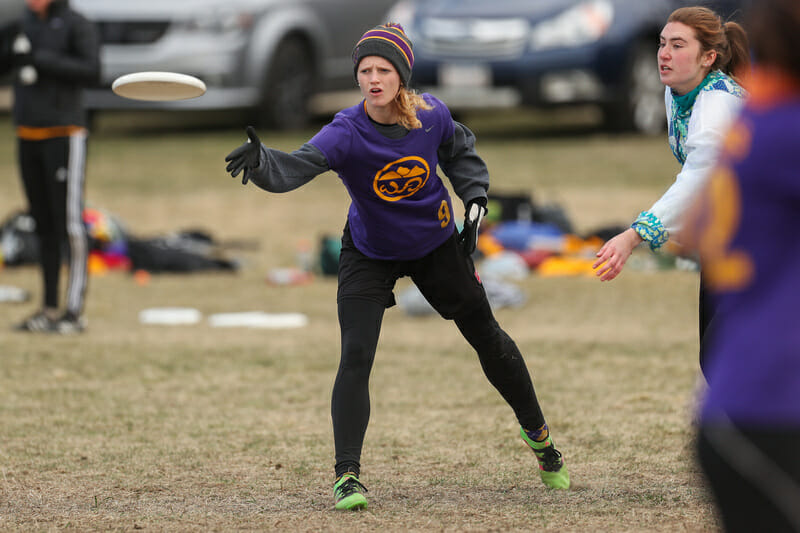 Coverage of the 2018 Player of the Year Award is presented by Spin Ultimate; all opinions are those of the authors. Please support the brands that make Ultiworld possible and shop at Spin Ultimate!
While elite D-I programs tend to have several chances to square off against one another during the regular season, D-III Nationals is often the first time all year that many of the teams in attendance will face top-end competition from outside of their region. Not only does the tournament serve as the capstone of the season to decide which teams are officially the best, it also creates the opportunity for the top players in the division to match up with each other, providing a stage for these individuals to make their case for being the best in the division this season.
Going into the weekend, several players have positioned themselves as deserving of attention with their performance already this spring. Below are the candidates on our watchlist as potential Players of the Year, listed alphabetically. But by no means are those not included on this list incapable of winning the award—don't underestimate the power of a transcendent performance at Nationals!
Women's
Frontrunners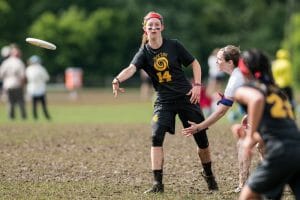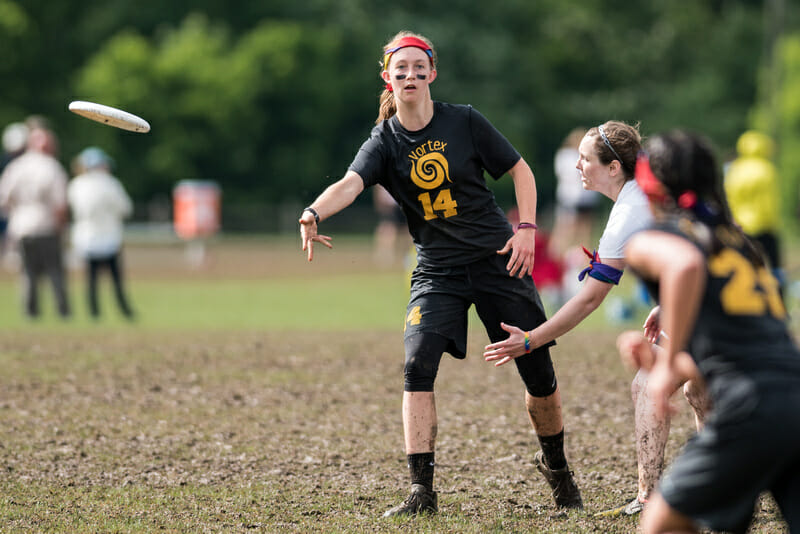 Tulsa Douglas (St. Olaf)
As chronicled in our profile earlier this spring, the powerhouse defensive handler and two-time Donovan Award finalist has helped lead her team as a captain both on and off the field, and should be the least surprising name on our list. Last year at Nationals, Douglas recorded 20 assists while injured, so they sky is truly the limit to see what she can make happen in Rockford this year. Just check out Vortex's Twitter feed to get a sense of Douglas' impact—making huge defensive plays and locking in the scores as she hits her targets in the end zone. Even when not contributing with her on-field play, watch for Douglas to rush the field after every point and lead her team in spirit from the field and sideline. At Nationals this year, she and the rest of Vortex will have a bit of a target on their back, but with Douglas, don't expect her to do anything but thrive under the pressure.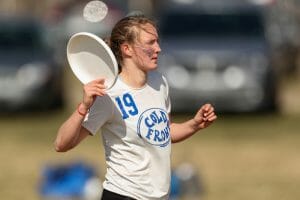 Josie Gillett (Bates)
Josie Gillett has been a transformative force during her time on Bates Cold Front; now in her junior year, she has led the squad to Nationals for the third year in a row out of the brutally tough New England region. No small piece of that is her dominance across the field; watch out for her monster flick hucks and her ability to find teammates in the end zone at just the right time. As a sophomore last spring, Gillett recorded 28 assists and 14 blocks in Lexington—expect to see her name dominate the stat sheet in Rockford as she does it all for Cold Front on the field. Bates has been near the top of our Power Rankings all season and their chances at making a deep run and cementing their status as true title-contenders will undoubtedly run through Josie.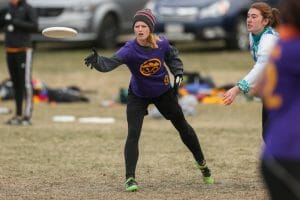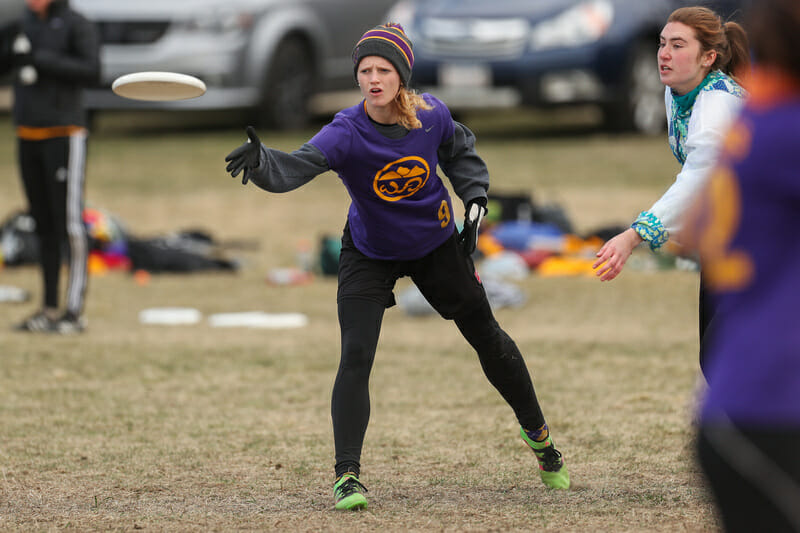 Haley Lescinsky (Williams)
Haley Lescinsky is a player not only versatile on the field, but also off—for the last two years, she has served as the defacto coach for Williams LaWUFA in addition to her role as star player. This is an impressive accomplishment in its own right, as the team has steadily remained at the top of the rankings, setting the bar alongside Bates for the competitive New England region—and the rest of the division to boot. The ultimate IQ Lescinsky brings her team is matched by her ability to cut deep, defend against threats, and handle against a zone with the best of them. A 2017 All American, Lescinsky has the chance to take her team to the next level and finally bring a championship home to Williams, which has been in the hunt for a title the last few years.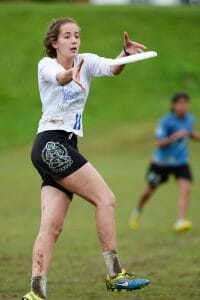 Emma March (Oberlin)
Oberlin's senior captain Emma March has all the ingredients of a standout player: field vision, intense athleticism, and attention to the details on both sides of the disc. On offense, she radiates a sense of patience, looking for the right decision and utilizing her lefty skills with style in break hucks. On defense, she brings the heat, generating turns and using her 5'11" frame on the mark to dictate what opponents can do. Players who match up against March at Nationals should be prepared to work hard all game. After their dominant season so far, keep an eye on where March and the rest of the Preying Manti end up in Rockford.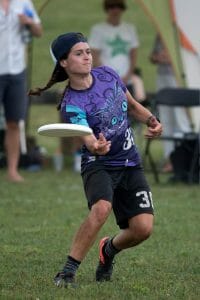 Katherine Yost (Georgia College)
Georgia College has been building up their credibility in D-III the past few years and a large part of that comes from the arm and talents of Katherine Yost. As a 2017 All American, we expect to see Yost and Lynx Rufus go even further this season. If Yost is known for anything, it's her monster full-field hucks and the confidence with which she rips them down the field. Yost and Georgia College owned the rest of their region this year, as well as snagging wins against D-III—and even D-I—opponents from elsewhere. In Rockford, the blistering speed and throwing talents that are Yost's hallmarks should help the team reach new heights, even as the 5'1" handler keeps chilly in the backfield.
Players to keep an eye on
Tamar Austin (RPI)
Tamar Austin has burst onto the D-III scene this season with RPI Strut, in no small part thanks to her long-time leadership and hard work on the field. While she'll be missing Saturday of Nationals due to graduation, if RPI can earn a spot in the championship bracket, her addition on Sunday may bring them the edge they need to make a deep run. Watch for her athleticism to be on display with layout snags and her skill to pop up all over the field in any role Strut needs her to occupy.
Juliet Chung (Lehigh)
Lehigh's Juliet Chung has brought the benefits of a summer playing club back to her college team, with the determination to put those refined skills to use. With a strengthened field awareness and sharpened instinct for decisive, intelligent throws, watch for her backhand break hucks from any spot on the field for Gravity.
Sarah Davidson (Puget Sound)
Sarah Davidson is no stranger to being a player in the spotlight, winning D-III Defensive Player of the Year honors and earning an All-American selection in 2017. With Davidson's trusty flick huck paired with a penchant for huge bids, Puget Sound is poised to have a strong tournament in Rockford. Watch for Davidson leading on the field and making the right choices to get Clearcut through their matches.
Maggie Johnson (North Park)
While North Park is unlikely to make a huge splash at Nationals, keep your eye on Maggie Johnson. As Allihopa's key D-line handler, she can dictate the offense with a poise and confidence in the Great Lakes wind that buoys her team and their break opportunities. Her ability to make the right play to keep a drive going will be an important factor in North Park's success and their ability to bring the heat to the rest of the field.
Sam Paulsen (Rice)
A versatile force on both defense and offense, Sam Paulsen is known for her pinpoint shots and willingness to layout for the disc. Her work ethic and athleticism make her a playmaker to be reckoned with that opponents will have to gameplan around, and the strength of her leadership could once again take Rice far in the tournament, just two years removed from a national title.
Men's
Frontrunners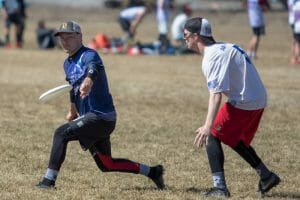 Robbie Farwell (Whitman)
Whitman sent a shockwave through the D-III community when they announced their decision to join the division in 2018. They made an immediate splash in their debut season, winning the Northwest and earning the seventh seed at Nationals. Leading them in this success was Robbie Farwell. The lefty hybrid is a joy to watch on offense, fluctuating between starting downfield or in the handler space. When he starts downfield, he uses driving cuts to set up big unders before hitting long continuation looks. When he starts in the handler space, he uses quick movement to create power position for backhand hucks. While offense is certainly his strength, Farwell is also an astute defender, using his quickness to effectively guard handlers and his speed to cover tremendous ground when guarding cutters. Whitman's pool play matchup against Air Force will provide Farwell on opportunity to make a big statement against Alan Villanueva in a rematch of the final of D-III Midwestern Invite.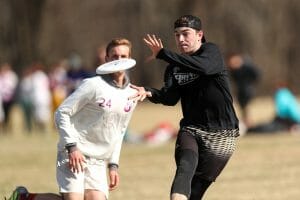 Alex Kenworthy (Bryant)
While most of the spotlight on Bryant for the last two seasons was on 2017 Defensive Player of the Year Jacob Garfinkel, Alex "Sharkboy" Kenworthy was quietly leading the team in goals at Nationals in both 2016 and 2017. This season has seen Kenworthy step up into a much larger role for Craze; he's still scoring a tremendous number of goals, but he's also being asked to make more throws and step up more on defense. So far, Kenworthy has been up to the task, leading Bryant to another championship at New England Regionals and the number one overall seed in Rockford. Bryant has been knocking on the door of a national championship for a few years now; a big weekend from Kenworthy will be required for them to break that door down.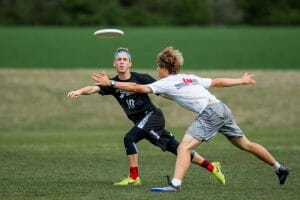 Zach Norrbom (Mary Washington)
Anybody who's played Mary Washington will testify to the importance of Zach Norrbom to their success. The lefty is perhaps the best pure handler in the division this year, using a wide variety of release points to put the disc wherever it needs to go. Mary Washington's offense is predicated on Norrbom's ability to break the mark and when they get to the red zone, Norrbom will run his defender into the ground with quick horizontal movement until he gets the shot to the end zone that he wants. With an extensive career at the club and professional level, Norrbom is the only player on Mary Washington with significant experience on a big stage like Nationals. His leadership will be as crucial to MoG's success in Rockford as his talented left arm.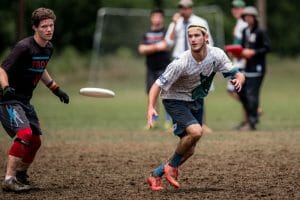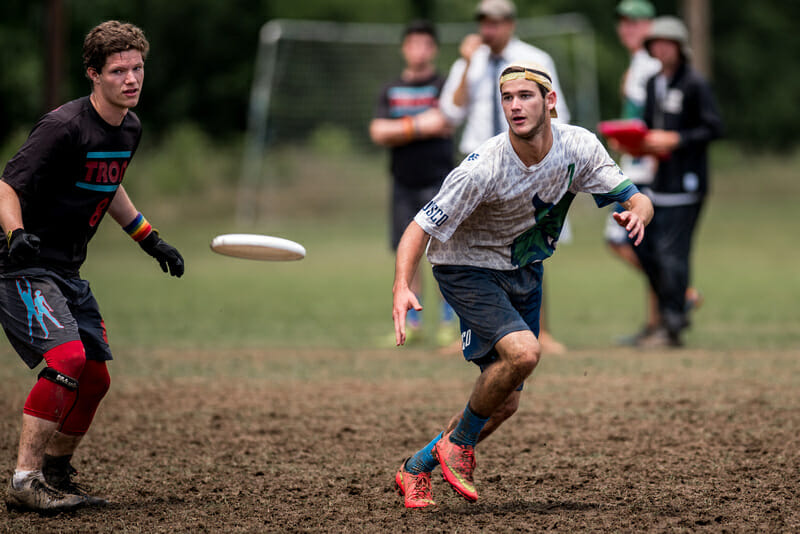 Nathan Vickroy (Georgia College)
In 2016, Nathan Vickroy announced himself to the ultimate community with a preposterous performance at Nationals. His insane stat line of 13 goals, 30 assists, and 8 blocks led Disconnected to a National Championship. Vickroy's 2017 season was hampered by some nagging injuries and resulted in Georgia College failing to qualify for Nationals, but a healthy Vickroy has returned to form in 2018. It's difficult to pin down Vickroy's biggest strength. He's incredibly fast, both in a straight line sprint and horizontally in the handler space, and his throws have continued to improve every year. Vickroy has certainly had the quietest season up to this point of anyone on this list, with Georgia College's relatively weak schedule giving him few opportunities to showcase his abilities. However, should he put in a performance similar to 2016 Nationals, it'll be hard to justify not giving Vickroy this award.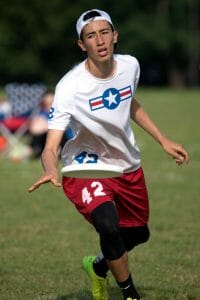 Alan Villanueva (Air Force)
The first runner up in 2017 for both POTY and OPOTY, it's no surprise that Alan Villanueva makes this list once again. The junior was superb this year, utilizing his length and exceptional throws to drive Air Force to a 33-2 record and second overall seed at Nationals. The biggest improvement for Villanueva from last year is his decision-making. His turnovers are down this year and more efficient offensive points have allowed him to crossover more often to defense. A big weekend from Villanueva in Rockford could see him come home with both the POTY award and a national championship.
Players To Keep An Eye On
Grant Bruner (John Brown)
Grant Bruner's situation is very similar to Alex Kenworthy's; in 2017, Bruner played in the shadow of Ethan Penner, but he's stepped up in a big way this year as the centerpiece in John Brown's return to Nationals. Bruner has all of the talent to win this award, but the key for him will be decision-making. If he can tighten things up and avoid turning the disc over, it's easy to see Bruner (and Ironfist) shocking people this weekend in Rockford.
Abe Eichner (Carleton GoP)
GoP's offense has been incredible this season and Abe Eichner has been the driving force behind their efficiency. A run to the semifinals of Nationals, accompanied by some big individual performances, will easily vault Eichner into the top five discussion.
Toby Harvey (Oberlin)
The Oberlin Flying Horsecows have been one of the surprises of the division this year and the key to their success is Toby Harvey. A lefty handler,1 Harvey has the usual skillset of a big backhand huck and a quick flick break. What sets Harvey apart is his incredible motor; his energy is seemingly endless and he used his legs to will Oberlin to comebacks in tough games all season long. If Harvey can propel Oberlin to a surprise performance at Nationals, he'll also propel his way into the conversation for this award.
Dylan Salzman (Middlebury)
An important playmaker for the Pranksters since he first took the field for them two years ago, Dylan Salzman has finally taken the next step by getting Middlebury back to Nationals. While far from the sole reason for Middlebury's success—Kai DeLorenzo could also make a claim for inclusion on this list—the Pranksters tend to go as Salzman goes. They'll lean on Salzman heavily in Rockford and he could easily throw his way into the discussion for Player of the Year.
Chris Selwood (Richmond)
Despite losing 2017 POTY Henry Babcock, the Richmond Spidermonkeys managed to defend their Atlantic Coast title and return to Nationals. Chris Selwood has been tremendous for the Spidermonkeys all spring, serving as the center handler on offense and crossing over on defense effectively when called upon. If Richmond is successful in Rockford's winds, Selwood will be a major reason why.
---
See a trend here? Get a great lefty handler and you'll be successful in D-III ↩