Keep up with everything that's happening at D-III Nationals!
Live updates of all the action from Rockford throughout the day! You can follow our livestreams, twitter feeds, articles, and our liveblog updates on ultiworld.com/live. Our coverage is presented by VC Ultimate and Spin Ultimate!
Men's – Pool C – Round 4 (via Michael Ball)
Middlebury Finishes Their Perfect Day
Not only did Middlebury claim the pool and a spot in quarterfinals with a 15-10 win over John Brown, but they did so in a way that makes it hard to find a flaw in their game. The Pranksters showed patience against Ironfist's zone, and their matchup defense made every catch difficult for John Brown's tired receivers. While Dylan Salzman had another excellent game, it was his supporting cast who stepped up big time, highlighted by a five-goal performance from Connor Levesque.
While John Brown has fought valiantly through low numbers all day, their lack of energy and explosiveness became evident in this round. Where Ironfist's receivers were able to gain big space on cuts early in the day, the Middlebury defenders were on their shoulders for every catch in this game. Garrit Headley looked the freshest and managed to tally five goals, but Ironfist will need to find energy across the roster if they hope to battle through their prequarters matchup.
North Park Punishes Unfocused Puget Sound
The North Park Lost Boys jumped out to a quick 5-2 lead on Puget Sound, and the Postmen just couldn't recover, eventually falling 15-9 to the Great Lakes champions. Where North Park has struggled for most of the day to get into a rhythm with their deep game, they were ruthlessly efficient with their hucks in this game, punishing Puget Sound's mistakes quickly by sending it deep before the Postmen could recover.
Puget Sound has relied on big plays all day from Chris Roach and John Leslie, but those two were neutralized by exceptional defense from Cory Wallace and Drew Swanson. Wallace, in particular, stepped up to frustrate Roach, and he caught three of the last four goals to push North Park through to the prequarters, where they face Whitman.
---
Men's – Pool B – Round 4 (Via Zakk Mabrey)
Bowdoin Overcomes a Strong RPI Showing to Take 2nd in Pool B
Bowdoin and RPI slugged it out to end pool play. In the back and forth matchup, neither team led by more than a single point. Max Vogel, Conor Belfield, and Phil Galonsky powered the Bowdoin offense, keeping the disc alive with their reset cuts. Bowdoin successfully worked the disc to the break side time and time again, where they punished RPI.
For RPI, Andrew Yale made a handful of big plays, and high pressure defense kept Bowdoin from finding downfield rhythm. It wasn't enough, though, and RPI failed to notch a win on the day as Bowdoin went 2-1.
Despite the effectiveness of Vogel, Belfield, and Galonsky, Bowdoin still seemed to be a deep, faceless army. Every player touched the disc and made a positive impact. Bowdoin didn't not focus on the long ball, but worked the disc to the break side before they ran opponents into the ground down the sideline.
Air Force Recovers From a Slow Start to the Day to Take the Pool Handily
After starting slow with a come-from-behind victory over Bowdoin, Air Force seemed back to their dominant self throughout the rest of the day. In round four, Whitman never stood much of a chance. Air Force jumped on them early, and had their offense rolling.
Assisted by their athleticism and the long ball, Air Force took home the pool with a 15-7 win over Whitman.
---
Women's – Pool B – Round 4 (via Keith Raynor & Daniel Prentice)
With an Absurd 14 Assists, Gillett Leads Bates to Big Win Over St. Olaf
Bates claimed an impressive 15-10 victory over St. Olaf thanks to an eye-popping 14 assist performance from Josie Gillett.
One of the most eagerly anticipated games of the day underwhelmed by not being a close match down the stretch. But those looking for memorable individual performances from two of the Division's biggest stars were left satisfied.
St. Olaf's Tulsa Douglas scored or assisted on every single St. Olaf goal (7 assists, 3 goals), but she was outshone by her Bates counterpart in Gillett.
Gillett assisted on 14 of her team's 15 scores, easily one of the most amazing single game stat lines in the tournament's shot history. That brings her tally for the day to 33 in just three games.
St. Olaf simply had no answer for Gillett, or her favorite target Libby Masalsky, who scored on seven of those 14 assists. The Bates offense was not broken a single time.
St. Olaf hung around for most of the game. They were broken on their first O-point of the game, and their O-point just before half, but for the most part, it was their lack of D-line offense that cost them the game. A qucik pair of breaks to make it 12-8 put the game away for good, and a break on the final point of the game made the final scoreline a little more flattering than the game felt. But St. Olaf never did look on the verge of getting a break or two and getting back into it.
The matchup wasn't critical for either team to keep their season alive. But with the win, Bates now gets a bye straight into quarters, while St. Olaf now has to play a fourth game today (against Amherst) to stay in the running.
North Park Stays Alive Behind Play of Staurseth
North Park's Erin Staurseth had a superb game, along with Jessie Rosell, to upset Pacific Lutheran and advance to prequarters by a 12-10 count. They eliminated PLU with the victory, finishing the game with some critical blocks after red zone turnovers. A big handblock on the goal line and an Abby Gentile block set them up with multiple short fields, so even a low conversion percentage couldn't hold them back in the wind.
Staurseth finished with two goals and six assists, while Rosell notched two goals and an assist.
---
Women's – Pool – Round 4 (via Sam Echevarria)
Puget Sound Takes Pool #2 Spot With 15-12 Win Over Amherst
In a game that started with a lot of back and forth, UPS was able to take control and take half 8-4. Amherst did start to scare UPS with a late-mounted comeback as UPS got a bit complacent in their lead, but Puget Sound came back with solid swings and some incredible grabs by Arisha Gill and Poulami Wielga, as Jane Marie Gunn ran through discs on defense to help turn the tide.
For Amherst, Kyra Wortley brought intensity on defense that paired nicely with the offensive talents of Sarah Teichmann.
Puget Sound faces North Park in the prequarters; Amherst faces St. Olaf.
With Pool Clinched, Lehigh Cruises Past Rice
Lehigh had already clinched the pool, but closed out the day with a 13-6 win over Rice. Rice started out hot with two quick points, but Lehigh turned it around and got back to basics, working it through Juliet Chung, Madison Cannon, and Dana Wexenberg along side solid cutting by Monica Powers.
Rice continued to struggle in their deep game and catching passes, especially near the endzone. Jacqueline Lee brought in four goals for Rice, and Sam Paulsen put it all out on the field with crucial layouts while reading deep discs well on defense.
---
Men's – Pool D – Round 4 (via Hugo Sowder & Jonathan Alton)
Occidental Upsets Missouri S&T To Make The Bracket
Occidental, the tournament's bottom seed, looked competitive earlier today in their two losses and got a big 15-12 upset win over Missouri S&T to get into the prequarters. It was a disappointing finish to pool play for Missouri S&T, who went winless and missed the bracket.
The teams traded for the first 11 points. With Occidental up 6-5, they were able to break with one of six first half assists from Adam Grammer. Four of those assists went to Max Marion. Occidental was up 8-6 at halftime before adding two more breaks to take a commanding 13-8 lead. Miner Threat's first break of the game came at 13-10: it was just too little, too late. Occidental closed out the 15-12 win.
Missouri S&T played "Hurt" by Johnny Cash over their speaker as they stretched to end a tough Saturday.
GOP Upsets Mary Washington To Win The Pool
Mary Washington head coach Keys Pattie noted before the game that his team's offense would need to step up in order to win the pool. Unfortunately for Mother of George, the inconsistency they showed throughout the day was still a problem in their last game against Carleton GOP. They lost 13-8 in a game that was never really close.
While Carleton looked comfortable in their horizontal sets, Mary Washington struggled to execute their game plan as turnovers mounted and GOP's defense locked down on Zach Norrbom. GOP's depth was on full display as they ran waves of defenders at Mary Washington and cycled through both zone and matchup defense.
Bryce Barton and Ezra Sergent-Levanthal came up with huge plays for Carleton as they convincingly defeated MoG to lock up pool D and earn a bye into quarters. Mary Washington will face Oberlin in the prequarter round.
---
Men's – Pool A – Round 4 (via Charlie Eisenhood)
Georgia College Claims #2 Spot With Strong Win Over Oberlin
Georgia College locked up the second spot in Pool D and a favorable prequarter matchup with a 14-9 win over Oberlin in the final round of pool play.
Nathan Vickroy was phenomenal, saving his best game for last: while his aerial abilities are well-documented (and he had one huge sky over Oberlin's much taller Noah Zobel), it was his pristine hucks that led the way for Georgia College.
The Southeast qualifier took half 8-4 and withstood a couple of surges from Oberlin in the second half with timely breaks, led by Jacques Perivier and Vickroy.
Oberlin was late to adjust to Georgia College's huck game; some zone looks in the second half definitely slowed down GC's deep game and generated break opportunities. Despite some moments of success with nice plays from Jacob Arons and Lucien Fitzpatrick, Oberlin looked fatigued and couldn't push all the way back (and surely knew they had a prequarter waiting for them regardless).
Zobel, a freshman from the renowned Amherst Regional High School in Massachusetts, was especially impressive and drew the Vickroy matchup for much of the game. He represents a lot of young talent on the Oberlin team that should be a fixture at D-III Nationals in the next few seasons.
Georgia College is playing Occidental in the prequarters and Oberlin is playing Mary Washington.
Richmond Wins 'Rookie Game' Vs. Bryant
With Bryant already a lock for a quarterfinal bye and Richmond eliminated from championship contention, both teams took the opportunity to open up their lines. Richmond won 15-9 to end on a positive note after a tough day.
There were some really fun moments: a huge spike from a rookie after an uncontested score, a giant outside-in backhand that only came back in bounds at the last moment, and a 10-yard under thrown with full field power.
Richmond only has five seniors, and they look well poised to be a top competitor at the national level next season.
Bryant awaits the winner of John Brown v. Bowdoin tomorrow morning in the quarterfinals.
---
Men's – Pool D – Round 3 (via Hugo Sowder)
Carleton and Mary Washington Remain Undefeated
Mary Washington and Carleton GOP settled in and roared towards their meeting in the final round of Pool Play. Mary Washington took care of business against Occidental, 13-8, and GOP got a three break lead that they maintained throughout the second half to win 15-12. While Mary Washington maintained a comfortable lead, head coach Keys Pattie was still not entirely pleased with their offense's performance.
"We can generate turns no problem, but we tend to get too antsy with the disc," remarked Pattie.
Earning a bye into quarters will be a top priority for MOG in the last round against GOP. Carleton looked much more comfortable in their game against S&T, particularly in the red zone. Abe Eichner kept Carleton steady offensively as they maintained their poise against a determined S&T squad.
Mary Washington and GOP will square off in the final round of pool play to determine who will earn a bye into quarters. Meanwhile Occidental and S&T will play in the game to decide the last spot into prequarters. Occidental rested their legs against Mary Washington when they realized the game was out of reach. It will be a fight to the finish in a pool that could very well go to chalk.
"Getting to prequarters would be huge for this team" said Occidental's head coach Nathan Warden. "We're mostly freshmen and sophomores. And we're hanging in there!"
---
Women's – Pool D – Round 3 (via Jonathan Alton)
Oberlin Revived in Comeback Against Wesleyan
Oberlin came back in dramatic fashion to take down Wesleyan, 11-10. Wesleyan started with 3 consecutive breaks before Oberlin's Abby Chang got their first goal. Wesleyan did a good job spreading it around and piled it on to take half 8-3. Oberlin did not give up and came out of half with their 3 breaks, relying on the long ball to the speedy Chang. Oberlin tied it at 9-9 before Wesleyan's captain Chi Chi Wakabayshi took the lead with their second goal of the half. Down one, Oberlin relied on Donovan finalist Emma March to Chang. Oberlin broke one final time to win, 11-10 in soft cap. They played half another half a point before Oberlin was declared the winner.
Mount Holyoke Advances to Prequarters With Win over Catholic
Mount Holyoke took a 6-1 lead and never looked back. Katrina Meserve and Hannah Finn-Erb connected on five different occasions. Mount Holyoke kept up the pressure until 12-3 and then let off the gas to coast to an easy 14-7 win. This win brought a 3 way tie for first in the pool, with Wesleyan taking first, Oberlin second, and Mount Holyoke coming in third off of point differential.
---
Men's – Pool B – Round 3 (via Zakk Mabrey)
Bowdoin Finishes Off the Upset, 15-11 Over Whitman
After dropping their first game to an Air Force comeback late, Bowdoin more than made up for it in their second round game.
Bowdoin came out and took the lead early against Whitman in a game that was never really competitive, outside of a small Whitman run to start the second half. The Bowdoin offense came out as a faceless army, with everyone contributing. Consistently, the offense saw 5-6 players touching the disc and moving it down the field. Defensively, a zone look helped to take Robbie Farwell out of the game and force Whitman turnovers.
Air Force Flights Right in Round 3
Air Force looked back to their normal self in their second game of the day, a 12-7 victory against RPI. They came out with energy, and really showed off their athleticism, pulling away from RPI early. Alan Villanueva and Noa Chun Moy showed themselves as two of the country's best players, making big play after big play.
---
Women's – Pool A – Round 3 (via Keith Raynor)
Williams' Offense Guides Them to Pool A Win
The strong play of Williams continued in round 3. While their defense has carried them through much of the day, the offense took the lead against RPI. Haley Lescinsky and Mia Wang were strong moving the disc and getting resets, while Caroline Weinberg, Louisa Goss, Ava Anderson did the dirty work downfield. After taking a significant lead, RPI tried their deep and short poach junk defense, to little effect against the quality throwers on Williams.
"We have a second tier of poppers and wings that can throw," said Williams' strategic consultant Emmett Blau. He went on to praise his team's "depth of throwing."
Yost Dominates to Seal Up 2nd for Georgia College
Georgia College locked up a 2nd place finish in Pool A with a solid win over Claremont. Georgia College star had one of the tournament, tossing 11 of Georgia College's 12 assists.The game was won in the deep space, where Claremont struggled to get going while Georgia College found success. After a back forth game went to 5-4, Georgia College opened up a sizable lead with a five goal run. Becca Weiness tried to fight back for Claremont with a pair of late assists, part of her 4 total, but it was too little, too late. The Greenshirts closed their contention without a win.
---
Men's – Pool C – Round 3 (via Michael Ball)
Middlebury 15-4 Puget Sound
Middlebury confirmed their status as the favorite to win Pool C with another dominant showing, this time against Puget Sound. A run of five breaks in the first half killed the Postmen's spirits, and the Pranksters were able to open up their lines and flex their depth to bring the game home.
Middlebury's O-line picked up right where they left off before the second round bye, creating big spaces for Salzman to find wide open unders. Middlebury's relentless pressure on the marks created multiple short field opportunities, and Puget Sound's handlers just couldn't hit the tight windows. The Postmen scored a few goals on pretty hucks, but they just couldn't string together consistent completions to make the game close.
John Brown 11-9 North Park
In a slow paced game that saw two teams testing each other with zone defenses, the nine-man John Brown roster held off a late run from North Park to squeak out a two point win. Grant Bruner had an impressive 6 assist, 1 goal performance, Spencer Patterson racked up 4 goals, and the collective performance of their defense prevented North Park from consistently connecting on their deep shots.
After trailing 8-6 at half, North Park came out with a 4-2-1 zone that stumped John Brown. The front four played a three person cup, with the fourth person matching up on the dump to take away an easy reset and force the disc towards their athletes downfield. Brad Johnson and Drew Swanson played heroically, racking up 2 assists and 2 goals respectively in the second half, but they couldn't finish the comeback, and now face a must-win game to advance from the pool.
---
Georgia College's Katherine Yost, #30, With The Most

Yes, that is 11 assists out of 12 available for Katherine Yost.
---
Early Round Photos (Via Nick Lindeke — UltiPhotos.com)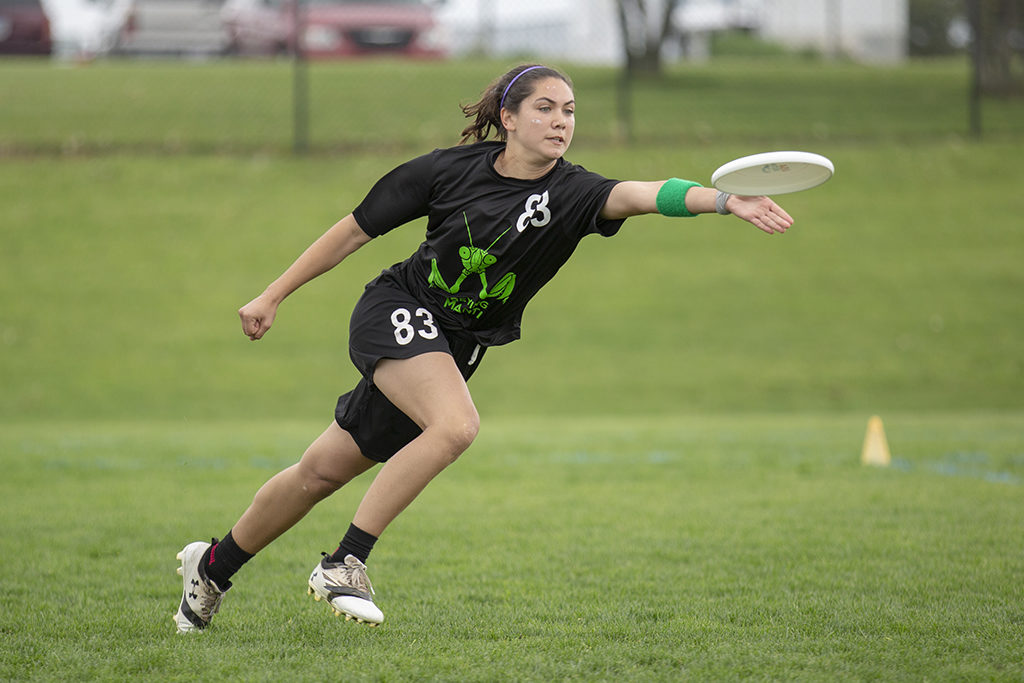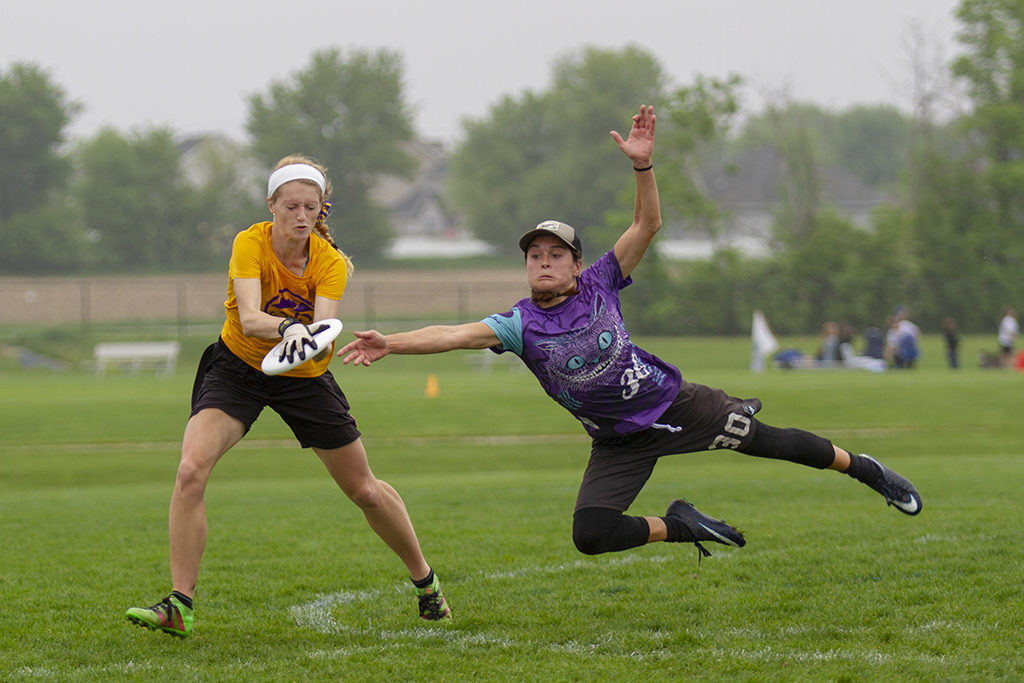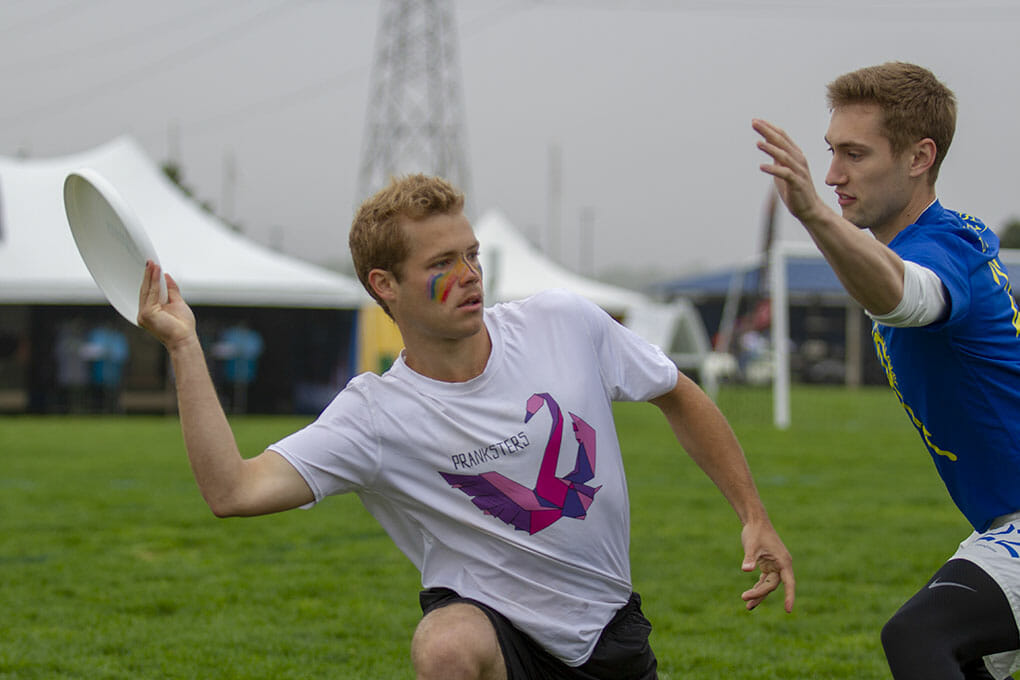 ---
Men's – Pool A – Round 3 (via Charlie Eisenhood and Daniel Prentice)
Defending Champion Richmond Eliminated With Loss to Georgia College
Coming off of a disappointing performance against #1 seed Bryant, Nathan Vickroy and Georgia College bounced back in their next game against 2017 D-III champion Richmond with a 14-10 victory. Richmond, sitting at 0-2, has been eliminated from championship contention.
Richmond had no answer for Vickroy, who feasted on unders, delivered continuation assists, and, at one point, skied a pile for an enormous goal. Dakota Wellmaker was a strong cutter downfield for Georgia College and Justin Perivier finished the game by stealing a bobbled disc and firing an assist.
Chris Selwood and Tynan Englert, both juniors, are solid handlers for Richmond that should be a formidable pair next year, but they weren't able to deliver quite enough clean holds to keep Richmond close. The Richmond offense looked systematically sound but was plagued by the occasional misthrow or poor decision.
Georgia College is not a deep team, but their athleticism played great against Richmond, as they were able to disrupt under passes by just staying tight in matchup defense. On offense, they were aggressive with hucks, often isolating Vickroy in space and letting him find deep cutters.
"We haven't adjusted well to the other teams," said Richmond coach Matt Graves. "They've been having good deep games — that's been their first look — and we've been just trailing behind our guys just not expecting them to do it, and it's been easy, easy scores."
Georgia College has clinched a bracket spot and will play Oberlin for seeding for prequarters.
Bryant Clinches Pool With 14-9 Win Over Oberlin
Bryant locked up Pool A with an easy 14-9 win over Oberlin. They started with three straight breaks as Oberlin looked sloppy on offense, and by the time Oberlin found their footing in the game, it was already well out of reach.
Oberlin had just one break in the first half and trailed 8-3 at the intermission. They did manage to go on a run late in the second half to turn a 12-5 deficit into a 12-9 one, but by that point they'd already run out of time to claw all the way back.
Cameron Jack had a strong performance for Bryant, particularly early in the game. Of his game-high five points, four came in the first five points of the game. Freshman Noah Zobel and Jacon Arons each chipped in three goals for Oberlin.
---
Volunteers Getting Their First Taste of Ultimate (via Keith Raynor)
While there's a solid pool of potential volunteers in the area, a number of ultimate-related events shrank that group, forcing the tournament to look outside of the ultimate community for volunteers. Many of the scorekeepers at the tournament are fundraising for other organizations and have never seen ultimate before. There's been a lot of explaining of the rules and idiosyncrasies of ultimate on the sidelines to the scorekeeping staff.
"What's this sport called? Discraft?" asked one volunteer in round one, confused by the plentiful sponsor boards around the field.
While it's created some new challenges, most of the volunteers seem pretty entertained. A high school baseball team has a few members working. One expressed interest in joining an ultimate team in college. So we got one.
---
Women's – Pool B – Round 2 (via Daniel Prentice)
Bates 15-9 North Park
Bates jumped out to an early lead and never looked back in their second round matchup with North Park. They scored the first five goals of the game and traded to an 8-3 lead at halftime. The two teams largely continued trading points in the second half, as Bates cruised to the comfortable win.
Josie Gillett had her second impressive game of the tournament, registering eight assists and a goal. That brings her to 19 assists through her first two games. Jessie Rosell and Erin Staurseth were the leading points getters for North Park, combining for eight goals and assists in the loss.
St. Olaf 13-8 Pacific Lutheran
It was relatively easy for St. Olaf in the second game of the day. They were broken on the first point of the game, but promptly responded with three straight goals. Pacific Lutheran was never able to get back within more than a goal. PLU had no answer for Tulsa Douglas, who piled up six assists and two goals. She also had an innumerable amount of blocks, especially in the deep space.
PLU wasn't able to match their performance from the first half against Bates in the first round. Margaret Chell had a quieter game than she did against Bates, but she posted a team-high three goals.
The win for St. Olaf sets up a showdown for the pool in round four against Bates, who is also 2-0 thus far.
---
Men's – Pool D – Round 2 (via Hugo Sowder)
Carleton GOP 11-9 Occidental
Mary Washington 13-8 Missouri S&T
Missouri S&T was a trendy pick to deliver some upsets after their strong South Central Regionals performance, but it would be the 16 seed, Occidental Detox, who nearly pulled off the unexpected against Carleton GOP. Detox started on serve and held until Mitchell Bullington reeled in a huck for the 6-4 break. Occidental combined a mixture of zone looks and athletic matchup defense to carry the lead into the second half. Nelson Rayle got a huge hold for Occidental when Detox's Donovan Nominee overshot a backhand that Rayle was just barely able to reel in for the 9-7 hold. It would be the last score for Occidental, however, as GOP was able to work through several multi-turnover points and go on a 4-0 run to take the win in hard cap. Michael Ebako-Hodgson locked up the last goal and assist for GOP, capitalizing on a brutal Occidental turnover — a throw directly into the back of a defender — on game point.
Meanwhile on the showcase field, Mary Washington rolled Missouri S&T in a great opening round for their first Nationals appearance. Mother of George's Joe Richards put on an impressive performance, aggressively poaching on unders and getting multiple assists with his trademark aggressive hucks. Zach Norrbom got off to a slower start in his D-III Nationals debut, and Mary Washington's offense was not nearly as precise as it could have been.
"There were definitely some early jitters," Norrbom chuckled after the game.
---
Women's – Pool D – Round 2 (via Jonathan Alton)
Oberlin 10-9 Catholic
Catholic was hungry for an upset and took an early lead of 6-3, then Oberlin's height advantage really kicked in with their dominant zone defense and huck-happy offense. Oberlin's Emma March had a lot of help from handler Helen Samuel and downfield threat Abagael Chang. They rallied with five straight goals to take half 8-6. Catholic got a break back after half, led by handlers Grace Castro and Christine Tomasic, but didn't have enough time for the comeback, losing 10-9 after scoring in the hard cap.
Wesleyan 14-8 Mount Holyoke
Wesleyan had two early breaks for a 4-2 led by Laurie Bither. They followed up with two more breaks after a Mount Holyoke hold to take the lead 7-3. Mount Holyoke got five goals from Mahmuda Alam in the game, catching three from Katrina Meserve. It wasn't enough as Wesleyan's Eileen "ii" Connor continued her goal scoring binge from the previous round. Wesleyan took the game 14-8 in soft cap.
---
Reporter Mom With Breaking News
Actually Guillermo Ruiz caught the final point, wearing wrong jersey. Forgot his at hotel. I'm his mom.

— Susan Widule (@widulsky) May 19, 2018
---
Women's – Pool C – Round 2 (via Sam Echevarria)
Lehigh 15 – Amherst 10
Lehigh's momentum continued from their win over Puget Sound, using their speed and flow to find the space on the field and bring in the score. Heads-up defense from Madison Cannon also helped keep the breaks rolling for Lehigh, as well as accounting for 6 assists and 4 scores. Amherst mounted a small comeback towards the end, and got strong zone defense from Sarah Teichman, but it wasn't enough to put the game in their favor.
Puget Sound 15-3 Rice
Puget Sound bounced back with a solid showing over Rice, forcing turns and reveling in great flow downfield. 10 different players scored for Clearcut, and they demonstrated their speed and prowess on defense, forcing errors from Rice's handlers. Rice slowed down their game and had more connections than in the first round, as well as nice defense by Christina Brown and Sam Paulsen, but their completion rate in tight spots was not enough to make it a closer game.
---
Women's – Pool A – Round 2 (via Keith Raynor)
Williams 13-5 Claremont
This one got out of hand quickly, with Williams blasting off for an 8-0 lead at the half. Their defense pressured the Greenshirts relentlessly, closing windows and forcing contested options. Caroline Weinberg earned 3 of her 5 goals, plus 1 assist, during the run. Claremont showed some fight in the second half, but succumbed in the late game to Williams aggressiveness.
Georgia College 10-9 RPI
It was a bit of a chess match between RPI and Georgia College. Jada Moore and Katherine Yost led Lynx Rufus to an early 6-2 lead, with 3 goals and 1 assist from Moore during the run. RPI adjusted to a deep and short poach–usually Nancy Bush deep and Makayla Wahaus short–to help defend Yost up the line and the high stall deep shots Georgia College tried. While it didn't work at first, they learned on the fly and were helped by the wind.
"That was the first time we've seen it," said Georgia College coach Doug Oetter after the game. "It's always something new at Nationals."
Candy Zhang and Bush kept the disc moving for RPI, with Zhang tallying 2 goals and 4 assists for Strut. RPI broke to force double game point. Georgia College's Cheyenne Baillew had few options, and hucked a backhand at a high stall count. It sailed past Bush in the deep space and Moore tracked it down. It only took a couple more throws for Georgia College to close out the upset victory.
---
Men's – Pool A – Round 2 (via Charlie Eisenhood)
Bryant 15-7 Georgia College
Bryant's opening game at Nationals showed why they deserved the #1 overall seed. Riding the strong play of Alex Kenworthy and Cameron Jack, Craze smothered Georgia College's offense and delivered an easy win, 15-7.
Bryant used a clammy zone to good effect, clogging up the underneath throwing lanes and challenging Georgia College to throw pinpoint blades. While that worked sometimes, there were more turnovers than completions, and Bryant's D-line offense was very efficient.
Nathan Vickroy, one of D-III's biggest stars, was effective at times for Georgia College but couldn't crack the Bryant zone on his own. Jacques Perivier also played well in the handler space for GC. Their defense, though, had no punch and they rarely forced Bryant into any pressure situations or turnovers.
Georgia College was given three misconduct fouls in the game, including a PMF in the first half for jersey holding.
---
Men's – Pool A – Round 2 (via Zakk Mabrey)
Oberlin 13-11 Richmond
Oberlin stepped into their first game of the weekend ready to play and pulled out an upset over 8-seed Richmond. Offensively, Oberlin spread the disc around, making every player a contributor. Defensively, they used a zone to muck up the Richmond offense. As a team, Oberlin boasts four players at 6'4″ or taller. Their combination of size and skill helped them find success in game one.
Oberlin freshman Noah Zobel was a standout player in the first half. At 6'3″ and with playing experience at YCC with Boston BUDA and in high school with Amherst, Zobel was a high impact player on both offense and defense, grinding out unders and getting athletic blocks.
Oberlin could be a team to watch later in the day against #1 Bryant and #12 Georgia College.
---
Womens Pool B Round 1 (via Daniel Prentice)
St. Olaf 12-7 North Park
St. Olaf held an advantage in depth and skill over North Park and they rode those two advantages two a comfortable win in their first round matchup. St. Olaf jumped out to a 7-2 lead, taking advantage of turnovers from North Park, while also earning a few blocks. A late first half surge from North Park made the half time score 8-6, but it was the only point in the game where they were on top.
St. Olaf regathered their form in the second half and outscored their opponents 4-1 after the break. Tulsa Douglas was the top performer for St. Olaf, registering nine assists. But St. Olaf got impressive performances across their lines, including from freshman Izzy Sullivan, who registered two assists.
---
Womens Pool A (via Michael Ball)
RPI 15-5 Claremont
In a game that was never in doubt, RPI broke on the first point to set the tone for what turned out to be a dominant performance from Strut. Despite playing with low numbers due to seniors missing games today for graduation, Strut used a zone defense and effective deep shots to keep points short and conserve energy. Makayla Wahaus was incredibly impressive, notching 5 assists and 3 goals while controlling the flow of Strut's offense all game. For Claremont, a lack of patience against RPI's zone proved to be their downfall, and they will need to tighten up their decision-making going forward in order to avoid making life difficult on themselves.
---
Mens – Pool B – Round 1 (via Zakk Mabrey)
Air Force 12-11 Bowdoin
Air Force struggled early, and Bowdoin took a 2-0 lead to start the game. They held that lead throughout the first half, ending it up 8-6. Alan Villanueva gave a jolt to start the second half, picking up 2 blocks and 2 assists in the first three points. The rest Air Force found a renewed energy in the second half, and had two 3-point runs to take the game 12-11.
Whitman 14-13 RPI
This game was clean offensively on both sides. Whitman scored a couple breaks late in the first half to take an 8-5 lead into halftime. RPI fought back in the second half, and made the game close. Robbie Farwell carried the offensive load for Whitman, making a handful of big plays.
Both RPI and Bowdoin showed that they are more than capable of hanging with the top teams. They both get upset chances again in the second round.
---
Womens Pool B Round 1 (via Daniel Prentice)
Bates 13-11 Pacific Lutheran
Both teams played even ultimate in the first half. Josie Gillett of Bates and Margaret Chell of PLU led their respective teams, and it was Lutheran that ttook a one break, 8-7 advantage into half. After a hold from PLU out of the break made it 9-7, it looked like the overall number two seed was in real trouble.
But Gillett and Bates ramped up their level of play from there, rattling off five straight goals to take a 12-9 lead. They maintained that advantage the rest of the game to hold on for the win.
It was a dominant performance from Gillett, who assisted on 11 of Bates 13 goals. Six of those goals were scored by Grace Warder. Those two outmatched PLU's top duo of Chell and Jennica Kelm, who combined for eight points in the losing effort.
---
Mens Pool C – Round 1 (via Michael Ball)
Middlebury 15-7 North Park
Despite a close start, the Middlebury Pranksters proved to be too much for the North Park Lost Boys to handle, riding an 8-0 run to win 15-7. The Pranksters didnt do anything fancy; high intensity person defense and clean resets on offense resulted in an efficient win. Dylan Salzman was masterful, throwing 6 assists and catching the game winning goal on an upline cut where he spun his defender completely around. North Park struggled to keep their hucks in bounds, gifting several short field break opportunities that their defense just couldnt overcome.
---