Kali advances to first title game in program history.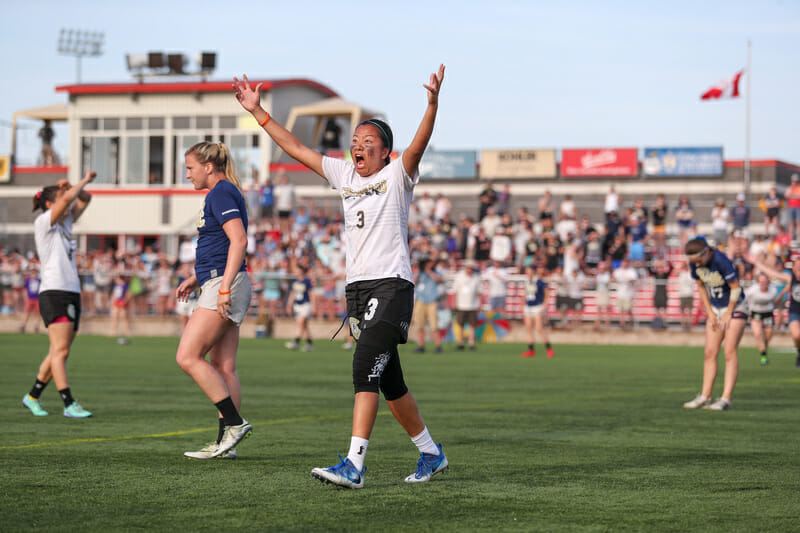 Coverage of the Women's Division of the 2018 D-I College Championships is presented by VC Ultimate as part of their season-long support of our women's coverage. All opinions are those of the authors. Please support the brands that make Ultiworld possible and shop at VC Ultimate!
Colorado Kali earned their first ever trip to a national final by breaking on double game point, beating Pittsburgh 13-12 Sunday afternoon. Colorado did just enough to avoid getting buried by a colossal individual performance from Carolyn Normile, hanging around until they got their chance to take the decisive lead. That moment wouldn't come until the final point of the game. But, as a team, they went toe-to-toe with a great individual performer, weathering the storm for just long enough, biding their time for an opportunity to seize the game for themselves, and in the end they managed to do that.
The first half was interrupted twice by weather delays. There was a half hour intermission at 1-1 and a second break at 5-5 that lasted an hour and two minutes. The breaks inevitably created a disjointed feel to the opening half, with neither team really able to generate any momentum. Pitt got the first break of the game to make it 3-1, and Colorado got breaks to even the game at 5-5 then again to take a 7-6 lead before Pittsburgh broke to take half with the game on serve at 8-7.
Outside of the weather, the first half was the Carolyn Normile show. She scored three goals and registered two assists, but every Pittsburgh move went through her. She was unstoppable as a cutter, and no mark seemed to affect her throws. She was easily the top player on the field and she was the biggest reason Pittsburgh held their slim advantage at the break.
Pittsburgh held Normile and her most offensively skilled teammates off the field on their first few D-line points of the second half. Colorado held clean on the first point of the half, so Pittsburgh didn't have any reason to regret that decision to leave their most dangerous players on the sideline. But on their next two defensive points, they went 0 for 5 on break chances with Normile, Hannah Blizzard, and Sarah Russek all on the sideline. Pittsburgh got their best break chances of the half in that sequence, and not converting on any of them meant Colorado still needed just one break to take the lead.
But the Pittsburgh offense, with those three on the line, remained resolute. Normile continued to dominate, and the players around her made the plays she needed them to. The teams traded holds to 12-11, Pittsburgh leading, with the game to 13. On the ensuing Colorado O point, Carolyn Normile got a block for Pittsburgh to give them a chance to break for the win. But Normile's big forehand the other way was well defended, and despite Russek's big bid to save it, Pitt turned it back. Kelsey Bennett sent a massive forehand to the endzone and her co-captain Jean Russell showed incredible acceleration to chase down the disc and make a layout grab for the score. 12-12. Double game point.
Pittsburgh's offense was untouchable for much of the second half, still led by the transcendent Normile. But on the final point of the game, Colorado put Katiana Hutchinson on Normile, after freshman Saioa Lostra had matched up with her for the vast majority of the game. On a strike cut, a space that Normile owned all game, Hutchinson was able to challenge her, forcing her to go up a little early for a catch. For the first time all game, Normile couldn't make the play.
Bennett tried to win the game with a big, crossfield forehand to Nhi Nguyen, but the throw sailed out of bounds to give Pittsburgh a second chance. Again, Colorado's defense stepped up, Rachel Wilmoth earning a block on a Blizzard throw setting Colorado up with a shortfield to work with. Bennett hit Russell and Russell hit Hutchinson for the game-winning break, their first and only lead of the entire second half.
Hutchinson didn't lead Colorado in assists, or goals, or blocks, but she may have been the most important player in the game for Kali. Said head coach Clair Chastain of her ace defender, "Katiana is very aggressive. If we give her a good matchup, she's lockdown." Normile was unstoppable all game until that final point, when Hutchinson did just enough to disrupt her in one moment and it was a critical play in the game.
The whole Colorado line on the final point was able to dig deep and find another level defensively, after giving up holds the entire half before that point. "They knew it was the last point. They knew about the line that was being called, that they had all their fifth years on it," said Chastain. "They wanted to keep playing together. You tell them 'this is to keep playing together' and they get fired up about that. They're good in the moment. They're good on universe. They're a pressure team."
Normile finished with five goals and three assists, and also had three hockey assists. She was the best player on the field from the jump. But Colorado used their depth to spread the playmaking responsibilities around to match Normile's. It was an impressive team performance, and an impressive job in not wilting even while an opponent had an a stellar game. Because of their resilience, Colorado is headed to their first ever national championship game.