Our selections for Offensive, Defensive, and Breakout Players of the Year, and Rookie and Coach of the Year.
Ultiworld's 2018 Women's College Awards are presented by the National Ultimate Training Camp and VC Ultimate, as part of their season-long support of our women's coverage. All opinions are those of the authors. Thanks for supporting the brands that make Ultiworld possible!
Ultiworld is pleased to announced our 2018 College Awards, the second year we've recognized the best of Division III. The criteria for each award can be found here — we consider both regular season and postseason performance in our selection of awards. Though the input of Ultiworld reporters is weighed heavily, final decisions for awards are made by the editors.
The Player of the Year can be found here.
Offensive Player of the Year
Katrina Meserve (Mount Holyoke)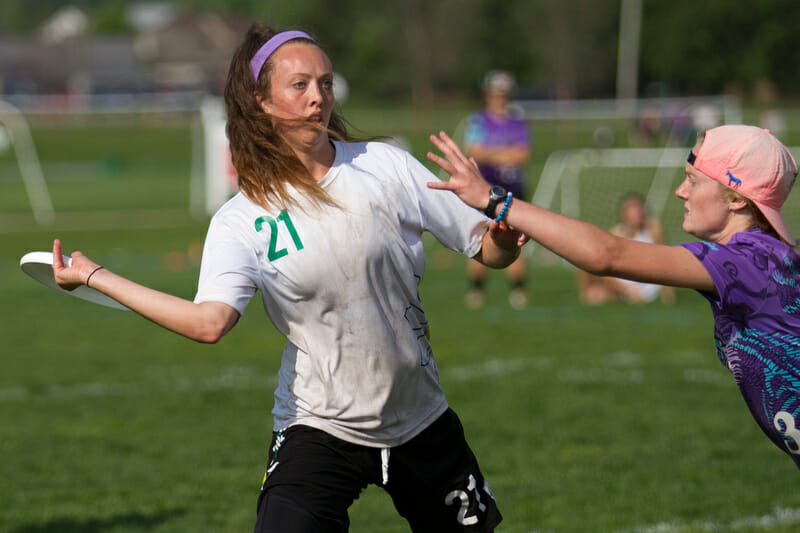 Meserve had one of the most dominant performances of Nationals, playing a part in 44 out of 55 of Mount Holyoke's goals (33 assists, 11 goals). Meserve, aptly nicknamed "Tree", used her length to throw whatever she wanted against the mark and come down with hucks in the end zone.
Meserve was Mount Holyoke's lone senior, leading a group of athletic underclassmen to Mount Holyoke's first ever quarterfinal appearance. In big moments, the young team looked to Meserve to take control, and she hardly ever faltered. Katrina had 11 assists in their prequarter game and took part in the last nine scores in an upset win over Oberlin in pool play that helped set the tone for Daisy Chain's Nationals experience.
Defenses learned very quickly that Daisy Chain ran through Meserve. But that didn't matter as she forced switches and ran "every other" until she saw a matchup to attack or a downfield shot she wanted to take. Meserve may not have been as big of a name as other star players going into the weekend, but she left Rockford having made a powerful impression.
1st Runner-up: Juliet Chung (Lehigh)
Juliet Chung played a major role in Lehigh, taking Pool C and ending the tournament tied for third as the no. 10 seed. She had 18 assists and 8 goals for the tournament, built off of her array of throws that led Lehigh's deep and versatile offensive talents.
2nd Runner-up: Katherine Yost (Georgia College)
Katherine Yost followed up her 2017 Breakout Player of the Year award with an outstanding offensive performance in 2018. Yost led Georgia College with 27 assists and continued to showcase her explosive deep throws, even when the wind picked up late Saturday.
Defensive Player of the Year
Madison Cannon (Lehigh)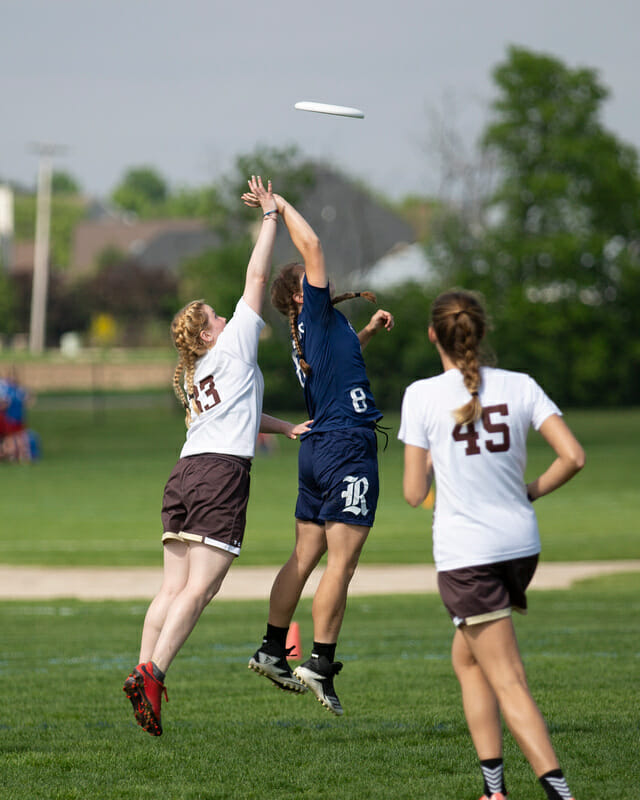 To watch Madison Cannon play ultimate with Lehigh Gravity at Nationals was to be impressed by her almost magnetic attraction to the disc. While this is readily apparent in her offensive talent (and statistics from Nationals), Cannon shined most when a high throw left possession up for grabs, and she frequently made it hers.
With a strong affinity for where the disc was at almost all times thanks to her heads up play, her interceptions helped keep Lehigh in the game and got them get right back to running their aggressive offensive looks for the break scores that brought in their wins throughout the tournament.
The senior Lehigh cutter was also fearless in her matchups, playing tight person defense on other teams' strongest cutters, matching up with RPI Strut's Tamar Austin repeatedly in their quarterfinal game.
One of the many sets of legs with the speed and agility that carried Lehigh at Nationals, Cannon surprised more than one opponent by coming out of nowhere to run through or bid for a disc that she was determined to gain control of. As with other top defensive players in any division, Cannon truly embodied the idea of generating turns, making opportunities of her own where others didn't see it until it was too late.
1st Runner-up: Abby Mayo (Puget Sound)
Mayo's defensive timing in the Puget Sound Clearcut zone at Rockford was expert and artful, and she appeared to have as much fun as effectiveness in her play. Whether helping out deep or patrolling the sideline, Mayo would appear almost from nowhere, attacking the disc and raising a joyous chorus of "Abby!" from the sideline each time.
2nd Runner-up: Nancy Bush (RPI)
Another vital piece of a zone that ground out turns all weekend, Bush brought pressure as the deep answer to other teams' hucks. The 5' 7" junior also effectively poached, daring teams to try to take up space that was all Bush's to play with.
Breakout Player of the Year
Candy Zhang (RPI)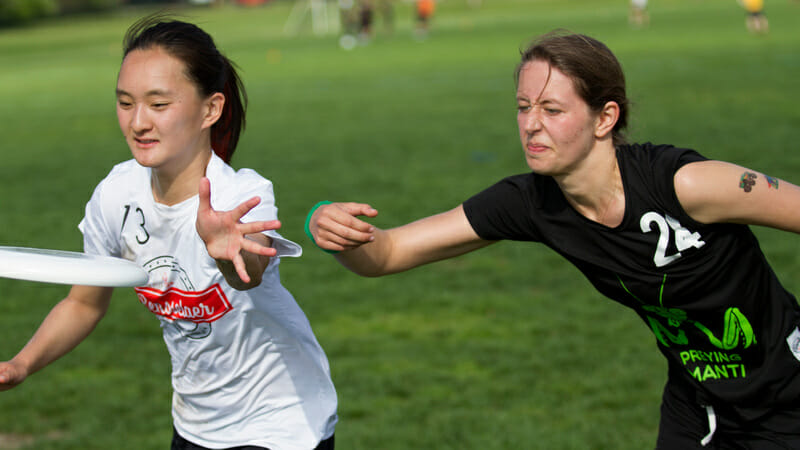 Candy Zhang was the breakout player on a breakout team. RPI Strut came from relative obscurity this season, from 4th at Regionals in 2017 to a tie for 5th at Nationals in no small part due to Candy Zhang's cool and collected handling.
Zhang's hard work and strong mental game are all reasons for her strong numbers at Nationals: 8 goals and 13 assists out of RPI's 48 points on the weekend. Filling up the stat sheet is just one way Zhang shows her dedication to Strut, on and off the field. "She probably has the best work ethic on the team," said coach Garrett Clay.
But even when considering her outstanding work ethic, where Zhang truly shines is her ability to remain a rock on the field regardless of the changing tides of the game. Zhang's speed and field awareness are rewarded with blocks and forced turns; coupled with her near-eagerness to bid for the disc, she's a defensive powerhouse for RPI.
On offense, she's a handler to be feared, simply because she isn't afraid of anything other teams throw at her. "She gets creative and looks for the easy high release reset to a popper mid-field, or hits the open wing with a hammer," said Clay of Zhang's zone offense. Against person defense, she consistently fakes out her mark to get open for the dump reset or a power position from which to let off a huck and take her team home for the score. Watch for Zhang to take this breakout team to a solid bet in the coming season.
1st Runner-up: Hannah Finn-Erb (Mount Holyoke)
With a whopping 19 goals over the weekend at the D-III College Championships, Finn-Erb certainly turned some heads. The Daisy Chain sophomore is one to keep an eye on next season, and we'll hopefully see more of her as Mount Holyoke's results at Nationals continue to improve.
2nd Runner-Up: Caroline Weinberg (Williams)
The Williams powerhouse certainly has many star players, but Weinberg shone above the rest, leading her team in points on the weekend with 9 goals and 6 assists. A junior, Weinberg is one to look forward to seeing next season in D-III Women's toughest region and keep watching for any more incredible layout scores.
Rookie of the Year
Emma Piorier (Puget Sound)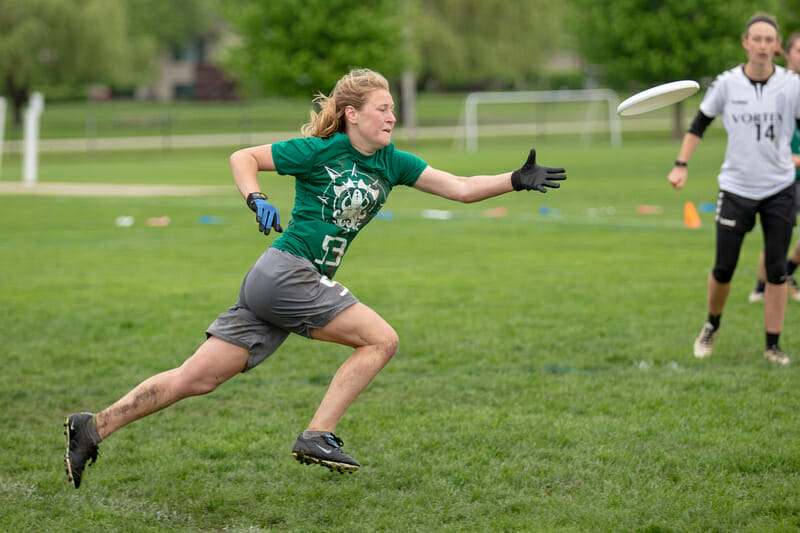 The athletic prowess of Piorier made her a high-impact player for Puget Sound in their run to the semifinal. That was no surprise, as she came into college with a wealth of experience, playing youth and club ultimate in Minnesota for the likes of Bird in the mixed division and Pop in the women's division. Much like her college career has started strong, Piorier often started Clearcut's possessions at center stage, on either side of the disc. Her offense might initiate with her in isolation, or she might be matched up to the other team's top offensive threat to start a defensive point.
Along with her explosiveness, Piorier brought intelligence and intensity to the field for UPS. The combination gave her the ability to rack up help blocks by recognizing offensive flow or saving possessions when recognizing play-development. She could initiate the offense with the disc reliably, advancing with easy options that kept her turnover totals from approaching those owned by other high-volume rookies. Her mark could stifle handlers while her strength in the air could generate turns against downfield weapons.
That versatility and consistency made Piorier the top rookie in this year's strong class. She was a key part of UPS's run to the division's final four, and once there, took plenty of turns trying to slow down Player of the Year Tulsa Douglas, with more success than many others who tried and failed. She's likely to continue to be one of the division's top multi-faceted players over the next few seasons.
1st Runner-up: Zoe Hecht (Oberlin)
Hecht was a huge acquisition for Oberlin, with an ever-increasing presence around the disc, culminating in the difficult context of Nationals. The rookie handler played with great confidence when her team needed it most, armed with a powerful backhand that she could drop to back corners and shoulders alike.
2nd Runner-up: Cameron Johnson (Bates)
The first year cutter proved herself to be a serious scoring threat with her speed at Nationals. Johnson was the primary target for star handler Josie Gillett, leading Bates in goals on the way to an appearance in the final. On defense, she was often tasked with difficult matchups, including some efforts against Tulsa Douglas.
Coach of the Year
Matt Lubitz (Lehigh)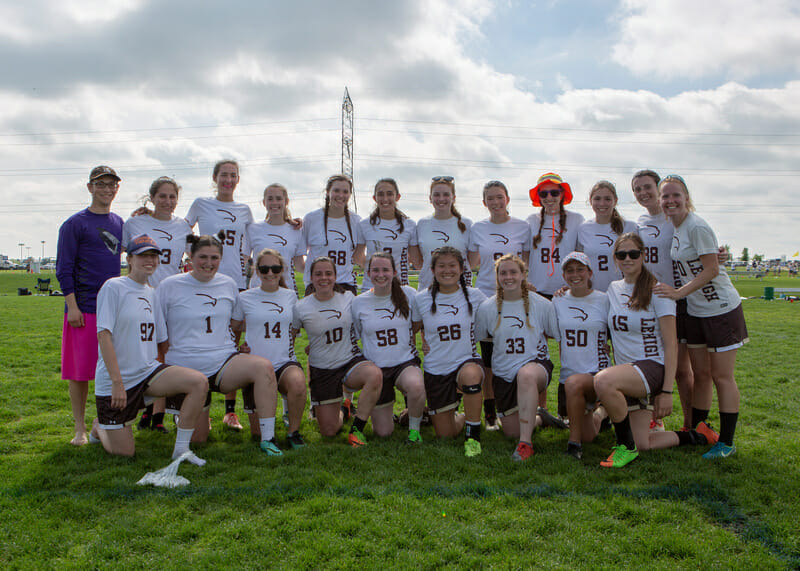 In a single season, Lehigh Gravity went from 15th at Nationals, to tied for third at the same tournament a year later. While a lot of things have to go right for a team to make that jump, Gravity also benefited from having coach Matt Lubitz in their huddle in the 2018 season.
For teams that faced off against Lehigh, they inevitably noticed a figure moving up and down the sidelines in a Lehigh ballcap during their matches–not necessarily for what Lubitz wore (at times fleece pajama bottoms or bright pink shorts), but certainly for the voice that would carry encouragement and support across the field. Beyond strategic adjustments and engaging players on the field, Lubitz was also the voice reminding Gravity to play the game their way–outworking teams and relaying on their athleticism and talents to leap ahead early and never look back.
In Lubitz's own words and experienced by many, "being on the sideline at Nationals is a taxing experience." But Lehigh's coach (in his first season with the team) kept up the energy alongside his team throughout their play into a semifinal match against Bates. As teams lucky to be equipped with a strong sideline presence know, that vocal energy can be a big boon. "When we're clicking on all cylinders, it's like we have eight people out on the field," said Lubitz. He helped bring together a team that plays with all eight on the line, every time, for one another and with results.
1st Runner-up: Cam Hodgkinson (North Park)
In 2018 North Park not only made it to Nationals for the first time ever, and won a game as the 4th seed in a pool, but along the way proved themselves against perennial Great Lakes Regional champions Valparaiso to even get to Rockford. Hodgkinson helped give North Park Allihopa the tools, and the trust in their talents, to make it happen.
2nd Runner-up: Garret Clay (RPI)
Another team to make it to Nationals for the first time in program history in 2018, RPI benefited from the guidance of coach Garret Clay to get to Rockford. By bringing ultimate know-how and support to a hungry and hardworking RPI team, Clay and Strut made the jump from middling Regionals team to bonafide contenders.