The best and brightest from the season's final high school tournament!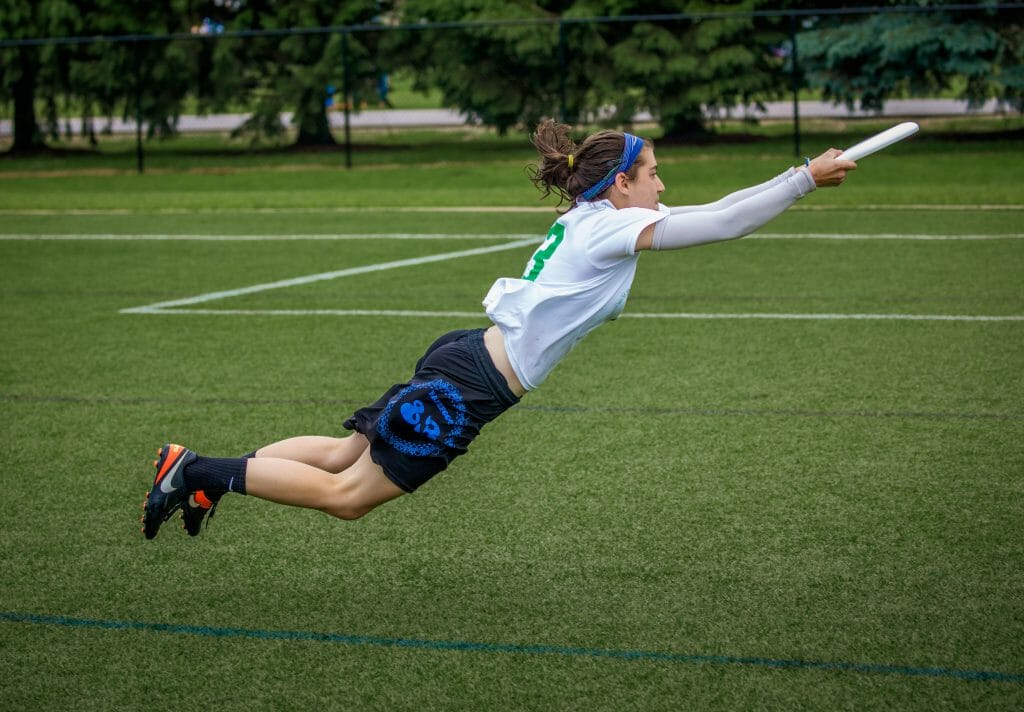 Our coverage of the 2018 High School National Invite is presented by Universe Point cleats.
ROCKFORD, Ill. — A tremendous weekend at the Mercy Health Sportscore Two sports complex concluded with a memorable comeback by Nathan Hale, who defeated High Country on double game point in the final. The tournament was filled with competitive matchups and exciting players, and we have a chance to highlight some of both to round out our coverage of the weekend.
To read more about the goings on at the High School National Invite, check out our final recap and our day one recap.
Nathan Hale Out-Paces Field To Final Match Up
On their way to a championship title over High Country, the girls' team from Nathan Hale (WA) definitively proved they deserved to be there with not only a perfect Saturday of pool play, but with solid wins over top programs. Beyond the offensive firepower brought by Ally Constantino, Sevonne Hirt, and Savannah Kanis, they found success in their zone looks that constantly funneled the disc into the hands of Mari Scott and Sylvie Corwin.
Their quarterfinal match against Edina (MN) started out tight, until Hale broke away, going on a multi-point run. Edina did find more of a groove after halftime; as coach Alex Kensgaard said "The defensive intensity picked up; they took each matchup a little more personal, and then everything got tighter." That tenacity was particularly strong from Emma Hammond and Betty Stringfield, and in the second half, Edina got the offense moving off of the throws by Danielle Peterson and handling from Clara Bils.
Despite a few consecutive points in the end, it wasn't enough for Edina to outmaneuver the high tempo offense of Nathan Hale. "We're athletic, we're fast; that helps carry us, so to not just get away with that and having to use all sides of the game," said Edina coach Ashley Green. Competing against Nathan Hale and other teams at the tournament was a great learning experience across the board.
In the semifinal against Holy Family (OH) both zone defense, and a constantly changing force brought confusion that exacerbated Holy Family's execution errors. In both rounds before the final, Nathan Hale led–sometimes quite comfortably–and kept high spirit even as the score tightened. For the team from Washington and their upbeat sideline, the weekend ended with a championship after the comeback of the weekend, additionally winning the spirit award for the division in the process.
High Country Crushes (Most of) the Competition
It was a wonderful weekend for No. 1 seed High Country, even if they didn't hold that lofty seed. Their small group of about 13, including a couple of middle school pickups late in the season, was seeing competition they'd never faced before, and seemed to be having a ton of fun even as they gritted out tough wins behind a fervent sticky defense.
Alyssa Ehrhardt commanded the offense with the most consistent throws in the division, rarely misfiring an under and getting off quality deep looks. Margaret Barry anchored the defense, corralling discs in the air and compiling a wealth of blocks. Charis Barry and Elyssa Hengst did much of the yeoman's work downfield, chasing cutters on defense and hucks on offense.
They dispatched every team they faced effectively on the way to the final. Even with their small roster, they continued to outgrind teams, demonstrating their fitness, athleticism, and willpower. Even as points were slowed by turnovers and/or zone defenses, High Country rarely saw their pace dip. "Our older girls, at least, grew up playing tournaments savage and expecting each other to run hard match-up D the whole time, many of them without a single sub," said High Country coach George Ehrhardt.
Behind that combination of attributes–Ehrhardt and Barry's explosiveness and the team's unwavering work rate–High Country mowed down team after team, including No. 6 seed Neuqua Valley in the semifinals. And for the first half or so of the final, it looked like they would simply continue that trend. While they couldn't hold on as Hale roared to life, it was a weekend to be proud of for the young North Carolinians.
Holy Family Catholic Struggles on Sunday
The Holy Family Catholic (OH) squad that showed up to the fields on Sunday in the light rain and gray cloud coverage did not strongly resemble the team from Saturday. Their first bracket match gave them the first real struggle of the tournament, as West (UT) held them tight to close scores. While still putting up the long hucks and bringing defensive pressure, their deep connections and throwing form were not as crisp nor as effective on Sunday. As they became more comfortable with the disc throughout the game–with Kinsey Fry and Rebecca Monnin back in the saddle and executing better–so did West, with players like Aashna Shaw and Anna Jiricko handling and snagging the disc to keep drives alive. West also met Holy Family's zone looks with poise, walking the disc confidently down the field to tie for double game point. In the end Holy Family used their speed to strike up the line and win, moving on to the semifinals.
Against Nathan Hale, and especially compared to their Saturday scores, Holy Family trailed significantly and it showed in the faces of frustrated sideline fans and players alike. Their largest struggle came in shutting down the Nathan Hale offense effectively; switches to other defenses and personnel changes weren't as effective as desired, even with strong individual defensive efforts by Amy Friemoth and Ella Enders. In particular, Nathan Hale and Ally Constantino's high release backhand floated over the Holy Family zone with ease.
While the talented Holy Family team didn't give up over the course of the game, coming back and beginning to find effective throws against the Nathan Hale zone after generating turns, it was too little too late by the time hard cap went off. "At the Neuqua tournament against Roosevelt, another Seattle team, another similar type thing [happened]; we were able to claw back but we got a little too far down with these short rounds," said Holy Family coach David Fry.
In the end Holy Family took third place after defeating Neuqua Valley (IL), a good finish with the depth and talent of the field, but clearly not as high as Holy Family had planned on playing for.
Elsewhere in the Tournament
The tournament's No. 5 Neuqua Valley seed made a solid run into the semifinals, defeating Brebeuf Jesuit (IN) in quarters to face off and be taken down by High Country. Their 3-3 weekend only included losses to the top three seeds.
Brebeuf Jesuit broke seed by the most of any team in bracket play, jumping from No. 9 to a 5th place finish after working their way through the back bracket against Lexington (MA) and Edina (MN).
Lexington and West faced off in the 7th place game, which West claimed as their own, matching seed.
All-Tournament Team
Ally Constantino (Nathan Hale) – Whether on defense or offense, Constantino was pure production. Whether it's break hucks, hammers for the score, playing the deep in a zone, she was one of the most versatile and consistent players that we saw at the tournament.
Margaret Barry (High Country) – Barry demonstrated how to take away space from cutters and how to grind out cuts of her own. Perhaps the best individual defender at the tournament, Barry was consistently generating blocks and operating as a focal point of the High Country offense.
Kinsey Fry (Holy Family Catholic) – When you want a pinpoint huck downfield, getting the disc in the hands of Fry is a great choice. Beyond her backfield disc maneuvering, she also brought strong defense on opposing handlers, shutting down their intended moves.
Alyssa Ehrhardt (High Country) – Another player with a knack for consistency, Ehrhardt's arsenal of throws made it easy to get the disc in the hands of Barry and others. She stifled other handlers on defense, and did not make it easy for the Nathan Hale offense to score in the final.
Allison Swiatek (Neuqua Valley) – Swiatek played with an aggressiveness characteristic of her squad, attacking the disc when she didn't have it – on both offense and defense – and with it when she did have it. With her explosiveness, she quickly demolished any loose opposition.
Mira Anderberg (Lexington) – A driving force of the Lexington offense, Anderberg was confident and collected in dictating with her throws and handler movement. Expect this underclassmen to keep the engine of Lexington chugging for several years yet.
Catherine Soto (Brebeuf Jesuit) – Soto was one of the major handlers for Brebeuf Jesuit over the weekend, helping them to break pool seed and make it to bracket play. As one half of a throwing-and-going handler duo, Soto could also get it to cutters deep and extend the field to Brebeuf's advantage.