Can anyone stop Holy Family?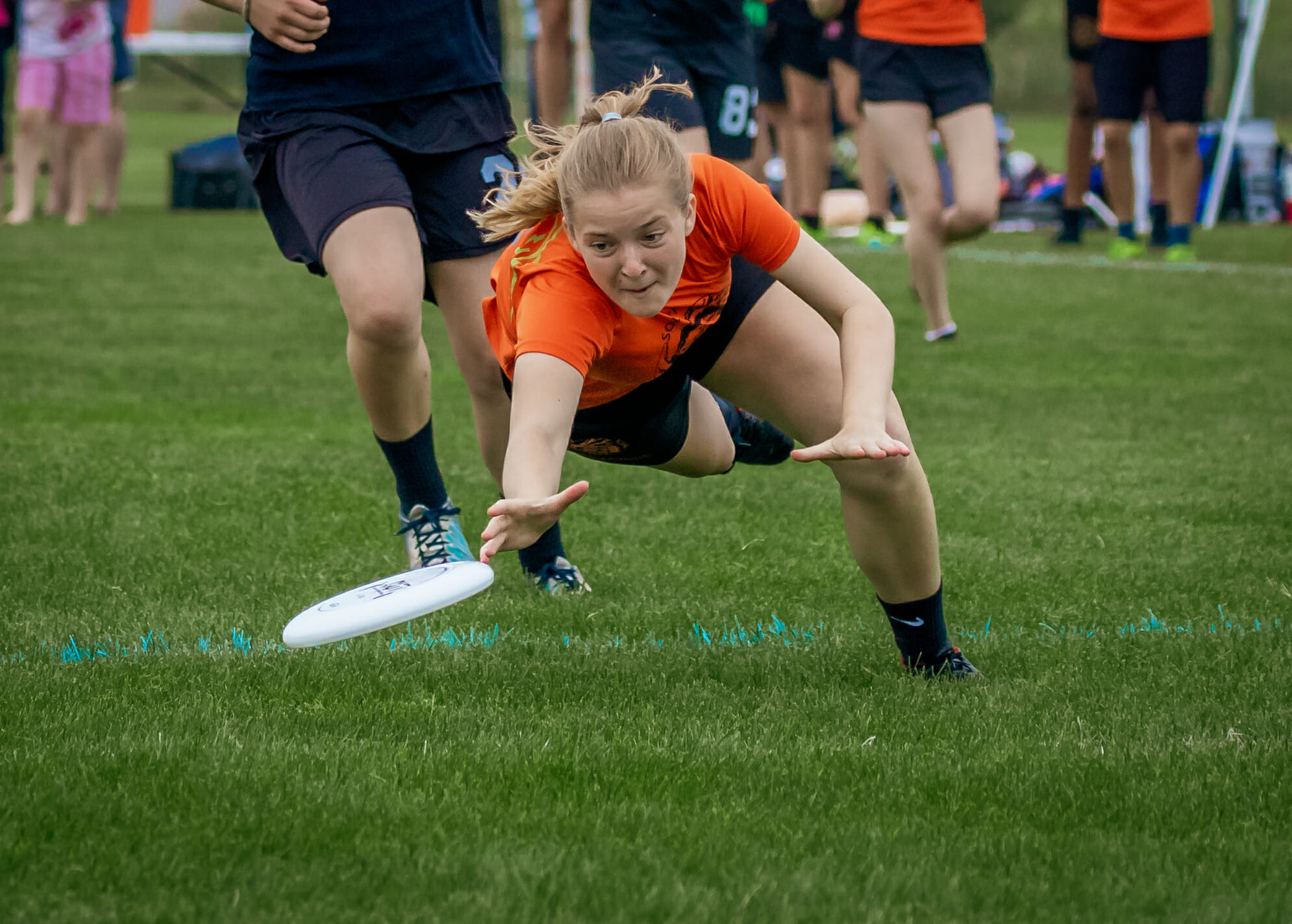 Heavy rain in the early morning hours gave way to a beautiful late spring day in Rockford, Illinois, for Saturday action at the 2018 High School National Invite, presented by Universe Point cleats.
Below, we break down everything that happened in the Girls' Division on day one at the Invite.
The Bracket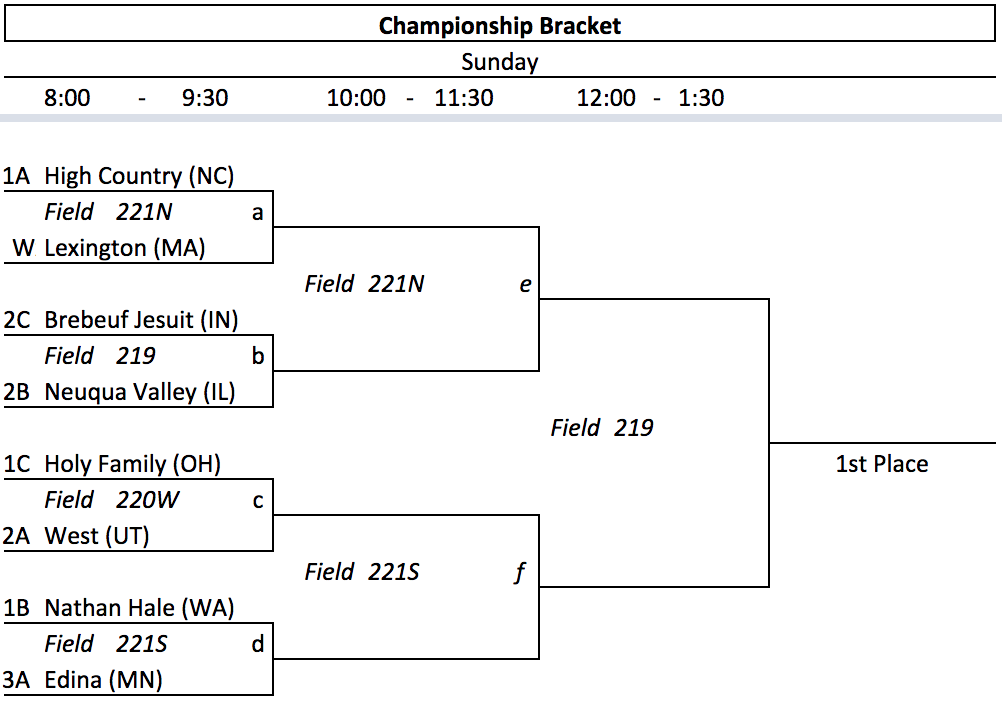 Top Stories
Holy Family and High Country Homeschool The Field
Holy Family (OH) and High Country (NC) had strong showings on Saturday, going 3-0 in their respective pools with polished play. For any other teams that are looking to get to the final on Sunday, there's no doubt they'll need to have game plans ready to take down these two homeschool squads along the way.
Holy Family, in particular, decimated their pool, scoring 13 points in every game and allowing an average of only two points against them over their three games. Even games where they started out slow–finding themselves 0-2 out of the gate against Brebeuf Jesuit–Holy Family got their heads back in the game nearly instantly to recenter and find their success. Between their accurate and speedy strike cuts and pinpoint hucks to the break or open side, Holy Family made plays where they wanted to, almost independent of what their defenders tried to pressure.
Rebecca Monnin and Kinsey Fry were huge backfield producers, opening up the field with big throws. Therese Enders and Savannah Jeffries ran down discs and kept drives alive, as well as generating turns on defense. Given Holy Family's deep roster with great chemistry and the ability to adjust, whether any team can give them a serious run for their money will have to be seen to be believed.
High Country's average margin of victory may not have quite matched their Ohioan counterparts, but they were in control of most of their games. If you watched just a point or two in a given game, you might not have realized that the team cheering "Go Barefoot!" was blowing other teams out. They often took multiple possessions per point to score with somewhat sloppy attacks and angles.
But nobody could find a way to deal with Alyssa Ehrhardt or get past Margaret Barry, and the rest of High Country had the athleticism to (figuratively) beat up their opponents. Barry generated an alarming number of blocks with her speed, timing, and aggressiveness; her sister Charis showed some similar attributes. It's unclear how their lack of efficiency but wealth of top talent will stack up against similarly successful competition.
Neuqua Valley & Brebeuf Get in the Game as Dark Horses
While not putting the competition on blast to the same level as Holy Family and High Country, Neuqua Valley (IL) and Brebeuf Jesuit (IN) still took second place in their pools and ground out wins when it mattered. That grit and determination will serve them well in bracket play, unafraid to take down the behemoth teams that wait for them in their quarters match ups.
Brebeuf Jesuit, in particular, did nicely for themselves, rising from the third seed in the pool to No. 2 with an upset win, 10-9 over Lexington (MA). Brebeuf found the most success when they concentrated the disc in the backfield between Lauren Kitten and Catherine Soto before blasting deep looks to their cutters in the vertical stack. Downfield, Chloe Levine used her height to box out and deny her opponents a shot at the disc on either offense or defense. Whether the concentration of handling focus among so few players for Brebeuf Jesuit keeps the momentum going on Sunday, or simply gives other teams an obvious characteristic to exploit, still remains to be seen.
Neuqua Valley maintained seed by finishing second, but it was not without giving eventual Pool B topper Nathan Hale (WA) a serious scare in their matchup. They forced the game to 9-9, at which point hard cap went off before the final score was brought in by the Hale team. A roaring sideline helped carry the on-field action: from great disc reading by Dhara Patel and work in the air defensively and with hot throws by Allison Swiatek, Neuqua Valley showed that they have the mental focus to play big games and bring the fight against anyone in the tournament.
Prequarters Recap
The lone girls' prequarter match was a crossover between the third place finishers of pools B and C, Eagan (MN) and Lexington (MA). With a score of 11-6, Lexington took the game and the berth to face High Country in quarters on Sunday.
Eagan found early success (and indeed success all of Saturday) with their zone defense, baiting teams into throwing to their players or putting up high stall discs that Eagan could pounce on. Their person defense also proved evenly matched with Lexington.
While Eagan led early on with a score of 3-1, Lexington re-engaged their sideline, pumping up the on-field energy to buoy cutters streaking deep and handlers hunting for swings around the zone. Lexington locked in their eventual win in the first half, going up 7-5 and becoming unrelenting in their bids for turns and scores. 
Although Eagan's Channa Overland demonstrated phenomenal disc-handling skills and sticky hands that could hold on to whatever made it her way downfield and McKenna Miller suffered few deep looks from Lexington, it wasn't enough to bring home the win.
Pool Play Recap
Pool A
High Country (4-0)
West (3-1)
Edina (2-2)
Madison West (1-3)
North Allegheny (0-4)
While High Country thumped the pool, many of the other contests in the pool were pretty hard fought. In round three, Edina (MN) and West (UT) challenged one another, while Madison West (WI) and North Allegheny (PA) slugged it out. Each pairing proved evenly matched, with both games finishing with just one point margins.
Madison came back from a 4-1 deficit with a 7-3 run to win 8-7. Cutter Tenley Abbott was grinding in the lanes, while Grace Goldenberg managed things from the backfield. Finwe Wiedenhoeft added some quality defensive play and was a presence in the reset space. It was enough to push them past Sara Liang, Hannah Semon, and a gritty NAGU team.
Meanwhile, there was a lot of athleticism on display between Edina and West. Both teams seemed to be having blast as they exchanged blocks, hucks, and skies. What Edina may have lacked in polish, they made up for in size, depth, and grit. Clara Bils brought copious defensive intensity, while Sarah Hank and Betty Stringfield kept the offense moving. Bils' foil on West was handler Wilhelmina Graff, while freshman Anna Jiricko racked up interceptions. Eventually, West was able to grind out Edina.
While not every game was that close, there were few easy scores to be had in Pool A, even for the strongest teams.
Pool B
Nathan Hale (3-0)
Neuqua Valley (2-1)
Eagan (1-2)
Knoxville (0-3)
Nathan Hale (WA) was ranked top of the pool, and there they stayed by the end of the day, albeit by a slimmer margin than other pool winners. Although given a run with their tight game against Neuqua Valley, their handlers kept calm and collected, bringing in the final score on hammer just within the end zone. Liz Crach also showed her defensive ability in tight situations in the game against Neuqua Valley. They also defeated Eagan (MN) and Knoxville Hornets (TN) in the pool, although between the three games only won by an average of three points over the three games.
Eagan (MN) stayed true to seed, winning only their game over last-seeded Knoxville. They succeeded thanks to the strength of their zone, as well as willingness to chase down discs and play person defense with equal intensity. Where they were unable to fend off the growing pressure of a Lexington team in prequarters, against Knoxville they never let up on the gas, even as Knoxville began to struggle in the early afternoon heat. Eagan's usage of the open side of the field at times became a frantic effort to jam the disc into the end zone, but it ended up working more often than not, thanks to the speedy legs of their handlers.
Knoxville Hornets (TN) played decently throughout Sunday, going 0-3 but losing by an average of fewer than four points across the games. Nettie Stanfield was a spitfire on both sides of the disc, unholstering her hucks repeatedly and always playing heads up for a defensive effort. Keilah Roberts also brought defensive pressure in both zone and person defenses; however, the Hornets were unable to maintain the pressure needed to get and capitalize on turns without giving up too many of their own across the day.
Pool C
Holy Family Catholic (3-0)
Brebeuf Jesuit (2-1)
Lexington (1-2)
South (0-3)
Beyond the beatdown teams experienced when they went up against Holy Family, Pool C saw some shake up in the final seeding once the dust had settled on Saturday, with Brebeuf Jesuit's grinding win over Lexington. Throughout the game, the two teams lurched the lead back and forth. Lexington's offense was largely directed by Mira Anderberg, at times literally. She gave confident guidance of where she wanted her cutters and reset handlers to move for her, pointing above her mark.
Marisa Boni was a defensive boon, running through her opponents and getting the disc back for Lexington to move through their vertical stack.
Neither team trailed by more than two points at any given time, but in the end took half and help on enough to take the win–and the second berth into quarters from pool C–over Lexington.
At the bottom end of the pool sat South HS (MN), with an 0-3 record that did not represent the talent of the squad. While they had consistent offensive movement and positioning, too often their throws sailed behind the cutter; cutters also struggled to hold onto quick discs in the end zone long enough to score.
South had some shine to their defense, forcing teams to swing repeatedly before find their way through their zone and effective cup. Anna Mulhern placed the disc well, threading against other zones with confidence not always seen in sophomore players. Ellie Meier and Mary Miranda both were huge defensively for South, unafraid to bid for discs and getting up in the air. Unfortunately, South was unable to bring the components together effectively or long enough to end a game triumphantly.
Check out photos from Saturday here.