Nathan Hale came back from a significant deficit to grind out a HSNI title!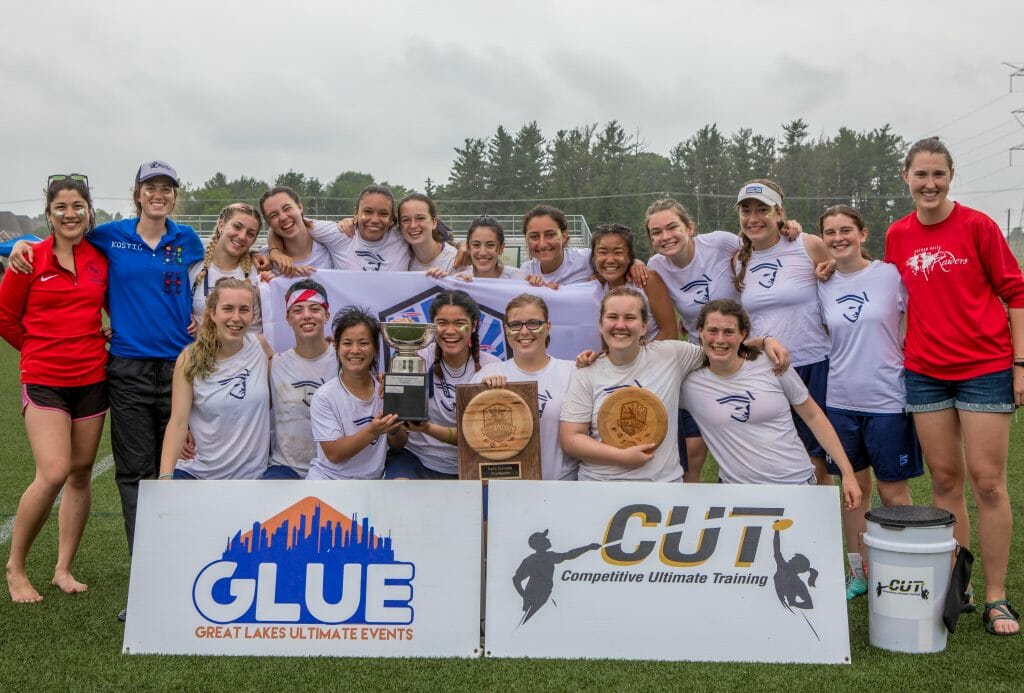 Our coverage of the 2018 High School National Invite is presented by Universe Point cleats.
ROCKFORD, Ill. — Entering the game undefeated on the weekend, No. 1 and No. 2 overall seeds High Country (NC) and Nathan Hale (WA) clashed in the High School National Invite Girls' Division final. Surging back from a 7-3 deficit, Nathan Hale gritted out a double game point victory, 12-11, to claim the Championship.
High Country was clearly the stronger team early in the first half, looking calm and collected from the start of the game and using the deep space to score with the same effectiveness that won them their pool on Saturday before they cruised to the final on Sunday. At the same time, Nathan Hale's players appeared jittery, with cutters dropping catches that they had been making with ease all weekend.
"We were all in our heads," said Nathan Hale assistant coach Margo Heffron. "…Their defense was tripping us up."
While Nathan Hale had great individual defensive efforts–including serious height-grabbing skies from Emma Constantino–High Country was much cleaner in working the open under looks and capitalizing the throwaways from Nathan Hale to translate into scores. Before long, High Country led 3-0, and Hale was skidding.
Hale finally put up their first score of the game, finding the momentum off of an unusual overthrown High Country look and a huck from handler Savannah Kanis. But again they were quickly matched by a High Country score, as the home schoolers torched the bracketing-focused loose zone Hale threw against them. Charis Barry scored her fourth straight goal.
On offense, Hale was stifled by the athletic, tight matchup defense of High Country, especially by the shutdown handler defense of Alyssa Ehrhardt. On defense, the Seattle crew relied more on turns from High Country than actively going out and getting the disc. With little trading of points, High Country continued to own the open space and break out OI flick hucks with devastating effect. At 6-2, it looked as if Nathan Hale would watch High Country run away with a National title.
But Nathan Hale didn't give up. The teams traded scores, and then Nathan Hale began to work their way back, shifting to a new defensive look with a zone that also worked to eliminate the cutting prowess of Charis Barry. Pressuring towards the middle, they shut down High Country's downfield flow until High Country handlers became antsy enough to huck, and Ally Constantino (older sister to Emma) defended the high hangers.
Although it didn't work immediately, High Country lost patience before Nathan Hale and started taking shots that were not as viable deep or attempted to squeeze passes to popping cutters that were unlucky more often than not. Hale started to find their groove offensively, playing with the same energy and making the catches that they had been earlier in the day.
"We got into the mindset that we could just take our time, and work harder and really bring it back," said Heffron.
From a score of 7-3, Nathan Hale scored four points in a row unanswered, tying the game. While High Country took half 8-7, Nathan Hale was just as confident as they had been all weekend and certain that they could continue turning the tide in their favor.
Many more points were exchanged in the second half; High Country pulled ahead 10-8, but Nathan Hale answered back, scoring after forcing High Country out of their comfort zone with their maddeningly patient zone. While High Country worked it among their handlers for over fifty passes for one successful point, the one bad shot that brought Ally Constantino into the disc's orbit deep was all Nathan Hale needed to get turns and put more points on the board.
"[Sevonne Hirt] called that zone, which was great," said Heffron. "We tried different things–we have a lot of zones in our pocket that we like to use–and that one just kept working…their handlers just had to bump it back and forth."
High Country coach George Ehrhardt put it simply: "People threw throws they shouldn't have…That's what the zone tries to get you to do."
As Nathan Hale scored to tie again at 10-10, soft cap dictated a game to 12. In the end, the Nathan Hale zone delivered again, generating turns as Sylvie Corwin tipped a disc and Emma Constantino skied the rest of the field. High Country calmed down, showing again the cool collection from earlier in the game. Their score brought the game to 11-11 with Nathan Hale receiving.
The final point was the cleanest point Hale put on the board all game–a hold without a single turn in five passes, including a huck from Ally Constantino to Sevonne Hirt, and a sister-sister connection between the Constantinos for the title:
https://gfycat.com/NarrowYoungAmericancicada
Over the course of the game, the Constantinos delivered for Nathan Hale on both sides of the disc. Ally recorded nine of the 12 assists, while Emma caught three goals and threw an assist; together the sisters had five recorded blocks. On the High Country side, Charis Barry scored a remarkable eight of their 11 goals; Ehrhardt and teammate Elissa Hengst threw nine of the 11 goals.