Multiple WUCC teams should make PEC very exciting.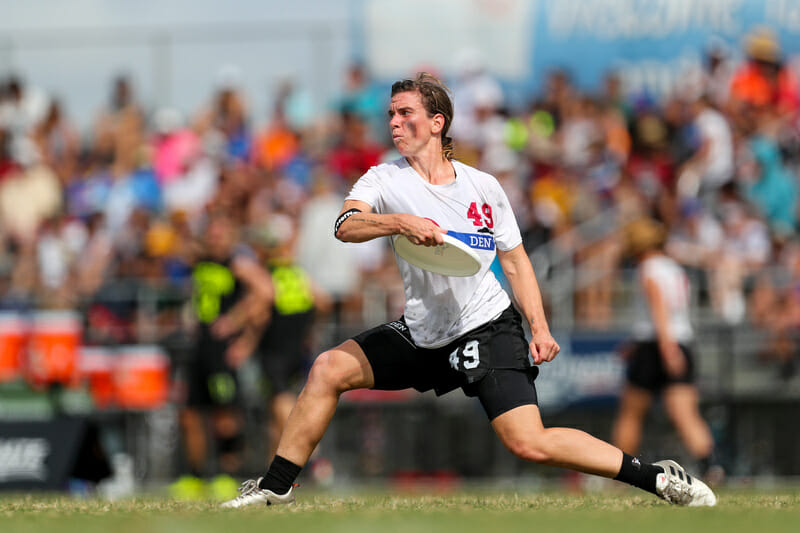 Ultiworld's coverage of the 2018 Women's Division is presented by VC Ultimate; all opinions are those of the authors. Please support the brands that make Ultiworld possible and shop at VC Ultimate!
The official kickoff of the 2018 Triple Crown Tour is this weekend just north of Denver with the Pro-Elite Challenge. This will give us our first look at many of the best teams in the nation, while offering them a chance to test themselves while building towards the postseason. In the Women's Division, the tournament will feature 16 of the nation's best, including 12 teams from last year's Nationals in Sarasota. For many of these teams, it's the chance to strike while the iron is hot and maybe catch their opponents before they have had a chance to consolidate their strength.
Tournament Profile
Date: July 7-8
Location: Broomfield, CO
Weather: Highs between 90-96, low chance of rain, 7-9 mph winds
Top 25 Teams: 16
Filming Schedule
Ultiworld will be filming five Women's games this weekend, to be released after the tournament. Access to the games will be available to Full and Plus subscribers. Here are the games:
Portland Schwa v. Raleigh Phoenix
Washington DC Scandal v. Madison Heist
Columbus Rival v. Austin Showdown
Quarterfinal (TBD)
Final (TBD)1
Molly Brown Poised To Win At Home
With WUCC looming, many of the teams headed to Cincinnati on the 20th have opted to pass on PEC, choosing instead to rest before Worlds. Not so with Molly Brown. The Denver squad are the current tournament favorites, and not just because they have home-field advantage. Molly Brown has continued to bring in a number of incredibly gifted young players, including Alika Johnston, Kiera Lindgren, Allysha Dixon, and Alex Hardesty.
With the inclusion of Johnston and Hardesty, Molly Brown now has eight players that competed on the US Under-24 team in the past four years. If anyone was wondering whether Molly Brown could sustain their recent success, there's your answer.
While Molly Brown obviously has a bright future, their present is just as impressive. 2017 Player of the Year Claire Chastain returns to anchor the team, along with their breakout star Paige Applegate. Downfield, Liza Minor and Lisa Pitcaithley will undoubtedly continue to churn up yards. Their offense remains one of the most disciplined systems in the nation.
Lest we forget, Molly Brown tore through 2017, beating all three of their national rivals —San Francisco Fury, Boston Brute Squad, and Seattle Riot— at different points throughout the season. Their run at Nationals was only brought short by Brute Squad in the semifinals. But Brute Squad will not be attending the Pro-Elite Challenge. Nor will Fury or Atlanta Ozone. This has left the door wide open for Molly Brown to gain an early advantage.
They'll first have to tackle the challenge of their pool. The 2nd seed, Seattle Underground, recently underwent a major roster overhaul, losing 13 players from last season. Their reinforcements are nothing to scoff at, though. Caroline Ma has been one of Melbourne Ellipsis' most reliable players and is bringing her talents to Seattle this season. She's joined by Julia Johnson, a dual-handed shooter from L.A., and returners Alyssa Kelly and Noel Hanzell.
On the other side of the spectrum, Chicago Nemesis has largely managed to retain most of their 2017 team and will face Molly Brown with the added experience and chemistry that an additional year together will bring. Nemesis has also had strong pickups for the roster: MK Anderson and Sarah Lipscomb are valuable pieces that should fit nicely in Chicago's system. Molly Brown's final challenge is LOL, the women's team from Oakland. LOL had a quietly competitive 2017 and finally have their chance to prove themselves on the big stage. The team is made up of ultimate veterans, many of whom have already won Nationals with their previous teams.
Despite their recent success as a program, Molly Brown has never won a national title nor even made it to the final. This year, the team is convinced they can pull it off. Winning PEC would go a long way in convincing the rest of the nation, too.
Riot Ready To Reassert Themselves
While 2017 may not have ended the way Seattle Riot would have liked, it certainly has seemed to refocus the team. Riot is accepting only four new recruits, including 2018 College Rookie of the Year Claire Trop. This consolidated roster shows the trust Riot has in their players, who now have more to prove than ever. The Pro-Elite Challenge is the perfect place for them to do so. This tournament has always been a success for Riot, with two finals appearances in the past two years and an overall tournament win in 2016. If the team can dominate the competition from the get-go, it will banish any demons from the 2017 season.
It's not as if they lack the talent to pull out a win, either. Shira Stern, Kelly Johnson, Alyssa Weatherford, and the eternal Dominique Fontenette are just a few of the household names that are returning and ready to torch through the rest of the division. Perhaps most importantly, Sarah Griffith will be staying with the team for one more regular season tournament in 2018. There's no better send off than to give the team one more TCT title before she goes.
To pull off a full tournament win, they'll need to hit the ground running on Saturday. Riot's first game is against an ever-ready Austin Showdown. The Texas squad lost a lot of talented players this year, like Katey Forth and Shiru Liu, but they always have a been a team of athletes and can wear down an offense better than most teams. Even if Riot pulls off a win over Showdown, their immediately thrown into a game against a reinvigorated San Diego Wildfire.
Wildfire had a down year in 2017, but an influx of young talent has brought attention back to the team. Wildfire mainstays like Lindsay Lang, Alexa Cohen, and Kristen Pojunis are joined by a strong rookie class. Expect players like Mei Bruist and Dena Elimelech to have an immediate impact on the field.
Riot will round out their pool with a game against Columbus Rival. Rival has been consistently finishing as one of the ten best teams in the nation but cannot be content with that. Some big additions to their roster, like Nancy Haskell and Nicole Kwee, will strengthen an already formidable roster. Riot has never lost to Rival, but this may be the year they have to dig deep to get past the up-and-coming Columbus team.
Traffic Looking To Reach New Heights
Vancouver Traffic is another team looking to use the PEC as a chance to prepare for WUCC. But make no mistake. Traffic is hungry for a TCT title, too. It's been over a decade since Traffic last made the semifinals of Nationals and just as long since they've been a contender at Worlds. Winning the PEC would do more than raise eyebrows, it would show Traffic has finally unlocked the full talent of their roster and is ready to compete at the highest level.
Unfortunately, Traffic's offseason has been defined by who they lost between seasons far more than who they've picked up. Between injury, fatigue, and job requirements, Traffic is losing big players like Ellen Au-Yeung, Rena Kawabata, and Collefas Mot. The Vancouver team has really struggled to retain young talent, and while it's allowed them to keep an experienced core, their window of opportunity is slowly closing. But for now, Traffic has a very real shot of making a splash at the PEC. Their current roster is filled with players that are comfortable in their system and know their role down to a T. In a tournament where the disciplined teams achieve their greatest success, Traffic is perfectly positioned.
Before they have a chance at bracket play, they'll have to go through a formidable pool. They start their tournament against Minneapolis POP, which returned to Nationals in 2017 after a long absence, and now their sights are set on more permanent success. POP has lost both Anna Reed and Holly Denecour, two of their strongest contributors last year, so Traffic shouldn't experience too much trouble. The next opponents they'll face, Raleigh Phoenix, are a group of young, talented stars who are looking to restore Phoenix to former glory. The roster is largely a blend of UNC Pleiades and NCSU Jaga Monsta players, both of whom had a very successful College Nationals. This game will very much be a contest of young talent vs. experience, and especially in the early season, experience will likely help Traffic win out.
Their final match is against Portland Schwa, a team that seemed to be in a rebuilding year until a string of close games at Eugene Summer Solstice caused heads to turn.
2018's Ripe For A Fresh New Scandal
It will be hard for Washington DC Scandal to outrun the narrative of their recent roster changes. Losing Jenny Fey, Sandy Jorgensen, Kelly Hyland, and Amel Awadelkarim was definitely a blow for the program. So much of Scandal's identity was tied around Fey's throws and Jorgensen's athleticism. But the changing of the guard in DC has allowed Scandal to embrace a youth revolution, and it could pay off in the long run. Caroline Tornquist, Danielle Byers, and Lindsay Soo are all promising young players who could be stars in their own right. Byers was arguably the most athletically gifted player at College Nationals and will be a huge boon for a program that just lost Jorgensen. Scandal has every chance to form a new identity this season, and there's still a chance that they could trade punches with the best teams in the nation. Coach Alex "Dutchy" Ghesquiere isn't going anywhere and he's known for getting the best performances out of his players. It's definitely too early in the season to write off Scandal. With the pieces that they have, their ceiling is still very high.
If they want to earn the respect of their competition, Pool D at PEC is the place to do it. Facing Madison Heist in the first game of the tournament will force them to start performing from the offset. Heist lost their own fair share of stars, including Georgia Bosscher, but with the depth of talent in Madison, nothing can be taken for granted.
For Scandal, the good news is that they have a bye directly after their game against Heist. They can play with abandon knowing that they'll have some time to regroup before locking heads with New York BENT.
It's been a rough few years for BENT. The Northeast is an incredibly tough region, which is why they know the need to earn a bid if they want to make it to San Diego. BENT has had their fair share of roster turnover, too, and will probably still be working out the kinks at PEC.
And if Heist and BENT weren't enough, Scandal's final game of the day is against San Francisco Nightlock, a team that is eager to make it into the top tier of the women's division. Nightlock has an abundance of talent and a full roster of players that have been to Nationals and know what it takes to compete at the highest level. They're very much in a win-now mode and, in true 4v5 fashion, this may be the closest game of pool play.
Will WUCC Affect How Teams Treat PEC?
The short answer is yes. In fact, it already has to some extent. Teams like Fury and Brute Squad turned down their offer to play PEC in preparation for WUCC, and many others will be playing with Worlds in the back of their minds. For the WUCC qualifying teams that are attending the tournament, they'll obviously be playing to win, but there may still be some reserve left in the tank as the players try to avoid injury or exhaustion before the biggest international tournament of our sport. Expect these teams to use their full roster all weekend and avoid tightening their lines even when they otherwise might.
With WUCC set as the goal for so much of this early season for teams like Molly Brown and Traffic, losing one of their stars to injury could be devastating.
---
As a part of our partnership with USA Ultimate, this game will be released soon after the tournament for free on YouTube! ↩