Doing our best to lay out the known knowns in a season with plenty of unknown unknowns.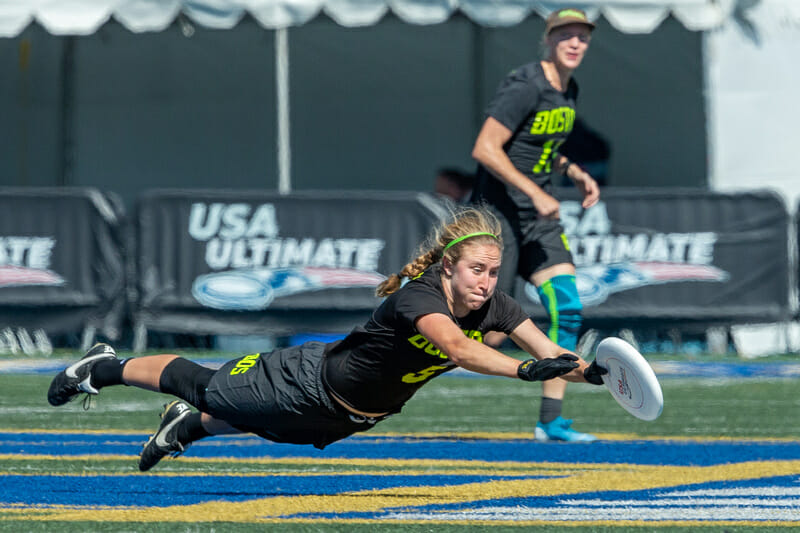 Previewing a new club season is always a big task, checking in with programs across the country to see how their squads are shaping up and what their prospects look like for the summer ahead. In 2021, even that is a total crapshoot. Rosters? Schedules? Expectations? Most teams still don't have a firm handle on these things yet as the calendar flips to July. Stalwart programs are piecing together whether or how they'll even compete in a regular season. Major TCT events are being revamped and inviting teams far beyond the traditional powerhouses. Players have the freedom to freely move between rosters and divisions throughout the summer, so we may not have a clear picture of the competitive landscape until Series rosters are finalized in the fall. As we head into a season perhaps unlike any we've seen before, the one thing we know for certain is that we should be ready to expect the unexpected.
For now, we'll do our best to share what we've learned so far in the run-up to this irregular season.
Club Division 2021 Primers:   Men's   |   Mixed   |   Women's 
To stay updated on the evolving storylines, teams, players, and games this season, support Ultiworld's club season coverage and visit our subscription page.
Major Storylines
A Slow Ramp-up in Competition
Perhaps no division is more widely affected by USAU changing the formula with the regular season schedule than the women's division. Many teams have only recently finished tryouts, and some top programs, like San Francisco Fury, are just getting started. The women's division was nixed from the season opener, Pro-Elite Challenge, due to a lack of interest from teams, and the same looks likely to happen at the US Open. There are still more questions than answers about what teams will look like this season.
Along with teams that have chosen not to compete at all, there are many that have opted to play only in the postseason, with maybe a smaller local tournament peppered in beforehand. Both Bay Area Nightlock and San Diego Wildfire are reportedly leaning towards this approach, as is Austin Showdown. These names are particularly notable, though not the only ones. Still, it does appear that there is a growing sentiment among Nationals-caliber teams, including those that have made the bracket no less than a season ago, that there is just not enough motivation or interest from their players to rally together for a full "normal" season of competition.
That raises questions — and opportunities. If quarterfinalists like Wildfire and Nightlock are not going to be competing or training in the same capacity, are there other teams that see this opening as the chance they need to make it to the big stage? Certainly teams like New York BENT have shown that they're eager to play, and they are retooling for a big push this year. With just a little more organization and practice, these teams could find themselves as locks to make a deeper postseason run than ever before.
The other side of the coin favors the teams that have chosen to wait for the postseason. With so many reportedly taking this route, it levels the playing field somewhat. We might not match the same quality of ultimate as we saw in 2019 when the teams were playing at their peaks (and obviously with no post-pandemic rust to knock off) but if every team is in the same boat…
What this all means is that early regular season events will be thin to nonexistent. The late season events — Elite-Select Challenge and Pro Championships — have fewer than usual signups but will be competitive.
Another major effect of the lack of many regular season events is the boon that it could grant teams from Canada. The Northern neighbors have had a slower vaccine rollout, and cross-border travel remains restricted. It remains unlikely, without a notable change in border policy, that Canadian teams would be able to make it over for any regular season events; however, they have a much better chance of coming down for the postseason. And they won't be without reps having played in their home seasons. Toronto 6ixers, Vancouver Traffic, Quebec Iris, and others might have roster fluctuations that keep from them from meeting their full potential this season, but there's plenty of room for them to still make waves in the Series.
An Up Year for "Small Market" Teams
With some shifting sands and the possibility of the Canadian teams choosing (or being forced) to skip out on the USAU Series, there's a high likelihood of some fresh faces showing up to the National Championships.
First and foremost, we've got to talk about New York BENT. It's already established that the team is picking up one of the world's best players, Yina Cartagena, who has been leading Medellín Revolution and the Colombian National Team to international stardom for years. The stabilizing force that she will provide to New York's offensive line is hard to overstate. She may be the most dominant center handler in the division outside of Claire Chastain. And it's a mighty important role for BENT to fill: their defense has been solid but their O-line has really struggled against tougher defenses in recent seasons, including in 2019 when they lost back-to-back games to go to miss Nationals.
There are rumors that BENT could pick up some more surprise additions, and it's for sure that they will get more throwing power in Samiya Ismail (Riot) and Lisa Kowalski (Scandal).
And what about in the Mid-Atlantic, where the long-dominant Scandal isn't playing this season? Pittsburgh could make a triumphant return to Nationals in the women's division, as the new team Pittsburgh Parcha is set to rekindle a strong program in the city. Carolyn Normile is the headline act for Parcha, but they will have other strong players, including Annelise Peters and Charlotte Koerner.
It's certainly possible that Washington DC Grit could debut on the national stage after narrowly missing out on earning a bid in 2019. Grit was one of the best teams not at Nationals two years ago, and they could benefit from some Scandal pickups this year.
The Push for Worlds
While in some ways it doesn't feel like we're that far removed from the World Ultimate Club Championships in Cincinnati in 2018 — there has only been a season and a half of club since — we're already back around to another qualification round for a trip back to another Ohio WUCC next summer. While we don't know how many bids the US will have, we know qualification will be based on this year's standings.
In the past, the women's division always had the least drama in terms of assigning out those invitations: pencil in Fury, Riot, and Brute Squad right off the bat, then the list of other contenders was two or three ultimate hubs in up cycles — be it Molly Brown or Scandal — that were well known quantities heading into the season.
Then that ironclad assurance cracked a little in 2017 when Ozone unexpectedly knocked off Riot1, and perhaps got even less predictable in 2019 when 6ixers and Schwa crashed the semifinal party. Then 2020 happened, teams got thrown into chaos, and coming back this year we feel farther from an era of a "Big Four" than we ever have. The legacy programs have seen a lot of turnover, are getting started later than usual, and may look quite different than the teams we saw pre-pandemic. Meanwhile, some other worthy challengers have arisen.
Raleigh Phoenix certainly fits the bill. The Triangle's investment in girls' and youth ultimate has already boosted the fortunes of their college programs, helping UNC become a perennial title contender. That fertile recruiting ground could now yield a bumper club crop. UNC's Tyler Smith, Karen Ehrhardt, and Ella Juengst won't need much time to make an impact. Mary Rippe, another alum, will bring defensive tenacity transitioning from mixed.
On top of that, they experienced very little top-end turnover during the time off and are bolstering their ranks with new transfers. Defensive star cutter Austin Prucha (formerly of Scandal and Heist), a veteran handler from San Francisco Nightlock in Audrey Lyman, and an experienced receiver from DC Scandal in Keila Strick are quality additions with valuable experience. But they also bring some more hunger for success that should fit in well with the core of Jessi Jones, Anne Worth, Lindsay Soo, and Ashley Powell. The most notable departure from Phoenix this season is Jenny Wei, who has been a top tier goal scorer for the team in past seasons. Wei is currently recovering from a torn achilles, and there is still a possibility that she will return to the team in the Series.
The other team to watch is Portland Schwa, a reigning semifinalist. While not without some key losses, they have more continuity than many of the other top 10 teams. They also pick some exciting new pieces including Dani Runzo, breakout-ready Kyra Khoroujnikova, and the steadying presence of Claudia Tajima. While Mariel Hammond has star traits as a player, their team-based attack rarely hoists too much weight on any individual's shoulders. Tajima has ample opportunity given the roster's backfield departures, such as Angelica Boyden, Ella Hansen, and Shea Brennan, so her integration will be their key to success. Eva Popp, Brenna Bailey, Julia Sherwood, Kimber Coles, and compatriots have to be eager to see what their 2021 iteration can do.
While Schwa hasn't had the same arcing trajectory as Phoenix, they've already proven they can win when the rubber meets the road. And there is a great deal of history to their program, which has been to multiple world championship events in its history. They could be the best team in the Northwest this season if they can weather their roster turnover, giving them a chance to silence any doubts about their 2019 run.
Breakout Players To Watch
Typically in our club season previews, we highlight the big-name stars who will likely end the year challenging for major award honors. This season, we're calling your attention to some slightly lesser-known players that we think are ready to make a leap and leave their imprint on the season. Expect to see these names dotting tournament recaps as the season goes along.
Annelise Peters (Pittsburgh Parcha)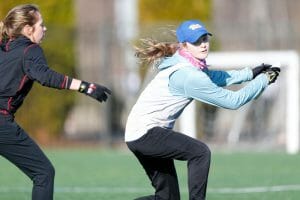 Pittsburgh Parcha isn't exactly hurting for throwers: bringing Carolyn Normile home to PA as well as a host of other college stars, club vets, and cross-division pickups who've made names for gunslinging on the game's biggest stages, the new-for-2021 program has enough offensive firepower in its first year to support a mid-size tournament lineup of only somewhat lesser teams. Add to that list Annelise Peters, whose own resume wasn't looking too shabby by early 2020: having established herself as a key piece in the backfield of an Ohio State team also not hurting for throwers, she stepped into a vital anchoring handler role in a fifth year with Pittsburgh, where her performance at Commonwealth Cup played no small part in launching Pitt to the top half of the rankings in what would be the final weeks of that season.
Peters brings the range and precision of a master craftsperson to her throws, with upline jabs and motion in the handler set as finely-honed as her touch on the plastic; she's proven she can dependably center an offense as well as pull off the kind of don't-try-this-at-home aerial stuntwork that's the stuff of Throw-of-the-Month video breakdowns, creating possibilities downfield that can significantly shift games even on a team with plenty of established talent.
Ari Nelson (Denver Molly Brown)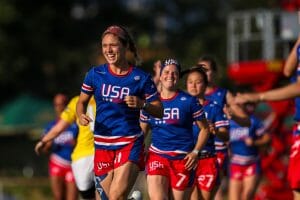 Much like others on this list, no one can claim anonymity for Ari Nelson. Along with a prolific college career, Nelson's accomplishments in the mixed division and for Team USA are well documented. However, we haven't had the opportunity to see what she can do in the women's division, and with the size of the talent pool shrinking somewhat, this is the perfect time for her star to rise.
It's not as if she's without experience in women's ultimate. At U24 Worlds in Perth, Nelson was about as dominant as one could hope when surrounded by equally talented stars in the making. Her presence on the defensive line, and ability to cross over when necessary, allowed her to be a threat no matter her position, although she was especially lethal in the backfield.
It remains to be seen how Molly Brown chooses to use their young star, but considering the reputation the team has for giving the reins to recent additions with no second guessing, it's all but a given that Nelson will make an impact for the team.
Tyler Smith (Raleigh Phoenix)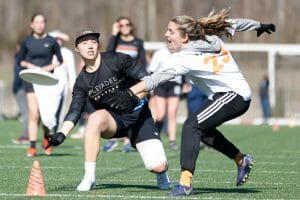 In a normal year of ultimate, our Breakout Players list would be dominated by college players that were taking their first steps into elite club ultimate, poised to change their team's chances simply by being on the field. We may have been robbed of that opportunity this year, but there are still college players from 2019 that are on the cusp of national recognition, and Tyler Smith definitely makes the shortlist.
In her time at UNC, Smith was surrounded by young phenoms who were already dominating headlines in high school or stepping up for Callahan awards. While these players may have all been ingredients in the team's recipe for greatness, Smith was the catalyst. Her crisp throws and almost unshakeable calm set her up as the team's savviest backfield player, capable of making an impact on either line thanks to her field IQ. Phoenix already has a reputation of outstanding athletic defenders and cutters, but their playmaking often comes downfield. Having Smith to marshal the team as a handler in any capacity is already a boon for the team. In a year where the possibility that anything can happen is more likely than ever, Smith's rise to prominence in Phoenix is one of the few inevitabilities.
Kyra Khoroujnikova (Portland Schwa)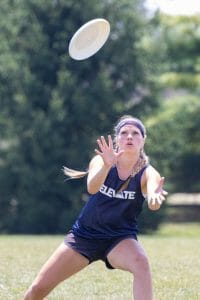 Schwa was one of the first rosters to emerge from the elite women's scene, and they return much of talent to led them to a banner season in 2019. Among their additions is Kyra Khoroujnikova, a Utah product that has some explosive ability. She's a fierce competitor who has been comfortable shouldering a high volume role, playing a lot of points, taking on tough matchups, and coming up with clutch plays.
It's not the first time Khoroujnikova or her team has been expected to push from outside of the spotlight to center stage. It's been something of a trend for her. She helped push Salt Lake City Elevate into relevance with some strong Elite-Select and Select Flight Invite moments in 2019. Her former college program, Utah, has been building, and although they have yet to break through, she was a big part of the reason the team started to generate some preseason buzz.
But this time is different. She's joining an established team that can no longer be seen as an underdog. There won't be a need to be a high usage star, but rather the type of motoring role player that can turn the tide with a couple of key plays in any game. Khoroujnikova could blossom in that environment.
It might be a fitting year for such a breakout. Others from the Utah scene are venturing out into more visible playing opportunities. She could be leading the charge as the long-awaited Utah takeover begins on an individual level and precedes teams from the locality asserting themselves.
Samiya Ismail (New York BENT)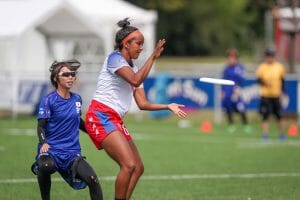 Rounding out our collection of players who made waves recently on the college circuit2 is Samiya Ismail. The Seattle transplant tore through the first half of 2019, helping Western Washington put together a great season and was one of the brightest stars on the U24 US Women's National team that took home gold. In her debut year with Riot, she spent much of time playing a downfield role and on defense. She had a quieter year as she found her rhythm in elite club.
But now she has moved to New York and is joining a BENT club that is expected to be on an upswing and a beneficiary of the void in quarterfinals-quality programs. There should be a lot of space for her to expand her play at the elite club level, a balance of the centerpiece role she frequently played in college and the reserved role she took on in club. And when we've seen her play in that sort of space, as she did with the U24 team, we've seen her excel.
Few players have a standout skill to the magnitude of Ismail's forehand cannon. She's a quality defender and a playmaking thrower that could help power a successful NY campaign.
Regional Previews
Great Lakes
With two bids and two teams that are consistently at the top of the region in talent, experience, and sophistication, the Great Lakes could be very boring in 2021. Both Chicago Nemesis and Columbus Rival are set to return to Nationals with relatively little fanfare.
The region's big two are going to see some roster changes in 2021, just like every other club team, but there aren't likely to be many other teams competing for a spot in San Diego. The next two most likely teams are probably from Indianapolis and Cleveland, but both cities often see top talent move to the two main powerhouse teams, and neither has been competitive at regionals with Nemesis or Rival.
The biggest question will be how high the top two can climb in a tumultuous season for the division. Nemesis seems positioned to make some quality pickups that will slot into regular roles immediately. Their outlook is much rosier than the Ohio club's, and they will certainly be the regional favorites this season. Rival's position is less predictable, as they could have somehow melded the timelines of the return of Paige Soper to Columbus and the return to health for star Sophie Knowles. Instead it looks very possible they'll start the season with neither, and a number of other key contributors, like Zoe Hecht and Sharon Yee, also look to have moved on. Their lack of clarity about the team's roster and schedule make it a bit of a crapshoot, but there just may not be another program ready to step into their shoes.
Nationals Bids: 2
Mid-Atlantic
Mantles abandoned, alliances shifted, old orders broken and new ones forged, and, oh yes, a power vacuum in the capital: behold your 2021 Mid-Atlantic.
Washington DC Scandal, who haven't missed a Nationals appearance in more than a decade — more often than not sewing up the region's only bid to get there — is on hiatus for the season, scattering some major talent and experience to teams across the country. No doubt the gap year is partly an effect of the pandemic (many core contributors in 2019 were serious distance commuters), but it may also mark something like a breath between successive generations: of the passel of recently-rostered players heading to Space Heater (including Nada Tramonte, Kath Ratcliff, Molly Roy, and Kelly Hyland), many had been with the team since 2015 or earlier. Depending on who joins or rejoins for 2022, the page may be turning toward a chapter defined by newer names: Kelly Ross, returning from 2019 injury to pick back up on her impressive 2018 run with the program? Her Space Heater teammate Ashleigh Buch, a recent transplant to the area with a long history in the women's division and a roster spot on the PUL's DC Shadow? It'll be at least a year before we know.
In the meantime, there's room on the regional throne for one team only, and more than one team looking to seize it. The moment would seem ripe for Washington DC Grit, the perpetual Top-Select finisher who's had their eyes on the national stage since they were founded in 2015. Indeed — having kept a continuous team identity through the off-season with internally- and externally-directed community and social justice activities — Grit has been actively planning a serious run to Nationals since early spring, when the 2021 club season was but a glimmer in the eye of many major programs in the division. The team will hit TCT stops at Elite-Select Challenge and Pro Champs by the end of the summer3; the postseason, of course, is yet to be written, but there's little ambiguity about this longtime second-in-succession's ambitions for the year.
But it won't be an unchallenged path. Between 2020 and 2021, both Pittsburgh and Philadelphia — the only other cities in the region to send women's teams to Nationals since the 2012 club redraw — made major overhauls to their women's club structure, consolidating talent formerly scattered across teams and divisions into single women's club programs, each with both a leading team and a second sister team under the same organizational umbrella.
Pittsburgh Parcha — a direct successor to former Pittsburgh women's teams Hot Metal and Eliza Furnace, but also drawing from local mixed team Alloy as well as some pandemic-era transplants to the area — looks to be a major new power in the region. A Carolyn Normile back from her year abroad with Scandal anchors the homegrown throwing corps,4 but their as-yet-embargoed roster is likely to carry a heavy arsenal of top-tier backfield talent and all-around utility players from elite club and college programs around the country, from rising stars like 2020 Pittsburgh Danger addition Annelise Peters to head-turning cross-division pickups with serious cred on semis-level mixed teams — it's worth noting that long-time Drag'N Thrust standout and 2019 All-Club 1st Team selection Erica Baken has moved to the city and could pop up in women's. It's a shooter-heavy lineup, but Pittsburgh club vet Charlotte Koerner has certainly proven herself an able receiver for all that slinging. Look for them in neighboring Ohio at Elite-Select Challenge.5
Meanwhile in Philadelphia, the leads of the greater Philly women's club program have been pleased to see interest in the division remain strong through the offseason. "We were gearing up to start a program back in 2020, and this year were not sure how much to push for, but we've had great interest and turnout at our tryouts, so have decided to forge ahead with two teams," wrote captains Zoe Lewis and Allison Milligan in an email to Ultiworld. Both new first team Philadelphia Flight and its second team6 will focus on regional play this year, but they plan to carry the momentum into building a consistent and sustainable Philly women's club presence going forward. It's been a few seasons since the old Green Means Go team cut a path to Nationals, but in a major metro area with a perennially strong local disc scene and a nearby college women's power in West Chester, it's entirely possible Philly's star in split-gender club could rise again in years to come.
Elsewhere in the region, Virginia Rebellion — who made a memorable challenge-to-the-challengers at Regionals in 2019, coming within swinging distance of knocking out a Grit team that came within swinging distance of unseating Scandal — remains active, contributing much of the women-matching half of the roster to Richmond Cup semifinalists Virginia Trippin', and retaining much of the talent that makes this small-market team a force to reckon with. DC's third team Agency is on for the year as well, while a new women's program Wave looks to provide playing opportunities in the Baltimore area. Scandal won't be away forever, but if the momentum across these programs suggests anything about the future, it's this: this may not be a one-bid region for much longer.
Nationals Bids: 1
North Central
The North Central region has one bid this year and it will be a familiar battle for that spot to Nationals as Minneapolis Pop and Heist have faced off in eight of the last nine North Central regional finals. With two regional contenders not participating this year in the fall series and the field looking smaller than in year's past, it may be another Pop vs. Heist final when regionals come around.
Minneapolis Pop is aiming for their second straight North Central regional championship after taking down KC Wicked last year in the final. Pop had been knocking at the door of a North Central regional title, losing to Heist in the final from 2012-2018. As of this writing, Pop has not finalized tryouts. Instead, they have gone with open practices that are hosted by at least one returner and open to anyone who wishes to attend. They plan to finalize tryouts later in the summer around the end of July or early August. Their roster will become more clear at that point and they are hoping to play in the fall Series and qualify for Nationals once again.
Madison Heist took a step back in 2019, finishing fourth after losing to KC Wicked in the semifinals and Fusion in the third place game. Since their inception in 2012, they had won the North Central region every single season until their semifinals defeat. Their biggest offseason loss in 2019 was Robyn Fennig, who played with DC Scandal and would go on to win Ultiworld's 2019 Women's Club Player of the Year. Along with not making Nationals, Heist went winless at both the Pro-Elite Challenge and Elite-Select Challenge, losing to Pop in both tournaments. Looking to bounce back, Heist has combined with Lady Forward, formerly a singular Madison women's team. It will be interesting to see what the combination of the two teams will do for the growth of ultimate in the area and what type of results we will see from Heist in 2021. Heist captain Lauren Perucco noted, "We know the female-matching division is looking a little different this year, but we think providing playing opportunities in our community is important for the growth and future of the female-matching division."
Two perennial regional contenders won't be attending North Central Regionals this year, albeit for different reasons.
Kansas City Wicked, a consistent Select Flight team and the top select flight team in 2019, has declined to play this season, citing personnel and leadership interest as a main factor. Some of the top players from Wicked, including a captain, have shifted over to play mixed with some men who left Kansas City Prairie Fire. This is an interesting development that we are seeing with other cities where some players are deciding to play mixed in this abnormal season. Instead of participating in the series, the KC squad will be hosting women-only scrimmages and meet ups to continue to grow the community. Having players from various levels will allow the team to maintain a presence in the community and to hopefully retool for 2022.
The other regional contender, Winnipeg Fusion, has declined to participate in the fall Series as well. With restrictions having only recently changed in Manitoba, they do not feel they have enough time to get ready and put their best foot forward. Their updated vision for the team does include competing in the USAU fall series for years to come.
Nationals Bids: 1
Northeast
The story through every region is one of unpredictability, but that is more true than ever in the Northeast. With a large portion of the teams in this region residing across a restricted border, truly only time will tell how things play out this season.
In 2019, four Canadian teams finished in the top 10 in Devens — Toronto 6ixers (1st), Quebec Iris (4th), Halifax Salty (6th), and Ottawa Stella (9th) — and none of those teams are able to comfortably commit to anything south of the border right now, as recreational travel is still strongly discouraged and a 14 day quarantine is required unless you're fully vaccinated.7
Beyond border woes, the remaining top teams are all but certain of their season plans as well, though things look much more promising.
Reigning national champion Boston Brute Squad hosted tryouts in June. While their roster isn't public yet, there's plenty to be encouraged about. Some interesting names appeared on their Boston Invite roster, with reports of former Rival star Sophie Knowles returning from injury to play with Boston and Scandal's Caroline Tornquist also along for the ride. It's also encouraging that none of their core has popped up on recently released Boston mixed rosters. The strength of their roster could withstand some attrition. Expect nothing short of excellence.
The other Boston group, Boston Siege, is also planning and plotting for the months ahead. Siege had their hottest season yet in 2019 — getting a bid to Nationals for the first time ever and finishing 11th. Siege players spent May and June doing vaccinated mini and small group sessions, leading up to team selection. Their final weekend of tryouts was set for July 10-11. Following this, the hope is to be able to scrimmage, attend local tournaments (including Boston Invite), and build towards the fall Series. "We are looking to keep the momentum going from our big 2019 season and continue building our team community. Results are not the main focus of the season. We have a goal to be the best version of Siege we can," the captains told Ultiworld.
The first team out in 2019, New York BENT, according to the captains, is set to have a season "with a primary focus being on player development and community building." This work will hopefully pay off later in the season when BENT intends to compete in summer tournaments, aiming to be ready for Fall series success. The New York squad recently announced they have an exciting roster addition in Yina Cartagena from Revolution, which is sure to give them an edge going into this unusual year. Beyond just the field work, BENT has committed to "exploring new systems and ideas regarding racial equity, collective decision-making, and financial accessibility."
If travel is deemed appropriate, some Canadian teams seem to be more eager than others to make the trip to compete. Toronto 6ixers — reigning Northeast regional champions and National runner-up — released a tryout form in late spring that noted they would start by taking a larger "roster" who can train as a part of the team's program in preparation for official tryouts later on, and then tighten up the list to compete in the USAU series. There's much to wonder about here, but we'll have to wait on information that goes beyond the ultimate world.
Quebec Iris, who also had an impressive 2019 season, have set out a season consisting of two parts. The first half is focused on a return to play, with an aim to work on fundamentals and chemistry from May to July. The latter part will include tryouts in August and will shift to a competitive focus with the goal of competing in the Series. Unlike their other Canadian counterparts, Iris also stated that they have a longer term goal of attending WUGC 2022, and therefore Ultimate Canada (UC) decisions about bid allocation may change their season— if the Candian Ultimate Championships (CUCs) are required to qualify, they may have to reevaluate the tournaments they attend as UC recently announced CUCs will be held "late September or early October."
The other teams in the region have various plans. Halifax Salty has committed to an entirely local season, deeming the uncertainty of safe travel too difficult to navigate for a competitive season.8 Ottawa Stella seems to have a similar outlook and are not committed to attend the series this year. New York Rebel Rebel, who had their inaugural season in 2019, held tryouts in June, but has not officially announced their roster or season plans yet. They will start their season at Boston Invite.
Nationals Bids: 3
Northwest
It has been a slow start to the season for the Northwest women's division, as teams are still designing what their seasons could and should look like. Most of the top teams have announced that they intend to have some sort of a season, even if it is just a local warm-up tournament and then the Series. The exceptions are the two teams that tied for fifth at Northwest Regionals in 2019. Utah Elevate told Ultiworld they "were unable to find leadership for the team this year — there are a lot of players moving, having children, or switching divisions." A new women's team, Demolition Squad, has formed in nearby Provo, and the only Northwest women's team with more than a blank roster on the USAU site is a new team called Chick Flicks out of Providence, UT. Vancouver's Sneaky House Hippos has also disbanded, with many of their players joining new mixed division entry Red Flag.
Portland Schwa is the first women's team in the region to release their roster. They lose some major contributors to their breakout 2019 season including Laura Bitterman, Angelica Boyden Chambers, Becky Zipp, Ella Hansen, Katie Weatherhead, and Lillian Weaver, but they restock with Brute Squad vet Claudia Tajima, Elevate star Kyra Khoroujnikova, Morgan Caldwell (returning after taken the 2019 season off), Public Enemy center handler Dani Runzo, and Cal Poly SLO's Caroline Swanson. Schwa told Ultiworld they have "taken a lot of time during the pandemic to reflect on and plan for better community involvement, as it relates to equity, youth development, and just generally being better citizens of our local communities. . . . With that being said, our team goals are still to continue to compete at the highest level."
Next up is Vancouver Traffic, who released their roster shortly after Schwa. Gone are the Mot twins (to new mixed team Red Flag) and Jennifer Kwok, but most of the other major 2019 contributors are back. However, Naomi Morcilla and 2019 assist leader Nagisa Fukuoka are listed as practice players. They add a bunch of talent from Sneaky House Hippos, Winnipeg Fusion, and recent Canadian youth teams and have multi-team veteran Danie Proby on extended tryout. Traffic's captains stated their goals for the season "are to really work on our processes and enjoy playing ultimate together again after a year apart." They "are hopeful that the [Canadian Championships] does not conflict with any of the fall Series."
"Obviously being a Canadian team and competing in a USA-based tournament series is challenging at this point . . . We know our Prime Minister Trudeau is an ultimate frisbee fan, so we're hoping he'll factor that in when the federal government is deciding whether or not to open the border to recreational travel," the captains added.
The top Seattle teams, Riot and Underground, are keeping their plans closely held. However, it seems clear that rosters are going to look a lot different than in 2019 due to the long layoff and uncertainty about the 2021 season. For Seattle Riot, Hall-of-Famer Dom Fontenette has retired and Alyssa Weatherford is thinking about focusing on disc golf this year. Cassie Swafford is joining Molly Brown and Abbie Abramovich is playing mixed with Lochsa, while rumors swirl that several more former Riot players are moving to the mixed division for 2021. On the flip side, Riot's latest tryout posting shows 2020 D-I College Player of the Year Margo Urheim, her Tufts and Wild Card teammate Claire Dunn, and former Nightlock and Mixtape player Lani Nguyen.
Seattle Underground has new leadership in 2021, and, like Riot, is just starting tryouts in earnest this month and extending through July.
Overall, it looks like the Northwest women's club season is not going to really get underway until late August. Schwa is hosting a regional tournament in Eugene on August 21-22 which all the top regional teams have expressed interest in attending along with San Francisco Fury, PDXtra (OR Masters), Seattle Soul, Boise Seven Devils, and Downpour (Oregon YCC). With three bids for the region, the general forecast looks similar to most years: Riot, Traffic, and Schwa favored for Nationals, with Underground vying for the last slot in the game-to-go. But the qualifying order could get a shakeup this year.
Nationals Bids: 3
South Central
For a region so large, it's only fair that the upheaval should match it. The South Central will look significantly different from how it was in the past, starting with the end of Showdown. The perennial Nationals contender is out for the season, and there is no clear team taking their place as of yet. In Texas, Houston Crush City is on the rise, but the level that they can reach is yet to be seen. They are led by Shiru Liu, and rumor has it that they are picking up some Showdown players for the season, but there are still more questions than answers with the potential of the team. For fans of Texas ultimate, though, there doesn't appear to be much else to set your hopes on this season. The state is going through a changing of the guard, and the next generation of stars is only really starting to get going.
Texas isn't the only South Central state seeing its fair share of turnover. In Colorado, Denver Molly Brown is emerging from a tumultuous offseason with a roster that features a few fresh faces, but is most notable for the names off the list. Paige Applegate, Jesse Shofner, Stacy Gaskill, Allysha Dixon, Chip Chang, and Bert Cherry9 are just a few of the players that aren't returning. Of their notable additions, Cassie Swafford, Ari Nelson, and Claire McKeever stand out, although there are many others that will make an impact this season. Still, due to all the roster changes, it's fair to question whether Molly Brown will attain the same success they've seen in years past. It's yet to be determined whether their new talent will provide a boost of energy to propel the team forward or whether they'll have to build back up to the dynasty that they've long been trying to establish at a national level.
Outside of Molly Brown, there still are a few teams in Colorado that are competing, most notably Colorado Small Batch. The team had a surprisingly strong 2019 season, giving Showdown a run for their money at Regionals, but they didn't quite have the overall roster strength to pull it out. The unpredictability of this season could be exactly what they need to make waves in the division. Still, with only a single available bid in the region, it'll take a herculean effort from the team to get past Molly Brown, even after all the upheaval that has happened in Denver.
Nationals Bids: 1
Southeast
The biggest news of the Southeast region is the folding of Atlanta Ozone. Or did they fold? At least five former Ozone players are still planning to compete and be coached by the established Ozone coach, Martin Aguilera. The player core includes Marie Perivier, Paige Carver, and Jin-Mi Matsunaga. These players are certainly all talented, but the roster may be skewing significantly younger this year. Even Perivier admits that there is still a lot of uncertainty about the season due to COVID-19.
The Ozone-adjacent team still has potential to snag one of the two bids from the region to Nationals but will have a much more difficult time than usual battling against Florida Tabby Rosa and other lurking teams in the area. Tabby, who has stolen bids in the past, is coming back to the scene in 2021, led again by the formidable Kate Travaglini, who this year will be leading from on the field rather than just the sideline as she did in 2019.
Raleigh Phoenix, the reigning regional champion, looks poised to remain squarely at the top of the pack. While the team has had some roster turnover — most notably Jenny Wei, who sustained a torn achilles earlier this summer — they also gained some notable players. Mary Rippe returns from the mixed division, bringing along firepower in Tyler Smith. And even more notably, Austin Prucha and Keila Strick moved south from Scandal to join the squad. Eddie Alcorn, Phoenix's coach of three years, retired but was replaced by former Ring of Fire and UVA coach David Allison.
Nationals Bids: 2
Southwest
Considering how many bids the region has, the highest potential for close-to-anonymous teams making Nationals likely will come from the Southwest. Of the teams that made Nationals in 2019, only San Francisco Fury has made any moves to pull a team together before Sectionals. It's not as if Fury is playing a full season, either. The Bay Area team declined both their bids to the Pro-Elite Challenge and the Pro Championships, and while they are trying to play in a tournament before the postseason, it's unclear when that might be (perhaps at Schwa's late August tournament). The team is also setting their roster late, and considering the uncertainty and difficulty of drawing busy players together for consistent practices, Fury may very well be only ramping up to full strength at Regionals itself.
Regardless of Fury's intentions for the season, it's even less certain what level of talent we'll see from San Francisco Nightlock and San Diego Wildfire. Both have made it clear that they are forming up only for the postseason and don't intend to compete in anything serious until then. This may change in the upcoming months as players gear up to competition time, but for now the Californian coastline is going to be limited in the amount of ultimate being played. Without the buildup from these two teams, the second and third bids in the region are very much ready for the taking from a team that can rally a formidable squad.
One team that could capitalize on the fallow period from their neighbors is L.A. Rampage. While it sounds as if the young team also has their sights on the postseason exclusively, a little more practice and a little more time to build chemistry could get them in line to give Nightlock or Wildfire a run for their money. Rampage already has been drawing talent from Santa Barbara for some time, and the combination of talent from UCLA, USC, and UCSB is enticing, especially as they'll all be ramping up to a late college season anyway.
Another team with potential to sneak their way into Nationals is Oakland LOL. The team already has a history of drawing together for the postseason, and the wily veterans that make up the team have a level playing field this season. The team has not yet committed to playing together, but the rumblings are there. They've given a scare to a number of the elite teams in California before; there's no reason to believe they'd want to stop now.
Outside of California, it's unclear if Venom is coming back, but if they are, there may be room for the Arizonians to carve out a place for themselves. For now, they have yet to put themselves down for any tournament on the calendar, and the area has a history of roster movement between mixed and women's, so it's uncertain if they'll have the numbers to make a push by the postseason, especially given the strength of the Arizona Mixed 1 roster.
Nationals Bids: 3
Preseason Power Rankings
Even for preseason power rankings, consider these especially speculative. With few rosters yet released and some teams still taking shape, there is high likelihood of some big shifts in the Power Rankings once rosters roll out — and we see teams compete.
---