Agony and ecstasy.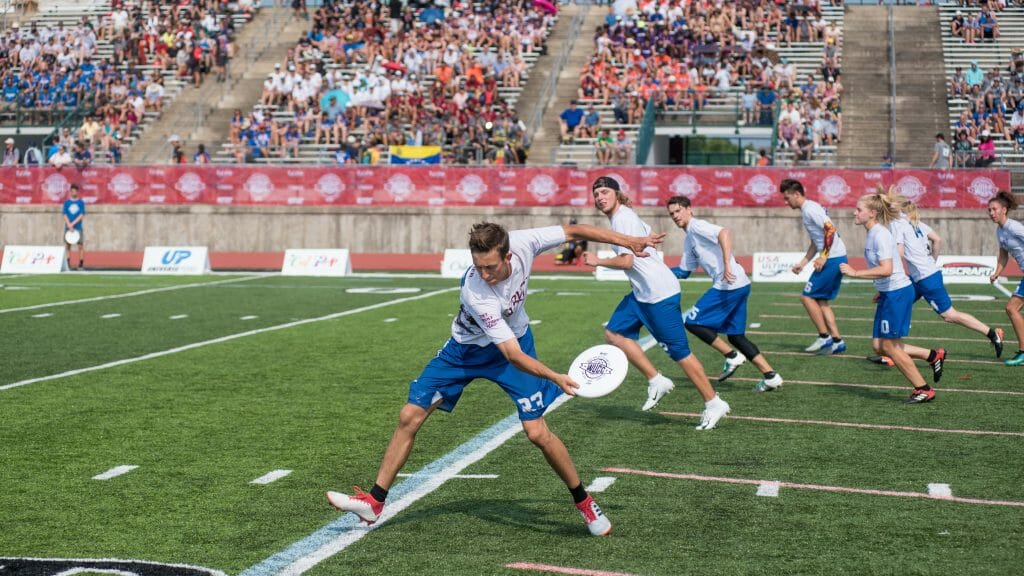 Throughout WUCC, we will be "embedding" with select teams and telling their stories with daily updates about their journey, history, and more. This is the first article in that series. Ultiworld's coverage of the 2018 WFDF World Ultimate Club Championships is presented by VC Ultimate; all opinions are those of the authors. Please support the brands that make Ultiworld possible and shop at VC Ultimate!
The opening ceremony of any World Championship is a wild affair. It's an ocean of bodies crashing upon itself in waves of reunited friendships and simmering anticipation. It's a tradition well maintained here in Cincinnati as around the Mason High School stands continents collided in a cacophony of inside jokes.
Meanwhile, behind the bleachers, a place where all the action happens if my cultural education via American cinema is to be trusted, a group of young upstarts plotted their revolution.
The mood was excited, if somewhat tentative. I warily approached GRUT as they began to warm-up, hoping to steal a few minutes of their time without trespassing too much on their moment.
It was a moment they seemed to be wearing well. Each player was enthusiastic as the energy built into their awaiting endeavor started to course through them. They were also nervous, but in the primal sense, the one that's responsible for humanity's position atop the food chain. Yes, this was a big deal, the biggest deal in these young players careers thus far. But it was one they've been waiting for all season. They were joking as they laced up their boots, casually drifting into warm-up throws once they were adequately armored for battle.
You could not deny the sense that GRUT were well aware of what lay ahead of them. From their position, they seemed ready to throw themselves into the awaiting air and try to fly.
As any of you who watched the opening game already know, gravity had other ideas. Holding a 14-12 lead with possession, they yielded a score, then another, then another to lose 15-14.
I have come to know GRUT quite well over the last few years. From my position on the sideline, I have tracked their conquest of Europe. During that time, I have only seen them suffer one serious defeat, a loss in the 2016 final of EUCF, the season before they adopted their current moniker and the attitude that accompanies it.
The feeling surrounding the team after the game was dejection, though anyone who witnessed their reaction to the final score could tell you that. I spoke to GRUT's coach Jeroen Oort after the match, as I have many times before. I had never seen him like this, though. His team dappled the ground around us, their clothes drenched with sweat and disappointment, trying to come to terms with the reality they faced after letting their dream start slip through their fingers. Oort spoke honestly, emotionally, accurately, and entirely off the record. Suffice it to say that he knew exactly what had just happened and faced its repercussions fully.
The one snippet I would feel comfortable sharing was his parting remark: "I have to go. I need to be with my team."
And with that statement hope sprang once more to my heart. From the outside, their performance during the showcase game's closing exchanges could have seemed like a fatal recession. But GRUT's strength has always lain in their belief in one another, and addressing their missteps will be a matter of family business.
Tonight they will close ranks, analyze the match, and enjoy each other's company.
Tomorrow, we'll see if they can stay true to recent form and, when doubt is all around, still find the faith to "trust their receiver."