After pool play with plenty of drama, power pools are set.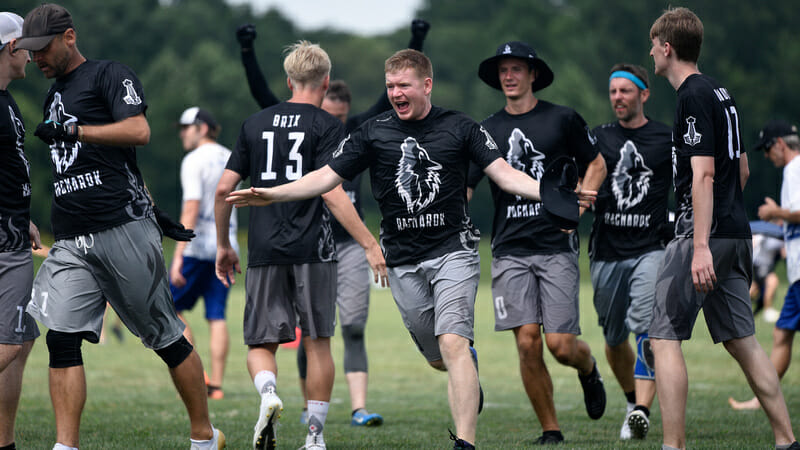 Ultiworld's coverage of the 2018 WFDF World Ultimate Club Championships is presented by VC Ultimate; all opinions are those of the authors. Please support the brands that make Ultiworld possible and shop at VC Ultimate!
Pool A
Unsurprisingly Revolver (USA), the overall 1-seed at the tournament and prohibitive favorite, sits at the top of Pool A. They dominated the pool with a combined point differential of +40, taking care of business today with a 15-6 win over eventual second-place finishers Euforia (COL) and then pounding Fenix (MEX) 15-2. Euforia rebounded from their early morning defeat, dueling Hot Chilly (AUS) for the second spot in the pool. In thrilling fashion, Euforia earned a spot in the upper power pools with a double game point victory over the Australians. Similarly, Fenix and Mooncatchers (BEL) took the final game in the pool to double game point in the battle to earn a spot in the lower power pools and avoid elimination. Mooncatchers eked out the 15-14 win to keep their bracket hopes alive.


Pool B
With a pair of unconvincing wins today, Doublewide (USA) is headed to power pools with a victory in Pool B. The Austin squad seemed to lack energy in their second day of competition but it was enough to down Chevron Action Flash (GBR) and Relámpagos (DOM) 15-11 and 15-8, respectively. It's going to be important for them to play more efficiently in the next two days if they want to make a deep run in the bracket. Chevron advanced to upper power pools on point differential, even after dropping their final game to OTSO (FIN) in a physical double game point nail-biter.


Pool C
Rounding out the American teams' pool play sweep, Ring of Fire (USA) looked comfortable in their two wins today over Ranelagh (IRL) and Family Ultimate (GER). Mixing their defensive looks and playing their whole roster, Ring looks prepared to advance into elimination play, especially since Misha Freystatter will be joining the team midweek. In the battles for the second spot in the upper and lower power pools, respectively, Ranelagh downed FWD>> (AUT) on double game point and Family Ultimate handily took down IZNOGOOD (FRA) to end their chances of a title.1


Pool D
Freespeed (SUI) saw their 2-0 record evaporate with two crushing losses, first to a Colony (AUS) team they had within reach going into the second half and then to TCHAC (FRA) team who went on a 5-point run to take the lead at 12-11 and traded out for the win. Colony, who had had a close game with TCHAC the day before, took the pool with their two wins on the day followed by TCHAC. Freezzz Beezzzz (BEL) avoided elimination with a double game point win over thebigEZ (AUT) to take the last spot in the lower power pool.


Pool E
With their win over Clapham (GBR), CUSB (ITL) was in great position to win the pool going into today. They delivered by comfortably downing Shanghai Chuchai (CHN) and Comunidad El Oso (COL) by identical scores of 15-9. Clapham rebounded from their 1-1 first day of competition to claim the second spot in the upper power pools and a place in the bracket.  Shanghai Chuchai faced off with Sokol (RUS) in the final round of pool play to decide who would advance and who would head to the consolation pool. The Russians came up short and were outclassed 15-7 by the Chinese who locked up a spot in the lower power pools.


Pool F
GOAT (CAN) took their pool without any major hiccups and looked impressive doing it. Wins over KFUM Örebro Frisbee (SWE) and Heat Haze (JPN) send them to the upper power pools tomorrow with a win in hand. In the final round of pool play, and in one of the Cinderella stories of the tournament so far, Warao Ultimate Club downed Heat Haze by 6 and topped the resulting three-way tie on point differential to claim a spot in the bracket. Ragnarok (DEN) and Heat Haze will head to the lower power pools looking to avoid elimination and earn spots in the championship bracket.


Pool G
Pool G went entirely to seed with Bad Skid (GER) taking down Wildcats (NZL) and Devon (GBR) to complete a sweep of the pool. In a game that started close but quickly opened up, Nomadic Tribe (JPN) pulled away from Wildcats 15-8 and secured their spot in the upper power pools where they will face off against Revolver and Euforia from Pool A. Devon bounced back from their loss to the German side to take down Daione Kumay (TPE) and avoid a premature ouster from the tournament. This leaves the Taiwanese squad on the outside looking in and a date with consolation play in Pool Q.


Pool H
The first round this morning saw General Strike (CAN) and Juggernaut (AUS) face off for the top spot in the pool. General Strike could never quite break away from the Aussies, and with Mark Lloyd sidelined with a foot injury, the team was tense down the stretch. However, a late break to expand their lead to two was enough to down the Australians and claim the top seed in the pool. Flying Angels Bern were again met with disappointment, dropping their final game to Juggernaut to be demoted to the final spot in the lower power pools. Crackerjacks (SGP) were too much for Long Donkeys to handle, cementing their spot in the lower power pools and sending the South Africans to consolation pools.


---
Insert IZNOGOOD joke here ↩