The bracket gets set tomorrow!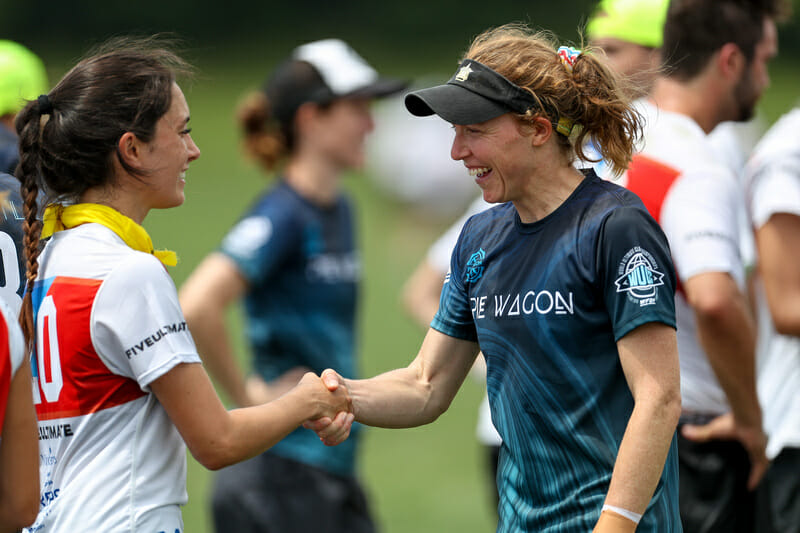 Ultiworld's coverage of the 2018 WFDF World Ultimate Club Championships is presented by VC Ultimate; all opinions are those of the authors. Please support the brands that make Ultiworld possible and shop at VC Ultimate!
Day three in the Mixed Division saw further developments in the pools. Unlike men's and women's, mixed has yet to fully resolve their groups. Here we have a look at how the groups currently stand with an eye on tomorrow morning's final round of games.
Pool A
Mixtape (USA) continued their dominance with comfortable wins over Battleship (CAN) and Macondo (COL). Colorado (GER) sit in second thanks to a definitive 15-9 win over third place Macondo. Battleship were able to take care of business against Charrúa (URU), meaning they can still take second in the pool if they are able to beat Colorado by four points tomorrow–a tall order given the Germans run of form against non-American opposition. At the bottom of the pool, Cóndor (MEX) are essentially guaranteed a spot in the playoffs as Charrúa seem unlikely to best Seattle.
Pool B
Pool B is mostly locked in after today's events. AMP (USA) are on top with wins over Banana Cutters (CAN) and Sugar Mix (GER). Sugar Mix's win over Disco Sour (CHI) yesterday and match-up against winless Stall7 (IND) means they are rather comfortable in fourth, with Disco and Stall7 in fifth and sixth, respectively. Black Eagles (GBR) going 2-0 today sets up a tantalizing fight for second against the Canadians. Banana Cutters are slight favorites heading in, but the Scottish are a people whose legacy was built by underdogs.
Pool C
Another pool, another definitive American showing: this time, BFG (USA) take the role of playground bullies. Pie Wagon (AUS) and Voltaje (COL) beat their respective African opponents, Kisumu (KEN) and Flying Tigers (RSA), today. With only each other left to play and identical point differential, the Australia versus Colombia morning match-up has all the ingredients of a thriller. Kisumu's early afternoon win over Flying Tigers has solidified their current standing in fourth, leaving the winless Tigers and BOOM! (KOR) to battle it out for the final playoff spot.
Pool D
Now things get interesting. Pool D has three teams sitting on three wins and one loss. The pool's top seed, Anchor (CAN), barely escaped Marvellous DC (NZL) on double game point today, before surprisingly falling to the unheralded Mulatto Pilipinas (PHI) 15-13. By virtue of a DGP win over Mulatto, Shinshu Loose (JPN) joined the deadlock at the top of the pool. Directly below these three, the comic book obsessed Kiwi's are eyeing up their direct route to the prequarters. Marvellous DC will need to beat Shinshu tomorrow morning in order to escape the playoffs, setting up a nail-biting finish for the two teams.
If Shinshu win along with the other current top teams, Mulatto Pilipinas would take the top spot based on a +1 point differential among the three, with Shinshu second at +0, and Anchor dropping to third. NEON (HKG) effectively played their way into the next round today with their 15-12 win over Argentina (ARG), as both teams face off against the pool leaders tomorrow morning in games one could generously describe as 'predictable.'
Pool E
Due to their appearance in the opening game, Wild Card (USA) and GRUT (NED) each only had one game to play today. GRUT dispatched Flying Rabbits (BEL) succinctly for their long awaited first win, and Wild Card ran out 14-10 winners over the frequently underestimated Chuckies (SGP). RusMixed (RUS) scraped by the Singapore side 12-11, which guarantees them third. Reading (GBR) and Wild Card meet tomorrow to fight it out for first, with the Brits looking to capitalize on the Bostonians perceived vulnerability. Lower down in the pool, GRUT are taking on Chuckies for the slightly easier of the playoff match-ups, in what promises to be an exhilarating affair considering the respective deluge of heartbreaking losses both teams have suffered.
Pool F
The main story of group F is whether Vanguard (AUS) will be able to overcome Glasgow (GBR) tomorrow and grab the last available bye to the pre-quarters. Sesquidistus (FRA) could become involved in a three way tie with those two teams as they face Freakshow (SGP) who are far better than their single group win over Wizards (SUI) would have you believe. Earlier today, Freakshow came devastatingly close to beating group leaders Crash (CAN), falling on the DGP hurdle 13-12 and thereby losing any hope of a straight route to prequarters in the process.
Pool G
Hässliche Erdferkel stand comfortably atop group G thanks to today's 15-10 victory over main rivals Friskee (AUS) who are also certain of a prequarters place1. Two more losses means Panthers (SUI) will need to beat IKU (JPN) to stay in the tournament, though this is a tall order. More likely is Friskee and Erdferkel defeat Disctèrics (ESP) and Urosoul (COL), respectively, allowing IKU to sneak into third place. Due to a cycle of wins among these last three teams in head to head, should they all finish with two wins it will be the Japanese's superior point difference of +22 in their match-ups that books them a place in the prequarters, relegating the Spaniards and Colombians to the playoffs. Both of these sides need a win tomorrow to escape that scenario, though previous results mean Urosoul only come third if Disctèrics lose.3
Pool H
Slow White (USA) continue the Americans' winning ways with four victories in 4 games, beating Cafe de Luida (JPN) and Yanomami (VEN) today. With that being the Japanese's only loss and a game against the winless Yanomami tomorrow, it seems safe to assume they shall finish second. SMOG (GBR) are the last to take on Slow White, and, despite the vulnerability the Americans showed against Mubidisk (ESP) on Sunday, a Slow loss here looks doubtful. The Brits beat Mubidisk 15-13 before losing to Black Sheep (NZL) 15-13 today. This opens the door for Mubidisk: if they can beat Black Sheep by more than two, they can steal the final spot in prequarters away from the Kiwi's–a very possible outcome when you consider how good the Spaniards have looked in defeat so far.
---
though they could fall to third if Disctèrics beat them tomorrow ↩

Urosoul +1, Disctèrics -3 ↩

Did that make sense to everybody? No? Tough ↩