The favorites crushed the competition on the first day of the U.S. Open.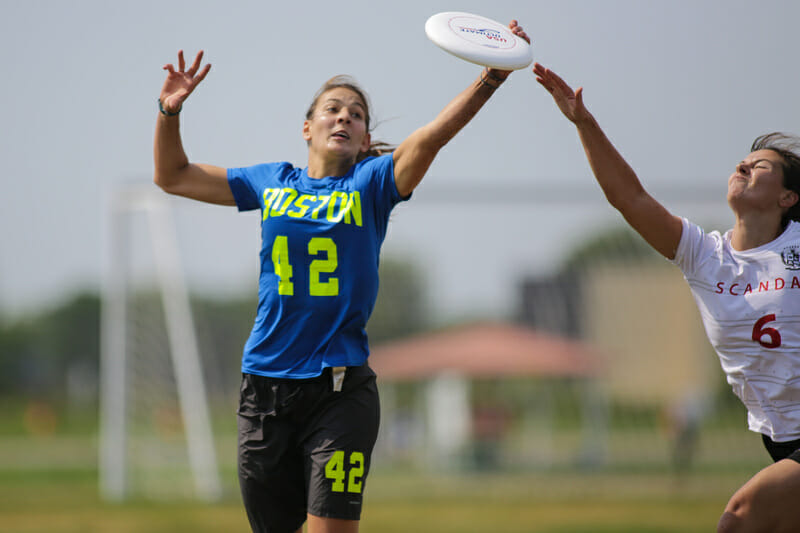 Ultiworld's coverage of the 2018 Women's Division is presented by VC Ultimate; all opinions are those of the authors. Please support the brands that make Ultiworld possible and shop at VC Ultimate!
The three rounds of Friday's action from the U.S. Open came and went quickly. 18 games were played in the women's division and a handful of stories emerged throughout the day.
Surge Makes Debut
Sarah Griffith made her #3 San Francisco Fury debut on Friday, after playing with Seattle Riot for 10 seasons. Griffith was a mainstay on the Fury D-line and ended the day with three goals and one block. Griffith didn't put up a crazy stat line, and she didn't really look like one of the team's leaders either, but that shouldn't be a surprise. Griffith hasn't practiced with the team at all, having just moved to San Francisco last week. This was her first ever time on an ultimate field with all of her new teammates, and it will take time for her to fully settle in with them.
Not every new teammate is a complete foreigner for Griffith. She's played several of them on various U.S. National teams over the years and she said that's helped with the whole process. "The fact that I played with a fair amount of these people on U.S. National teams actually helped a lot. There's always someone on the field, like, 'I know what that person's doing.' I think that helps. It's not like I don't know what anyone's doing."
Griffith wasn't worried about the few miscues that did occur, either. "It's just a lot of figuring out," she said. "I had a miscue with Maggie [Ruden] earlier in the day, it was just like, alright you like doing that, I like doing that. We'll figure it out, it's just frisbee."
More than anything, Griffith seemed to enjoy playing with her new teammates. "It was really fun. Everyone's been super welcoming. Everyone's pulling me to the side, asking, 'do you know these calls?' Everybody's always talking to me from the sideline, so I felt really supported and that made it a lot easier."
So Griffith hasn't immediately looked like she's always played with Fury, and that would have been an unfair expectation even for a player of her caliber. But Friday was the just the start for Griffith and Fury, and it seems that it all got off on the right foot between the two.
Fury, Brute Squad Dominant
Griffith's team, on the whole, were about as good as they could have been. They were completely untested through their first two games, beating #9 San Francisco Nightlock 15-6 and #16 Texas Showdown 15-5. Their 15-11 scoreline against #4 Denver Molly Brown was easily their closest, and in fact one of the closest on the day as a whole, but the game was always comfortable for Fury. They took half 8-4, and then both teams held for the duration of the second half. Molly's offense did improve after the intermission, but it felt like Fury were also content to hold out the rest of the game for the win.1
#2 Boston Brute Squad were similarly dominant, their only close game being their 15-10 win over #7 Atlanta Ozone. Kami Groom may have been the most impressive player in the field on the day. She posted the second highest number of goals on the day with seven, and tied for third most assists with six. Those numbers are impressive on their own, but that she put them up on the team's D-line makes them even more so. But that's also indicative of just how frequently Brute Squad were getting breaks against their opponents. In their matchup against #5 Washington DC Scandal, they simply piled up break after break. Scandal, the no. 5 seed, scored a meager three points against Brute, the lowest point total any team put up all day.
Lauren Sadler, who was on the sidelines with a shoulder injury she suffered at WUCC, mentioned that the team was playing with a chip on their shoulder this weekend. The team's head coach, Ari Jackson, explained that mentality after their second win of the day against Chicago Nemesis. "We didn't finish at Worlds where wanted to, and we also kinda played up and down throughout the tournament," he said. "We had moments that were really good, but I think we all know we that we could play better across the board at the tournament, and not just the final game. I think that motivates different people to different degrees, but it certainly is there for many people."
Jackson also said that he was pleased with the team's improvement from WUCC to today. "I think we've taken a step in the right direction. We're certainly not where we need to be come the end of the season, but I'm definitely happy with the step that we've taken so far."
Close Games Few and Far Between
Even beyond the easy games for the top teams, Friday offered very little in tightly contested games. Just four games were played in which both teams reached double digits in goals. Two of those were the Fury vs. Molly Brown and Brute Squad vs. Ozone games. The others were Boston Siege's 15-11 win over Blackwidows, the only upset per seed on the day, and Showdown's 12-10 win over Siege.
The rest of Friday's games had an average deficit of eight goals. It was very windy for much of the day, and sometimes that can create some fluky, unflattering results. But generally the teams with better handler depth easily won their games in the gusty conditions. With inclement weather likely to continue into Saturday, it'll be interesting to see if the lopsided games continue, or if there is a reversion back to the mean.
---
It should also be noted that Molly Brown were without Claire Chastain against Fury, and for the rest of their games on Friday. She is flying in for the tournament on Friday night, though, and will be with the team for the rest of the weekend. ↩