Mickle, Kocher, Keegan lead PoNY to big upset.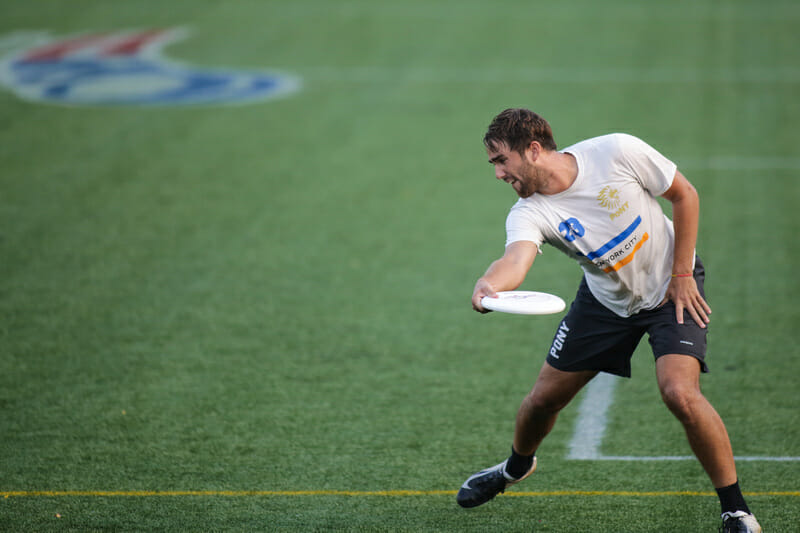 MINNEAPOLIS — With the crowd settled after an astounding opening semifinal, Ring of Fire and PoNY took to the stage for the late semifinal at the 2018 US Open. Ring entered the day knowing they had a spot in semifinals locked up, but PoNY had to grind out a 5-0 run late against Truck Stop just to get into the game.
With Ring of Fire welcoming Goose Helton back from his trip to Masters Worlds and Jon Nethercutt returning from his time coaching Triforce this morning, Ring of Fire was as close to full strength as they've been all weekend1. They were the clear favorite. But PoNY did not get the memo, and they used a second half surge to take down Ring 15-13 to reach their first-ever US Open final.
PoNY received to start the game and immediately was at full speed, as they found Jimmy Mickle in the endzone with a high-release backhand. Ring of Fire quickly answered back, and the game fell into a crisp back-and-forth rhythm. Sterling offense was the hallmark in the first half: the first turnover of the game didn't come until the score was 6-5. Mickle was cooking early, notching three goals and one assist in PoNY's first five points.
"[Mickle] is pretty much the best player in the country," said Ring of Fire head coach Mike DeNardis. "You're never going to have a plus matchup on him. You're going to have neutral at best. Right now, we are struggling to find that neutral matchup. He's just a really tough mark."
The first turn came during Ring's sixth offensive point on a deep shot to a laying out Liam Searles-Bohs. He made a clean catch but was ruled out of bounds by the observers, much to the dismay of the crowd after everyone saw that Searles-Bohs was clearly in bounds on the stadium video board. But Ring's O-line fought and clawed to get a red zone stop and got the hold to tie it six before adding the game's first break to take the lead.
The defensive intensity then ratcheted up a notch, and both teams were flying all over the field as the first half came to a close. PoNY had their chances to earn the break back, with the game tied at seven, but was unable to convert the goal. Ring of Fire eventually held and took the lead into halftime, 8-7.
"That gave us an energy boost. I think we were really excited about how we were clicking and how efficient we were," said DeNardis. "I thought our defense was going to continue to build. We didn't come into the game with the energy we needed, and we didn't build fast enough."
Out of halftime, PoNY came with fire. Pulling, PoNY came down and quickly forced a turnover. John Wodatch got an enormous sky on the goal line, setting up PoNY's first break to tie the game at 8-8.
"Being able to walk around the huddle and see guys like Jimmy Mickle, Sean Keegan, and Chris Kocher looking back at you…those are dudes that have been there," said PoNY captain Isaac Saul. "That's something that gives everybody confidence. We doubled down on what we were doing, we just committed harder to our game plan."
PoNY, after tasting blood with their first break, was off to the races. Forcing backhand, PoNY got Ring out of their comfort zone (and made Jon Nethercutt's forehand huck a lot tougher) and started to take control. With energy and confidence growing, they mounted a run and fully seized control of the game. A 5-1 run pushed PoNY out to a 13-10 lead.
"It's just a matter of getting people not comfortable with the way the wind was blowing," said PoNY coach Bryan Jones. "We changed the force between backhand and flick throughout that game. [Nethercutt] has a great backhand and a great flick. So, it's marginal. We make him do something different."
Ring of Fire got one break toward the end of the game, making the score 14-13, but it was not quite enough, as PoNY punched in their final O point to close out the win.
Missing a handful of key players in Brett Matzuka, Jack Williams, and Terrence Mitchell, among others, Ring of Fire sees this weekend in a positive light. Despite the tough semis loss, they took down finalist Sub Zero in pool play with just 14 guys and fought tough all weekend.
"I'm incredibly proud of what we've done this weekend," said DeNardis. "Coming off the last two weeks, with the grind we've had, and all the negative energy we've felt out of that, and to fight as hard as we have, shows incredible resolve with these guys, and I feel like we just kind of ran out of gas in this game."
With a new look roster this year, PoNY has been one of the standouts of the tournament. After a disappointing Pro-Elite Challenge performance, the additions of Mickle and Kocher have already energized the team, and PoNY seems poised for success.
"It's a really big turnover year, and we've got a lot of new people coming in," said Jones. "Ben Spielman had a great game, and he's someone that people aren't talking about. We still have a lot of chemistry to build. We have talent, we know that we can win, and we just have to put it together."
With the win, PoNY advances to the US Open Championship game, where they will take on hometown team Minneapolis Sub Zero.
---
they were still missing several key players, including Jack Williams and Brett Matzuka ↩