One of the biggest upsets in years.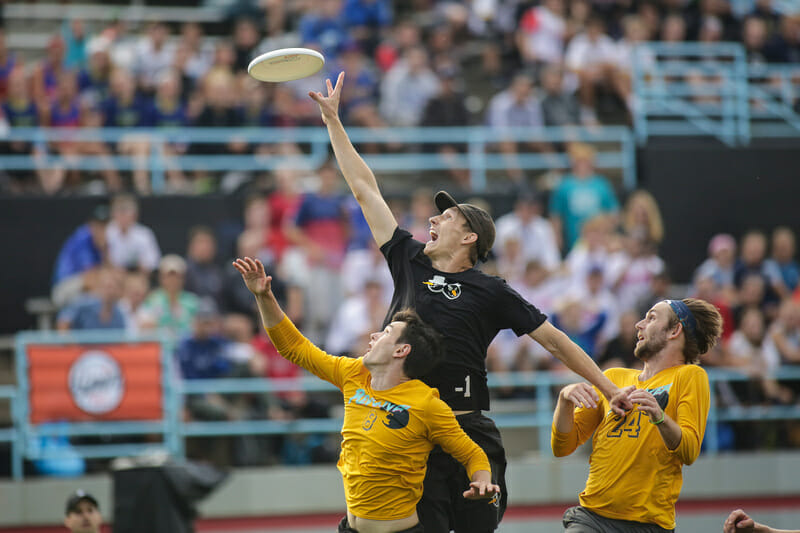 For years, the US Open has often felt like a warm up for teams, rather than a high stakes elite tournament. Even with last year's shift to later in the season, it never felt like teams were playing their best ultimate, and the level of intensity wasn't anywhere close to what we see at Nationals. But Saturday's men's semifinal between Minneapolis Sub Zero and San Francisco Revolver had everything those previous years were lacking: incredible intensity, superb offense, and, as a bonus, one of the biggest upsets in years as Sub shocked Revolver 17-16 on double game point.
Sub's offense had been churning like butter all weekend, and for much of the first half, that didn't change. Jason Tschida and Josh Klane worked the backfield while Ryan Osgar, Nick Simonelli, and Greg Cousins gobbled up yards downfield. Those five have been Sub's O-line mainstays for years now, and that chemistry is paying dividends.
Revolver's offense, on the other hand, looked off. Without Ashlin Joye, they took a more communal approach to distribution but never seemed to quite be on the same page. Down a break at 7-5, Revolver took a timeout, and the team that went into that huddle wasn't the same one that came out. After a hold, San Francisco's defense clamped down, stifling resets and pressuring every cut. All it took was two mistakes from Sub: Revolver jumped on the rare opportunities and broke twice to take half. When asked what had changed in that timeout, Nick Stuart cited a Grant Lindsley speech. "Early in the half it felt like we were playing just to play versus playing for each other," he said. "Grant helped change that."
After a Sub break out of half, the two teams traded holds until 11-10 Revolver, when Kevin Cocks got an enormous handblock on an attempted around by Greg Cousins. Cocks then assisted for the break, giving Revolver a two break lead and what seemed destined to be a trip to the final.
But Sub wasn't done yet.
Bolstered by a fiery sideline and a home crowd desperate to see the underdog prevail, Sub dialed their defensive intensity up to 11. Although Revolver continued to hold, every point was a grind, requiring them to constantly fall back to their second and third options. At 14-13, Sub finally got what they'd been on the cusp of for thirty or so minutes; near his own brick mark, George Stubbs simply could not find an open man anywhere. A contested stall went to the observer, who upheld the call, and Sub took an immediate timeout. When the disc was tapped back in, Cole Wallin sent a blady forehand to Cousins, who posterized Eli Friedman for the Sub break.
On the following point, Cole "Beef" Jurek came up with a spectacular layout block on a George Stubbs in-cut. A Colin Berry high stall huck was then tipped by Stubbs, floating perfectly for Jurek to reel in the score and another break. Sub retook the lead at 15-14.
With cap on, the opponents traded holds until 16-16 to force double game point.
Surprisingly, Revolver chose not to run a "kill line," preferring to stick with a traditional defensive line and trusting in their ability to generate the pressure they needed. And, initially, this seemed to be a good call: superb marks made the Sub handlers reluctant to throw breaks. After dinking and dunking to midfield, Nick Simonelli had had enough. After catching an under, he turned and launched a floaty forehand to a double-covered Ryan Osgar, trusting his teammate to make a play. And make a play he did: Osgar appeared to momentarily float, snagging it (then losing it) over John Stubbs, and landing hard on his ankle. A strip call was uncontested, and just like that, Sub Zero had done the somewhere between improbable and impossible: defeating big, bad Revolver.
A jubilant Jason Tschida cited his team's intensity as the major catalyst for the upset. "In the end it was all about energy," he said. "We talked about it at halftime and came fired up in the second half. Our sidelines were especially huge. Don't think we could've done this without them."
What's most impressive about Sub's performance is who is on their roster. Yes, they have supreme offensive chemistry, but a huge portion of their team is made up of guys who are very young. Of their 25 man roster, six are still in college and ten have graduated just within the last couple years. Even more impressive is that four of the six still in college attend the University of Minnesota (Cole Wallin, Cole Jurek, Zach Trosvig, and Wystan Duhn). For such a young group to triumph over a team filled to the brim with veteran stars is astounding, and a credit to the system they've built in Minneapolis.
Meanwhile, Revolver's offense has some work to do. Clean holds were few and far between, and while they clearly were missing Joye, the personnel here were more than capable of putting together smooth O points. Revolver might be the more talented team, but if this game shows anything, it's that talent alone can't win games. Grant Lindsley was concise about his feelings. "Sub played disciplined and tough," he said. "We played sloppy, and they deserved to win."
That they did.