A big day of action sets up some tantalizing semifinals matchups.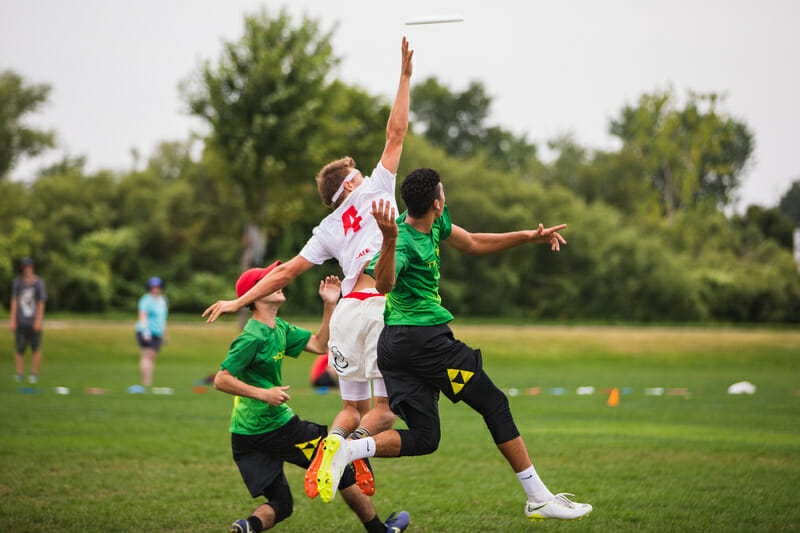 Ultiworld's coverage of the Youth Club Championships is presented by CUT Camps; all opinions are those of the author. Please support the brands that make Ultiworld possible and check out CUT Camps!
Additional reporting contributed by Hugo Sowder, Rebecca Thompson, and Dan Young.
Two rounds of Sunday play across the three divisions set the stage for Monday's high-pressure bracket matchups. Some top teams were taken to the brink by surprise squads and fellow contenders alike, and some did not survive. But in each division, semifinals loom large for teams still in contention.
Boys' Division
Reigning Champion Triforce Tested Twice
No. 1 seed Triforce (NC) moved on to the semifinals, but not without some narrow wins that put them in pressure situations. They won successive 11-9 games over Hydro (Quebec) and BUDA (MA) to reach the penultimate round. Triforce is a very different team from last year. While they won both of their elimination games on Sunday, they faced some adversity on offense that wasn't present during last season's championship run.
The wind in their crossover game fit well into Montreal Hydro's defensive schemes, punishing Triforce's handlers as Hydro scored five straight to tie the game a 6-6. "At this level it's hard to find guys who are sure handed enough in the wind to reliably and quickly swing the disc and attack back to the middle," said coach Sol Yanuck of his team's struggles. While they couldn't hold on for the win, no. 24 Hydro has been one of the surprises of the tournament, with Olivier Genest and Mohamed Chrouh making significant impacts.
Triforce advanced into quarterfinals against BUDA (MA) in a rematch of last year's final. Unlike last year's barn burner that came down to the wire however, Triforce took control of the game early, capitalizing on a series of execution errors by Boston's offensive line. There was very little wind and Triforce went to work stretching the field with aggressive hucks and exciting plays across the board. BUDA looked like they were on their heels as they went down 8-5.
But BUDA punched back hard and brought themselves within a hair's breadth of double game point. During the final stretch of the game (which was capped at 11), Orion Cable asserted himself as an exceptional talent. The rising senior notched several huge goals and blocks as they came within one point of tying the game. In a sequence of events that mirrored the last meeting between these two squads, Triforce took the game 11-9 on a jump ball to Chris Walsh who then dished the assist to Sean Wiles.
While Triforce will once again be returning the semis, they face the specter of matching up against a deep Seattle team that has plenty of depth to call upon when they meet Monday morning. The North Carolina squad showed some potentially fatal vulnerabilities. They can also take comfort in their resilience against some substantial runs today.
Supreme, Foggy Bottom Boys, and ATLiens March to Semifinals
After a strong 15-4 victory over no. 13 Utah Swarm in prequarterfinals, no. 4 DiscNW Supreme (WA) found themselves facing stiffer resistance from no. 6 Flying Pig (OH). The Cincinnati club nearly went up three breaks, but Seattle's Tony Venneri took flight to protect his own goal line with a block. After a Supreme hold, Pig mishandled the pull, and conceded a break of their own. As they had much of the weekend, Luke Monnin and Caleb Montgomery guided the Flying Pig offense, with Montgomery tossing in a goal to give his squad the lead. But Supreme took half 8-7 behind strong throwing skill. They ran away with the second half thanks to their ability execute, an intense defense, and noisy sideline of players and fans, winning the game 15-9.
No. 5 Foggy Bottom Boys (DC) took care of business against Impulse (PA) to start their bracket experience before facing no. 14 Red Dawn (CA) in quarterfinals. The Bay Area team was coming off an impressive upset victory over no. 3 DEVYL (NJ) in prequarterfinals and was undefeated at the tournament. But Foggy took over the game from the start, with an early run where they poured in 10 goals putting the game out of reach.
ATLiens (GA) are the lowest seeded semifinalist at no. 7, and almost didn't make it out of prequarters against Illinois Youth Ultimate. Atlanta went up four goals, but their 10-6 lead evaporated when Illinois picked it up late. But with ATLiens holding a 12-11 lead, they got the upwind goal they needed to advance to the quarterfinals after some downwind mistakes from Illinois. In that bracket matchup against Texas Two-Step, the ATLiens again took the lead, but this time expanded upon it. Ben Dameron, Adam Miller, and Will Johnson each recorded three assists in a 15-5 victory, while Franky Fernandez's size and athleticism ruled in the lanes.
Girls' Division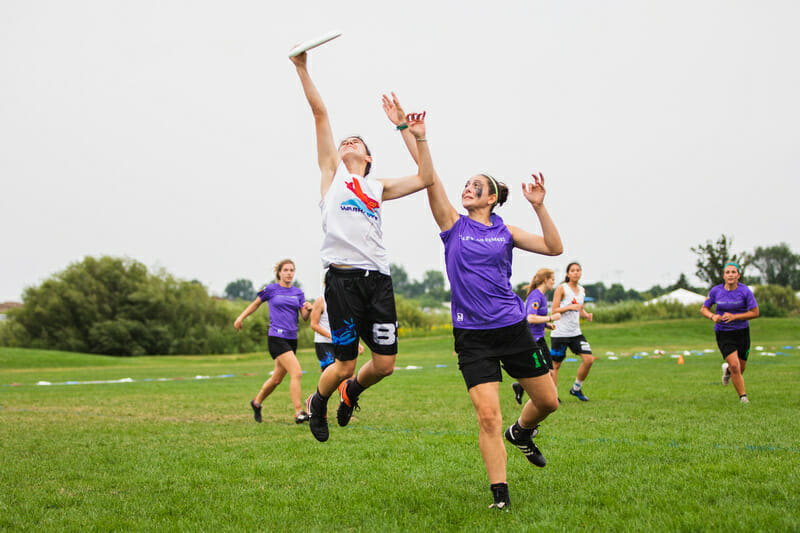 Rogue and Sauce Battle for Bragging Rights
The highly anticipated matchup between no. 3 DC Rogue and no. 6 DiscNW Sauce (WA) had different stakes than were expected, thanks to AÉRA's (Quebec) Saturday upset over Rogue. But both teams were still playing for a chance to win the pool and knowing a few wrong steps could result in elimination from championship contention.
If Rogue wins by 3+, they get top seed. Otherwise DiscNW Sauce gets top seed.

Rogue with a long incomplete downwind pass at the back of the endzone, but it comes back on a foul call. 8 throws later a break backhand sails just over the offender. DiscNW with a full field to go

— Ultiworld Live (@Ultiworldlive) August 5, 2018
Rogue took an early lead, looking like the slightly more comfortable team in the wind. Both teams were playing with intensity, and due to the potential point differential implications, every point was hard fought. Layout blocks were plentiful. Anna Goddu was tremendous for Sauce, but Ella Juengst, Caroline Tornquist, Kirsten Kniseley, and company had enough skill to hold off Seattle in the 13-10 victory. AÉRA, despite going 2-1 and defeating one of the tournament's favorites, was eliminated.
Sauce Survives Battling BUDA
DISC NW Sauce (WA) faced off with BUDA (MA) in quarterfinals in what was one of the tournament's most thrilling contests. The game started off with turns flying back and forth. Both teams looked nervous, and struggled to settle down in the wind. With the game tied up at 3-3, Sauce turned up the heat as they scored three unanswered points to take the biggest lead of the game.
The Boston contingent didn't seem phased by the deficit, as they held and then found a break after a massive layout block from Adrena Seferian. Going right back the other way, BUDA had all the momentum on their side. A mid-field turnover from Sauce led to a downwind huck that sailed into the hands of a laying outTess Johnson to tie the game at 6-6. Johnson, who was skipping out on ICC games with her new club team, Slow White, was a standout for BUDA through the game, throwing three assists and adding two goals to her name.
Points were comfortably traded for Sauce to take the half leading 8-7. Although the second half was short-lived, the offense from both teams was the cleanest and quickest of the game. Sauce held another quick point to make it 10-9, game to 12.
Ikran Elmi, who had a good game throughout, turned it up to a new level, going every other pass and directing traffic on the Seattle team. BUDA was unable to guard the speedy handler as the teams traded points. Elmi even tossed the game winner on a clean Sauce hold for a 12-11 count. Seattle looked calm and in control coming into a high pressure situation. Elmi, one of the team's captains, credited Sauce's ability to focus on their own game and not their opponent's for the win. "Reminding ourselves that we know how to play frisbee, we love the sport," said Elmi. "We know how to cut, we know how to play defense and we know how to score. We have been at this point in a lot of games and we know how to win."
Warhawks, Rogue, and Current Advance
DC Rogue ran past Belle (OH) in their quarterfinal, earning a 15-8 victory where they controlled the game from front to back. No. 1 seed Warhawks (NC) also flexed their muscles against Valley Ultimate (MA), who earned their spot with an impressive 10-9 victory over Swarm (UT). But the Warhawks were too powerful, taking the game 15-8.
California Current was not as fortunate as the east coast semifinalists, needing a complete effort to take down Texas Tango 13-11. The Californians went into halftime with a solid 8-6 lead, but Skye Fernandez and Briann McLemore kept Texas hanging around until they managed a late run to get them back within striking distance. Fernandez's eight assists were impressive, but not enough to get Texas past Lauren Carothers-Liske and Current, who held up 12-11 to fight off the Tango comeback.
Mixed Division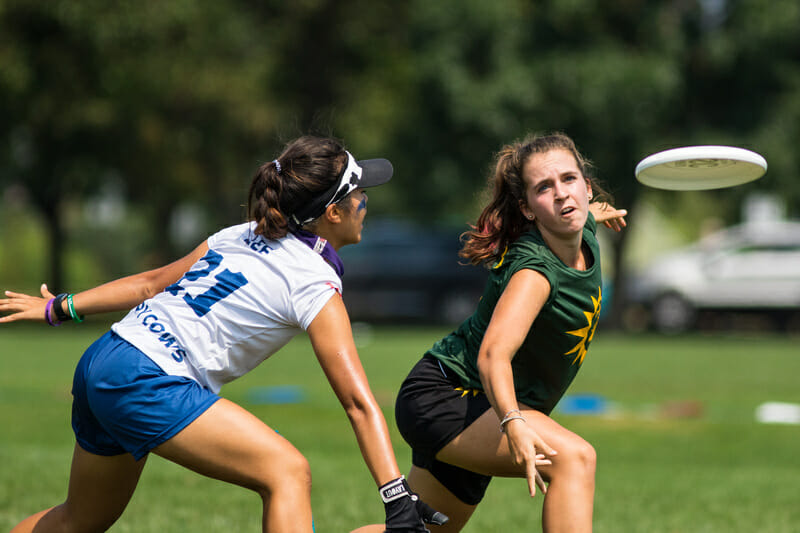 POWERLINE and Superior Advance to Semifinals Undefeated
POWERLINE (CA) and MN Superior both moved on to the semifinal round with perfect records during the tournament. No. 3 seed Superior has been dominant, winning their four games by nearly 10 points per game, comprising three power pool games and a 15-5 victory over Swing Vote. Superior's girls have been dangerous in the deep space and the team plays a disciplined zone defense. No. 4 POWERLINE won Pool B with an impressive 14-11 upset over no. 2 DiscNW Bankroll (WA), in which Daniel Landesman and Calvin Brown were instrumental, with a combined six goals and nine assists. The Californians have otherwise been as dominant as Superior.
Forge Scores Upsets on Way to Final Four
Philadelphia Forge, the no. 6 seed at the tournament, defeated two higher seeded teams on the way to a semifinal berth. They started the weekend with a surprising victory over no. 1 Happy Cows (CA) by a 10-7 count. They went on to beat no. 8 Skyscrapers (NY) in pool play and no. 5 Madison MUFAbots in quarterfinals, both by sizable margins. Their lone loss at the tournament was 15-6 to MN Superior, who has been putting up big numbers all weekend. Nate Little has been a revelation for Forge, using his combination of size and speed to gain yardage and set up goals. Eli Block and Bethany Eldridge have also been strong for Forge.
Ummmmm Eli first throw 70 yards to Nate fir the score. 5-3

— Philly Forge (@phillyforgeycc) August 5, 2018
Their matchup with POWERLINE in semifinals should be a tough test, but they'll need to be more solid offensively than they were against Superior if they want to have a fighting chance of an unexpected run to the final.