Strength v. strength.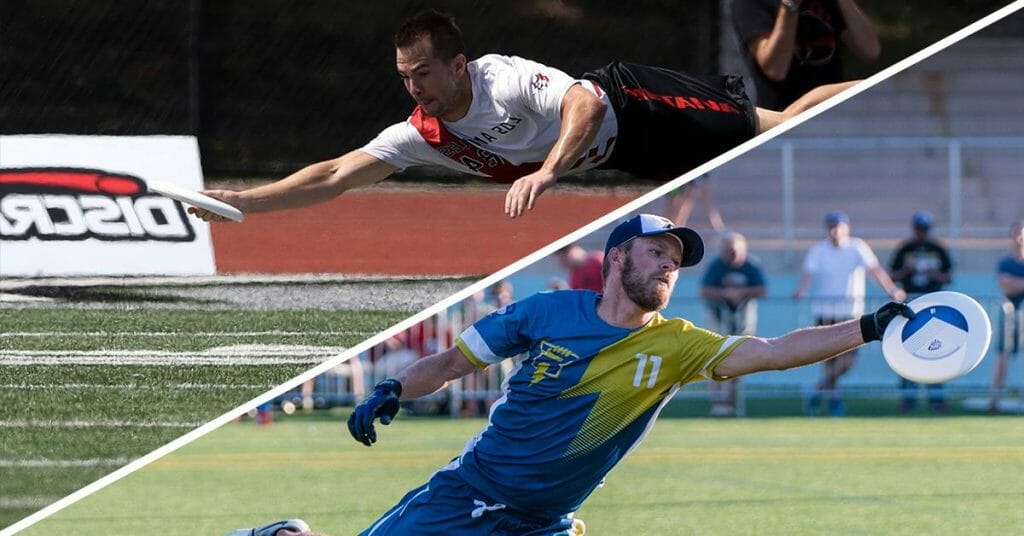 After taking just one loss each in their respective divisions, two juggernauts in Los Angeles and Madison will meet on Saturday night in the semifinals of the AUDL's Championship Weekend. Here's everything you need to know.
How They Got Here
Entering 2018, the Los Angeles Aviators were poised for a breakout season, with young homegrown stars like Sean McDougall and Zach Theodore developing from role players into key contributors, and the addition of a few more stars — notably Chris Mazur and Jesse Cohen — to push the offense further. LA made a statement in its opening game, blowing out the San Diego Growlers. The Aviators immediately looked like contenders but suffered tough losses in a cross-divisional trip to Texas, dropping games to both Austin and Dallas.
They rebounded at home, earning back to back wins against the San Jose Spiders to catalyze an eleven-game winning streak. After a comfortable mid-season victory over San Francisco, there was no question that the Aviators were among the league favorites, but the symbolism of beating the defending champions cemented it. Los Angeles needed a buzzer beater to knock off the FlameThrowers on the road but otherwise cruised to a division crown. Though they dropped a meaningless game1 in the last week of the regular season to San Diego, one in which the Aviators were resting some key players, they easily handled the Growlers in their playoff game, earning the trip to Madison for Championship Weekend.
Madison had a similarly easy time dispatching their division. They won their first six games, including a last minute victory over the Minnesota Wind Chill at TCF Bank Stadium. Like Los Angeles, they lost first to a team outside their division, as the Raleigh Flyers dominated them at Breese Stevens. Madison was able to bounce back with close wins in a doubleheader against Chicago and Minnesota and got an easy win against Pittsburgh. Their season changed, though, on June 17, when, for the first time ever, they took a loss to the Indianapolis Alleycats. They responded with two blowout wins over Indianapolis and Minnesota and a comfortable victory against Chicago to close the season 13-2, but they still didn't feel as invincible as they had in past seasons. In the playoffs, Madison took the good side of a 27-18 clobbering of the Indianapolis AlleyCats to clinch a Championship Weekend berth yet again.
On Saturday, something has to give. Madison is 45-4 all-time at Breese Stevens Field, which will play host to Championship Weekend VII, but they are just 1-7 against non-Midwest opponents. Los Angeles has won every competitive game it has played since April, but they lost against tougher teams away from the West Coast. Let's dive into the matchups.
When Madison is on Offense
After years of setting Madison's zone defense, Peter Graffy has been a key addition to the Radicals O-line, leading the team in goals and assists this season. Given how often the Radicals were blowing out opponents, and therefore pulling more frequently than receiving, he played a lot of defense too, but his immediate connection with Kevin Brown, Dave Wiseman, Colin Camp, and Pat Shriwise has given the Madison offense another dimension. Only five times this season has Madison failed to score at least 26 points. Most Radicals highlight reels focus on big defensive plays, as their offense trends a bit more possession-based and conservative in nature. While the unit is known for being solid, Graffy brings a dash of spectacular. The Madison offense is composed of veteran players who won't make life easy for the Aviators; this is a group that rarely makes mistakes and has been building chemistry together for years.
The Aviators D-line is no slouch, though, and should be able to hold its own. Tyler Bacon and Jeff Silverman are the names you might know, and they will take on tough matchups, but Theodore (who goes by the nickname "Mingo") and Andrew Padula are top level AUDL defenders in their own right. Mingo edged out Silverman for the team lead in blocks this season with 24, and Padula usually takes the toughest handler matchup. McDougall and Mazur can cross over from the O-line when a break is desperately needed, but the Aviators defense with Bacon and Eric Lissner leading the way has plenty of firepower to score on its own. Given their dominance, Madison's O-line hasn't had to play much defense this season, and while they are an athletic bunch, their defense after a turnover could be a weak point for the Aviators to attack. If LA can tack on a few early breaks, they might be able to quiet the crowd and diminish the Radicals' home field advantage.
When Los Angeles is on Offense
The Aviators' O-line is as talented as any in the league. Mazur, McDougall, Cohen, and Tim Beatty carried the unit through the regular season. Mark Elbogen slowly regained confidence coming back from a torn ACL and was let loose in the Aviators' last playoff game. Allen Lai and Brent George provide steady, mistake-free play. The Aviators have a few pull plays that they use to initiate their offense, but they are able to find flow quickly outside of set plays. They also have experience playing against and beating tough zone defense. The San Diego Growlers used a zone defense to stifle West Coast opponents all season, but LA defeated them last month to clinch the Division. While Madison has the best zone defense in the league, the Aviators offense should not be overly concerned.
Sterling Knoche, Kevin Petit-Scantling, Andrew Meshnick, and Logan Pruess lead the Radicals D-line, which is just as effective in athletic matchup defense as in a stifling double team zone. This group has played together a lot, but hasn't been tested much this season; the last time they played an offense as skilled as LA's (Raleigh), they weren't competitive. If any team can slow down the Aviators' high-flying offense, Madison has the best shot, but the Radicals will need to play their best game of the season.
Players to Keep an Eye on
Tim Beatty quietly led the Aviators in completions this season, serving primarily as the team's offensive center handler. Beatty has every throw in the book and is just as comfortable running a handler-weave end zone set as he is launching a pinpoint 60 yard hammer. With Mazur on the line to take the big shots, Beatty can choose his spots. If he can unlock a full arsenal of throws, and maybe sneak downfield a bit, Madison's formidable defense might have a hard time containing the LA attack.
Sean McDougall has enjoyed a breakout year, starting as a quick defender before becoming a key cog on the efficient Aviators O-line. He has developed a keen sense of timing that can lead to wide open hucks, and he has shown off his ability to catch contested discs and his more confident throwing ability. While his size should not be particularly intimidating for Madison defenders, they will have to respect his quickness and cohesion with the offense. Also, in case you haven't heard, he led the league in goals this season; Madison needs to have a plan to keep him out of the endzone.
Tyler Bacon is the Aviators' go-to player when they need a role filled. This season, he has initiated the offense as a cutter and handler, pulled and ran the offense for the D-line, and covered other teams' top players. He has played nearly equal amounts of O- and D-line points this season, and was one of only three Aviators to play in every game this season. While he doesn't have one specific job, the Aviators rely on Bacon to contribute week in and week out.
For Madison, Peter Graffy has been a revelation this season. He is a key fixture in their offensive and defensive game plans, and is probably their most skilled all-around player. He is the most difficult Radical to cover, equally comfortable in the handler set or streaking deep. Los Angeles has capable defenders, but they will be hard-pressed to shut down Graffy.
Colin Camp is one of the most underrated players in the league. He is a valuable possession receiver who can come back and handle if need be or take off deep at any time. Finishing second on the team in goals, third in assists, and third in +/-, Camp is as well-rounded as they come. Stopping him will be an important task for LA's defensive corps, who will already have their hands full with Graffy.
Kevin Petit-Scantling (KPS) and Sterling Knoche are the Radicals' top defenders and their best hope of slowing down the Aviators' diverse stable of cutters. Each of the LA O-line cutters has a different strength, and the matchups the Radicals choose could decide the game. Every one of Madison's defenders — especially during points where they play person defense — will need to be fully engaged.
X-Factors
Playoff Experience
This weekend, Madison will attempt to break through their wall, having played in the past six championship weekends without ever coming away with a trophy. The key contributors and leaders of this Madison team have all been here (both the literal venue and the event) before and know what to expect on this stage. On the other sideline, Los Angeles is experiencing the festivities for the first time as a team, but has some former league champions in Chris Mazur, Jeff Silverman, and Mark Elbogen to lead the way. The Aviators are a confident team that stormed through its division, but they might be blinded by the brighter lights of the national stage. Advantage: Madison.
Home Field Advantage
Madison has been almost unbeatable at Breese Stevens Field, and their advantage will be magnified under the Championship Weekend spotlight. The Aviators' three losses this season all came on the road. This is the farthest the Aviators have traveled as a team this season, and it will be easily the biggest crowd they have seen at a game. Team leadership will need to make sure that the Aviators have a focused mindset, so that the off-the-field rigors and demands does not negatively affect their on-field performance. Advantage: Madison.
Bottom Line
This game has the potential to be one of the best of the whole season. It matches strength against strength with the potent LA offense trying to find a way past Madison's excellent defense. It features the established powerhouse who has never not missed Championship Weekend against a team with a first year coach making it to the dance for the first time in franchise history. With an electric crowd sure to be on hand to cheer on the Radicals, and the AUDL final four as wide open a field as we've seen since the league's inception, this is a game you won't want to miss.
If you won't be in Madison to see it in person, you can watch on Stadium Saturday night at 8:00 PM Eastern.
---
They had already clinched the #1 seed in the West ↩