From pick-up game rookie to potential league MVP, how did the LA Aviators' Sean McDougall become the most important player for the AUDL's newest contender?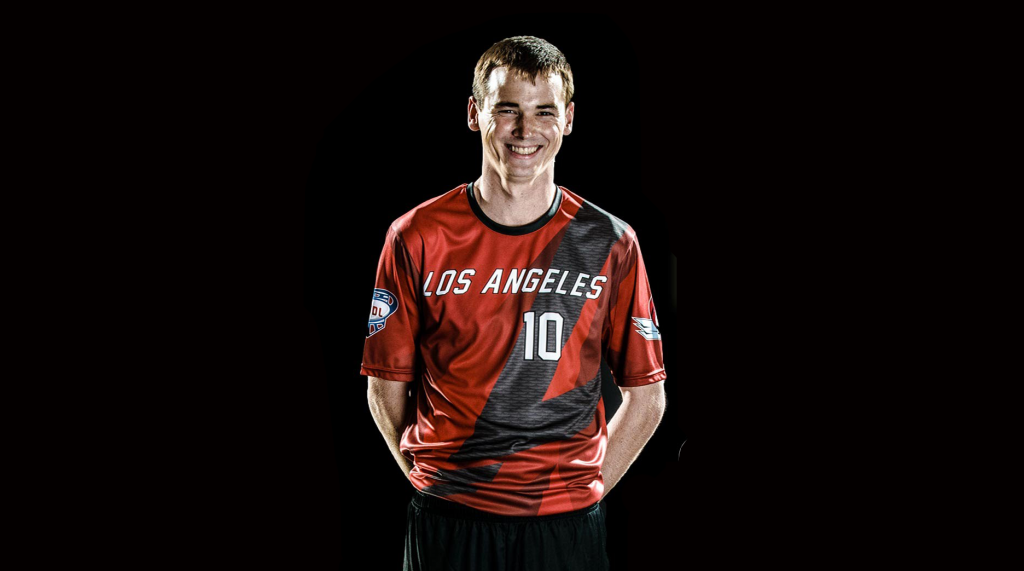 The American Ultimate Disc League isn't the launching point for many all-star careers. This could be a function of the relative youth of the league, but many AUDL stars became household names while playing in college or with a prominent club team. A few players who went to smaller schools–Rowan McDonnell and Travis Carpenter come to mind–used the semi-professional league to take the leap to stardom, but both also play for club teams that have reached the national semifinals in recent seasons. Sean McDougall is the best player in the AUDL who hasn't historically played for a nationally competitive club team, and he is poised to make himself a household name on the merits of his semi-pro career.
Though you probably haven't heard of him yet, Sean McDougall has been the offensive star for the Los Angeles Aviators, the West Coast's representative at the AUDL Championship Weekend starting tomorrow. While you might be more familiar with players like Chris Mazur, Tom Doi, or Eli Friedman, when you watch the Aviators this season, it is McDougall who stands out the most. The stats speak for themselves: McDougall is first in the league in goals (61, three ahead of Indianapolis' Cameron Brock), 7th in blocks (23 while mostly playing on the O-line), 1st in Plus/Minus (+93), and led the midseason MVP race. I sat down with McDougall last month to learn more about the league's newest breakout star.
McDougall grew up a multi-sport star in Fresno, California, juggling soccer, volleyball, and cross country. His combination of athletic skills seems built for ultimate, but it wasn't until he made his way to Cal State Fullerton for college that he was introduced to the sport. McDougall has a classic, compact build, designed for the endurance a long race requires but able to jump high enough to spike a volleyball or sky a defender half a foot taller than him. After one year playing ultimate in college, McDougall moved to Los Angeles for a new job and immediately looked for something active to do. After scouring the internet for physical activities, he found a few local pick up games. As it turns out, he was pretty good at ultimate and started looking for stronger competition.
Working his way around the LA club scene, McDougall played for open and mixed teams in the area. He credits his teammates for his ongoing success and development as a player. As a younger player, he would routinely ask more experienced teammates like Eric Lissner and Dan Bellinger for tips and tricks, building his arsenal of skills. McDougall is quick to credit his teammates for all of the help they have given over the years. "My teammates are always there for me," he said. "Every single time, they are more than happy to help."
McDougall also turned to the film room to improve his game. Each season builds on past experiences; he likes to build skills incrementally, focusing intensely on one skill until he approaches mastery before moving on to the next part of his game. Last season, McDougall focused on defensive positioning, working on different ways to move his hips and position himself against his mark. This year, he is building more dynamic skills on offense. He'll watch past games online to see how other top players approach their craft before trying out different strategies himself on the practice field, tinkering until he find what works for him. "Every player is different, so you can't really take something from someone else that your body is just not capable of doing," he said. Years of trial and error have led McDougall to both know and push his limits on the field, trying to improve one game, practice, and repetition at a time.
In 2015, McDougall heard about the AUDL through his club teammates and decided to try out to see if he could push himself and play at the highest level, searching for one more step in a continual quest for improvement. He made the team that first year he tried out and has played every season since for the Aviators.
Back then, McDougall was mostly a defender and deep threat after the turn, taking advantage of the large AUDL field and his blazing speed to chase down hucks.
"You could just throw it up and I'd go get it," he said. He was encouraged by his teammates shouting "good luck!" While he still has the penchant for the miraculous, his game is more well rounded, evidenced by his new role on the team. This year, McDougall has focused on developing offensive skills to complement his defensive prowess. A rash of injuries and absences opened up a spot on the LA O-line early in the season, and McDougall took advantage: during Aviators' games this season, he can be found running deep off of set plays and using his defensive positioning to get the disc back on the few points his team turns it over. He is a vital part of the unit that has scored over 30 goals three times so far this season and didn't lost to a division opponent until the last week of the season when they had already clinched the #1 seed in the postseason.
McDougall calls focused throwing the most important part of his 90 minute pre-game warm-up, and he relishes the challenge of taking on stronger defenders. As he becomes more well known around the league and defenses plan to stop him specifically, McDougall has had to throw, catch over people, cut under, and create space in ways beyond his old strategy of running as far as his teammates could throw it to him.
Watch also in this clip as he fakes a deep cut, leaving his defender streaking away from him, before using the space his mark vacated to place a touch pass to the end zone line:
These are skills McDougall hasn't used as much in recent years but have opened up on offense this season. While he says he'll never be satisfied with his skill level as a player, as his game is constantly evolving, he hopes to become the best player in LA in the coming years. Given his commitment to improvement and his upward trajectory, that goal seems within reach.
McDougall said that he the ultimate community as a whole, particularly because it is so friendly and welcoming. His story is fairly inspiring for younger, athletic pick-up players hoping to make it to the AUDL. Time after time, McDougall credits his teammates and friends with helping him improve. Asking questions and humbly seeking advice builds McDougall into the player he is today.
Despite his later entry into the sport, McDougall has played in college, multiple club divisions, at a variety of pick-up games, and of course, in the semi-pro league. Compared to the grind of other levels, he likes the format of the AUDL. During club tournaments, it is draining to keep a 'start and stop' mentality all weekend, exerting mental energy preparing for each game, rebounding after tough losses, and finding humility after a dominating win. However, in semi-pro play, he said, players can focus on executing one game plan and exert more energy per point, knowing that there is a long halftime and other breaks throughout the game. "I get to be in the moment for just this game," he said. Perhaps that additional focus has allowed McDougall to perform his best for the Aviators. He holds numerous team records including blocks in one game (5), points played in one game (35), goals in a single playoff game (7), career blocks (58), and career playoff goals (10), and has played for the franchise every year since its inception.
While McDougall knew he would improve this season compared to years past, he says he is surprised by the speed of his ascension to the top of the stats leaderboards. Ever humble, he immediately gave credit to his teammates, for putting themselves in the position to make positive plays, saying "not enough of them get credit for what they do."
As we closed our conversation, I asked McDougall to define his game. After a moment of contemplation, he simply said, "play with your heart." He loves the game and playing for the Aviators; all of the work he put in watching film, incorporating teammates' advice, and developing skills shines through on the field not just because of his impressive feats of athleticism but also his infectious smile.
Can he help deliver two more big wins this season? Don't count him out.