Scandal adds the tall, versatile cutter.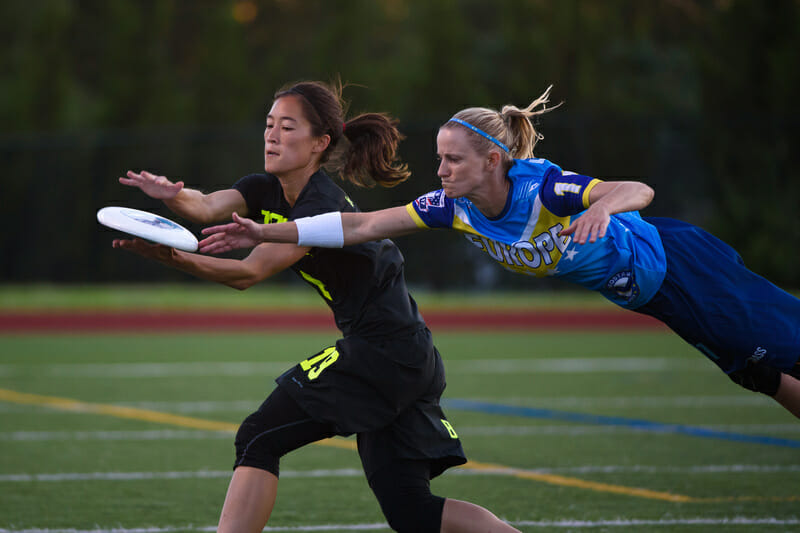 Ultiworld's coverage of the 2018 Women's Division is presented by VC Ultimate; all opinions are those of the authors. Please support the brands that make Ultiworld possible and shop at VC Ultimate!
Women's Division veteran Katey Forth, one of the founders of Texas Showdown and a member of the EuroStars Tour, will join Washington DC Scandal for their postseason push.
"I loved my 13 years with Showdown," said Forth. "Founding Showdown, with the vision of an all-Texas team, has been a wonderful experience. Texas is a really big state, and requires a lot of traveling for players even for practice. In my other life, I am the CEO of a NASA spinoff start up company, Zibrio, and we are in a critical year. This led me to not make a season commitment until now."
Scandal is no stranger to adding talent late in the season. In 2016, Jesse Shofner joined the team in mid-August and helped lead them to quarterfinals. Head coach Alex "Dutchy" Ghesquiere said that the team has enjoyed the experience of plugging in a strong player for the Series.
"Picking up Katey was a coincidence between an opportunity coming to us, and our team needing some reinforcements after a combination of injuries and significant illness," he said. "Anytime a player of Katey's talent and experience indicates she would be available it deserves serious consideration. We expect she'll integrate well and quickly, and we hope to show off a great partnership at Nationals."
RELATED: NASA Scientist, CEO, Mother of Two, and Ultimate Captain [Q&A with Katey Forth]
Forth certainly has experience meshing into a new team with little practice time. She's played on the EuroStars Tour for two years now, and the team quickly gelled en route to claiming the Americus Pro Cup and getting a signature win over Seattle Riot.
"Scandal is a great fit for my style," she said. "I have great respect for them from years of playing against them. My Showdown co-captain from last year who relocated and plays for Scandal, Edith Teng, spoke positively about the Scandal culture. I am really looking forward to playing with Edith again, and also the chance to play for Dutchy, as he is such a well-regarded coach.
"I hope to bring to Scandal my dynamic, yard-gaining style of play. I am super excited."