Another classic entry in the annals of the game's premier rivalry.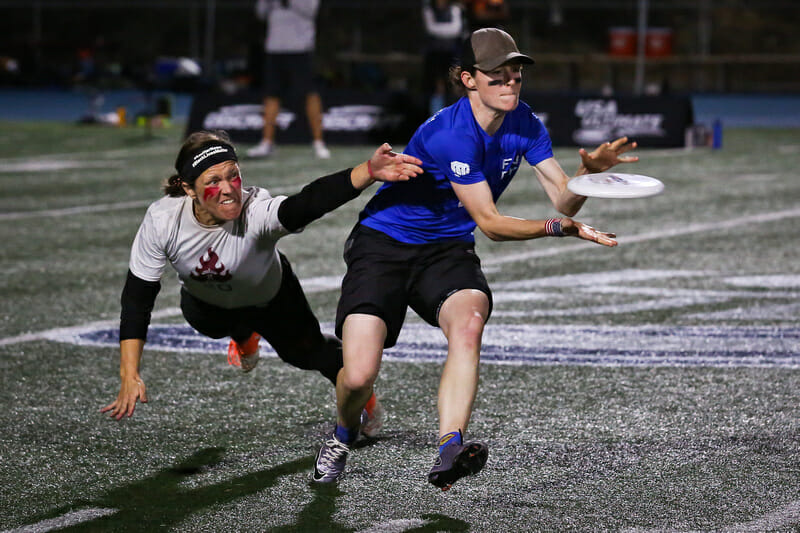 Ultiworld's coverage of the 2018 Women's Division is presented by VC Ultimate; all opinions are those of the authors. Please support the brands that make Ultiworld possible and shop at VC Ultimate!
In what may have been the most exciting semifinal game of a wild semifinal Saturday, Seattle Riot and San Francisco Fury showcased their incredible skills. In front of an enthusiastic crowd, the dueling rivals went to a thrilling double game point, a finish that ended Riot's season and sent Fury to face Brute Squad in the final for a rematch of 2017.
The crowd was getting rowdy as the 8:00 PM semifinal approached, with Fury and Riot alumni cheering for their respective teams on both sides of the field. One of the Fury coaches said he hoped the teams didn't come out overly excited given the late start, but his concerns proved justified.
Although Fury broke Riot's zone for the first clean hold, they had difficulties stopping Jac Verzuh as a versatile receiver for Riot and the Seattle team held with ease. Fury held to regain the lead 2-1 and then generated their first break chance on the following point. But Riot transitioned quickly to defense and stifled Fury, forcing them to call a timeout. They walked it down the field, but then turned it in the end zone just as Riot was transitioning to match defense. Riot didn't waste their second chance and held to tie the game at 2-2.
Riot played incredible defense against Fury on the following point and forced Alex Snyder to throw a tricky huck, which sailed out of bounds and gave Riot their first break opportunity. They walked the disc down calmly and scored on a ridiculous layout grab by Claire Trop to take a 3-2 lead. Fury held to tie the game back up thanks to Opi Payne and Sarah "Surge" Griffith, but Verzuh proved unstoppable and skied their defender to make it 4-3, Riot. Fury was doing an effective job of playing switch defense on the handlers but could not guard the backfield using just one-on-one matchups.
The following point of one of the day's strangest. Cree Howard completed a throw for the San Francisco offense, but went down, apparently hurt. Her defender stopped, attracting the attention of some nearby players, while the offense continued to move. Fury tried to huck to Surge once again on their next point, but the look was unsuccessful. Meanwhile, Howard was waving off the stumble, as if to say she would be fine and there was no need for a stoppage. With the disc now on the opposite end of the field in Riot's possession, Fury immediately switched to tight defense and were able to shut down almost every look for Riot until Charlie Eide tried to bend a backhand to her fellow handlers. It was eaten up by Kirstin Johnson for a callahan and Fury hold, before Howard and her matchup had even rejoined the play. Chaos erupted from the sidelines as Fury stormed the field to celebrate.
"That was pretty cool," laughed Johnson afterwards. "It's the second callahan I've ever gotten. One was in college, but we were crushing the other team. I think it was really important that we held that point and we had really good pressure downfield that caused the miscue in the backfield that set me up to just run it down. That's on my teammates playing really good defense downfield."
Riot was unfazed, quickly holding to retake the lead 5-4 on another goal for Hannah Kreilkamp despite the fact that Fury chased down their pull quickly and limited Riot to throws in a tiny margin along the sideline. Riot then broke Fury again thanks to a block and goal from Kelly Johnson, and were up by two, 6-4. But Fury remained focused and patiently shredded Riot's zone on the following point thanks to marvelous break throws from Alex Snyder and then scored using dedicated dominating handler movement until Carolyn Finney found Beth Kaylor in the end zone to put Fury back within one, 6-5.
Fury earned a huge break chance on Riot's next possession after Alden Fletcher blocked a Riot huck, but after walking the disc back down, they turned it over on a crossfield throw through the Riot zone. Seattle held on a crafty blade to Hana Kawai. They were back up by two, 7-5, thanks to intense discipline and focus from their offensive line on defense. Things looked even worse for Fury after Kaylor bobbled a far swing throw from Snyder and Riot quickly converted to take half 8-5.
It is worth noting that each time Fury got broken in the first half, they had strayed from their standard offensive line. This is surprising for a team that is normally somewhat flexible in the lines they call, but they adjusted well to this fact and came out for the second half ready to kill. Fury and Riot have faced each other five times this season, and learned each other's offenses and defenses better and better each game. By the time this game came around, both teams were forced to hit tight angles and tiny spaces in order to score. Their intelligent defenses left essentially no room for execution errors, and what resulted was an absolute barn burner under the lights from start to finish.
Both teams did battle in the second half, but Fury simply refused to let Riot run away with the game. After some turns from both side to start the half, Riot called a timeout, hoping their third possession could be navigated more smoothly. But Carolyn Finney had other ideas and ate up a floaty throw, giving Fury back the disc and enabling them to score a momentum-changing break to make the score 8-6.
The atmosphere was electric now that Fury had shown they couldn't be beaten that easily. Sure enough, on the next point, Riot turned it in their end zone and Kaylor ripped down a massive huck from Nancy Sun for back to back Fury breaks. Despite this, Riot maintained their composure and continued to look calm, even at high stall situations when they were trapped on the sideline. But perhaps they were too calm, because Fury stalled them out and converted for their third break in a row to tie the game 8-8. This nearly unbelievable string of breaks had entirely shifted the dynamic of the game, and the crowd was going crazy.
Riot knew they needed a change, and came out with their cutters in a side stack to try to generate some offensive flow. But they hucked to no one and Fury turned on their jets, making insane throws and unbelievable catches to break a fourth time and take the lead 9-8. Fury then forced yet another Riot turnover, but they hucked to coverage and Riot got the disc back. They hucked it back the other way, catching it and working patiently all the way to their end zone line before ultimately turning it once again. Reed sent a massive throw to Surge, who came down with it and gave the disc back to the handlers for some patient dominator movement that led to their fifth straight break and a two point lead for Fury.
Fury had roared back from an 8-5 deficit to a 10-8 lead with a remarkable string of play. During the five point run, they recorded five blocks, completing 93 passes with just three turnovers. By contrast, the team had thrown just 87 passes on the previous 13 points. Some patient possessions featured swing after swing after reset after swing, as Fury ran a well-paced and well-spaced offense that steered them right back in front of Riot.
Seattle knew they had to halt Fury's run as soon as possible, and played focused offense until Steph Lim threw a break backhand to Kelly Johnson to bring them back within one. People were literally bleeding, screaming, and jumping for joy as both teams fought to earn one more day with their teammates in the form of a spot in Sunday's final. Given the crazy swings in momentum and superb plays that had transpired, and the fact that the momentum might be shifting back in Riot's favor, the result was squarely up for grabs. On the following point, a Fury misthrow on a handler reset led to Riot working the disc all the way back to the end zone with a chance to tie it up. But they turned it on their scoring attempt and Finney sent a perfect huck to a tumbling Maggie Ruden for the Fury hold, 11-9.
Riot held on the next point to made it 11-10, and then looked like they had a chance to tie it up after Rachel Bradshaw got a layout block on Kaela Helton. But Helton got the disc back by blocking a short Riot huck and Fury scored just before the soft cap came on, making it 12-10 with the game being played to 14. The next point included a highlight reel-worthy grab from Paige Soper to maintain Riot possession, and they brute forced their way to the end zone for a critical hold. Fury answered with a clean hold of their own, flowing nicely, anchored by Alex Snyder as their center handler. The score was now 13-11 and Fury had a chance to break and win the game.
The next point looked like it might be the last after Riot turned the disc over. But Anna Reed bobbled a catch and gave Riot a second chance, which they took full advantage of as Verzuh skied Marika Austin for the hold to make it 13-12. If Fury could hold on for either of the following two points, they would win the game. They sent out Snyder, Griffith, Finney, Cree Howard, Johnson, Ruden, and Kaylor hoping to end things quickly and prevent sudden death. But Howard threw a turnover and all of a sudden Riot had a chance to tie. Luckily for Fury, Surge got the disc back and gave it to the handlers to work into the end zone. However, the universe had other plans – Finney threw a turnover and Riot broke for the first time that half to tie the game at 13-13. Chaos was clearly ruling the field, and the excitement level was sky high from players, coaches, and fans alike.
Fury trotted out a kill line for their second attempt at winning the game. This time, it was Payne, Griffith, Snyder, Finney, Anna Nazarov, Ruden, and Helton. Fourteen passes later, it was all over – Snyder threw a break backhand to Griffith in the end zone to win Fury the game, 14-13. Griffith, having just left Riot a few months prior after a 10 year career that culminated in their Club World championship, was overcome with emotion. It was Shakespearean for the final goal to land in the hands of Surge, roughly a mere 13 weeks after she had caught the gold medal goal at WUCC wearing a Riot jersey. The realization that she had just halted her former teammates' journey towards their long sought-after title was simply too much.
This was a huge win for Fury after losing to Riot at the World Ultimate Club Championships this year and it was due to a monstrous defensive effort in the second half. Players ran onto the field, crying and screaming and hugging each other, before lining up to high five and then piling on top of one another to celebrate their second straight appearance in the final of Nationals.
Credit should be given to Lakshmi Narayan, who guarded Verzuh respectably for the majority of the game and essentially neutralized them as a threat downfield. Another game-changer for Fury was Anna Reed, a new addition to their roster who handled with confidence under tight pressure and had just a single throwaway during the entire semifinal.
"It's been really fun playing with Fury," said Reed, who completed 20 passes with one assist and two turnovers, after the game. "It's different. I have been looking forward to being on a team like this for a long time. It's been awesome to get to work so hard at practice every weekend." When asked if she prepared specifically for this Riot game, she explained that, after matching up five times this season, and so many times previously, there was enough familiarity to have a clear plan for matchups and strategies.
Snyder echoed some of those same sentiments. "This was a battle that we all knew was coming… We knew they were going to come down with a lot of junk," said the venerated handler. "We were actually joking last night that even if both teams traded playbooks, it wouldn't make a difference because we know each other so well."
"Our biggest thing was to expect some weird looks and don't panic," added Snyder. "We're going to get people that are open and we just have to not force it and take what's given to us and work with it – and that's exactly what we did."
Fury takes on Brute Squad, who has not lost a game this club season, tomorrow in what will undoubtedly be a massive defensive battle. If any team can be the first to take down Boston, it's the same team that overcame them in their dramatic 2017 final.