Bates, Brown, UMass take down the top college divisions at the Northeast's biggest college fall event.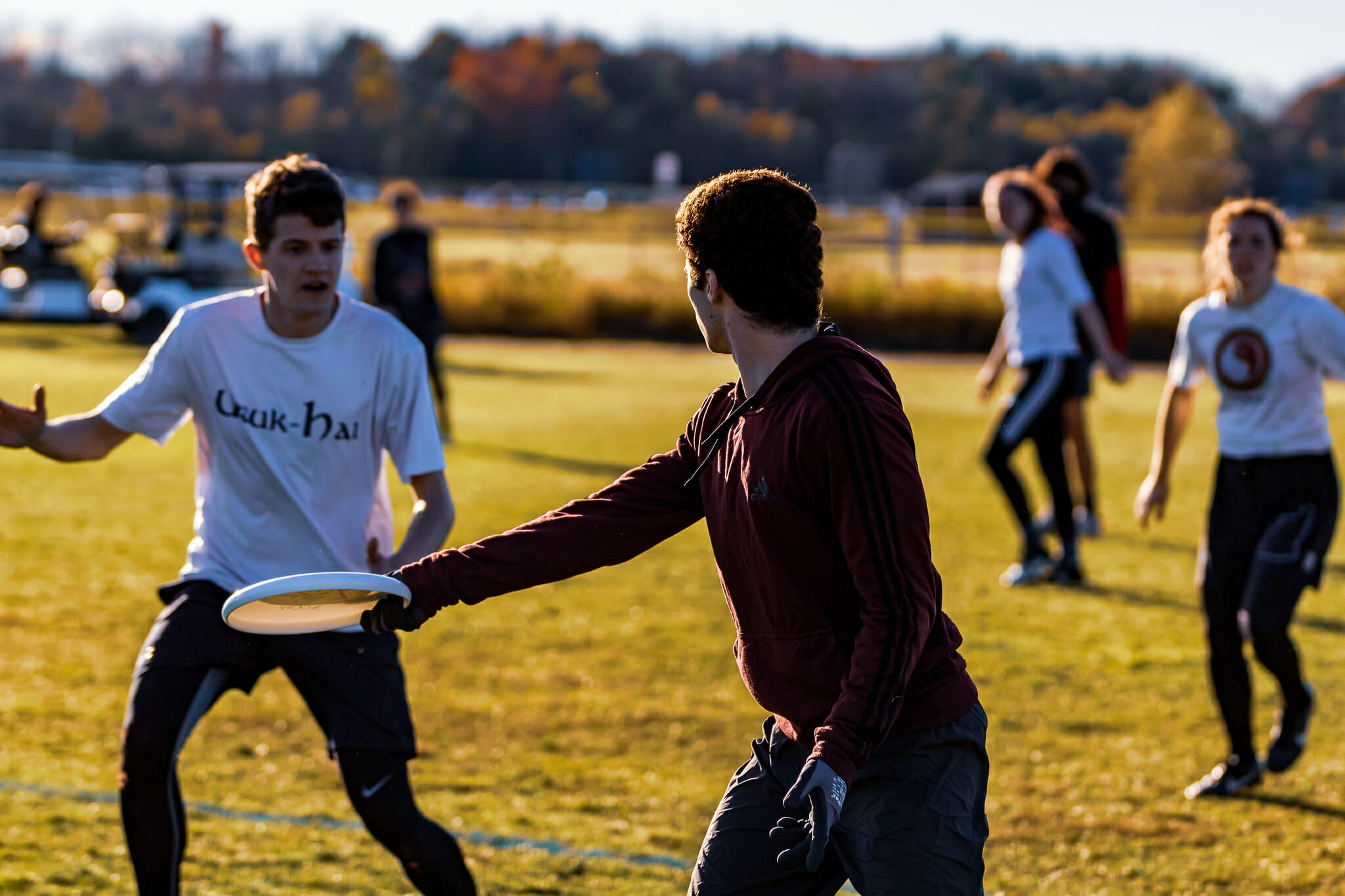 This article was written by Mike Leding. Ultiworld's coverage of the college fall season is presented by Spin Ultimate; all opinions are those of the authors. Please support the brands that make Ultiworld possible and shop at Spin Ultimate!
With $1,500 on the line for the top two finishers in each division, the Lobster Pot was set up for an exciting finish on Sunday. Teams were met with 30-degree temperatures and blustery conditions with winds up to 20 mph. All the matches were affected by the wind, leading to a lot of 'huck and play defense' strategies and a ton of zone. Any team getting upwind breaks was in the driver's seat. Pulling into the wind proved problematic for every D-line. There were also several drops as the windy conditions led to several air bounces making the disc difficult to catch.
Despite the less than ideal weather, Maine Ultimate ran a top-notch tournament. Water buckets were always filled, there was a trainer team of six that was always connected and quick to the fields via golf carts to get to players needing assistance quickly. Fields were in beautiful condition. It was just a well-run tournament all around as these colleges and universities kicked off their seasons.
For total tournament results, go here.
Upper Women's: Dartmouth, despite missing top talent at the Club Championships, ran through their pool day one and appeared to be the team to beat on Sunday. Bates got a nice lift with Josie Gillett arriving to bolster their ranks after missing Saturday play.
In the quarters, Mount Holyoke gave Bates all they could handle, but Bates survived with an 11-9 win.  The other three quarters matches were lopsided as Dartmouth, last year's champion Vermont, and New Hampshire advanced.
In the semis, Bates was able to get an upwind and downwind break against Dartmouth, and that was the difference in their 9-7 upset victory. Vermont noted that their game against New Hampshire was filled with long, wind-affected points that led to a 9-6 win for Vermont. This set up a rematch of last year's final.
Vermont received the pull and went up 1-0 on a nice handler give and go play with Emma Massey getting the score on an upline cut and a nice flat throw to space from Mariz Mangundayao. Bates spent most of the match sending the disc downwind and setting zone on turns, while Vermont chose to stick with matchup defense.
Both teams traded holds until 4-4. Bates then broke upwind to take the lead 5-4, and on the very next point broke downwind to take a 6-4 lead. From there, the teams traded points with Bates taking home $1,000 and the trophy in the upper women's division with a 12-10 win. Bates had four seniors, one junior, eight sophomores, and nine first year players competing this weekend.
Gillett led the way for Bates with six assists. Cameron Johnson, who put Bates up on a nice throw from Gillet to make it 7-5, ended the match with four goals and an assist.
Congratulations to all the teams that participated in this division this weekend, there was a strong level of play and a high level of spirit all weekend. Bates was D3 Nationals runner-up in 2018 and Vermont has lost in the Regional game to go the last two seasons.
Lower Women's: Local favorite Maine Ultimate YCC team Rip Tide had its Cinderella run dashed in the final by Rensselaer, who went unbeaten on the weekend. RPI ran through this division not giving up more than three points in any match prior to beating Rip Tide 15-4 in the finals.  They beat Colby 15-3 in the quarters and Skidmore 15-3 in the semis. RPI dominated this bracket from cover to cover to take home the $1,000 prize.
It was a wonderful run by Rip Tide, who won 10-7 over Bentley in the quarters and won a tight one 8-6 over Brandeis in the semis.
The spirt and fun in this bracket was on full display with interactive cheers and dance parties all weekend long. It will be interesting to see what college team lands the super talented Emily Pozzy and some of the other strong female talent in the Maine Ultimate pipeline down the road.
Upper Men's: Brown looked shaky on Saturday with lots of multiple turnover points and some questionable decisions with blades and hammers in windy conditions against zones; however, they usually found a way to get the disc back and score. On the other side of the bracket, Somerville Youth looked fast and aggressive, bidding on nearly all in cuts and appeared the team to beat. This didn't change as they ran through Bryant and Harvard 15-9 and 14-5, respectively, on their way to a finals birth. 
Brown was able to settle down on Sunday, beating Northeastern 15-8 and Vermont 13-6, setting up a matchup of two athletic teams that were not afraid to take chances.
The teams traded points until 2-2 before Brown was able to get a big upwind break on a huck to Alex Liu who found freshmen Martin T. for the score. Brown got another layout D on the next point to get another break and move to 4-2. Somerville Youth hung around early, cutting the lead to 5-4 on a nice up the line dump cut from Daniel B. to Eric C. From there, though, it was all Brown, as they powered to a 15-9 win.
Note that Brown was missing both John Randolph and Mac Hecht this weekend for Club Nationals. Look for this squad to build on this momentum as they prepare for the spring season and another deep run at College Nationals.
Middle Men's:  Syracuse, Wesleyan, and local Maine Ultimate YCC team Neap Tide all went undefeated on Saturday. All three of these teams advanced to semis with 3+ point wins in quarters and were joined by Boston College B.
Syracuse won 8-5 over Boston College B in a 'multiple turnovers per point' type of game as both teams found it difficult to negotiate the wind. On the other side of the bracket, Neap Tide survived Wesleyan 9-8.
Despite Neap Tide's strong run in this bracket on Saturday, Syracuse looked like the team to beat, led by the spirited play of Luca Serio. Syracuse was physical, athletic, and brought a ton of energy all weekend long. Syracuse and Neap Tide traded points until 3-3. Syracuse got a couple breaks. Tide answered on a huge full field huck from Carter Lawless to Calvin Stoughton to pull to 6-4. From there, Syracuse's depth and experience took over as they took half 8-5, and then Syracuse went on a 6-1 second half run to close the game out 13-6. Syracuse Doom looks like a team on the rise!
Lower Men's: Dartmouth-B was able to negotiate the wind better than the entire pool, scoring 13-1 and 13-10 victories over Bentley-B and Keene State, respectively. On the other side of the bracket, Connecticut College struggled to efficiently move the disc, garnering 8-2 and 8-6 wins over MIT-B and Wentworth, respectively, in the quarters and semis. These results flipped in the finals as Connecticut College was able to get enough breaks and sustain offensive flow to power past Dartmouth-B for the 12-9 win.  The conditions were great for these developmental squads to get in some good game experience in difficult throwing conditions.
Mixed: UMass ran through the new mixed division this weekend. They had low numbers the entire weekend (around 14) so they used a lot of zone and trap zone to keep legs fresh for offense.  They also turned the finals into a halloween event, as they defeated Emerson 15-5 in the finals with most players wearing animal costumes. This was the first year for this division with only five teams. Maine Ultimate hopes to grow the division in 2019.