How did your country measure up?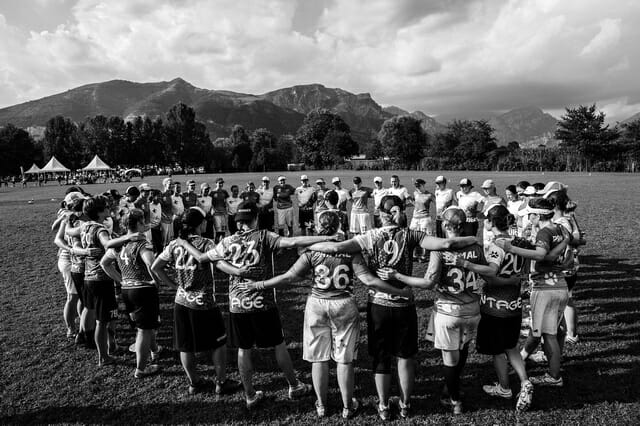 On December 3rd, International Spirit of the Game Day, the World Flying Disc Federation announced the 2018 average spirit scores for every country.
After each game, teams rank their opponents from zero to four in rules knowledge, fouls, fair play, attitude, and communication. A score of two in a category is considered "good," making a total score of 10 a good score. Here is a score sheet for reference.
Here are the scores in a fully sortable list by country:
| COUNTRY | TOTAL | Rules Knowledge and Use | Fouls and Body Contact | Fair Mindedness | Positive Attitude and Self Control | Communication | Events Attended | Representative Teams |
| --- | --- | --- | --- | --- | --- | --- | --- | --- |
| Argentina | 10.23 | 1.75 | 1.82 | 1.94 | 2.55 | 2.17 | 2 | 6 |
| Australia | 11.35 | 2.07 | 2.01 | 2.38 | 2.52 | 2.37 | 8 | 38 |
| Austria | 11.25 | 2.01 | 2.03 | 2.38 | 2.54 | 2.29 | 5 | 11 |
| Belgium | 10.87 | 2.03 | 2.01 | 2.25 | 2.31 | 2.27 | 5 | 12 |
| Brazil | 11.3 | 1.96 | 2.13 | 2.42 | 2.54 | 2.25 | 1 | 2 |
| Cambodia | 12.67 | 2.17 | 2.67 | 2.5 | 3 | 2.33 | 1 | 1 |
| Canada | 10.4 | 1.97 | 1.84 | 2.16 | 2.27 | 2.16 | 7 | 59 |
| Chile | 10.47 | 1.9 | 1.93 | 2.13 | 2.32 | 2.19 | 1 | 3 |
| China | 10.71 | 1.85 | 1.97 | 2.18 | 2.51 | 2.2 | 6 | 14 |
| Chinese Taipei | 10.37 | 1.73 | 1.97 | 2.21 | 2.38 | 2.08 | 4 | 11 |
| Colombia | 10.11 | 1.71 | 1.82 | 2.1 | 2.38 | 2.1 | 7 | 31 |
| Currier Island | 11.18 | 1.9 | 2.05 | 2.29 | 2.65 | 2.29 | 1 | 4 |
| Czech Republic | 10.86 | 2 | 2.05 | 2.29 | 2.43 | 2.09 | 3 | 10 |
| Denmark | 11.4 | 2.02 | 2.08 | 2.49 | 2.42 | 2.39 | 5 | 10 |
| Dominican Republic | 10.61 | 1.7 | 1.93 | 2.28 | 2.48 | 2.22 | 4 | 4 |
| Egypt | 11.42 | 2 | 2.14 | 2.71 | 2.43 | 2.14 | 1 | 1 |
| Estonia | 10.3 | 1.92 | 2 | 2.08 | 2.38 | 1.92 | 1 | 1 |
| Finland | 10.83 | 1.99 | 2.01 | 2.19 | 2.45 | 2.19 | 5 | 13 |
| France | 11.02 | 1.97 | 2.08 | 2.31 | 2.41 | 2.25 | 6 | 21 |
| Germany | 10.87 | 1.97 | 2 | 2.23 | 2.42 | 2.25 | 7 | 35 |
| Great Britain | 10.86 | 2.02 | 1.91 | 2.27 | 2.41 | 2.25 | 7 | 37 |
| Guam | 10.33 | 1.83 | 1.92 | 2.08 | 2.42 | 2.08 | 1 | 1 |
| Hong Kong | 10.52 | 1.78 | 1.81 | 2.26 | 2.47 | 2.2 | 6 | 11 |
| Hungary | 10.69 | 2.08 | 1.92 | 2.23 | 2.31 | 2.15 | 1 | 1 |
| India | 11.26 | 1.87 | 2.12 | 2.28 | 2.72 | 2.27 | 7 | 12 |
| Indonesia | 13 | 2.17 | 2.33 | 2.83 | 3 | 2.67 | 1 | 1 |
| Ireland | 11.45 | 2.05 | 2.07 | 2.34 | 2.61 | 2.38 | 5 | 11 |
| Israel | 11.09 | 1.81 | 2.28 | 2.38 | 2.34 | 2.28 | 1 | 2 |
| Italy | 9.82 | 1.82 | 1.71 | 2.15 | 2.05 | 2.09 | 6 | 12 |
| Japan | 11.33 | 2.03 | 2.03 | 2.35 | 2.69 | 2.23 | 8 | 37 |
| Kenya | 10.44 | 1.78 | 2.11 | 2.22 | 2.44 | 1.89 | 1 | 1 |
| Latvia | 9.98 | 1.88 | 1.85 | 2.12 | 2.08 | 2.05 | 3 | 4 |
| Lithuania | 9.42 | 1.71 | 1.71 | 1.86 | 2.14 | 2 | 1 | 1 |
| Malaysia | 10.62 | 1.93 | 1.86 | 2.17 | 2.51 | 2.15 | 3 | 7 |
| Mexico | 11.03 | 1.81 | 2 | 2.38 | 2.68 | 2.16 | 6 | 11 |
| Netherlands | 10.59 | 1.97 | 1.95 | 2.21 | 2.25 | 2.21 | 4 | 10 |
| New Zealand | 12.66 | 2.17 | 2.24 | 2.58 | 3.04 | 2.63 | 8 | 20 |
| Norway | 11.71 | 1.86 | 2.14 | 2.57 | 2.71 | 2.43 | 1 | 1 |
| Panama | 9.01 | 1.75 | 1.38 | 1.75 | 2.25 | 1.88 | 1 | 1 |
| Philippines | 10.32 | 1.76 | 1.92 | 2.12 | 2.41 | 2.11 | 6 | 24 |
| Poland | 10.88 | 1.94 | 2.03 | 2.24 | 2.44 | 2.23 | 4 | 8 |
| Portugal | 11.54 | 2.01 | 1.94 | 2.54 | 2.75 | 2.3 | 3 | 3 |
| Russia | 9.99 | 1.83 | 1.76 | 2.11 | 2.27 | 2.02 | 4 | 12 |
| Singapore | 11.02 | 1.91 | 1.99 | 2.31 | 2.55 | 2.26 | 7 | 28 |
| Slovakia | 10 | 1.71 | 1.71 | 2 | 2.29 | 2.29 | 1 | 1 |
| South Africa | 12.03 | 1.98 | 2.08 | 2.63 | 2.77 | 2.57 | 2 | 5 |
| South Korea | 11.13 | 2.06 | 2.02 | 2.39 | 2.42 | 2.24 | 6 | 7 |
| Spain | 10.23 | 1.89 | 1.87 | 2.14 | 2.27 | 2.06 | 3 | 13 |
| Sweden | 10.31 | 1.93 | 1.82 | 2.24 | 2.18 | 2.14 | 5 | 10 |
| Switzerland | 10.62 | 1.99 | 1.99 | 2.18 | 2.27 | 2.19 | 5 | 21 |
| Thailand | 10.33 | 1.83 | 1.83 | 2.17 | 2.67 | 1.83 | 1 | 1 |
| Turkey | 11.17 | 1.75 | 2.08 | 2.5 | 2.67 | 2.17 | 1 | 1 |
| Ukraine | 9.94 | 1.6 | 2 | 2.17 | 2.13 | 2.04 | 1 | 2 |
| United Arab Emirates | 11.54 | 1.96 | 2.18 | 2.24 | 2.66 | 2.5 | 3 | 5 |
| United States | 10.85 | 2.01 | 1.95 | 2.26 | 2.4 | 2.23 | 7 | 60 |
| Uruguay | 9.91 | 1.79 | 1.9 | 1.91 | 2.37 | 1.94 | 2 | 2 |
| Venezuela | 10.1 | 1.72 | 1.81 | 2.14 | 2.38 | 2.05 | 3 | 4 |
| AVERAGES | 10.81 | 1.91 | 1.98 | 2.26 | 2.46 | 2.20 | 3.77 | 11.84 |