The best of the best in the 2018 club season.
With the 2018 season over and the winners crowned, it is time to take a moment to recognize the top European performers in the Women's Division this season. While the talent of the Division reaches far beyond short lists, these awards are meant to honor those players who put together what we believe to be the best seasons in the Women's game this year.
Bcause of the nature of the Club Division, we weighted success at WUCC and at European Championship events above all else. The awards are selected based on input from Ultiworld reporters, contributors, and editors.
Player of the Year
Olga Podolskaia (Moscow Brilliance)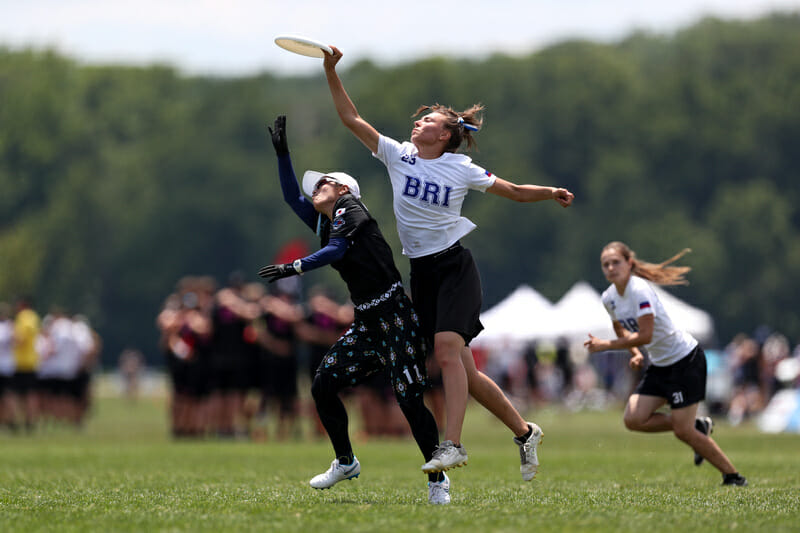 Olga Podolskaia was the best player on the best team the European women's ultimate scene put together this season. Although Moscow's Brilliance didn't attend Windmill and the team's campaign at EUCF did not have a very high finish, their squad for WUCC was the strongest European team in the Division. Missing out on quarterfinals with a bitter double game point loss to a very strong Japanese HUCK team, Brilliance finished in 11th place with Podolskaia at the helm of their success. She was the stats leader on Brilliance, bringing home 27 goals and throwing 22 assists.
Playing the role of a downfield workhorse for Brilliance's offense, she pulled down huck after huck from her teammates Sasha Pustovaya and Dina Dumanskaia. In instances where she was permitted freedom on an under cut or a deep shot fell short of the endzone line, she displayed a hard-to-match throwing prowess, putting discs deep and hitting difficult around blades or inside shots perfectly. In short, she made scoring easy for her team at any given opportunity.
Podolskaia also made clear her huge impact on defense, earning the responsibility of being one of the few players who featured on O and D lines all through the tight prequarter game against HUCK.
Whilst Podolskaia lacked the opportunity to replicate this performance at many of the big European stages, she again lead the stats board at Russian Nationals, where she played with her local club Elvis Presley and posted 32 assists with 25 goals. She then finished her season switching allegiances at EUCF to play with SouthWest, a young team out of Moscow during their first major international tournament. She helped lead them to a very respectable fifth place finish, which included a victory over Brilliance along the way. However, while these late season events were laudable, it was Podolskaia's performance at WUCC with Brilliance that proved that she was the best female player from Europe this year.
Runner Up: Annika "Nici" Prien (Hamburg Seagulls)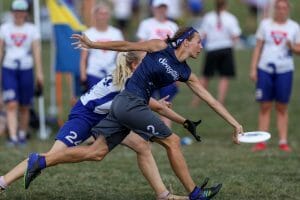 Nici Prien is a player that needs no introduction. She has been one of the best in Europe for most of this decade, having been part of the Iceni golden generation. Whatever team she's playing on — and she's played on plenty — you'll find her downfield as the primary cutter. The German Mixed beach national team often builds their offense around her. She eats unders for breakfast. This season, she returned to her hometown team, the Hamburg Seagulls, who qualified for WUCC. Prien was her usual fantastic self, scoring 31 goals and tallying 19 assists for a combined total of 50, tying with Robyn Fennig for best in the Division. It was one more than Podolskaia, but the Brilliance player faced much tougher opposition.
Had Prien racked up these stats in the top half of the Division, she may well have claimed the outright POTY award.
She also played a second tour with the Eurostars in the US, and it was obvious why she was invited back. She continues to be a great role model whenever she takes the field. Seagulls turned up to the inaugural European beach ultimate club championships all guns blazing. Beach ultimate suited the top heavy roster, allowing Prien, Levke Walczak and Svenja Pruns to dominate. They found themselves in a double game point scenario against Cosmic Girls in the final of the tournament, starting on defense. Prien went on to score the winning goal with a dramatic layout after an amazing block by Pruns. A perfect way to end the season for one of Europe's finest.
Offensive Player of the Year
Aleksandra "Sasha" Pustovaya (Moscow Brilliance)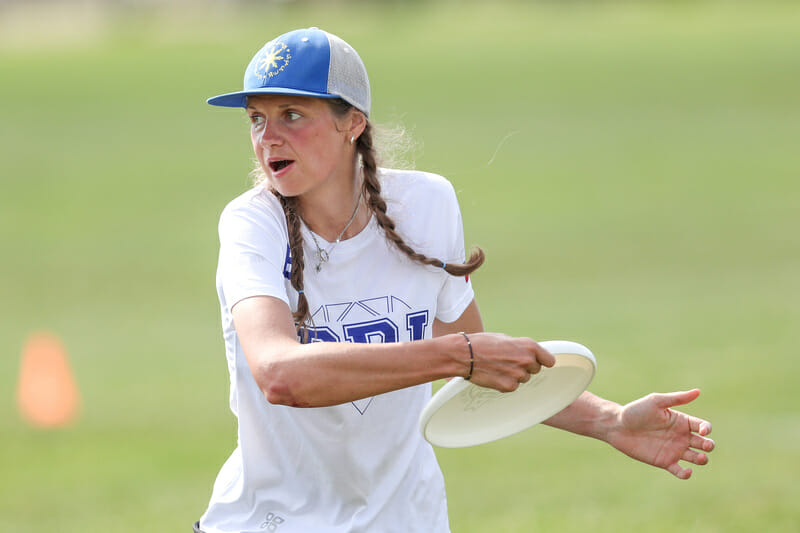 Aleksandra Pustovaya is a name we are well familiar with at this stage. She was a major cog in the Russian Women's team that won gold at WCBU last year, a famous victory that prevented the US from getting the clean sweep and highlighting the talent of the Russian team. This year, Pustovaya and others from Cosmic Girls joined forces with club team Brilliance to compete at WUCC.
Pustovaya is famous for her IO flicks and pinpoint hucks. Predictably, she had the highest assist tally in the division, totaling 42. Brilliance finished 11th, higher than any other European team, and a lot of credit needs to go to Pustovaya's golden arm. Her assists came against the likes of Brute Squad, MUD, 6ixers, and other top teams. Her partnership with Dina Dumanskaia has proved fruitful on offense and on defense.
After Worlds, Pustovaya returned to the Cosmic Girls for EBUCC making it to the final but falling on double game point. Pustovaya was centimeters away from a layout block on the final point scored by POTY runner-up Nici Prien. There are few players who throw a disc with such power and finesse, making her a joy to behold for all disc lovers.
Runner Up: Aline "Rasta" Mondiot (Paris Yaka)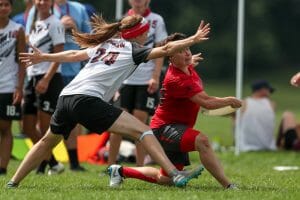 Aline Mondiot had a terrific season this year with Yaka from France. It started off with a big win at Tom's Tourney, as they took down Iceni in the final. Mondiot looked better than ever in that game. Running the show from the backfield, she showed tremendous awareness and vision to pick the right pass and keep the offense flowing.
There's no doubt that the addition of Robyn Fennig, one of the best players in the world, to the Yaka roster changed how the team operated. Usually teams focus on Mondiot when they try to shut down Yaka, but now they had another big name to worry about. Suddenly, she had a lot more space to express herself and was a great stall nine target when necessary. Mondiot marshaled the offense all season long and showed great creativity with her throws. She put up 24 assists at WUCC with Yaka finishing a respectable tied 17th.
Like many European teams, Yaka decided not to attend EUCF this year. Mondiot wasn't done yet, though, She jumped onto the CUSB Shout roster along with teammate Daniela Rodriguez and went on to win the title. She played a far less dominant role on the Bologna team but was still a key offensive piece that helped to bring Shout their first ever European title.
Defensive Player of the Year
Maya Mileck (London Iceni)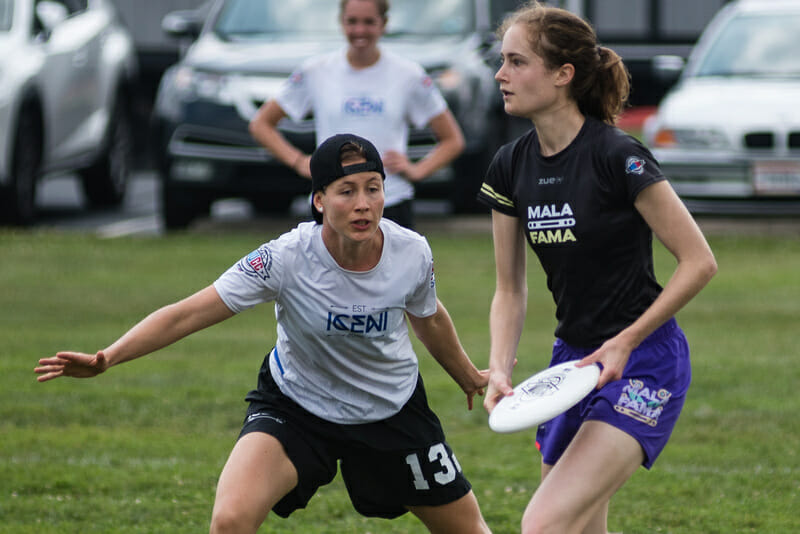 Maya Mileck has been representing Denmark on the international stage for over half a decade now. She was catapulted into further stardom last year when she joined the Eurostars tour and never looked back. Mileck decided to play with London's elite team Iceni this year, despite being based in Copenhagen. Her first outing with the team came at Tom's Tourney, where Iceni finished second. She played on the D-line for the majority of the season, which led to some very interesting match ups. She often uses her field smarts more than her height when matching up against top players, choosing whether to bait for a block or lock down her mark. She went head to head against fellow Eurostar Nici Prien at the tournament, doing enough to contain Prien and get Iceni the win.
Iceni struggled on the UK circuit without Mileck, who was possibly their best all-around player. She was exceptional in possession of the disc as well. She was usually the first cut, then looking to send it deep with one of her patented feathery flick hucks. Mileck did her best to fight back against a strong CUSB Shout team in the final of EUCF, scoring a great layout goal to take the game to 13-14 but the Italians were too clinical in the end.
It'll be interesting to see if Mileck continues to play with British team next year.
Runner Up: Anna Ceschi (CUSB Shout)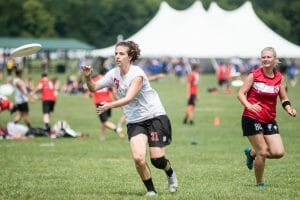 Anna Ceschi is just one of the bright young talents coming out of Bologna, a city already renowned for developing top-class ultimate players. This year, she was captain of the D-line on CUSB Shout and has shown herself to be a natural leader on the field. Known for her big layouts and shutdown defense, Ceschi unfortunately sustained an elbow injury halfway through WUCC, which limited her impact on CUSB's chances in Ohio, but up until that point she had been playing phenomenally.
Thankfully, she made a quick recovery to be back in time for EUCF, where her stellar defensive efforts were rewarded with a gold medal. While the Italian side has come close to a European championship in the past, boasting a bronze and silver medal in their previous two outings, it took players like Ceschi upping the level of intensity on defense to finally win the title.
Ceschi's efforts were further recognized when she received an award from the Magnifico Rettore, the President of the University of Bologna.
Breakout Player of the Year
Melina Koschnitzki (Mainz Mainzelmädchen)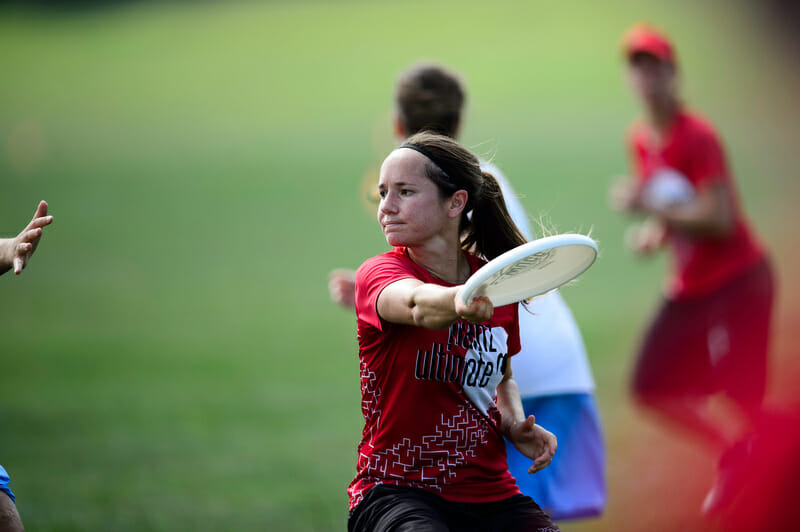 Melina 'Mel' Koschnitzki is not exactly a stranger to the elite European ultimate scene, having had plenty of success on the domestic stage in her home nation of Germany and a bronze medal for her efforts with the women's national team. However, it seems that 2018 was something of a coming out party for Koschnitzki at the international club level, as she worked her magic with Mainzelmädchen all season long. Working alongside fellow speester Hyoko Hosokawa, Koschnitzki was a force to be reckoned with. She very rarely left the field and was pivotal for her team in tough, crunch-time situations. What she may lack in height, standing at only 1.6 metres (5'3″), Koschnitzki makes up for with an explosive, tenacious, and frankly fearless style of ultimate.
Runner Up: Kelly Weise (Bristol Nice Bristols)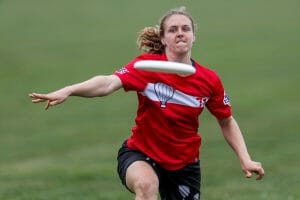 With Nice Bristols falling short of making the splash they had hoped to at WUCC and EUCF, plus all of the noise about US imports to the likes of YAKA and Atletico, you might not have noticed Kelly Wiese. However, there is no doubt that those who had the unenviable task of matching up against her on the field this season will have.
With loads of dynamic athleticism and a skill set honed through four years with Madison's Heist, she was a powerful addition to the Nice Bristols roster, having made the move across the pond ahead of the 2017/18 season. Despite some tough losses on the international stage, players like Wiese were key in unlocking a long-awaited gold for Bristols at EUCR-W. Here's hoping she sticks around the European circuit for a few more seasons.