TOKAY's new app integration allows you to easily get the correct size for your online order.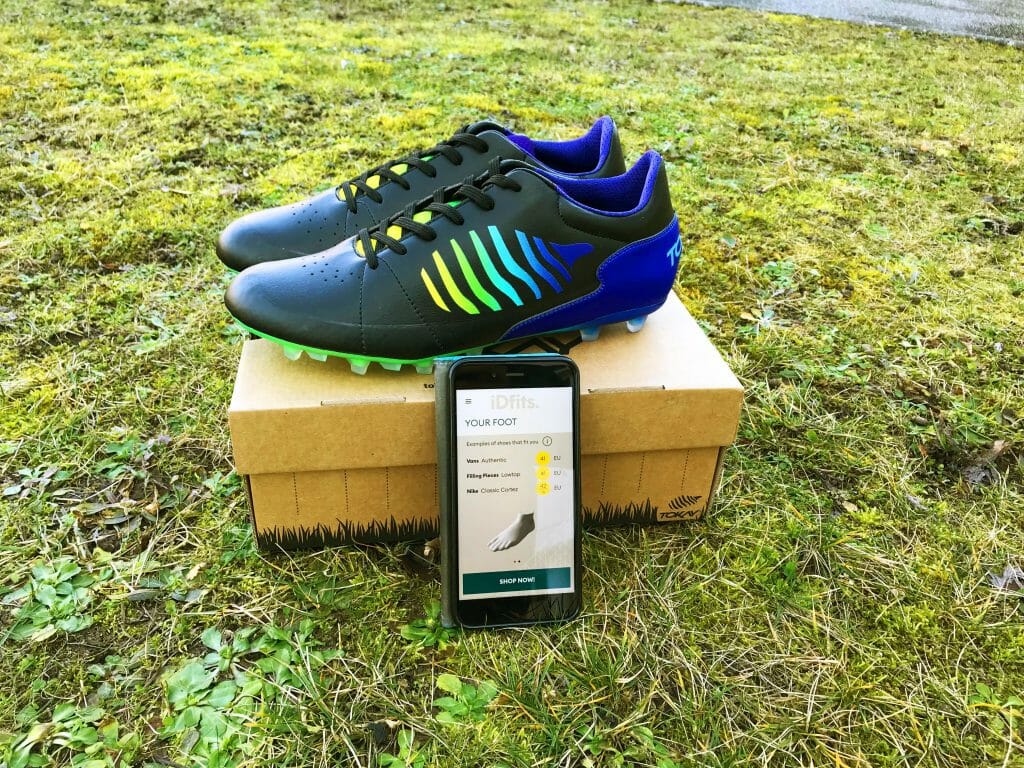 Disclosure: Ultiworld was compensated for writing this product review. All opinions are the reviewers' own and are not subject to approval from the sponsor. Please support the brands that make Ultiworld possible and shop at TOKAY Ultimate!
Back in July 2018, Simon Pollock and I battle-tested TOKAY cleats to give Ultiworld readers an idea of how these ultimate cleats performed. We both liked them (I still use my pair) and we gave them an 8.5/10. At the time, TOKAY's main drawback was their sizing process. The company cares a lot about getting your measurements exactly right, but its exactitude made the process harder instead of simpler.
TOKAY heard our complaints, and they've recently partnered with an app, iDFits, to solve their sizing problems. The app does a 3D scan of your feet and sends your measurements to TOKAY. I was the squeakiest wheel during the last sizing process, so it was only right that I review this new app, too. A few clicks into the app, I felt joyful, then old, then sad that I felt old, then hopeful for the future of apps, then concerned that they'd take over our world soon, because using iDFits was the most fun I had on my phone last week.
Overall: 9/10
The app only does one thing, and it does it quickly and enjoyably. If this app had the functionality, I'd use iDFits for all my tailoring measurements. The only drawback is the app's limited suite (so far) of integrated stores.
Usability: 5/5
It's harder than it sounds to make an app that's user-friendly and intuitive. Many apps (as well as websites and products) either have crowded interfaces with extraneous links, tabs, and functionality, or the app fails to deliver on the one purpose it's supposed to serve. iDFits hit the perfect balance. From the first few screens, I knew how I was supposed to use the app, and it was easy to accomplish my one goal: discovering my shoe size.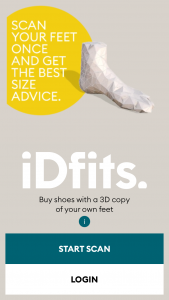 Measuring Your Foot: 5/5
Measuring stuff isn't supposed to be fun, and measuring feet is normally excruciatingly boring. You have to stand on those flat foot rulers in the middle of a store, wondering who else stood on the ruler already, whether it was sanitized, and if your feet are the ugliest that Steve from Dick's Sporting Goods has seen that day.
Granted my bar for mobile games is low1, but I had fun using this app. I'd measure my feet again, which is an odd thing to think. To start your foot scan, the app asks you to set a piece of paper on the ground and put one bare foot halfway onto the paper.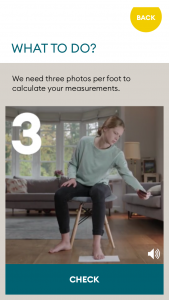 You need three photos of each foot in order to make the 3D scan, and that's where the fun starts. The challenge is to fit the paper your foot is on into the suggested guidelines, all while aligning the white dot with the green dot on the screen. It was tricky to take the first photo, but the entire process was more sophisticated and enjoyable than trying to trace my own feet with pencil and paper  and measuring the shaky result.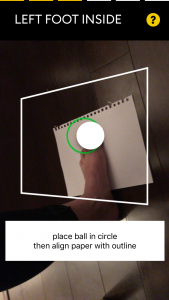 Once both feet were measured, iDFits displays a 3D foot that I choose to believe is my real foot. You can redo your scan or create an account to see your results (the company hasn't sent me any promotional email since I signed up, which is a major point in their favor).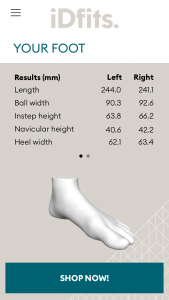 While most U.S. companies don't display their shoe sizes in millimeters, I appreciate how detailed these results are, and they're helpful when working with a company like TOKAY that puts so much emphasis on getting the right fit.
App Integration: 2/5
Once the scan is done, the app prompts you to 'Shop Now!' But they're only integrated with five Dutch stores (TOKAY's integration is coming soon), and it's not clear what type of shoes you're shopping for from the landing page. iDFits reeled me in hard with the fun of measuring my feet, but there's not much to do after that.
App Accessibility: 4/5
The app is currently only available on iOS and Google Play, though there are some phones with compatibility issues.
While I likely won't keep this app on my phone forever, it fully delivered on its promise, and it would have made the TOKAY sizing process much easier. The app is young — it was only launched in July 2018 — and hopefully it will continue to expand its offerings for athletes everywhere struggling to find the right size.
---
have they made games since Snake? ↩