In order to maximize your results, team leaders need to build a plan for the rhythm of the team's season.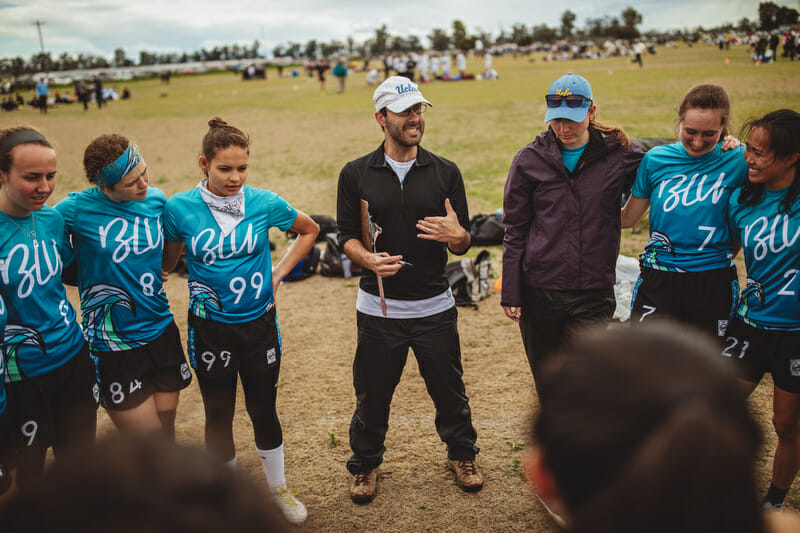 Tuesday Tips is presented by Spin Ultimate; all opinions are those of the author. Please support the brands that make Ultiworld possible and shop at Spin Ultimate! 
Taking on a leadership role with a team, whether as a captain or a coach, is about a lot more than just talking in huddles or calling lines. In order for your team to achieve their full potential, you need to put in plenty of planning work to make the most of the time you have together over the course of a year. Practices shouldn't be thrown together ad hoc on the drive to the fields nor should big concepts or strategies implemented in the middle of a tournament feel brand new to the team simply because you forgot to go over them in advance.
Over the next couple weeks, we'll discuss some of what goes into that leadership planning. Today, we're highlighting how to build out a full season plan for your team.
Skeleton Season Plan
When planning a season, it is important to build around key tournament dates. Know what your team goals are for the year so you know what you need to get out of each tournament. Maybe you're a title challenger that can use an entire regular season to build toward a postseason peak by working on squad management such as rotating players while keeping some tactics hidden from opponents. Maybe you're a team on the fringe trying to earn as many algorithm points as possible at each event in an effort to earn your region another bid. Maybe your team is focused more around learning, having fun, and spreading playing time around, so you just want to play a bunch of events because everyone enjoys the experience of a tournament weekend. For today's example, let's imagine a club season built around an early season tournament in July, a midseason ramp-up tournament in August, and a Club Series or European Championship in October.
From there, it's time to figure out how many practices you want or are able to fit around those. You'll want to ensure that the team has enough practice time in advance of each tournament to feel prepared for that point in the season. Not every tournament will necessarily require the same level of preparation; think about your goals at each event to know what should be covered before them. Most of your practice time late in the season should be dedicated to full-squad practices focused mostly on game play with full knowledge of all the tactics the team employs — preparing for your competitive postseason event should be about refinement and repetition playing with your teammates, rather than introducing any new concepts. Earlier season tournaments can be great opportunities for working through kinks in strategies and adjusting tactics and personnel as you go while playing against live competition. But they also shouldn't be the first time your players are learning an entirely new offensive or defensive set.
Assuming you're trying to prepare for a first tournament in July, that probably means you should be thinking about finishing teaching all new concepts and/or tactics by June. Depending on how frequently your team wants to practice, work backwards from there to see when your tryouts and practices should start.
| | |
| --- | --- |
| April | Tryouts / Practice 1 |
| May | Practice 2 & 3 |
| June | Practice 4 & 5 |
| July | Early Season Tournament & Practice 6 |
| August | Midseason Tournament & Practice 7 |
| September  | Practice 8 & 9 |
| October | Peak Playoff Tournament |
Fleshing Out a Season Plan
You also need to decide how many and what kind of offensive and defensive structures and strategies you want to build into your toolkit. What do we need to learn? Here's an example list; yours might be longer or shorter!
Handler resets
Different ways of initiating movement
Pull plays
"Brick" offense
Multiple offensive structures: Vertical Stack, Horizontal Stack, etc
Endzone Offense
Flow Offense
Fundamental Defensive Principles
Zone(s)
Drills to improve individual skills
Communication methods
Sufficient time to build team cohesion: learning how to pace our long throws to new teammates, building rapport between handlers, getting all players working together on the same page in structures, etc.
A team needs to cover a lot of ground over the course of a season, so it's important to have a running list to keep you on track. Aim to build at least two looks on offense and three to four on defense. You can adjust the complexity of all of these things based on your team's base skill level or comfort with each concept, plus considering your available time. Once you've covered everything, it's then a case of repetition and honing in on the areas where people or the team as a whole are struggling. If you're extremely lucky, you can ditch some things that don't work too well for you.
With a club team that plays together weekly, I'd focus for a month on each major area, then change it up and work on something else. Other important elements of the team, such as team communication, defensive priorities, fundamental skills, and getting enough game reps, should be applied at every practice; we might go over a few basics of what we would expect in the first practice, then use subsequent practices to improve, tweak, and hopefully perfect those basics, even while we build toward larger strategies.
Time to slot these concepts into your calendar:
| | |
| --- | --- |
| April | Tryouts / Practice 1: Defensive Fundamentals & Team Communication |
| May | Practice 2 & 3: Handler Resets & Endzone Offense |
| June | Practice 4 & 5: Initiating Movement, Zone Play |
| July | Early Season Tournament & Practice 6: Flow Offense, and "float" time for any areas of concern |
| August | Midseason Tournament & Practice 7: Contents based on Tournament review |
| September | Practice 8 & 9: Primarily about preparing for the final tournament |
| October | Peak Postseason Tournament |
A coach should aim to put one or two high-level topics in each practice session, but not go into too much detail yet. When thinking about a team's goals on a season-long timeline, details can be a distraction to recognizing what main things need to be covered and roughly when.
When planning out a season it's important to understand the number of trainings and how much time is available at each session before getting stuck in. Think about the duration of each practice to know how much time you have per main concept. This is an exercise in time management more than anything else; try to pack too much into each session and your team may not learn anything properly, too little and teammates could get bored.
Midseason Adjustments
When planning a season, it's worth leaving some sessions unplanned. This allows you to recap certain sessions, adapt for something new or accommodate friendlies / scrimmage competition without affecting the overall plan. You should also retain some flexibility to adjust overall practice concepts to conditions; if a Saturday practice looks like it will be particularly windy, perhaps it's a good chance to swap your proposed idea for the weekend and cover zone instead, then come back to the other topic another day.
No matter when you cover things, don't forget the all important "Plan, Do, Review" feedback loop. You should be making tweaks to your overall season plan after each practice. This is not a sign that you failed to plan well! In fact, it shows your ability to adjust to extra information, allowing you to make as much use as possible of the time you have.