Let it be known that nobody beats Austin 13 straight times.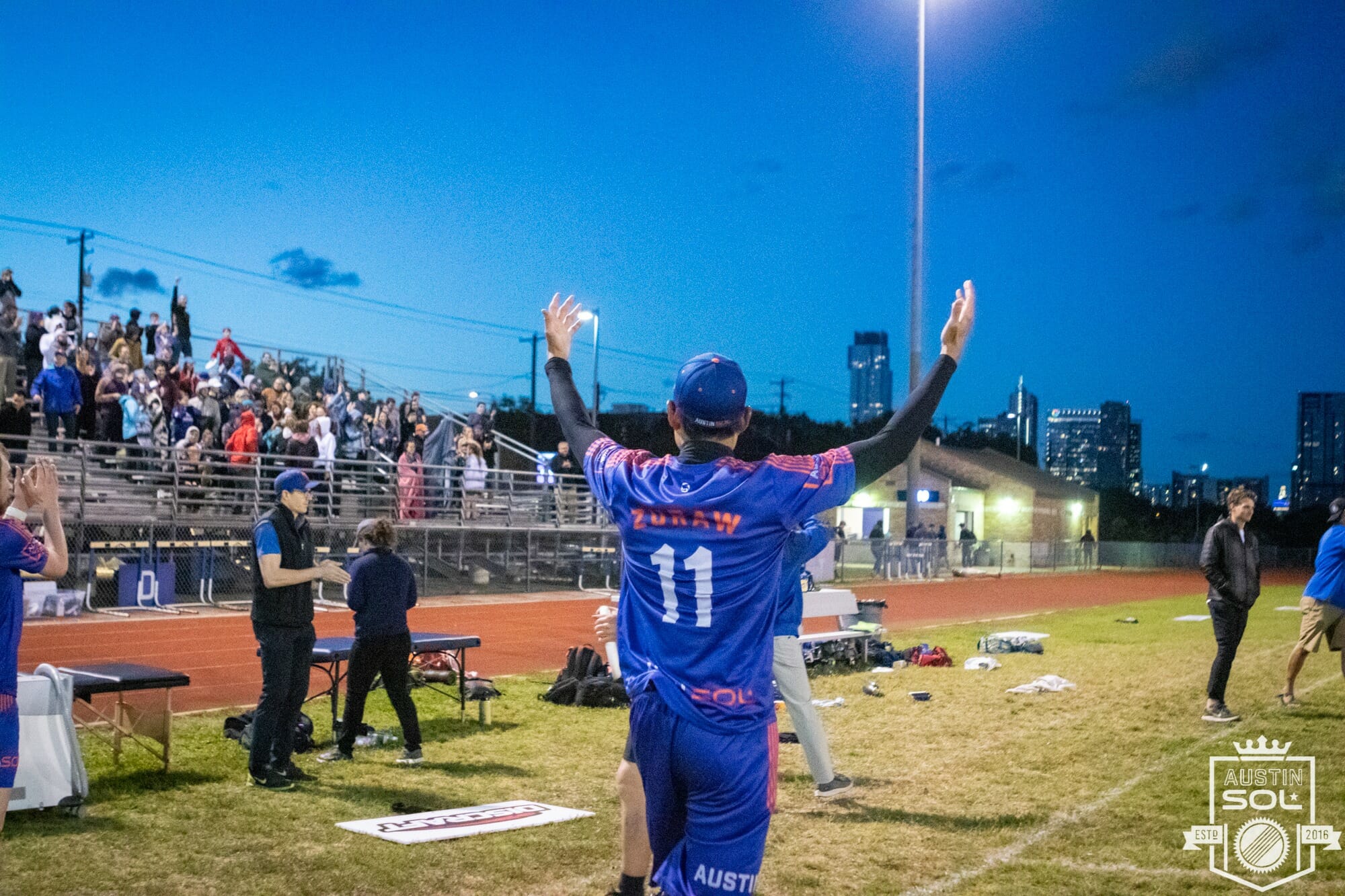 Throughout this AUDL season, Ultiworld will be publishing a weekly Throwaround, a chance for you to catch up on the amazing, funny, and interesting moments that you might have missed from the weekend's games.
Wild early season results continued in week two, as Austin snapped a 12-game losing streak to Dallas, San Diego won on a tipped buzzer beater, and no game was decided by more than four points. The largest lead this season so far is just seven goals…which Seattle coughed up in an overtime loss to San Jose! Here's a look at all the action from last weekend in the AUDL, including the debut games in the Midwest and East Divisions.
The Scores
San Jose 18-22 Los Angeles
DC 18-21 New York
Dallas 17-19 Austin (OT)
San Jose 24-25 San Diego
Raleigh 24-21 Atlanta
Madison 22-20 Indianapolis
Austin Picks Up Franchise's First Ever Win Over Dallas
The Austin Sol ended a three year, twelve game losing streak to their Texan rivals on Saturday night in Austin, defeating the Dallas Roughnecks 19-17 in overtime. The teams were significantly equalized by a heavy yet inconsistent breeze in the stadium at the Texas School for the Deaf. On multiple occasions, a cutter looked to have an easy catch before a sudden gust of wind lifted the disc over their heads or knocked it down to the ground. Successful reads and rare completed hucks were keys to scoring goals that were hard to come by for each team.
Both units deployed zone defenses in the early going, taking advantage of the conditions to try to trap the opposing offense in a quadrant of the field. Multiple unforced turnovers slowed the game down and caused marathon points, with the first quarter ending at only 3-2 in favor of Dallas. Discs continued to fall in Dallas's favor in the second quarter, as handlers Matt Jackson and Dalton Smith fought a war of attrition to move the disc. The Roughnecks took an 8-4 lead into half, and it looked as if the northern team's dominance over their southern rival would be maintained.
However, Austin stiffened up on defense in the third quarter and pulled down some crucial floaty hucks, and Dallas dropped multiple short throws that were buffeted by the wind. The tide began to turn. With the score 10-7 in favor of the Roughnecks, Austin strung together three straight breaks to tie the game with three minutes remaining in the third, aided by tough catches from Kyle Henke and Mick Walter.
The momentum continued into the fourth for the Sol, as they continued to capitalize on short field miscues by Dallas. They took a 13-11 lead at the eight-minute mark on a fast break that ended with Henke finding Rory Orloff, capping off a 9-3 run since half. Dallas responded, evening the score and then taking the lead on an impressive upwind hammer from Casey Hogg. With 20 seconds remaining, Austin received the pull, needing to score to force overtime. As the stall count rose, Mitch Bennett fired a huck into the breeze, and Ethan Pollack was able to reel it in. He continued to Henke for the tie at 16.
Austin dominated the extra period. After scoring the opening point and then breaking on a Dallas throwaway, the key moment came when Jeff Loskorn somehow found an opening through a sideline trap, and the Sol swung it across the field to Henke, who made the catch through contact for a three-goal lead, 19-16. The Roughnecks finally scored their only point of the overtime period with two seconds remaining, but the game was already over.
Local Austin news station KVUE ran a short segment about the game:
– Sean Brady
San Jose Drops SoCal Doubleheader
The first game on their SoCal doubleheader was a night to forget for the San Jose Spiders, as they fell to the Los Angeles Aviators 22-18. The highlight of the night was this Sean McDougall Callahan to save an early hold for Los Angeles, who cruised to victory in their home opener.
Los Angeles looked much improved from last week, when they wilted down the stretch and lost to the Growlers. Tight handler defense and deep marks downfield took away San Jose's huck attack. San Jose was forced to grind out unders all the way up the field. Downfield, Antoine Davis was neutralized by Aaron Weaver, and Jeff Silverman was glued to Marcelo Sanchez, taking away two big threats who were expected to dominate for the Spiders. Multiple times throughout the game, an Aviators handler defender anticipated the Spiders' reset play and was able to step in and knock down the short pass. Eric Lissner often started as a handler cover and was able to generate four blocks during the game.
When necessary, Los Angeles put primarily offensive players on defense to punch in breaks. LA called both first half timeouts to sub on Tim Beatty and player/coach Tyler Bacon to the D-line. Both times, they connected to score breaks, building a lead that Los Angeles would never relinquish.
On offense, Beatty released more often downfield and the offense looked more dynamic. When each player's role was in flux throughout a point, San Jose's defenders had trouble anticipating and directing movement. In his first game high school student Daniel Landesman led the team, catching five goals to the home crowd's delight. Fan favorite and Colombian import Joc Jimenez scored four goals and looked like a much better fit as a goal scorer on the O-line after playing mostly defense last game.
The Spiders had their positive moments too. Jackson Stearns produced a series of tough catches; with Davis' and Sanchez's impacts minimized, Stearns' production helped the team generate downfield opportunities. Justin Norden and Steven Chang were able to hold possession in the reset space until a look opened up downfield. Eleven of the Spiders' seventeen active players caught a goal, and they hung tight with last season's division champions. Unfortunately, though, they had trouble escaping Los Angeles's trapping defense and could not generate enough defensive pressure of their own to make a difference, scoring just two breaks the entire game.
Los Angeles will be happy with its win over a talented San Jose team and should be impressed with a more dynamic and challenging look on offense. Jimenez and Landesman added a lot to a line that needed a spark. Their success foreshadows even further improvement anticipating the post-college season additions of Calvin Brown and KJ Koo.
– Alex Rubin
New Stall Seven AUDL Podcast
You can follow Ultiworld and Stall Seven on Spreaker! You can also find the Stall Seven podcast on iTunes, Spotify, Stitcher, RSS, Google Play, and your other favorite podcasting apps.
Radicals Still On Top
It's Madison's Midwest and we're just living in it. Madison opened their season in Indianapolis with a 22-20 win over the Alleycats. The score makes this game look a whole lot closer than it really was. Madison got up five goals early and was in control for the vast majority of the game, only fighting off an Indianapolis run in the third quarter before waking up and finishing with a two goal cushion. While winning a championship helps popularize some of Madison's top players, the team continues to win by using its depth. Line after line of Madison's deep roster was able to keep the door shut in Indianapolis. Of Madison's 22 points, Kevin Brown assisted on six; the other 16 were split between nine Radicals players.
The long term meaning of this game is a bit of an enigma. Indy has to be disappointed for not giving Madison a better game. In a twelve game season, this loss could easily cost the Alleycats a home playoff game in what looks to be a tight Midwest. Madison did what Madison does and took advantage of every Alleycats mistake early on and was able to slowly build a lead that Indy couldn't overcome. It's early, but the Alleycats didn't look like they took the jump they needed to take in the offseason.
For Madison, they beat a sloppy looking Alleycats team by two with most of their core ready and available. As a team that has dominated the Midwest in the past, they have to be looking for more going forwards. In the first half, I was working on comparisons of Madison being the Alabama football of the Midwest Division, slowly grinding opponents down and taking advantage of every mistake, until suddenly they looked beatable. Indy closed the gap in the third quarter but wasn't able to overcome a bad first half. Madison can't blame poor play on a new system, new players or new circumstances because they're the same machine they were last year. Or are they?
Both teams will look to improve from here, but the question is: how high can they go?
– Tanner Jurek
Top 10 Plays
Some Extracurricular Activity
The DC Breeze's Matt Cullom had some words for New York's Beau Kittredge after this 3rd quarter buzzer-beating grab:
Lots more on this moment in the Tuesday Toss.
And how about this pure disrespect from the LA Aviators' Tim Beatty after a score:
Tim Beatty Leaves Disc On The Back
Beatty, who was warned for Player Misconduct as the Aviators took a yardage penalty, apologized after the game.
Crazy Final Point in San Diego Gives Growlers Win
On Saturday, San Jose traveled south to San Diego to take on the Growlers. San Diego was up two breaks and in control for most of the game but needed to survive a late San Jose comeback (three 4th quarter breaks) and ultimately won the game on a twice-tipped buzzer beater thrown immediately after a tipped centering pass. It looked like the Spiders were in for an overtime game for the second weekend in a row, but Travis Dunn laid out to collect Jonathan Helton's tipped swing pass, stood up to fire immediately to the endzone, and connected with Max Hume, who was in the right place to collect the swatted disc just before it sailed out of bounds.
San Diego was missing a few key players who were coaching college teams at their Conference Championships. To account for those players, the Growlers brought Sam Fontaine over to offense after playing most of their first game on the D-line; he jumped in immediately, starting almost every possession as the center handler. Jonathan "Goose" Helton featured often for San Diego, leading the way with eight assists and two goals. The Growlers offense looks very smooth when he, Sean Ham, and Travis Dunn alternate as isolated cutters, keeping the defense off balance with a variety of attacking looks. Helton, in particular, likes to cut downfield out of the handler position to add more depth to his cut. He also contributed as a primary thrower when he stayed back field.
On defense, the Growlers had success sagging handler marks into the lane and backing downfield receivers to prevent easy huck looks. They communicated well to cut off unders, forcing the San Jose handlers to walk the disc up themselves or take a risky over-the-top throw. This kind of defense forced the Spiders out of their preferred looks; All-Star favorites Antoine Davis and Marcelo Sanchez had relatively quiet games downfield, though Davis had a self-tipped Callahan on a D point.
However, San Jose was able to move the disc and score. Chuck Cao took over as the hub handler, holding the offense steady on 61/62 throwing. He and Steven Chang controlled possession through a poachy Growlers defense and relied on the athleticism of Shane Early and Jackson Stearns downfield to make plays when they had to. Justin Norden led the team with six assists despite playing mostly D points. To be their most effective, this Spiders team needs to figure out a way to get Davis and Sanchez more involved in the offense.
San Jose has now seen every team in the division but is just 1-2. While they are an obviously talented team, they have yet to put together a complete performance. In Week 1, they were down seven to Seattle before escaping with the win. This week, they fell behind both SoCal teams early and couldn't find the energy to come back in either game. With a shortened season this year, every game counts for more. It certainly isn't too late for the Spiders to turn their season around, but if these results are a true indication of team strength, we could be looking at another season of Southern California dominance.
San Diego is now in first place at 2-0 on the season but has won its pair of games by a combined three points. While they certainly pass the eye test and have to be considered the division's best now, anything can happen week-to-week in the Wild West (as San Jose has experienced over the past two weeks).
– Alex Rubin
This Kind Of Block Needs A Name
New York Empire Depth, Not Stars, Wins Them Opener
It's very easy to focus at the massive additions the New York Empire made this offseason — former Flyer Jack Williams and former FlameThrower Grant Lindsley — and let them define what the team will be this season.
While both players — alongside Ben Jagt, Harper Garvey, and Jeff Babbitt — had strong debuts for their new club, it was really the improved depth of the Empire that made the difference in their 21-18 come-from-behind win over the DC Breeze in New Rochelle this weekend.
The Breeze, playing without some key offensive players and facing significant turnover in the offseason, played much better than many anticipated, as 2018 MVP Rowan McDonnell, Xavier Maxstadt, and young rookies AJ Merriam and Matt Cullom played great games and kept the team competitive for much of the contest. Maxstadt finished the game with four assists on 22/24 throwing and kept the offense steady in McDonnell's early game absence due to College Conferences coaching commitments.
But the Empire didn't have to run as tight a rotation and started to wear down the DC offense late in the game.
The Breeze led 13-11 midway through the 3rd quarter. New York tied the game at 14 before the end of the period and outscored DC by three in the final quarter. The Breeze's offensive players looked slower down the stretch. DC had some unforced errors as well.
As New York finds a better rhythm on offense, they will become a lot tougher. There's too much talent on their offense right now for the team not to be successful. Williams made his Empire debut and picked up right where he left off last season in Raleigh, posting two goals, three assists, and just one turnover on a stall. However, his performance took a backseat to the unveiling of Jeff Babbitt as a primarily offensive cutter. Babbitt led the team with five goals and added an assist and a block. He posted a game-high +7.
But it wasn't a perfect game by any stretch. New York clearly needs some time to reach its full potential under new coach Bryan Jones while Darryl Stanley needs to develop players down the roster to bolster DC's top-end talent. The NY v. DC rematch will be a huge benchmark for both teams.
– Charlie Eisenhood & Chris McGlynn
Latest Power Rankings