Is San Jose's season already over?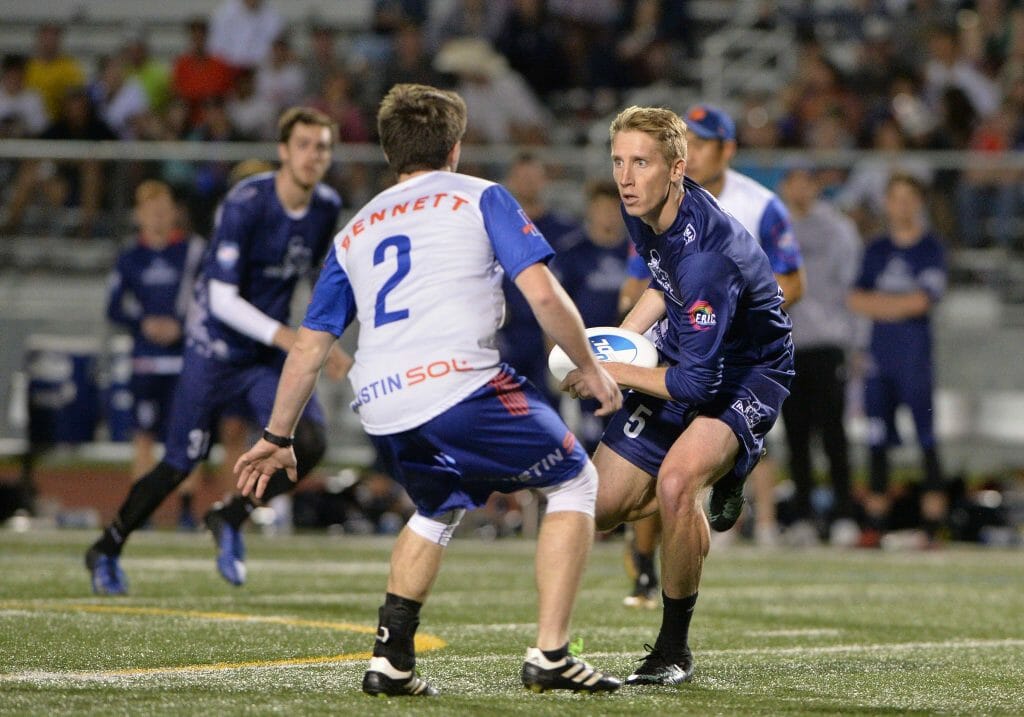 We're through three weeks of AUDL action. One team, San Jose, is already a third of the way through their season. Yet the three Canadian teams — Toronto, Montreal, and Ottawa — have yet to take the field.
With some teams still brimming with hope, others are already fretting about their chances of making the playoffs in this new 12-game season. And Tampa Bay is in first place in the South.
Let's dive in to this week's action.
The Scores
Philadelphia 18-20 Washington DC
Los Angeles 24-20 Seattle
Pittsburgh 17-26 Madison
Chicago 26-25 Minnesota
Austin 17-21 Dallas
Detroit 22-26 Indianapolis
San Diego 21-16 San Jose
Atlanta 14-17 Tampa Bay
The Standings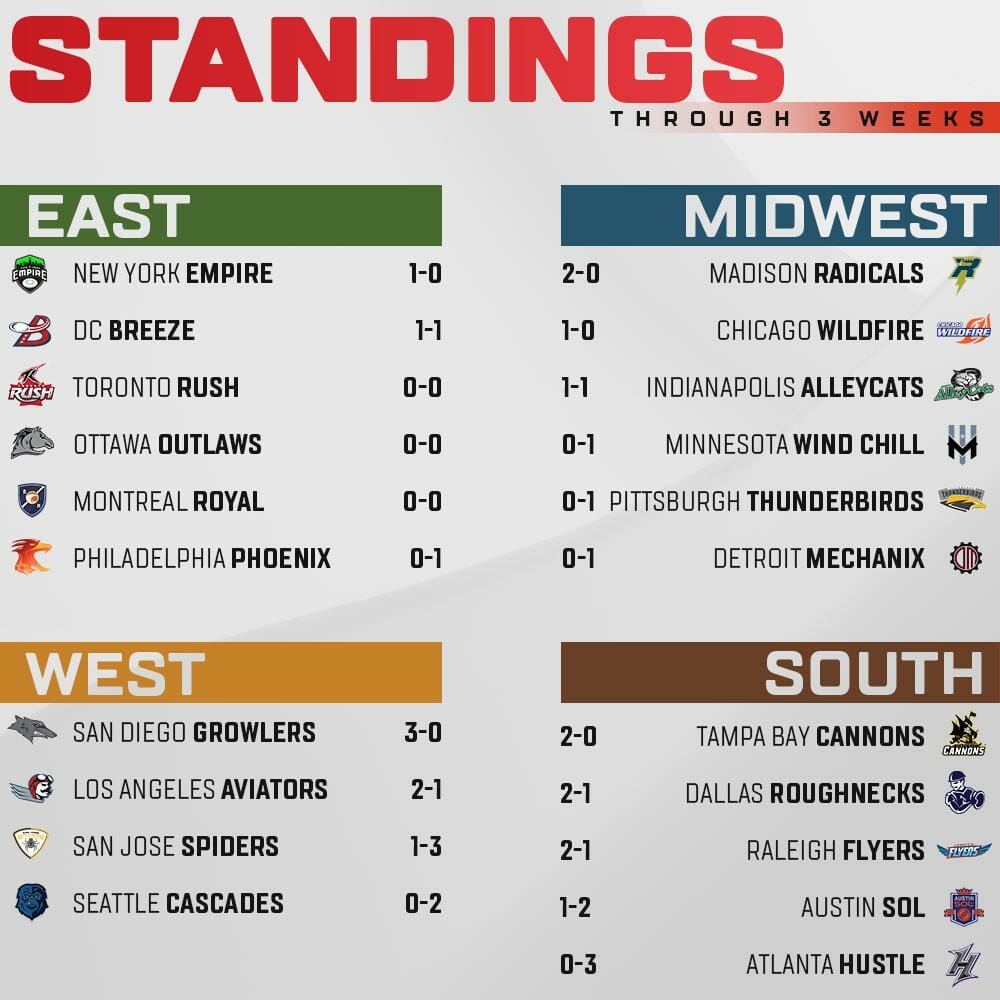 DC Bests Philly and the Wind
For the second straight week, just two East Division teams took the field. DC entered their second game of the year following a 21-18 loss to New York to open the season, facing off in their home opener against Philadelphia and this time emerging victorious with a 20-18 victory.
It was a blustery day in the nation's capital and those windy conditions had a clear effect on the game that unfolded. There were a lot of deep huck turnovers, subpar pulls, and misread discs that kept the scoring muted most of the way.
Both teams traded points in the early going, resulting in a 4-4 tie at the end of the first quarter. The opening period also offered the first signs of the massive day from Anthony McLean. After two years away from the team, McLean announced his triumphant return to the Breeze with a game-high six goals in the contest. DC seemed intent on isolating him in the red zone early and often.
As the second quarter got underway, Philadelphia capitalized on a downwind pull with a break. They compounded DC's mistake by converting the upwind break as well. Himalaya Mehta proved to be a problem for the DC defense all day long, finishing with five goals and an assist. The Breeze showed mental toughness to shake off the tough start to the quarter by holding upwind and then breaking back downwind to knot the game up at 6-6.
It was a sloppy game all around with both teams committing 26 turnovers, but only combining for 19 blocks. DC finally managed to take advantage of the unforced errors and finished the half with three straight breaks. Breeze coach Darryl Stanley rolled out some crafty poaches to exploit the wind and force Philly into enough tough positions to earn a 12-9 halftime lead.
While McLean and reigning MVP Rowan McDonnell will get the offensive accolades, DC would be in a world of trouble without the steady play of Nathan Prior. Through the first two games of the season, Prior has completed 99 of 100 passes, including 39 of 40 in the tough conditions against the Phoenix. His consistency on offense allows for McDonnell and Xavier Maxstadt to maximize their unique skill sets.
The two sides traded throughout a slog of a third quarter, reaching 16-13. With a chance to hold for the final possession, the Breeze coughed up possession. After some patient offense from Philadelphia, Matt Esser hammered into the endzone for set up a two-point game heading into the 4th quarter.
Sean Mott and Mike Arcata did plenty offensively to keep the Phoenix within reach. Mott tallied five assists and Arcata added four of his own. However, Philly couldn't find a way to convert on break opportunities.
A late break finally made it 19-18, but with under a minute to play DC hung on and scored on the final possession to wrap up its first win of the season 20-18. This was a crucial win for the Breeze who now get to rest up on a bye week.
For Philadelphia, there were plenty of bright spots in this game. Rookie Billy Sickles made his presence felt with three blocks in his AUDL debut. The Phoenix seem to be poised for another competitive season in the East, but need to find a way to pick up wins in these close games to have a shot at returning for the postseason. The schedule does not get any easier as the Empire come to town next weekend.
On a related note, AUDL.tv still has some major hurdles to clear. This DC-Philly game was unwatchable after the first quarter. The stream consistently froze and cut out during crucial moments. The commentary fared well, surviving most of the video issues. Even the visible part of the game was clearly being shot on a handheld camera without a tripod. The video was extremely shaky, making it difficult to follow the action. The camera also had a blindspot in the downwind endzone, meaning it missed a number of early scores. Not every game has to reach the professional standards of the Game of the Week, but this was well below the threshold for an acceptable and enjoyable viewing experience.
Aviators Fly Over Seattle
Los Angeles rode its depth to beat Seattle 24-20. The Aviators mixed and matched lines, with every active LA player getting at least one offensive and defensive point. Fifteen out of their twenty active players scored goals.
No matter who was on the field, LA initiated its offense out of isolation sets, using their athletes to gain chunks of yards at a time. The Aviators adjusted well when Seattle tried to stymie their flow: Whether the Cascades switched the force, gave a junk look downfield, or sagged off handlers, Los Angeles was able to move the disc to the open person and score consistently. It is evident that this team has built up a lot of chemistry from years of playing together, allowing them to adjust on the fly.
Danny Landesman is quickly making a name for himself in just his second game, leading the team in goals for the second week in a row. Jeff Silverman scored three goals and played most of his points on offense, adding an athletic deep threat to a line of confident throwers. Aaron Weaver also played a lot of offense this game, though he had been used in previous games primarily as a defender; he was the primary cutter on a lot of isolation looks. In the backfield, Collin Gall has taken on increased role with the O-line each game and has become a dependable presence for an emerging Aviators team. If these players are as interchangeable as they seem, coach Tyler Bacon will have plenty of options and roster flexibility moving forward. The ability to move players between roles allows the defense to strike quickly after a turn, with everybody comfortable playing offense as well. The Aviators have truly build a team-wide identity.
Seattle was playing without two of its best players as Mark Burton and Khalif El-Salaam did not suit up. In their absence, Kodi Smart, Steph Lim, Henry Phan, and Brad Houser drove a small-ball offense. Smart led the team with five assists.
Lim created more downfield, utilizing her change of direction to get open. In previous games, she had stuck mostly to the backfield. Houser spent more time as a reset valve which, while helpful, took him away from the deep space. Seattle was lacking a credible deep threat all game, allowing the Aviators defense to clamp down on under cuts. Seattle looked like they ran out of energy towards the end of the game–LA had a number of early 4th quarter run-through blocks.
Credit to Seattle for not giving up, though. This game could have been more of a blowout as Seattle scored the last four goals of the game. Seattle will need more of that fighting spirit as they embark on a tough SoCal doubleheader next weekend.
Wildfire Earn Important Road Win In Minnesota
With the Midwest division playoff race looking tight, especially for spots two and three, the Chicago Wildfire put the rest of the division on notice. Without Michael Pardo and Nate Goff, Pawel Janas and the Wildfire were able to outduel Josh Klane and the Minnesota Wind Chill.
I watched this game from Minnesota's field level beer garden, which is an absolutely brilliant marketing and gameday experience move. The only place you can buy beer in the stadium is through the beer garden, which requires an extra ticket, but you get on-field access and a fun atmosphere. It really is amazing to be at field level with the players. The Wind Chill added that experience back to the AUDL and added Surly beer. It's absolutely something other teams should adopt.
The Wildfire used a second-quarter run to build a five point lead that the Wind Chill wouldn't be able to claw back from. Chicago was really tall and athletic on offense and that's with the Wind Chill adding height and athleticism in the offseason. The Wildfire were able to dominate in the air and play physical defense which allowed them to hold onto the lead. Some late, sloppy play from the Wildfire allowed the Wind Chill to go on a run, but the five-goal deficit was too much to overcome. The Wind Chill had the disc in the red zone but a turnover caused by a questionable but uncalled bid from Chicago halted the Wind Chill's chances of taking the game to overtime. Minnesota certainly could have won this game with less sloppy play and Jason Tschida available, but Chicago was also without some of its core, who were unavailable playing at TEP in Columbia.
The Midwest is lucky to have two of the best pure throwers in the AUDL in the division. Pawel Janas and Josh Klane both have ridiculous throwing abilities and could be in the MVP race if their teams are able to put together playoff runs. Klane, in particular, was consistently finding crazy angles, throwing perfect blades and splitting double teams to finish with 10 assists and a 96% completion rate.
Both team's boasted some new additions. With Jason Tschida out for the Wind Chill, Minnesota's offensive line consisted of three returners — Josh Klane, Bryan Vohnoutka, and Michael Jordan — and four newcomers, three Canadians in Cam Burden, Quinn Snider, and Mathew Ladyman, along with Tate Halberg, formerly of the Detroit Mechanix. The Wind Chill's new players did a very good job filling holes left by some departures. For Chicago, Zane Rankin and Matt Rehder, among others, made their presence known early and often, with several big plays that the Wind Chill weren't really able to match.
Growlers Stay Undefeated
No Goose, no Ham, no problem. Despite missing two of their biggest downfield threats, the Growlers won their third game of the season. San Diego jumped out to a 3-0 lead on this ridiculous Sam Fontaine grab and never looked back:
With a strong wind, the first half was sloppy. San Diego played through it and had more success creating upwind scores to take 6-1 lead. They added to that lead with a tipped buzzer beater before the end of the first quarter. Sound familiar?
The Growlers took measured shots all game, with Travis Dunn and Steven Milardovich using their size and speed to control the offense through the wind. San Diego highlighted their depth by ending the game on 6-2 run; nobody on their team looks like they do not belong on the field.
San Jose was also missing some key contributors but played a bit out of sync as they integrated a few new faces. Antoine Davis was in Colombia playing in the TEP tournament with his club team, Revolver, and would have been very helpful matching up downfield with the Growlers athletic stable of deep cutters. Steven Chang, Shane Early, and Lior Givol were also inactive for this game. In their place, the Spiders called up some college age reinforcements. Kevin Tien, a Stanford junior, was a bright spot; he and college teammate Nick Hirning each had two blocks.
Without Chang, Chuck Cao and Aaron Shi controlled the backfield. They initially had trouble getting around San Diego's poachy defense and finding their range. Even after the wild calmed down, they still threw some speculative hucks that the Growlers defense ate up. Despite their obvious talent, the Spiders have yet to put together a complete game and are already 2.5 games back in the race for the division. They will need to learn to play together quickly if they want to make the playoffs. They get a much needed bye week before hosting the Aviators on May 4.
Kyle Henke Is Unbelievable
This kid just keeps getting better…and this came after he played for Texas Tech all day at College Conferences!
Tampa Tops Atlanta Again
While the focus in the South Division this week may have been on Dallas' revenge win over Austin in the Game of the Week, Tampa Bay quietly put together another strong performance against Atlanta to move to 2-0 on the season. Of course, they haven't had to play any of their toughest games yet, but wins are wins, and Atlanta gave Raleigh trouble last week, which could bode well for Tampa's chances.
Andrew Roney was excellent for Tampa, tossing six assists with a 96% completion percentage. Bradley Seuntjens chipped in four goals and a block in a low-scoring, weather-affected game.
Roney has been especially impressive for Tampa Bay this season, stepping into a major throwing role and averaging seven assists per game.
Tampa now has two weeks off before continuing their homestand on May 11th with a key game against the Raleigh Flyers.
Latest Power Rankings