Big clubs from 4/5 European regions come to battle in Vienna!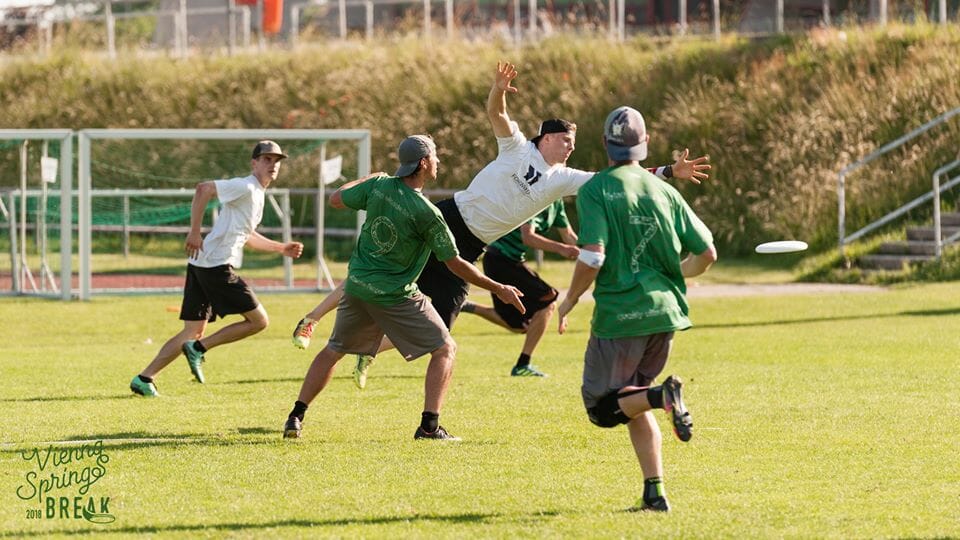 Vienna Spring Break was started three years ago, with the idea of establishing a high-level club tournament with competitive open and women's divisions, full-length games, and a top-notch venue. The goal is to make it an essential early-season tournament. This year, both divisions have 16 teams, representing almost every European region. Expect a competitive tournament with a relaxed atmosphere, as most teams are looking to tune up for the rest of the season. Everyone will be trying new looks on both offense and defense, as well as getting newer and younger players up to speed with the rest of the team. Podium places are definitely up for grabs. Like in many early season tournaments, a lot can happen while teams are still finding their feet.
Tournament Profile
Date: May 18-19, 2019
Location: Vienna, Austria
Weather: High of 19 C°, Wind 7-11 km/hr
Women's club teams: 16
Livestream: fanseat
Contenders
Here are some of the teams most likely to finish the tournament at the top.
After a strong 2018 season, which saw them finish 8th at EUCF, MUC (Munich, Germany), are hungry to keep their momentum going. Captain Michael Remy says they were disappointed with an 8th place finish at EUCF last year after they lost a series of close games to top European competition. They have their sights set much higher this year. Remy went as far as to say MUC intends to take the German title off of Bad Skid. They come to Vienna without much of their handler core, so look for the D-line, led by German mixed national team players Moritz Schoch and Justin Wallace, to take responsibility on the field. The defense will try to wear teams down, making the O-line's job much easier. Even without Denis Holzer, Flo Muschaweckh, and Tim Friedrich, their offense are no slouches. It will be up to Benno Krojer and Russian transplant Yegor Naumov to make sure the disc still gets to the end zone. If MUC play well this weekend, they'll be extremely tough to beat. Remy said the goal is a top five finish, but it's not hard to imagine them winning the tournament.
FUJ (Prague, Czech Republic) may have finished behind Yellow Block at Czech Nationals last year, but they finished much higher than their national compatriots at the EUCF at 9th. They survived a group of death that included Salaspils Wild Things, Freespeed, and MUC, but a 3rd place finish saw them go up against Chevron Action Flash in the prequarters. They rallied after their loss to Chevy, to win the 9th place bracket, but they feel that they could have made the top 8 had things gone a bit differently. FUJ has added some players from fellow Czech team, 3SB, and they will be using the the weekend to get them integrated. The Czechs are tall, fast, and athletic, and will be a tough matchup for anyone they come across.
Flying Angels Bern (Bern, Switzerland) finished 13th at EUCF last season. It's their first time in Vienna, and they are looking for out of region competition, especially against teams that don't know them very well.1 Like everyone else in the tournament, they're here to tune up before the summer season gets into full flight. The captains said to look out for a variety of different looks and play time for the entire roster. Their main goal is to integrate everyone as quickly as possible, so they can find out what works before they head back to Switzerland. As for the rest of the season, their sights are set on Swiss nationals and another run at EUCF.
In with a shout
This next batch of teams are a notch below the contenders, but could easily perform quite well in Vienna. Yellow Block (Prague, Czech Republic) are The Czech champions, but they finished 15th at EUCF in 2018. They will certainly want to start the 2019 season on a high note. CUSB Red Bulls (Bologna, Italy) put together a good showing at Tom's Tourney, getting taken down by Iznogood in the quarter finals. With a determined young core coming out of the impressive Bologna youth scene, don't count them out. FWD>> (Vienna, Austria), the hometown heroes, won the inaugural Vienna Spring Break in 2017. They are going to spread time on the field up and down their roster this weekend, but didn't rule out keeping tight lines when things matter. Look for big plays from Felix Nemec, Julian Menz, Sebastian Ries, and others. Ka-Pow! (London, UK) have recruited strongly this year, despite losing a few of the more experience players to "natural turnover", and have hired their first non-playing coach: long time Clapham player, Lloyd Cheesman. Having had a tough end to the 2018 season by getting eliminated on the first day of UK nationals, they are looking to bounce back stronger this year. They come to Vienna on the back of a 14th place finish at Tom's Tourney, so they will surely be hungry to improve. They have an outside shot to take down some of the top teams this weekend.
---
FAB are one of the few South region teams at Vienna ↩