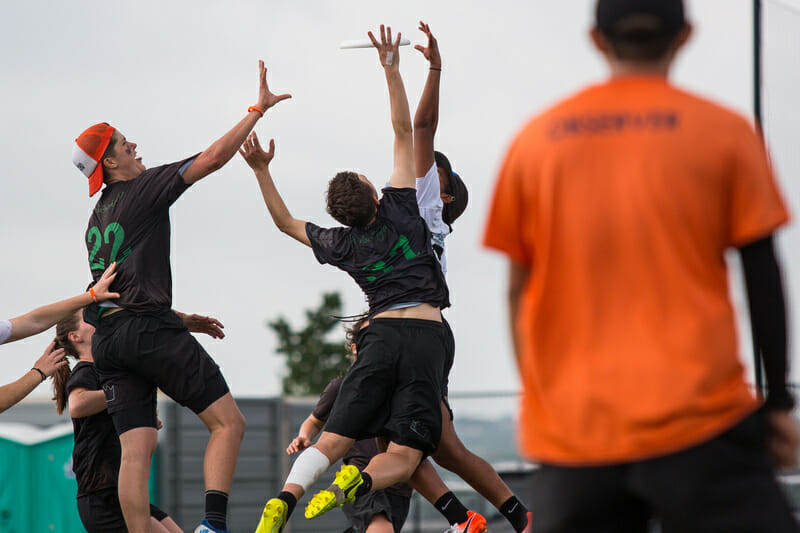 Ultiworld's 2019 coverage of D-I Women's Division is presented in by VC Ultimate, the official gear provider of the Premier Ultimate League. All opinions are those of the author. Please support the brands that make Ultiworld possible and shop at VC Ultimate!
The Dartmouth and Western Washington quarterfinal was a shootout from the first pull. Chaos entered the game prepared to adjust defenses and utilize their complete roster to most efficiently guard the premier player in the division, Jack Verzuh. Daring Dartmouth to work the disc through their entire lineup proved to be a solid strategy and they enjoyed success in doing so for the vast majority of the game — until Jack Verzuh stole the final point away over a pile in the endzone to secure a trip to the semifinals with an 11-10 win.
Western Washington started the game strong and held tight to a Dartmouth team that has faced little challenge this weekend so far. Chaos coach Alyssa Weatherford commented on strategic changes that served as critical preparation to face the two-time defending champs. "I think that the way that we played zone against them was different than the zone that we played against other teams," she said. "We had a very specific plan against this specific team." For the entire first half, Chaos showed varying zone looks. As Dartmouth adjusted or sought to outmaneuver the zone poaches, Western Washington switched it up.
Western Washington's zones saw success in part due to Chaos' mindset in setting them. "Last year people really wanted to know the rules and exactly what to do and where to do it and this year, [returning to] what chaos has been in the past, we are going to figure it out on the fly and we are going to be adaptable and we might play a zone or a junk that we haven't practiced," said Weatherford.
In addition to varying defensive looks, Chaos sought to limit the players known for highest number of touches on Dartmouth. "Knowing that they really run through three of their top players, our goal was that if other players on their team score then so be it," said Weatherford.
Dartmouth's season prepared them to capitalize on this moment – 2019 has been fraught with low numbers and combatting injury. Verzuh elaborated on the development seen on the season. "We have a 16-person roster, so the number of 7-v-7 has been very low this season," they said. "I think that when you play a bunch of games at practice 6-v-6 and there's no substitutes, you just play a whole scrimmage like that, a lot of our mental toughness comes from there."
The development of mental toughness throughout the roster paid its dividends late into the game, as Chaos pushed farther and farther to limit Dartmouth's touted stars. "Double teaming players who are known to get more touches and leaving players unmarked and demanding that we threw to all seven players is how we got that last one," said Verzuh.
The final point was the culmination of these two teams grinding through the entirety of the game. Dartmouth scored downwind to tie the game. The stage was set for double game point. Chaos received, upwind. Trop took the mark as Nellie Joselyn picked up the disc, and notched a block on a huck attempt. Chaos regained possession, but a huck to follow went incomplete. Dartmouth's handler set worked a few resets, but took their final shot a few passes later: a huge forehand from centered Caitlyn Lee. Jack Verzuh in a crowd to win. Dartmouth to the semifinal.