Playoff races heating up!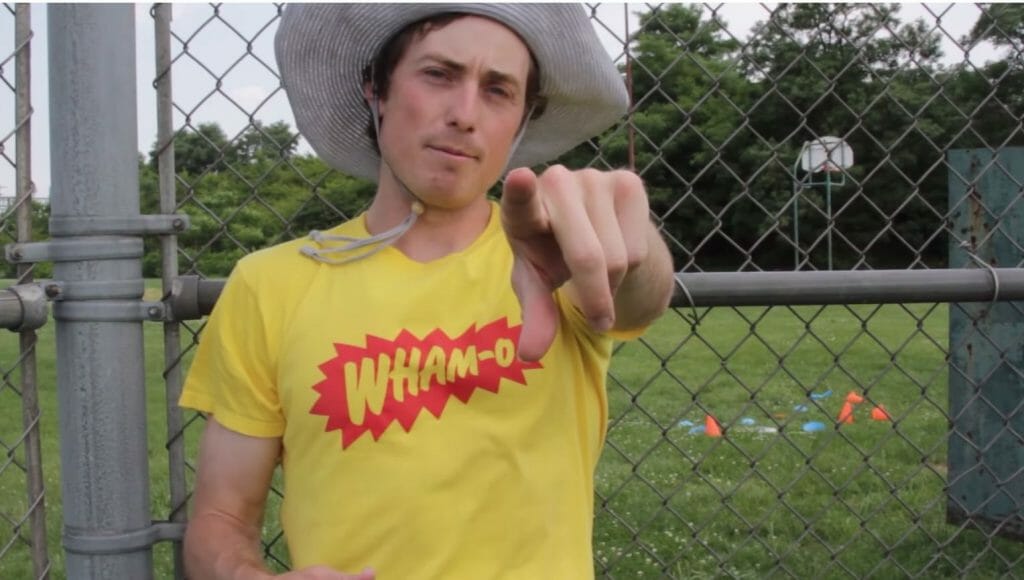 Throughout this AUDL season, Ultiworld will be publishing a weekly Throwaround, a chance for you to catch up on the amazing, funny, and interesting moments that you might have missed from the weekend's games.
As we pass the midpoint of the AUDL season, there's plenty of intrigue as playoff races start to heat up.
Playoff spots in the East and the Midwest remain up for grabs, and there are some huge games coming up that will likely decide home field advantage in the South and West.
We missed a week of throwing it around for the College Championships, so we're back with a two-week catchup!
The Scores
Week 7
San Jose 20-32 San Diego
San Jose 21-25 Los Angeles
Madison 25-22 Chicago
Detroit 11-24 Pittsburgh
Indianapolis 13-11 Minnesota
Tampa Bay 19-17 Austin
Atlanta 22-25 Raleigh
DC 21-22 Ottawa
Toronto 17-22 New York
DC 20-19 Montreal
Tampa Bay 21-28 Dallas
Toronto 16-18 Philadelphia
Week 8
Ottawa 15-20 New York
Madison 15-22 Toronto
Montreal 25-15 Philadelphia
Indianapolis 17-18 Chicago
Minnesota 17-24 Pittsburgh
Tampa Bay 14-23 Atlanta
Austin 15-20 Dallas
Montreal 17-27 DC
Madison 16-14 Detroit
Standings Through Week 8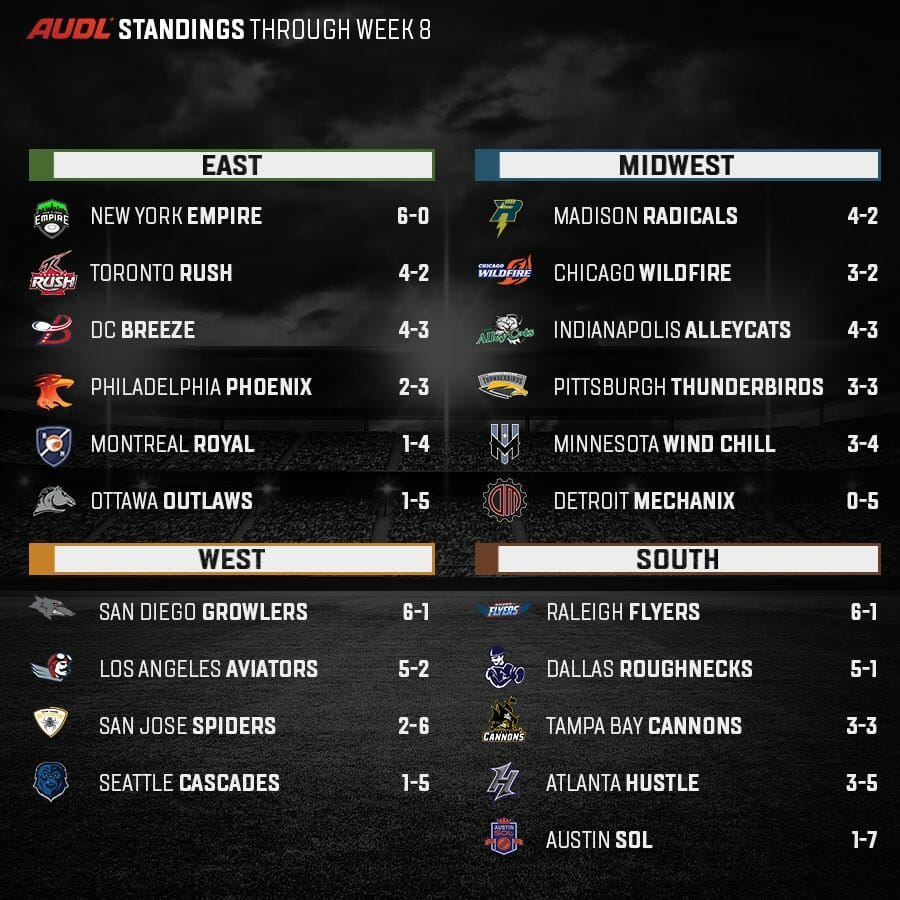 Midwest Remains Chaotic
After dropping games in Week 6 to Minnesota and Atlanta, respectively, the Madison Radicals and Indianapolis Alleycats both tallied important road wins in Week 7. Madison got a comfortable victory over Chicago, and the Alleycats gritted out a 13-11 win in awful conditions in Minneapolis. Madison's Peter Graffy had four goals and four assists to pace the Radicals, but Indy's Travis Carpenter gets the statline of the weekend with six assists, nearly half of the team's goals.
But both teams then turned around and got beat in road games in Week 8. Madison sent a thin roster to Toronto and got waxed by the Rush, and the Alleycats came up just short in Chicago.
Pittsburgh had the best two weeks, going 2-0 with wins over Detroit and Minnesota (handily!). Minnesota has now lost two in a row since their signature win over the Radicals in Madison on May 11th.
Besides winless Detroit, every team in the Midwest has a realistic shot at the playoffs. Fifth place Minnesota (3-4) is only a game and a half back of first place Madison (4-2). Basically every game matters from here on out!
-Charlie Eisenhood
Raleigh, Dallas Extend Lead In The South
With just two teams set to make the playoffs in the South Division, it's all but over for every team except the Raleigh Flyers and Dallas Roughnecks. Despite the fact that Atlanta has played really well in the last few weeks, winning three of their last four, their brutal start leaves them in the lurch. They had a chance to make a splash against Raleigh in Week 7 but came up short, 25-22.
Perhaps the biggest story in the South is the awful play from the Austin Sol, who now sit at 1-7 on the year. They have not traveled well at all, and their struggles really point to how deep the Division is. Don't forget that the Hustle went into Indianapolis and smashed the Alleycats. It's conceivable that every team in the South would be a playoff competitor in another Division.
Raleigh has now won six games in a row since their opening road loss to Dallas in the first game of the AUDL season, and Dallas has made their loss to the Sol old news by taking care of business ever since. All eyes turn to the upcoming pair of games between the Flyers and Roughnecks — both in Raleigh — that will likely decide home field advantage in the playoffs.
-Charlie Eisenhood
Week 8 Top Plays
Top 10 Plays – AUDL 2019 Week 8
San Jose Drops SoCal Double Header
The San Jose Spiders traveled to SoCal knowing that two wins would put them back in the playoff conversation on the west coast. Instead, they go back the Bay with two more losses to add to a disappointing season.
The Spiders began their game in San Diego with a break but quickly fell behind to the Growlers. San Diego's junk looks stunted the Spiders' pull plays and threw off their rhythm all game. They jumped out to a four break lead in the first quarter and never looked back en route to a crushing 32-20 win.
San Diego's Sean Ham had five more goals to stay in second place on the league leaderboard, Travis Dunn added four assists, and the Growlers remain in first place in the Division. San Diego is riding a homegrown roster full of athletes who do all of the little things right: they hustle down on the pull, often win end of quarter situations, and transition effectively on defense. San Diego has both star talent and depth and is solidifying into the division favorite.
Spiders rookie Keenan Laurence impressed again with a series of acrobatic catches. LA's Daniel Landesman has the inside track as the division's rookie of the year, but with the Aviators' star sidelined this week to attend his high school prom, Laurence definitely made up some ground.
The Spiders had a chance to salvage their road trip, but took a 24-21 loss in Los Angeles to fall further behind in the division standings. The Aviators came out firing, taking a quick 6-3 lead. With San Jose likely feeling the effects of back-to-back games, Los Angeles rode a string of breaks to a 16-10 halftime lead and the game already felt out of reach for San Jose. Though the Spiders were able to mount a small comeback to make the final score look respectable, this game was never in doubt.
San Jose used some tricky tactics to aid their comeback. Multiple times this game, they played an 'onside pull,' a strategy where a team pulls the disc only a few yards, forcing the offense to sprint 70 yards and pick up the disc against a double team on the sideline. The Aviators were successfully able to navigate the unusual situations this strategy put them in and even tried it once themselves.
Sean McDougall paced Los Angeles with four goals and four assists, Jake Baumer led the team in his season debut with three blocks, and Joc Jimenez added three assists and four goals of his own.
With their wins, San Diego and Los Angeles are pulling away from the rest of the division. Their matchups leading up to their likely playoff game will be the most intriguing games the rest of the season.
-Alex Rubin
Seattle Women Continue Dominant Season
The Seattle Cascades beat Vancouver Traffic 23-20 in an exciting game in Seattle.
The Cascades jumped out to a 3-0 lead on the strength of their tight person defense. Qxhna Titcomb made her presence known with a towering block on the first point of the game.
Once Seattle did let in a goal, Charlie Eide, Steph Lim, and Hana Kawai ran the offense for the Cascades. Sam Rodenberg impressed downfield, consistently beating her matchup as an isolation cutter.
Vancouver took most of the first quarter playing through tough turnovers as they adjusted to the width of the bigger field and pace of the AUDL game. Once Traffic settled in, though, they looked like a complete and dangerous team. Terri Whitehead owned the downfield space, constantly releasing away from her defenders to catch open hucks, and Collefas Mot made a series of aerial catches look easy. Traffic closed the Seattle lead to just 13-11 at halftime.
Titcomb got a layout block on the first point of the second half as Seattle reasserted itself. Though Vancouver would make a push with a more aggressive, fast-paced offense in the second half, the game's outcome was never in question and Seattle comfortably won 23-20.
-Alex Rubin
80 Ways To Throw A Frisbee
Tale of Two Torontos & The Home/Road Splits
The Toronto Rush sent an embarrassingly bad roster on their two-game road trip in Week 7 and got lost to both the New York Empire and the Philadelphia Phoenix. Then they turned around and whooped the Madison Radicals, who also sent a weak roster, in Week 8.
This is yet another example of the huge contrast between home and road games, which is not defined so much by the cheering of the home crowd but by the wide fluctuations in roster quality. Home teams went 15-6 in the last two weeks, which included some surprise "upsets," like Pittsburgh beating Minnesota and Ottawa edging out DC.
For a small semi-pro sport, it makes sense that road rosters will be weak. Players have other commitments and can't always cancel weekend plans to travel eight hours for a road game. But is it a becoming a problem that teams are routinely missing three or more key starters when they play away games? It certainly has a tendency to sap some of the excitement out of marquee matchups.
It's not clear that there's any sort of easy solution in the short term, but it's something the league should try to improve.
-Charlie Eisenhood
Latest AUDL Power Rankings