The country's best started their march towards an HSNI title.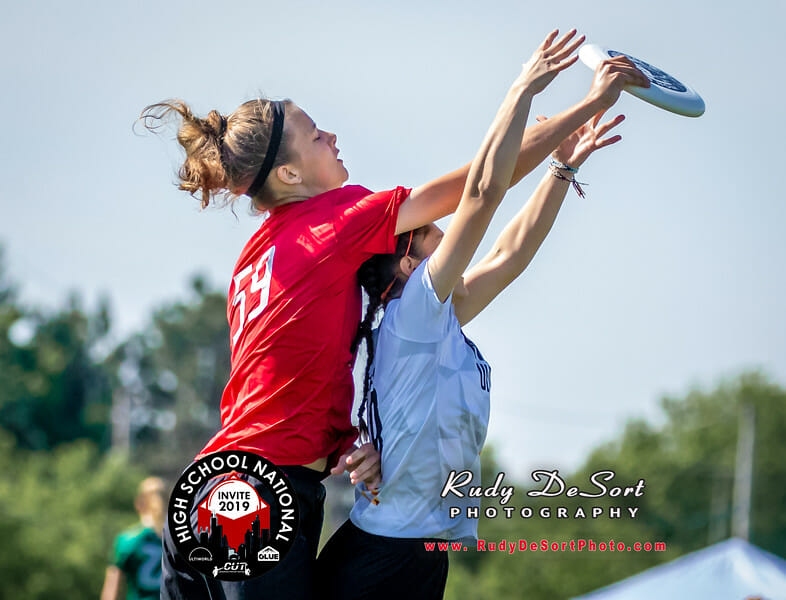 Recap contributed by reporters Jenni Corcoran and Anna Thorn.
ROCKFORD, IL– Rockford delivered a beautiful day for pool play in the Girls' Division at the 2019 High School National Invite. Most of the day's games were just for seeding in the eight-team championship bracket, but there was plenty of exciting action. Notably, fields were oriented both upwind/downwind and crosswind, forcing teams to adjust each game — and there was just enough wind to make things interesting.
Championship Bracket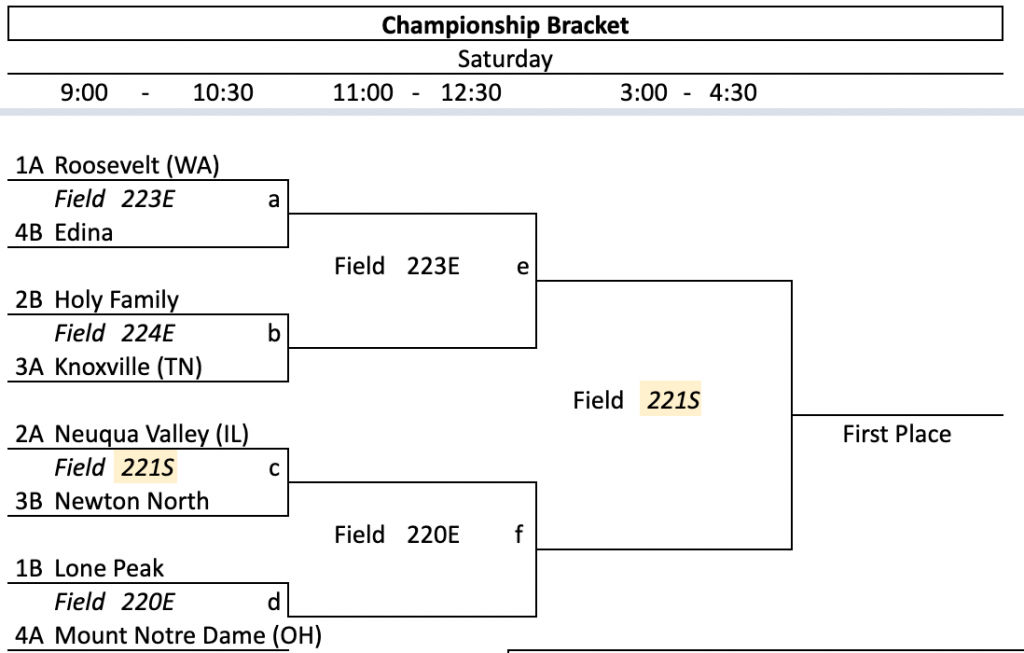 Top Stories
Lone Peak and Roosevelt Stand Alone Atop the Pools
Roosevelt (WA) finished Friday undefeated in Pool A, winning their first two games by margins of seven as they crushed their opposition. While Neuqua Valley provided flashes of a competitive game in their matchup, Roosevelt had gone up three breaks to open the game and never relinquished control. Neuqua made some big, physical plays, but there was no answer to Roosevelt's poised, deliberate disc movement. Abby Hecko and Anna Goddu relentlessly marched through zones all day with Shanti Chier, often finding the slashing cuts of Tori Gray and Aria Kischner down field.
In the final round, Knoxville gave Roosevelt their biggest challenge of the day, keeping it close from the start. Roosevelt went up a break early, but Knoxville held on from there, trading until Roosevelt took half 8-6 nearing the cap. Knoxville got within one just before the horn blew, but again Roosevelt's matchup defense stifled Knoxville and their handlers marched it in to finish the day with a 9-7 win. Roosevelt looked like the most fundamentally sound team at the fields.
Not to be upstaged by Roosevelt's undefeated day, Lone Peak (UT) delivered an even more dominant performance in pool play, delivering even larger margins of victory. After an early 11-5 win over Holy Family Catholic, Lone Peak allowed only two more points the rest of the day. In that first game, Holy Family hung around, even earning a few breaks en route to a score of 4-4, but from that point on, Lone Peak took control. "I think in the first few points we got a little relaxed. When it got to fours and they were up a break, that's when we turned it on," said Lone Peak junior Kate Barry. 
Indeed, Barry was decimating defenders downfield, as were speedsters Hannah Warner and Abbie Davis. Nikki Merrill and Autumn Saunders behind the disc gladly rewarded the efforts of those three getting open. Lone Peak has some extra motivation to plow into the bracket tomorrow: it is one of their first opportunities to do so at a large tournament given they do not play on Sundays. According to junior Kennedi Creer, "It made our entire ultimate season when we found out [the schedule] because it was like 'finally we get to go to Nationals!' We've always been dreaming about this."
Neuqua Valley and Holy Family Impress
Starting off with an 11-5 loss surely wasn't how Holy Family Catholic (OH) hoped to kick off their weekend, but the top two teams in a pool don't usually meet in the first round of the day. That was the case in Pool B, however. After that loss to Lone Peak, Holy Family dusted themselves off and rolled everyone, all by a score of 11-3. Savannah Jeffries was a composed presence behind the disc all day. The Enders sisters, Therese and Ella, were tough matchups for every team, and Rebecca Monnin always seemed to get open at crucial moments downfield. HFC has only a 13-person roster this weekend. After their first win against Edina, Ella Enders and Jeffries both said the key to the day was keeping the team energy up and having a positive attitude. HFC played a lot of fast break offense throughout the day, but instead of making one another chase huge hucks, their fast breaks utilized give-and-go offense in small spaces, dishing back and forth quickly to gain a few yards at a time. Time will tell if their legs can hold up through a second long day of play.
A similar story developed around the second place finisher in Pool A. After Neuqua Valley (IL) dropped that tough 11-4 first round to Roosevelt, you would never know Neuqua had entered the weekend as the bottom seed in the pool. In round two, eNVy's aggressiveness on both sides of the disc and willingness to shoot deep as many times as it took to score was just too much for Knoxville. The game was point-for-point all the way to 5-5, with every point a battle. Those two teams played the most junk defenses in the pool. Neuqua's Ali "Swi" Swiatek and Tessa Kucharski had big blocks in the air and were uninhibited in their long throws. Megan Kwon and Erin Kuehner contributed with even-keeled play in the handler space. After two more marathons, NV came out on top 7-5 to end it.
Neuqua's philosophy seemed to be "why worry about five downwind turnovers on long shots if we earn it back every time?" And it worked for them. After being tied at 4-4 with Mount Notre Dame in the final round, Neuqua handily closed it 11-6. "Our fight and determination just continues to get better," said Neuqua coach Jamie Wolf at the end of the day, emphasizing that the team has prepared all season to play in wind against zones.
The Highs and Lows of Knoxville
Knoxville (TN) remains a bit of an enigma at the end of pool play. Pool A teams had only three games today, and Knoxville crushed Mount Notre Dame, played to that hard fought loss against a possibly underrated Neuqua Valley, and then almost upset Roosevelt. Down 8-7, Knoxville earned a block and was within 30 yards of forcing a double game point.
Instead, they now sit at third in their pool. At their best, Anna Huss and Ellie Stanfield played impressive give-and-go, finding each other for tight resets. Lydia Roberts, Micah Roberts, and Macy Hudson made huge possession-saving grabs and earned blocks for their team. At other times, Knoxville looked tired and their offense stagnated. Against the relentless attacks of Neuqua's handlers and the ruthless composure of Roosevelt, the overall youth of Knoxville's roster showed a bit. Knoxville will face Holy Family Catholic in quarters. Can their athleticism carry them to victory or will Holy Family's experience get the best of them? It will depend on which version of the Hornets shows up.
Pool Play Recap
Pool A
Roosevelt (3-0)
Neuqua Valley (2-1)
Knoxville (1-2)
Mount Notre Dame (0-3)
Pool A games were supposed to play to 15 today, but the wind and long points meant the most anyone scored was 13. Round one included Roosevelt's rout of Neuqua, and Knoxville easily handling Mount Notre Dame (OH). Round two featured the battle between Neuqua and Knoxville.
On the other field, Mount Notre Dame managed to put up the second most points of the day on Roosevelt, losing 13-6. The Ohio club looked less polished than the other teams in their pool, and their top-end athleticism couldn't quite match up with the other teams' best athletes. However, they play scrappy offense, frequently finding each other for very late stall resets. Jordan Hallau and Maddy Campbell were sound handlers and Faith Cayia came up with big grabs downfield as well as several run-through blocks.
The last round featured Roosevelt eking past Knoxville and Neuqua closing down Mt. Notre Dame.
Pool B
Lone Peak (4-0)
Holy Family (3-1)
Newton North (2-2)
Edina (1-3)
Ballard (0-4)
Pool B games were only to 11 today, making late-game comebacks difficult. While Lone Peak ran roughshod over the pool and Holy Family soundly established themselves as the number two, the middle of the pack got interesting.
Newton North (MA) looked polished today. They ran offensive sets with ease, often with everyone on the field touching the disc. The handler corps of Alex Hecht, Jocelyn Sun, and Grace Zucchero were content to swing and run up-lines all day. In their matchup with Edina, Edina parents were enthralled by Newton's quick zone offense and ability to use dozens of throws to score. Newton North won that game 8-5. Miki Shibuya and Gigi Downey consistently provided blocks and offensive targets downfield.
Edina (MN) rebounded from that tough loss to squeak past Ballard 8-7. Edina was missing several seniors this weekend, but according to coach Ashley Green, they were excited to see younger players stepping into bigger roles. Ali Kidd and sophomore Abbi Shilts demonstrated incredible potential, earning numerous run through blocks a piece and consistently getting open on offense. They tried to utilize a 2-3-2 zone fairly frequently today, but the skill of throwers on teams like Lone Peak and Holy Family made easy work of it.
Ballard (WA) dropped to the bottom of the pool. While Grey Colleran, Margaret Tookey, and Anna Wilk all had bright moments, overall the level of skill in Ballard's handler regimen couldn't quite stack up with other teams. Ballard had one of the more stagnant offenses in today's wind, an issue they can try to fine tune in consolation play.