Roosevelt topped Lone Peak in a close and thrilling final.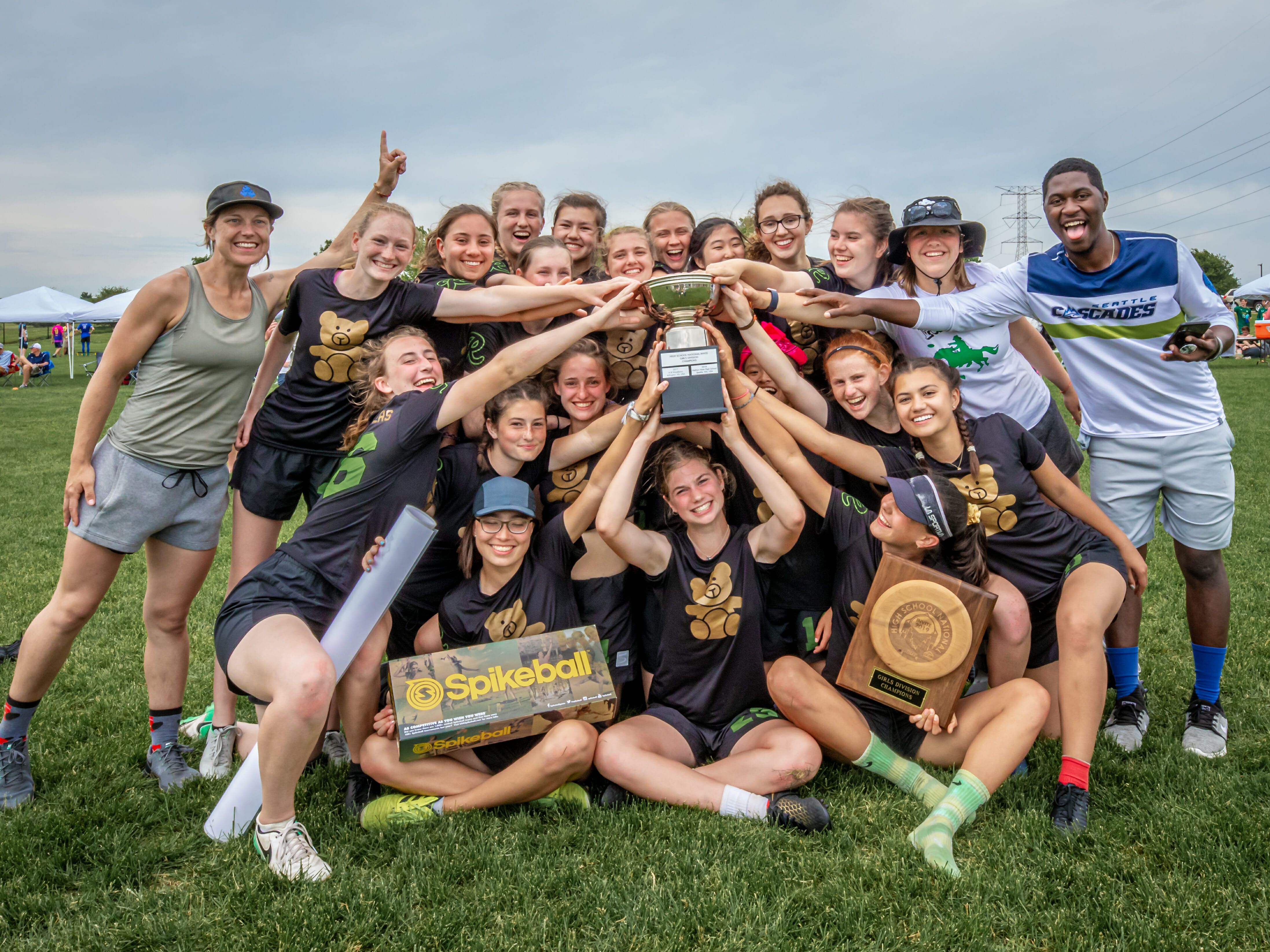 ROCKFORD, Ill. — After impressive regular seasons where they clearly established themselves as the cream of the crop, Roosevelt (WA) and Lone Peak (UT) met in the High School National Invite final. After surviving the Girls' Division field and the Illinois wind, the two were more than ready for a battle. In the end, the tremendous play of Roosevelt stars Abby Hecko and Anna Goddu powered Roosevelt to an 11-9 victory.
While Roosevelt entered the tournament as the no. 1 seed and top ranked team in the division, in some ways, it was no. 2 Lone Peak who could be considered the favorite. Roosevelt's Washington state title capped off a sterling resume, but they traversed their road to the final with less ease than their opponent. The Utah club, who had lost just one game this season and just twice in their last 137 games, had only given up eight total points in the six games prior to the final.
But once they were on the field, Lone Peak just didn't have an answer for Roosevelt's top end combination of Hecko and Goddu.
Hecko might be the most feared player in the Girls' Division, having been selected for the U24 U.S. National Team. Her performance as a handler for Roosevelt was critical for the Rough Riders, but her two goals, six assists, and two blocks while playing every point shows that she was doing a bit of everything. Goddu was frequently her target, piling up four goals and two assists.
The game was close throughout. The teams exchanged clean holds to start before Roosevelt punished a turfed throw with an offensive possession where Hecko and Goddu went back and forth until Hecko caught the upwinder. But Lone Peak flipped the upwind goal thanks to an Autumn Saunders sky, and they broke downwind when Jane LeRoy toed in a huck on the back line to tie the game at 3-3.
Most of the rest of play concluded with downwind holds, but some big plays were necessary to make it happen. Hara Crafts Mazzanti nabbed a tremendous layout catch. Nikki Merrill came up with key blocks and was often the engine of Lone Peak's offense. Shanti Chier scored on a slick upline cut and later on a tough high stall snag for a pair of Roosevelt holds.
The game's final points were tense, with Lone Peak hot on Roosevelt's tail, in need of a break. With the game 9-9, first to 11, Maddi Kerr got a handblock on Sarah Rifkin, picked up the disc to immediately initiate play, and was handblocked right back by Rifkin. That point ended on an Anna Pettis layout score after another fantastic bidding save by Mazzanti.
But the final blow was dealt by Hecko and Goddu. Saunders tried to swing the disc wide, and Hecko, with a bead on the play, peeled off of her cover and made the poach block. Seconds later, her backhand huck tailed over to Goddu, who made a twisting, falling grab to secure the championship for Roosevelt with an upwind break.
Roosevelt's High School National Invite title is their first, and it is the finishing touch on a tremendous season. They lost a single game this season, while winning the Seattle Invite, the Seattle Public School league, and the Washington State Championship. Their stars shone bright and will likely go on to be impact players at higher levels. Much of the rest of their roster is back for next year, though, and players like Tori Gray, Aria Bacon Kischner, and Mazzanti seem like stars in the making.
Lone Peak's dynastic club is likely to remain elite. For this year, however, Roosevelt can claim supremacy in the Girls' Division.