Germany and GB still favorites for Semis. Switzerland and Russia with nothing to lose!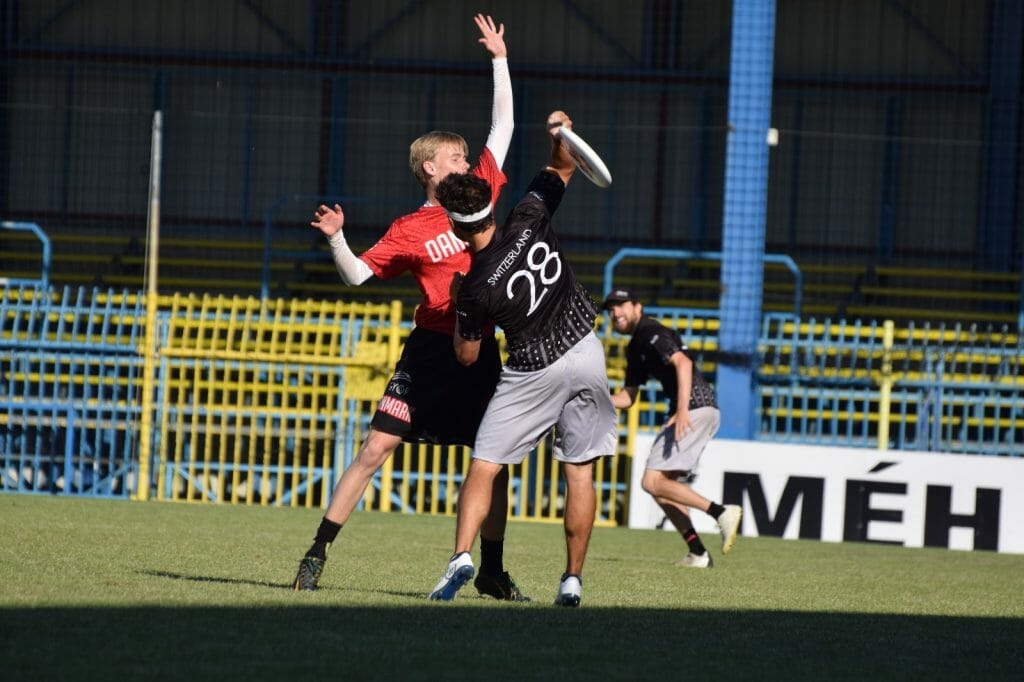 The semifinal matchups are set! Twenty teams entered, four remain. Russia faces Great Britain and Switzerland faces Germany. Both games are rematches of games that were already played in power pools.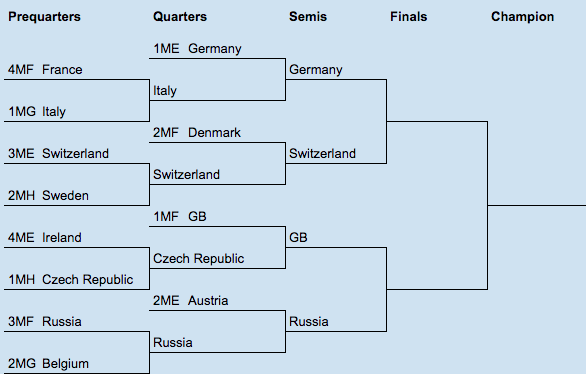 Great Britain vs. Russia
When the two teams met on Tuesday, Great Britain ran out 15-6 winners. Their defense disrupted the Russian offensive flow, and they forced Russia into uncomfortable situations and decisions. Their D line offense was somewhat wasteful at times, but they eventually converted most of the time. In the quarterfinal, Great Britain beat the Czech Republic handily, with a score of 15-8. They've made it to the semifinal stage without ever really having had to find their top gear. Of the Czechs, captain Josh Briggs said, "They came out with full intent and were clearly looking to have a clean, aggressive game… We had a game plan to get their throwers away from the disc and make their weaker throwers take on shots to their big bodies, so our big defenders could get blocks." He praised his defense's efficiency with the disc as well, saying that he thinks they converted on all but two possessions. On the rematch against Russia, he said, "We are expecting an intense game from the Russians tomorrow. They play big and confidently behind a few skilled players. We will be looking to prevent them from settling with different defensive looks, and will always be ready to throw in frothy match defense to up the tempo."
Russia come into the semifinal after a hotly contested 15-13 win against Austria. Their previous three games before this one ended in double game point, and this one almost did too, but they were just able to avoid the stress. Russian spirit captain Yegor Naumov felt that his team's attack played extremely well, rising to the occasion after three mediocre games. He noted that everything seemed to come off, and that their system just seemed to work. On defense, he praised the way they were able to generate breaks early to put themselves in the driver's seat. Captain Nikolay Nikolaev largely agreed, but added that the Russian defense tried to stop quick movement from the Austrians, and that their ability to match the Austrians athletically was key in their victory. Whereas other teams struggled to match the Austrians in that regard, the Russians were a good match.
On facing Great Britain, Naumov stressed that they won't be thinking about who they're facing, just what they can do in each point. Nikolaev said that his team would fight with everything they have for the rest of the tournament. They're keeping their expectations low, but they certainly wouldn't eliminate the possibility of an upset.
Great Britain have to be considered the favorites in this game. They've already proven they can beat the Russians, and they've simply looked a cut above everyone else but Germany so far. Russia certainly have a chance and they've surprised us before in this tournament, but it will take a nearly flawless performance to see them advance to the final.
Germany vs. Switzerland
This game is also a rematch of a game from power pools, which saw Germany emerge as 15-9 winners. Germany, like Great Britain, have barely been tested so far this week. They've done well to control every game they've played in, and they'll certainly be looking to do the same against the Swiss. Today, they beat the Italians 15-11 for the second time this week. They took charge early by converting their early break opportunities. When asked about the semifinal, coach Stefan Rekitt said, "we are ready for tomorrow. We cannot take anything for granted. We know we have to work hard and we are confident that we can continue our path. We will prepare for this game like any other game."
The Swiss come into the game on the back of a very intense quarterfinal game against Denmark, in which they emerged victors with a score of 15-13. Talking about that game, Severin Ris stressed the importance of shutting down their resets  and disrupting their flow. He praised the way they played defense, and their ability to generate turns by baiting deep throws. On the prospect of the rematch against Germany, he said, "Tomorrow's game against Germany will be a very difficult one, of course They're clear favorites in this one and are expected to win. We've got nothing to lose, which can be an advantage mentally."
Much like the other game, one team should be expected to win relatively easily. The Germans feel they're getting better and better every game, and the Italians are the only ones to put up more than ten points against them. That said, anything can happen, and the Swiss could certainly surprise Germany if things start to go their way early. Unlikely doesn't mean impossible.
Both games will be streamed at 10:00 am (CET).