A quiet weekend on the club front before the TCT main events kick off.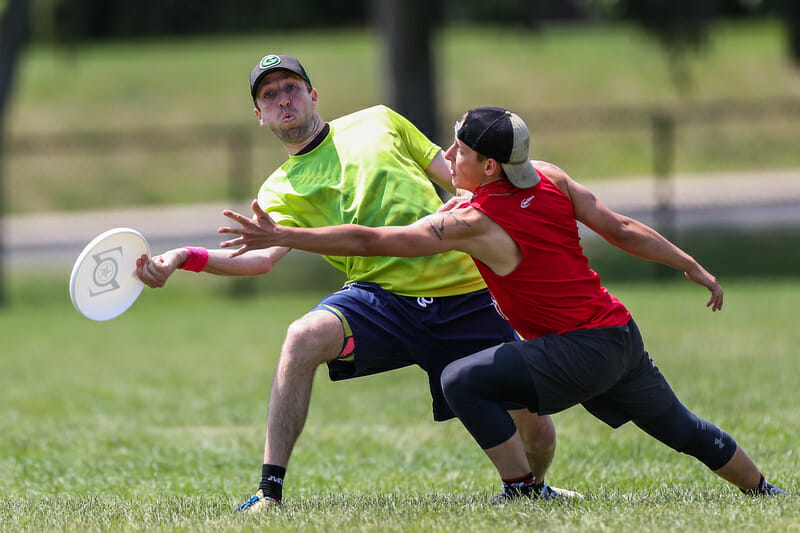 During the 2019 summer and fall season, we will publish a bite-sized weekly recap of the action across the Club Division. This will serve as a supplement to our standard tournament reporting and will offer a high-level look at the latest happenings and the biggest stories of the week. We go through the annals of score reporter so you don't have to!
Want your tournament listed here? Submit a recap of what happened right here. 
—
In the years since USAU (mercifully) moved the US Open off the 4th, the first weekend of July has become a slow one for club ultimate. Traditional community and party focused tournaments like Sunbreak and Mars have seen a revival as many players enjoy their holiday weekend by taking a break from sanctioned competition.
In the few events held this past weekend, mid-level teams worked to assert their dominance at local tournaments on the eastern side of the country, while no sanctioned play took place in the West. Here's a quick rundown of what happened:
Women's Division
Birmingham Steel Victorious in Only Sanctioned Event this Weekend
The weekend was slow across all divisions but none more so than in women's. There was only one sanctioned event held, Huntsville Huckfest 2019 in Decatur, Alabama, where three teams competed in a double round robin. Birmingham Steel came out on top with a 4-0 record, with two victories against each of Huntsville Laika and Chattanooga Honey Pot.
Men's Division
Antlerlock Gives Sprout their First Ever Tournament Title
Antlerlock hosted eight teams in Essex Junction, Vermont this weekend. For the second time in three weeks, first-year program Amherst Sprout made it to a tournament final — the first time being at Boston Invite — and this time they easily secured the victory over Somerville Big Wrench, 15-5. Sprout went through the entire tournament without any close calls, reaffirming their status as a real threat within the Northeast region.
Quick hits:
Motown Throwdown in Sylvania, Ohio featured sixteen mostly Great Lakes teams vying for early season regional supremacy. Lombard Black Market ultimately prevailed, besting Cincinnati Omen on double game point in a windy, low-scoring final. Dayton Enigma managed a third place finish.
At the Huntsville Huckfest, Columbia Lost Boys topped a fourteen team field, including a blowout of hometown host Huntsville Freaks and a two-point victory over Tennessee Tanasi in the final. This is the second straight disappointing tournament finish for Freaks, who would have hoped to get to this point of the season undefeated if they harbor allusions of contending in the Southeast.
Mixed Division
Evanston EMU jumps from eighteenth seed to third at Motown Throwdown
The Motown Throwdown featured an expected all-Michigan final with top seed Ann Arbor Hybrid winning over second seed Grand Rapids Toast, but the third place finisher, Evanston EMU, was unexpected as they entered their first ever tournament seeded 18th of the 22. EMU is made up of current and recently graduated college players, and after their display of perseverance this weekend, they've proved they are a team to keep an eye on in the Great Lakes region.
Quick hits:
In Vermont at Antlerlock, second seed Portland Sunken Circus upset top seed Amherst Happy Valley in the final. Long Island Birds finished third.
Huntsville Huckfest saw the hometown Huntsville Outlaws fall to Auburn Heyday, who overcame an opening round loss on Saturday to claw their way through the bracket before obliterating the hosts 15-7 in the final.
Looking Ahead
This upcoming weekend sees the Triple Crown Tour kick off in earnest as a host of top teams head to Colorado as part of either the Pro Elite Challenge or Select Flight Invite – West. For several teams, it will be their first elite competition of the year as well as a chance for teams to earn a bid to the Pro Championships in August. While PEC typically gives us a solid first glimpse of the season landscape in each division, the overlap with U24s in Germany will leave many top squads short of valuable playmakers and belie their overall strength.
With the consensus top three women's teams staying away this weekend, which of the next tier challengers will push top-seeded Denver Molly Brown in the fight for the season's first major tournament title? Almost every potential semifinalist in the Men's division will be in Denver — who will make an early statement in the crowded cluster behind prohibitive favorite New York PoNY? As the only 2018 semifinalist in attendance, will Seattle Mixtape assert their dominance over the rest of the mixed field?
The Select Flight Invite may not get the same attention as the headlining PEC, but could have equally important implications in the race for Nationals bids. This is the first year with two regionally focused SFI events and many Nationals hopefuls will be looking to capitalize on valuable out-of-region opportunities.
Ultiworld will have previews and recaps from each division for PEC. We'll also be on site in Denver filming games at both tournaments for our video package available to subscribers.
—
Elsewhere, there will be lots of mid-level action in all three divisions, all over the country.