The season starts in Denver!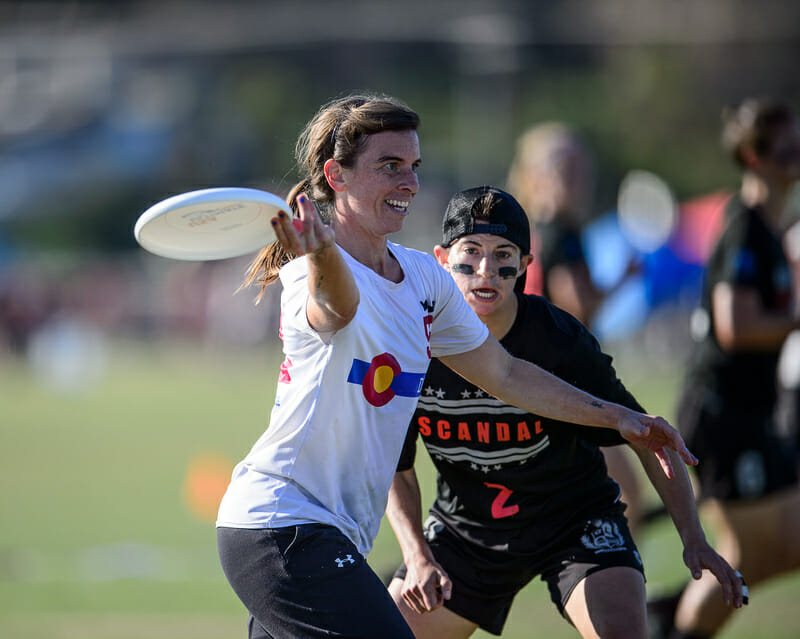 The official kickoff of the 2019 Triple Crown Tour is this weekend just east of Denver with the Pro-Elite Challenge. This will give us our first look at many of the best teams in the nation, while offering them a chance to test themselves and build towards the postseason.
While some of the Division's biggest names won't be in attendance, we'll still get a look at the majority of the top 25 and some contenders in the race for a national championship.
Tournament Profile
Date: July 13-14
Location: Denver, CO
Weather: Hot and sunny, highs in the mid 80's to low 90's, chance of thunderstorms on Saturday, 7-10 mph winds
Top 25 teams: 15
Filming Schedule
Ultiworld will be filming five women's games this weekend at the Pro Elite Challenge, to be released after the tournament. Access to the footage will be available to Full and Plus subscribers. Here are the games:
San Diego Wildfire vs. Raleigh Phoenix (Pool Play)

Chicago Nemesis vs. Austin Showdown (Pool Play)

Women's Prequarter (TBD)

Women's Semifinal (TBD)

Women's Final (TBD)
Pool A: Can Any Team Challenge Molly Brown?
Much like last year, #5 Denver Molly Brown is entering PEC 2019 as the favorites to win the tournament. 2018 showed us just how much home-field advantage favored Colorado teams, as every Denver team made the finals of the tournament. Along with the altitude and weather, team chemistry issues and early season jitters had very visible effects on the competition at the tournament. This year will likely see many similar problems, although many of Molly Brown's opponents have wizened to the potential problems and will be better prepared to put their best foot forward. Still, Molly Brown holds a considerable advantage in that they are the only semis team from last year's Nationals to attend this season. Riot, Fury, and Brute Squad have all opted to attend the Triple Crown Tour's later tournaments, leaving Molly Brown an open path to make a clean sweep.
That may be easier said than done. While there's no doubt that Denver is the favorite at this point, they aren't impenetrable. Molly Brown's roster has a lot of fresh faces — especially when compared to their semifinals rivals. Losing 11 players would signal a rebuild from almost any other program, but for Molly Brown, it's closer to reloading. Adding players like Bert Abbott, Rena Kawabata, and Ronnie Eder is a strong step in the right direction, assuming they can coalesce with the team after only a few weeks of playing together. It's all but assured that Molly Brown will rely more heavily on their core to make plays and assert themselves on the field. Those players can take that added load, but it could cost them late in tournaments when fatigue sets in.
If there's a team in Pool A that can take advantage of a new-look Molly Brown, it has to be #9 Chicago Nemesis. After a tough finish at Nationals in 2018, Nemesis has emerged this season with an impressive roster that is fueled by the addition of Clare Frantz and Sarah Davis. Considering how long Nemesis has been on the cusp of the Women's Division upper echelon, this roster shows a lot of promise for their season. Their chances of taking down Molly Brown may be slim, but even playing them tight could be a sign of better things yet to come.
Rounding out the pool are #15 Austin Showdown and #25 Madison Heist. Showdown missed out on Nationals in 2018, which isn't the red flag it seems at first. Despite missing out on earning a bid, the Texas women still took Molly Brown to double game point at Regionals, a feat no other team came close to accomplishing until semis at Nationals. Showdown's 2018 should serve at motivation –fuel for their fire as they compete in their first tournament of the season. Showdown continues to have a very stable roster, and the added benefit of a successful PUL season means that the team is already in shape and ready to take on teams in Colorado.
Heist is in a very different situation. Despite making the bracket in San Diego at Nationals last year, they have now landed as a bottom seed in Pool A. Their seeding isn't a mystery, though. The same team that went to prequarters in San Diego now is missing their two biggest contributors in Robyn Fennig and Austin Prucha, both of whom defected to Scandal. Worse yet, there isn't a clear successor to either of those players. Still, Heist has continually been able to recover from roster turnover and put up a strong showing in the regular season. As the bottom seed in Pool A, they can build from the underdog mentality and have every opportunity to exceed expectations.
Pool B: Scandal's 2019 Roster is Ready to Cause a Scene
#4 Washington DC Scandal's exciting new roster has dominated a lot of preseason talk and now will have the inordinate task of living up to the hype. The additions to their roster is a veritable laundry list of talent. Robyn Fennig, Austin Prucha, Carolyn Normile, and Verena Woloson are just a few of the talented players that are joining Scandal as they attempt to reassert themselves in the women's division. It may feel like forever ago, but it's only been half a decade since Scandal won back to back titles and were the toast of the women's division. Their performance at this tournament will help inform just how close they may be to the top four, and whether they can crack into that elite tier this season.
Before Scandal can start making any claims of a resurgence, they'll first have to win their pool. Standing in their way is #14 San Diego Wildfire, #11 Raleigh Phoenix, and their sister program from the nation's capitol, #17 Washington D.C. Grit. Wildfire is just coming off their best season as a team, with a respectable quarterfinals exit against Fury being the icing on a long, hard-fought season. Reaching those same heights will be difficult, though. The team lost their 2018 head coach, Dan Bellinger, along with a third of their roster from last year. Included in their departures are Ronnie Eder, Mei Bruist, and Stephanie Pritchard, three of their most effective offensive players. They'll be further handicapped in Colorado as they are missing college stars Dena Elimelech and Kelli Iwamoto, who are competing together at U24 Worlds in Germany. If Wildfire can hold seed at this tournament, it will be a victory for the team and a strong sign for the team going forward — but that's a big if.
Phoenix is an obvious challenger for Wildfire's seed in the pool and potentially even Scandal's. Their roster features many of the same players that just made it to the PUL finals at Championship Weekend, and a few key additions to their 2018 roster could make all the difference. By bringing on players like Claire Revere, Lindsay Soo, and Lyra Olson, Raleigh is positioning themselves to make a run in the regular season and beyond. They're undoubtedly the strongest 3rd seed at the tournament and have a path to make semis if luck goes their way.
The circumstances for Grit are far different from that of their competitors in Pool B. For a start, this is their first time competing at the Pro-Elite Challenge. After a sneakily successful 2018, Grit have a chance to make a name for themselves in the Triple Crown Tour, and hopefully earn an elusive second bid for the Mid-Atlantic. But before they can have any Nationals aspirations, they'll first have to prove themselves in their pool. Considering how many players they've lost from their 2018 roster, this will be no easy task. Grit may have fought their way to the major leagues, but now it's time to prove that they belong.
Pool C: 6ixers & Ozone to Duke it Out for Top Billing
It's a rare sight to see the #6 Toronto 6ixers out at a tournament so early in the season, but here they are, as the first seed in their pool. The 6ixers seeding is no accident. After supplanting the Capitals half a decade ago, the team has quickly become Canada's premier women's team and has made quarters at Nationals for each of their past two seasons. They're projected to do well this weekend, too. Despite losing Cat Phillips, Toronto is returning Anouchka Beaudry and Cindy Truong and is adding the potent one-two combo of Alyssa Mason and Jessie Tsang. Even with the new additions to their roster, all eyes will be focused on Lauren Kimura and Sarah Bobak, the two players that continue to be the 6ixers brightest stars. Thanks to their talented roster, Toronto is almost a lock for quarters, and even has the potential to win it all. The city of Toronto is on a bit of a hot streak when it comes to tournament championships after all.
The 6ixers won't have an easy path to the bracket, though. They'll be missing a lot of key players to U24 Worlds, and #12 Atlanta Ozone sits just below them in their pool, arguably the toughest second seed to draw at the tournament. Ozone isn't that far removed from making semis in 2017, and has a bone to pick with the 6ixers after being eliminated from the Pro Flight by the Canadians at Nationals in 2018. Even with all the extra motivation, the 6ixers will hold an advantage in their Saturday match against Ozone. Atlanta is far from full strength, losing the veteran talents of Sophie Darch, Paula Seville, and Katelyn Travaglini. With those departures, Ozone has amassed a far younger squad, but that has long been the 6ixers calling card — Atlanta would be hard-pressed to win in a youth-off. For Atlanta to pull off an upset, they'll need to show more than just fresh talent. That's not as impossible as it sounds, this is a team that has a history of grabbing upsets.
Sitting just beneath Ozone is #10 Columbus Rival, another team that is rebounding from the loss of some veteran talent. Without Nancy Haskell, Talia Barth, Nichole Kwee, and eight other players from their 2018 roster, Rival is a very different squad from last year. Luckily, the pieces they're adding far outshine what they've lost. Paige Soper, Stevie Miller, and Emma Schroder are all on the roster for this weekend, making Rival eerily similar to the OSU Fever team that won it all in 2014. The added reps that the PUL provided this team can't have hurt, either. As so many of these players have worked under DeAnna Ball's system in the past, fitting into the team should be no problem at all. Rival has all the makings of a team that could break out this season, and are the sleeper pick to make it deep in the bracket.
It'll be a tough ask for #22 Kansas City Wicked to break seed in Pool C but there's a path for them to make the bracket, however slim. The team shrugged off the loss of Clare Frantz to start their season with a respectable 2nd place finish at Fort Collins Summer Solstice — losing only to Molly Brown. There weren't many teams that gave them a challenge, which has to be a confidence boost heading into the weekend. The 6ixers, Ozone, and Rival are going to be on an entirely different level, and Wicked will have to scrap, claw, and fight for every point they are on the field. Still, iron sharpens iron. Even if Wicked doesn't see much success at this tournament, it will set them up for a long season that could be capped off with a run at Nationals. The Pro Elite Challenge isn't an end-goal for Wicked and may be a footnote by the end of 2019.
Pool D: Nightlock Looking to Retain Control Over Opponents
As the one seed in their pool, #7 San Francisco Nightlock have to be happy with the teams they're playing to start their tournament. Thanks to a strong showing at Eugene Summer Solstice, Nightlock has already played — and defeated — two of the opponents in their pool. Both #8 Portland Schwa and Denver Small Batch have tasted defeat and the hands of Nightlock, and while neither win was a blowout, it's certainly a confidence-booster. The pool is theirs for the taking, and even missing Julia Kwasnick Shayla Harris, and Michelle McGhee1 should do little to slow the squad. Manisha Daryani, Adrienne Lemberger, and Iris Leung will likely be the team's lead playmakers, but Nightlock is one of those teams where every player can step up and play an important role in their success. Their balanced roster should set them up nicely to win Pool D, and go deep in the bracket on Sunday.
As inevitable as Nightlock's success may feel, it's by no means a guarantee. Schwa took them to sudden death at Summer Solstice and was knocking on the door of an upset. This is the same Schwa that came a single point away from making quarters at Nationals least season, only potentially even better. While Ella Hansen's off with Team USA in Germany this weekend, the veteran talent of Mariel Hammond, Julia Sherwood, and new addition Laura Bitterman should help provide a steady hand for Schwa as they prepare to challenge Nightlock for the pool. This is a battle-hardened Oregon team that has already proved they are nationally relevant thanks to their games at Summer Solstice. Now it's just a matter of proving just how good they can be.
Compared to the stability of Nightlock and Schwa over the past two seasons, #21 Minneapolis Pop is on the other side of the spectrum. Much of the talent that made their team great over the past two years is either retired or on other rosters, leaving the team with a lot of questions to answer. First and foremost among these is who will be taking the touches of Courtney Kiesow, Chip Chang, and Jenny Gaynor. The influx of UMinn talent seems like the obvious solution, but many of them are untested at the club level, and the Pro-Elite Challenge is an unforgiving proving ground. As this is the team's first sanctioned tournament, it's tough to say what their ceiling may be, but this weekend will set the precedent for Pop's season.
Denver Small Batch marches into this weekend as the lowest overall seed, and they'll have to show something extraordinary to prove that they belong with the rest of the elite teams that they'll play this weekend. We've already had a taste of team at Summer Solstice, which wasn't too convincing — they went 0-5 against Nationals-caliber teams. Small Batch's best result of that tournament is probably their 9-7 loss to Nightlock, which provides some promise that they could turn the tables on San Francisco when they play on Saturday. That wasn't Nightlock's full squad, though, and it'll be a tall task to overcome such a well-established program. Schwa and Pop are more manageable targets, even if they both have been building a pedigree of their own. Small Batch has been a step behind Showdown and Molly Brown for the past few seasons, making the bracket at PEC would go a long way in showing they're making the leap in the South Central.
---
all u24 attendees ↩