U24 Worlds is off and rolling!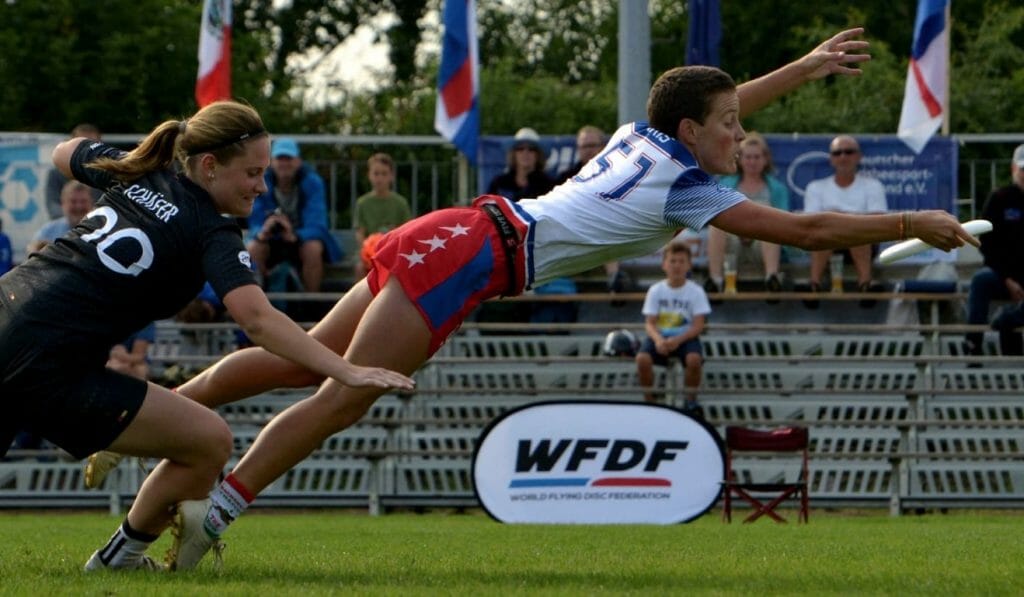 Ultiworld's coverage of the Wolrd U24 Championships is presented by VC Lookfly; all opinions are those of the author. Please support the brands that make Ultiworld possible and shop at VC Lookfly!
HEIDELBERG — Today marked the first full day of competition at the 2019 Under-24 World Championships. Teams in the Men's and Women's Divisions each played a pair of games, while most Mixed Division teams played just one as pool play got rolling. Multiple double game point finishes and plenty of upsets got the tournament kicked off with some excitement as stormy weather passed through the area bringing light rains and buffeting winds.
Here's a look at what happened in pool play action on Sunday in Germany.
Women's Division
Pool A: USA, Colombia, New Zealand, Germany, Switzerland, Belgium
Pool A has had some bigger point gaps to show for the start of the tournament. USA looked dominant, winning both their games by a very large margin, Colombia and New Zealand had the tightest game in the group, which ended up with a 15-11 score for the Colombian squad. Germany, Switzerland, and Belgium appear to be below the top three teams of this pool, and it will be exciting to see these teams compete against each other.
USA v. Germany
As expected, USA crushed their matchups on the first day of pool play. One might have put more hopes into the German squad, but, in the end, USA easily won 15-3. The gamewas by far the windiest one of the day, but both teams managed to play fairly clean ultimate despite the tricky conditions. The US started out with back to back breaks, but Germany came back and broke the US squad to even the game up at 2-2. After a USA timeout, they looked even more focused than they did to start. The team managed to take away all the options for the Germans on offense, displaying their athleticism on defense. Although the US had a couple of miscommunications during the game, they managed to get the disc back every time. The German squad tried a couple of different defensive looks on their opponent and did get them to turn the disc over, but then they were lacking the confidence of actually ending the point with a score. Germany had multiple runs to the US end zone but then just threw it away on their last pass.
Pool B: Canada, Australia, Japan, Great Britain, Italy, Ireland
The second women's pool has definitely started off the week with some surprising results, as Australia was defeated by both Great Britain and Italy, and Japan topped Canada on double game point in their second game of the tournament. Great Britain also won very convincingly over Ireland, as did Japan. The fight for the top spots in the pool has begun.
Australia – Great Britain
Australia and Great Britain started out rather evenly. Australia took half 8-6, but Great Britain put up a blistering second half to win comfortably, 15-9. The whole game was rather chaotic on both ends of the disc, but Great Britain managed to control their offense a bit better and conduct a lot of pressure on a very athletic Australian team. Although the defensive side of this Great Britain team did not look like they put on a ton of pressure with their different zone looks, they managed to take the disc away from their opponents a couple of times. GB did a great job of creating space for their cutters and could not be stopped well enough by the Australians.
About their shaky start, coach Jenna Thomson said that their goal for this game and every one after would be going in with 100 percent on every point. This lead to some of the girls wanting to do far more than necessary, so they made some mistakes and had some miscommunications which they were shaking off in later stages of the game. Overall, Great Britain had a great start into their first game.
Canada – Japan
The first double game point of the tournament was played by the Canadian and the Japanese women's teams this morning. Japan took the win, 15-14, after a fantastic back-and-forth affair.
The Japanese started out strong, taking a two break lead early. Canada broke back just a few points later to even the game at 4-4. The game went on with a couple of double breaks, no team really proving dominant at any point. The end of the game was not very clean anymore — a lot of turns and chaotic travel and pick calls all over the field. Japan might have played the slowest game one had ever seen a Japanese squad play: they did not use their characteristic give and go motion frequently on offense.
As for the Japanese defense, they did not put a lot of pressure on the Canadian squad. They tried a lot of different defensive looks, matchup as well as zone, but it looked like they did not manage to prevent the Canadians from getting the disc. A lot of the errors the Canadian players made were just caused by fatigue. The gusty wind and slight rain might have played into that as well.
Canada looked a bit shaky. They took some options they did not need but used their athleticism in a strong way, definitely showing their potential. If they can coalesce as the tournament rolls on, they will remain a clear podium threat later in the week.
Stats Leaders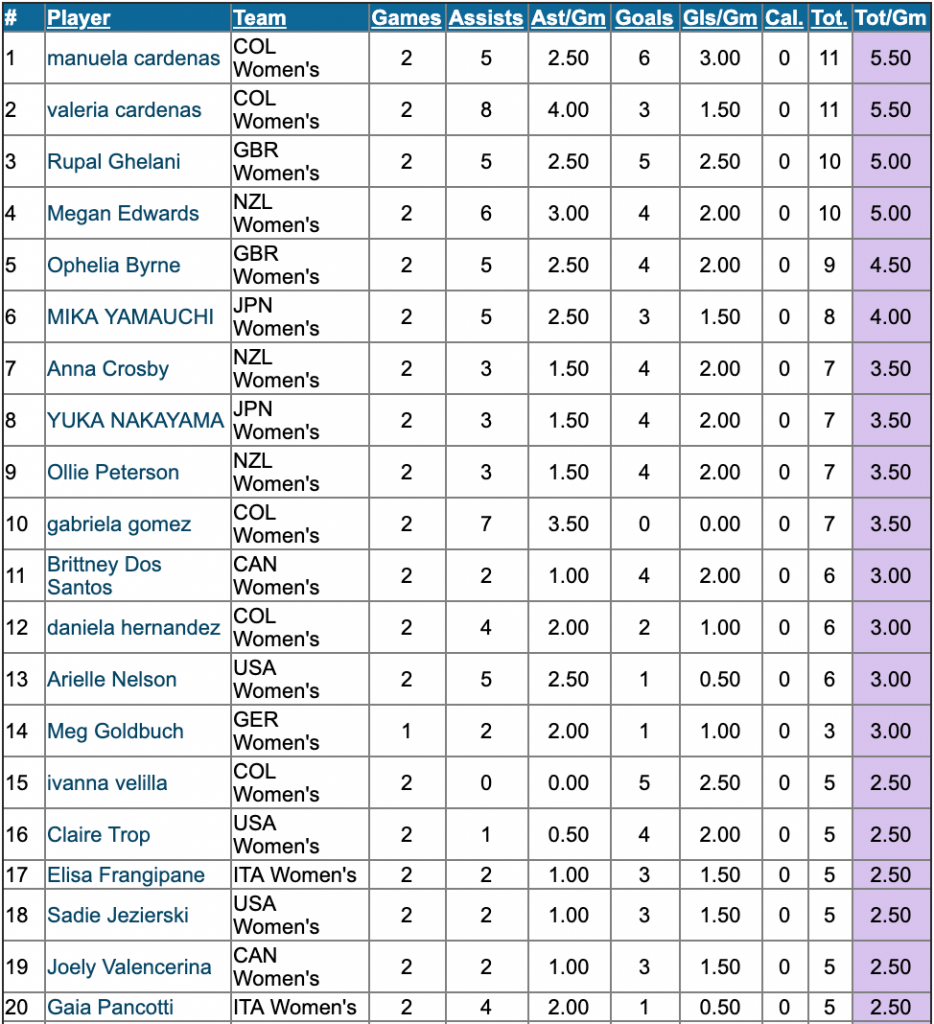 Mixed Division
All eyes were on the Netherlands as they had a tough program to start on Sunday in Pool A. France and Great Britain proved to be competitive against the players that dominate mixed club ultimate in Europe with GRUT, but the Netherlands started out in the "group of death" with two wins. In the other pools, there were no upsets, but Czech Republic and Spain were able to show that they are in the running for power pools.
Group A
The United States, the tournament favorite, managed to hold standout athlete Arvīds Orlovskis to only one goal in a dominant 15-4 win over Latvia. The US never looked back after a 8-1 start to the game.
The Netherlands had to come back from an early break in their first group game against France, but they kept the game close and pulled away with a break of their own to take half. In the second half, the French team could not find a way to stop Floor Keulartz, who was involved in every point scored by Netherlands' offensive line. France could not keep up with the pressure and conceded three more breaks in the second half, leading to a decisive 15-11 win by the Netherlands.
The Dutch had to face another strong opponent later in the day where one strong European team seems to be destined to miss out on power pools. Great Britain's dominant men were hard to stop for the Netherlands. Jamie Rabbetts and Ricardo Fungairiño dominated GB's offensive possessions and racked up the stats. More than once, Lola Dam was challenging GB deep cutters that beat their man but to no avail. The female players on Holland's side as a whole made the difference. Keulartz did not have an excessive amount of touches, but in front of GB's endzone she was deadly, notching three hammer assists. GB was up by one point early but the Netherlands stacked their lines to take half and scored five in a row to go up 11-7. The fresher GB squad managed to get some breaks back but lost 15-13 in the end.
After their second win, Netherlands' coach Leo Sonneveldt was very happy about the start into the tournament. She told me the team is still building and they want to be a team that does not have to rely on individuals but have trust in every player. She is proud that her team does not have to lean on power lines too much.
Monday's meeting between France and GB is a must win for both teams' opportunity to advance to power pools.
Group B
Sweden, led by assist machine Jonatan Angergård, made short work of Hong Kong 15-4 and beat Colombia 15-8. Colombia was able to keep up in the first half but a Swedish scoring run of seven points in a row — the first five all assisted by Angergård — ended all hopes for the South Americans.
Japan also started with a win. Mexico only scored one point per half against a Japanese team that spreads the wealth on offense.
Group C
Germany opened with a win against Italy. They took control after it was 2-2 and scored five in a row. This scoring run and another one of four points was enough in a game where both offenses had trouble putting points on the board to win 15-9.
Out of the gate, Czech Republic was able to surprise Canada with some risky throws over the top and a lot of confidence. Canada answered with very tight defense and increasing pressure. The Czech confidence quickly evaporated, and Canada took the lead 5-2. Vincent Bulloch showed off his amazing throwing skills in that phase. The Czech team recovered somewhat from this shock and they were having success utilizing their females. Alžběta Hodačová was getting a lot of unders and kept the Czech offense moving.
Canada could not really keep up the defensive pressure after winning the first half 8-4. They had some execution errors on offense and let the Czech team back into the game. The result of the second half was 7-7.
Czech coach Honza Nowak said that his team did not prepare a lot together, which showed, according to him, but the players know each other well enough from playing together in juniors that they can be a very strong team. The ups and downs in his team's performance did not bother Nowak to much since the important games in pool play will be against Germany and Italy.
Italy won in their second game against China 15-8 and are still in the race for a power pool spot.
Pool D
This pool consists of six teams which all had one game to start on Sunday. Singapore beat Poland 15-5 after a blistering start and Ireland beat South Africa 15-6.
Surprisingly, the third game in Pool D was not that one sided. Spain–led by their handlers Cristina Temina, Nil Dalmau, Pol Cobos–showed that they could hang with group favorite Australia. Spain was not afraid to throw to tiny windows and they showed a lot of trust into their teammates. Australia managed to secure a lead but Spain never let them pull away and kept it tight until late into the second half. Australia played a very aggressive zone defense where Kya Wiya was taking advantage of her reach. After the turn, Wiya was a dangerous target. Another female standout on Australia's team is Ava Mueller, who demonstrated her ability to shoot it deep.
Australia's coach Max Halden could build on an extensive preparation with the team and a lot of connections since the majority of players is from Sydney teams. He was proud of the aggressive brand of defense his team showed off and had a lot of praise for the ability of Spain to keep their mental game up despite trailing for most of the game.
Stats Leaders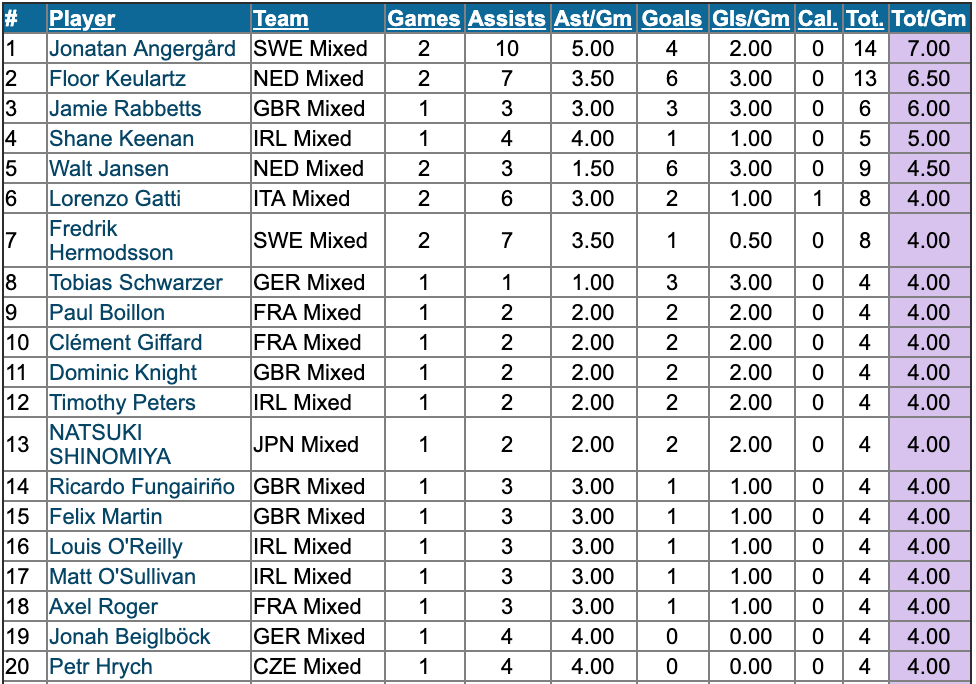 Men's Division
All 18 Men's teams played a pair of pool play games on Sunday, and after the dust settled, only five teams remained undefeated: #1 USA, #3 Australia, #6 Canada, #8 Great Britain, and #18 (!) Belgium.
The highlight of the day was a great battle between the perennial favorite Canada and 2018 silver medalist Italy. This game was well-anticipated and lived up to the billing with Canada winning 15-13.
In a game with few breaks, the beginning of the game proved to be the deciding factor. Canada tailored their game plan to stopping the Italian handlers from throwing flat, defense-crushing inside-out flicks, often letting the slower around backhand go off instead. It paid dividends early as there were some early mistakes from the Italian handler core. A couple of low backhands hit the turf allowing the Canadians to take advantage. Canada's offense did their job early on, rushing out to a 6-3 lead that seemed to be getting away from Italy before they turned on the jets. My notes read — "Italy counters IO marks by toasting the open side." The offense just went to another level. However, at that point, it was almost not enough. Despite not allowing a break for the rest of the game, the Italians only got one break before half and another in the first point of the second half. From then on, both offenses held, trading back and forth until the game closed out.
Talking with the Italians after the game, coach Davide Morri said that this game was a "7.5 for them, an 8 probably gets them to a universe point, and [more than that]," they would have won. He and captain Tobias Mine agreed that those first few turnovers cost them the game. Despite a heroic defensive effort from both teams, it was hard to get the disc away from each O-line, and even harder to score from there.
Canadian captain Malik Auger-Semmar said that "it was a lot of fun, the Italians have a lot of confidence and skill that lead to a good game." He added that the second half "showed that Italy is a good team, and it's hard to get the disc from them." He and the rest of the Canadians are looking forward to the rest of the week and hope to compete well into bracket play.
Canada continues tomorrow against Australia and Switzerland while Italy plays the Swiss and New Zealand.
Ireland vs Canada
In a game that was closer than it looks, Canada bested Ireland 15-6. The game was played in gray conditions but decent ones, a slight drizzle and light wind in cool temperatures. Ireland started off jittery: throwing away the first throw and allowing Canada an easy break is not a good way to start the tournament. Ireland was able to get their break back early, though, as Canada struggled at times against the zone, but ultimately Canada proved they were a tier above. After getting the disc, Ireland had the chance at 7-5 to close the gap, but a huck that went too far seemed to be a sign of things to come. Canada got the disc back, scored to take half 8-5, and never looked back.
They played tight 'no underneath' defense, forcing Ireland to throw hucks that they could not connect on. Canada rattled off six in a row to end the game. Afterwards, the Irish captain Sam Murphy said, "Canada brought the intensity that we expected. I think it took us a few points to adjust, but once we did, we showed we can play at that level." He went on to say they have a couple games they are looking to win, and playing Canada first is a good way to get the team up to speed for those games later in the pool.
Canada, on the other hand, went into this game with a bit of intensity and game plan that really paid huge dividends later in the game. Coach John Hayduk talked about the executing the game plan, and tailoring their goals offensively and defensively to each game.
In this game, it was clear that they wanted to force Ireland to huck it deep, taking away their primary underneath looks and make them uncomfortable. When asked about other games in the pool, he mentioned that Italy was a good litmus test, saying "it's not a grudge match, but they got 2nd in Perth and Canada never got a shot to play them." In fact, the Canadian assistant coach played with Bologna CUSB at Worlds. Canadian captain Cole Keffer talked about how despite it being his 5th worlds tournament representing Canada, he's always excited to put on the Canadian jersey and compete. Saying that Worlds offers the opportunity to "get to play lots of good teams" and play against some of the best.
Ireland plays the Belgians and the Australians tomorrow.
New Zealand vs Australia
In a game that started off hot and fast, New Zealand raced through the first point cutting through the Australian zone. Australia returned the favor sneaking in an upline to knot it up right away. The rest of the game was a similar back and forth affair in which Australia prevailed 15-11. As a neutral observer, this game had it all: flying layouts, huge skies, monster rips, and quite a few cheeky upside down throws. At times, the teams seemed frantic, taking shots at will, but almost all of them were in rhythm: if either defense allowed a break side swing or upline pass, it was almost certainly met with a huck to match.
New Zealand found themselves in trouble whenever the Australians left the back of the stack to help on the hucks. A couple of help blocks and short throws left the Kiwis down 8-5 at half. Not to be discouraged, they started the second half with two breaks to get it to 8-7, but an Australian run proved to be the difference in the game. As the game was at risk of getting away from the Aussies, Scott Perry ripped down a massive sky after a hospital pass left the sideline groaning. Sometimes things just go your way, and things went Australia's way after that. They went up 11-7 soon after. Thanks to a couple of great plays, the Kiwis got it to 12-10 and had the disc, but after giving it back, Australia scored and never looked back.
"It's always extra fun to play Australia," said New Zealand coach Li Yeoh. "Especially since an Australian team won New Zealand Nationals, so there's certainly a rivalry there." Although it didn't work out for them, New Zealand has a fiery offense that was a treat to watch, and any team thinking they are an easy win will be surprised.
A side note: Australia came into this game flying — quite literally they were bidding all over the place the entire game. Other than one late bid that injured a player, the bids were relatively safe. Callum Sambridge, a product of ANU ultimate club, was excited to start the tournament with a rivalry game. Callum discussed the trust the team has in each other — happy to throw deep shots and discs into tight spaces knowing their teammates will bring it down. Talking about the defensive style, he said their athletes are going to go out there and make bids, trying to escalate the pressure throughout the game.
Australia plays Canada and Ireland tomorrow, while New Zealand plays Russia and Italy.
Great Britain vs Germany
You can add this game to the collection of intense meetings between these two European ultimate powerhouses. This U24 version was a close, hard fought battle in which Great Britain outlasted Germany to win 15-12.
The game could be Exhibit A for anyone who talks about ultimate as "a game of runs." Germany started off hot, getting three straight scores relatively easy. However, Great Britain did not sit back for long. Getting their breaks back and then some, they rattled off six out of seven points to take the lead 6-4, only for Germany to tie it at 6-6. Eventually, the defensive chaos calmed down as each team held respectively until half time, 8-7 Great Britain.
GB held much more consistently in the second half and that proved to be the difference. The German unit that got four breaks in the first half only got one in the second.
After the game, German captains Alex Allgaier and Torben Hörnschemeyer talked about how the D-line has been carrying the team so far. They said the offense needs to focus more on taking the sure, clean shots.
And it's true, the German team has some incredible throwers, but the offense had too many turns in this game against a smooth Great Britain team that was comparatively stingy. The British seemed content to trust each other with small gains, knowing each player would make the safe choice with the disc. Points would often include over 20 passes before they eventually scored.
Great Britain continues their campaign with a tough day two, playing Japan and the USA, while Germany tries to right the ship with games against Colombia and Japan.
Stats Leaders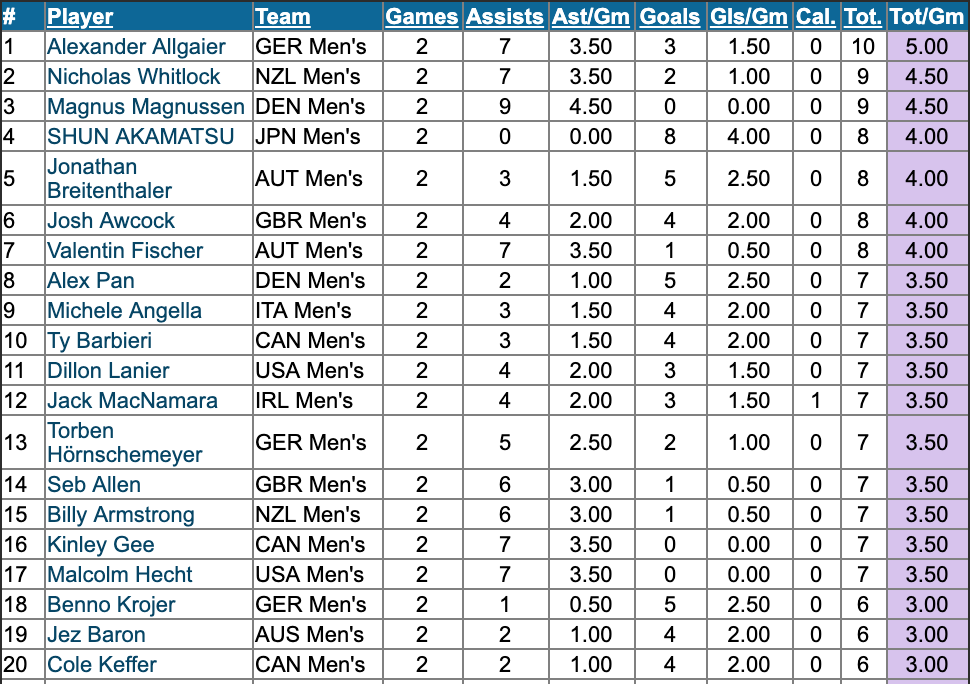 Men's Division reporting from Nick Smith.