We are inching closer to the power pools!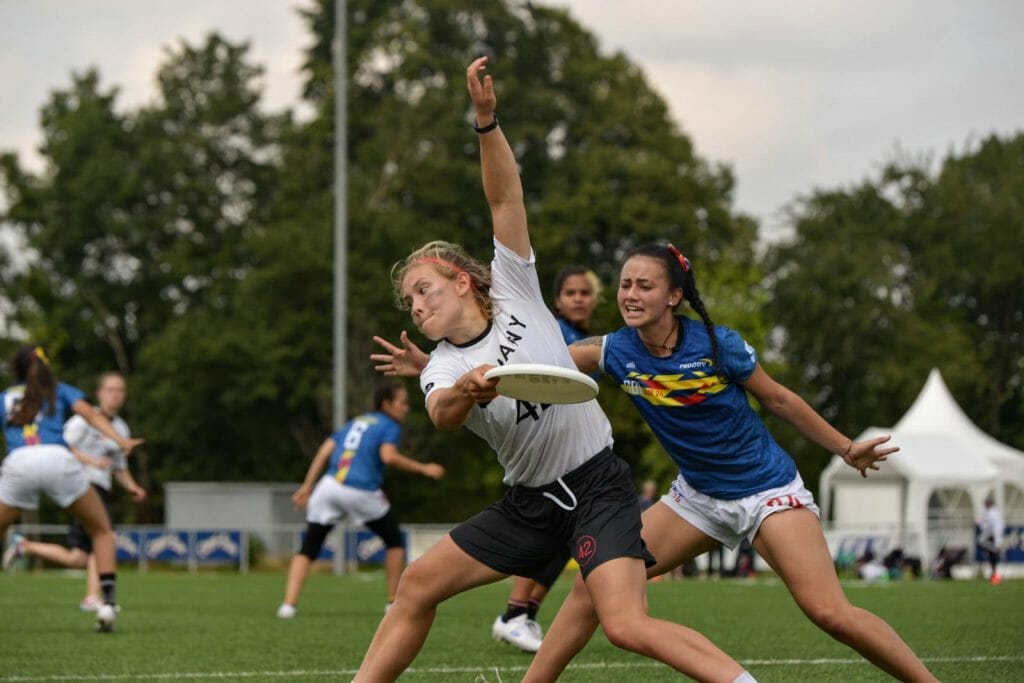 Ultiworld's coverage of the World U24 Championships is presented by VC Lookfly; all opinions are those of the author. Please support the brands that make Ultiworld possible and shop at VC Lookfly!
HEIDELBERG, GER — The morning games on Day 2 of the U24 World Championships were pushed back by one and a half hours due to issues with the medical staff, creating some chaos and a lot of uncertainty for teams. So what to do when your games are delayed for an unknown amount of time? The Colombians started their day with a dance battle, garnering some big attention. Even the German television broadcaster (ZDF) documented some of their moves. Since play did start eventually, no winner was officially chosen.
As for competitions where winners were recorded, here are the results from the day.
Pool A: USA, Colombia, New Zealand, Germany, Switzerland, Belgium
As many have predicted before the tournament, USA and Colombia have turned out to be the clear top teams of this pool. While the US is spreading their scores and working with their great depth, Colombia is very much relying on their stars, Manuela and Valeria Cardenas. The twins have been involved in 34 out of the 44 scored points Colombia has on their board so far. The key to a USA victory tomorrow will be containing these two play makers for the Colombian women's team. Even though both USA and Colombia have locked up their power pool spots, this game will still matter as it will be carried into the power pool and could have implications for semifinal qualification and placement.
Below these two power houses, Germany, New Zealand and Switzerland are lining up. All of these teams still have a chance to get that final place in the power pools if they win their games tomorrow. If New Zealand win their game against Germany, we will see a three way tie in the pool. Switzerland won against New Zealand with a score of 15-11 and Germany had a 15-8 win against Switzerland. So figuring out which of these three teams will join the USA and Colombia in the power pool will be decided by tomorrow afternoon and anything can still happen at this point. Belgium is taking on Switzerland tomorrow morning in a live streamed game and is trying to get their first win in. They no longer have a shot at the power pools.
Pool B: Canada, Australia, Japan, Great Britain, Italy, Ireland
Japan has already guaranteed themselves a spot at the top of the pool. Canada is set to be in second place, followed by Italy, if everything goes as planned for the teams last pool play games tomorrow. Ireland and Australia played out their game for fifth place in the pool today, which came down to a very spicy double game point win for Ireland, 15-14. According to first time national team coach Sarah Melvin, the Irish women did not have the best start into the tournament, but managed to find their rhythm during the games today. Ireland had some great moments in their game against the Canadian team, but they did not manage to keep up the pressure for long enough to trouble Canada. The Canadian squad is still working out the right connections and relying on their athleticism a lot, but they have been looking better every game.
As well as with Ireland, Canada matched up with Great Britain today, winning this game 15-3. Canada had a fantastic game and looked very good against the windy conditions. GB did not have their best game and were pressured by the Canadian defense a lot. Whenever they had the disc, they went for an immediate huck and struggled with patience. There was not much that even the GB playmaker, Rupal Ghelani, could have done to prevent the Canadians from taking this game very quickly.
Outlook for Tuesday
We are one step closer to power pools. USA, Colombia, Japan and Canada have all locked up their spots. The last spot in each pool is still up for grabs though Italy and Germany are currently favorites to advance. Tomorrow will see the final pool play games and power pools will start on Wednesday.