Only six teams are still fighting for medals!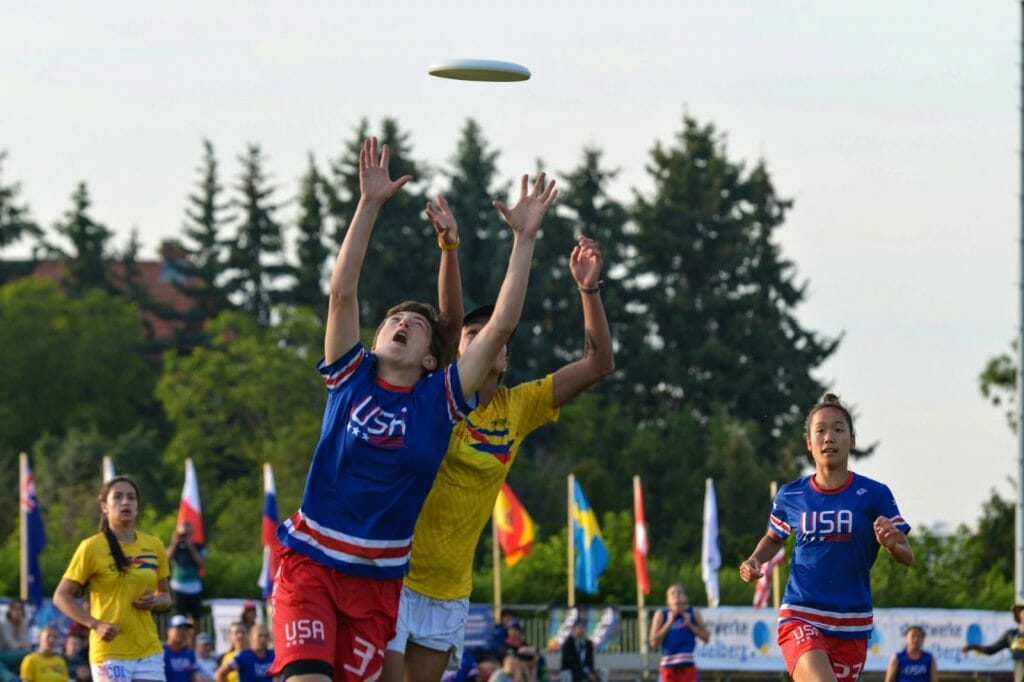 Ultiworld's coverage of the World U24 Championships is presented by VC Lookfly; all opinions are those of the author. Please support the brands that make Ultiworld possible and shop at VC Lookfly!
HEIDELBERG, GER —
Day three is done and with it the pool play of the women's division. There have been ups and downs during games, but the majority of games have been quite decisive. Throughout all of pool play there was only one double game point game between Japan and Canada on day one.  Even the game a lot of people have very much been looking forward to – USA against Colombia – went to USA with a five point margin.
Pool A: USA, Colombia, New Zealand, Germany, Switzerland, Belgium


USA vs Colombia
The game to watch chosen by the tournament organizers was a great preview of what we will be able to see in terms of intensity in power pools and bracket play. USA took this game 15-10 over the Colombians. Up until this point, neither team had been tested. Both teams very much wanted to win and did everything to do so. The game started out with a break from USA, who managed to put on a lot of pressure with their match defense. Colombia used a great 1-3-3 zone look to slow down the US offense, which worked to great effect. Throughout the whole game, the Colombian D-line looked for poaches and did a very good job in switching off the US players. Although there were a couple of turns and a lot of rushed plays during this game, the USA managed to keep their system in mind and according to their head coach Nancy Sun, whenever their system was played, they scored. She was very happy about her team's performance, but they are still always improving and still looking for the perfect game. On the Colombian side, Manuela Cardenas mentioned how happy the Colombian women are about being able to play such high level and match up with such a great opponent. Cardenas also talked about how they made some mistakes and will work to improve that but are happy about the way the game worked out in the end.
Germany vs New Zealand
Germany and New Zealand matched up for their game to claim the third place in the pool and the last ticket to the power pools. Germany took that with a rather big margin, 15-9. Germany had a very strong start into the game, taking half 8-2. They put up a lot of pressure with their intense zone defense and managed to get up early. German Coaches Ellen Jakobsen and Brandt talked about just playing their system until the end, which worked out well most of the game. New Zealand would have needed an advantage of six points to get out on top for this pool, and it seemed like as soon as the score hit 10-4 and their spot was secured, Germany let New Zealand get a comeback. The New Zealand D line scored three breaks in a row and the game got very intense with a lot of contested points and close defensive pressure. It was just not enough for New Zealand to trouble Germany. New Zealand coach Eva Weatherall pointed out that the slow start of her team had caused them a game against Switzerland before, and that was partly what had happened again. By the time the team was concentrated and committed to the game, the Germans had already taken over control. The game was never very close, but it was a very intense game to watch with some amazing bids and great demonstration of athleticism.
Pool B: Canada, Australia, Japan, Great Britain, Italy, Ireland

Ireland vs Italy
The game between Ireland and Italy was a very contested all the way, although Italy managed to end it in their favor with a score of 15-10. Neither team managed to get a clean offensive hold throughout the course of the game. There were many multiple turnover points and neither team seemed to get a significant lead until 10-10. At this point, Italy turned up their pressure and managed to convert on their defenses just a little better than Ireland. There were a lot of Italian bodies flying around to get a hold on the Irish discs. In the end Italy got the advantage. According to Irish Coach Sarah Melvin, Italy simply played better during the last phase of the game and connected on some great shots. According to Italian player Elinora Gatti the team had some trouble adjusting to the Irish defense, but in the second half changed some small things to make it a clearer result in their favor.
New pools are set
Power Pool C


The Power Pool C for the women's division brings in USA, Colombia and Germany from Pool A and Japan, Canada and Italy from Pool B. As teams are already taking games with them into power pools, USA and Japan already carry on two wins, Colombia and Canada have one win and one loss each and Germany and Italy come into the game with two losses against their pool opponents. After all the crossover games between the teams from Pool A and Pool B, the four teams topping the power pool will move to semifinals.
Lower Pool D


For the lower pool Switzerland New Zealand and Belgium, Great Britain, Ireland and Australia are still fighting for one of the top two spots in order to make the 5-8 bracket. Switzerland and Great Britain currently have an advantage since they carry over two wins, but the pool is far from decided.