A look at each of this weekend's three playoff matchups!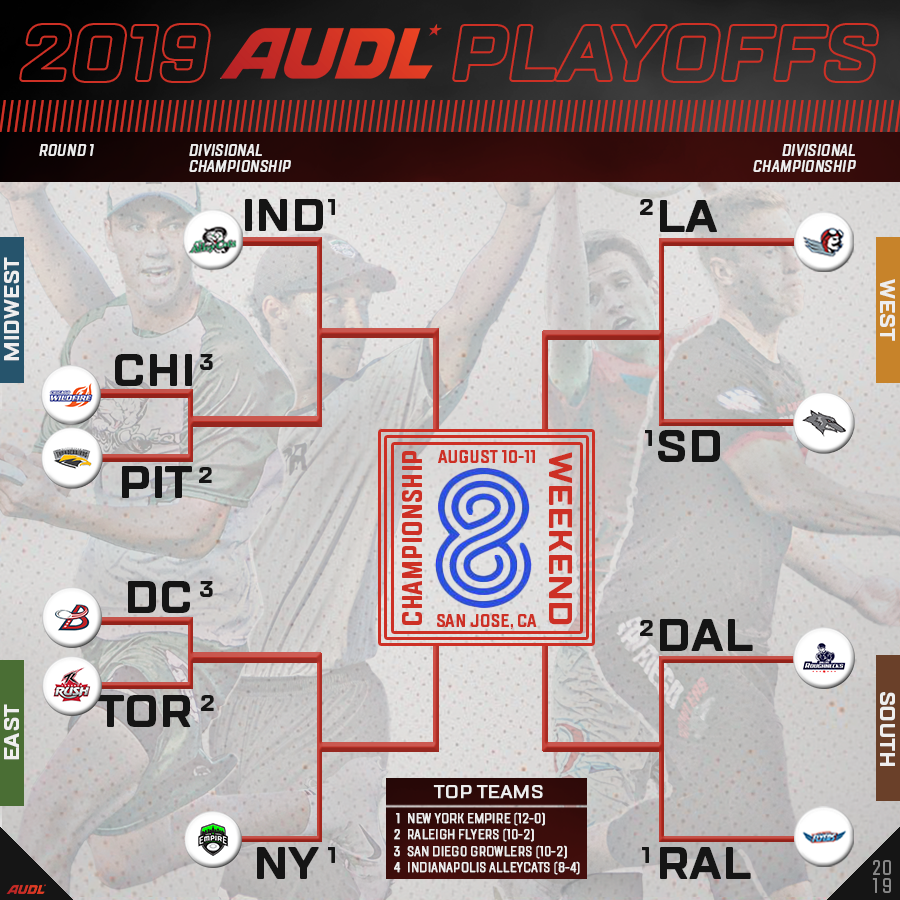 Throughout this AUDL season, Ultiworld will be publishing a weekly Throwaround, a chance for you to catch up on the amazing, funny, and interesting moments that you might have missed from the weekend's games.
This week's edition is our Playoff Preview! We break down each of this weekend's three playoff matchups.
The Scores
Pittsburgh 29-16 Chicago
Philadelphia 19-20 Ottawa
Tampa Bay 24-25 Raleigh
Detroit 9-33 Madison
Philadelphia 21-20 Montreal
Pittsburgh 25-17 Indianapolis
Los Angeles Aviators at San Diego Growlers
For the second consecutive season, the San Diego Growlers and Los Angeles Aviators will meet in the playoffs to decide who will represent the West division at AUDL Championship Weekend. San Diego won the season series 3-1, but Los Angeles has been on a tear as of late, winning their last four games (and with a 58-37 margin over the last two games).
Los Angeles started the season #17 in the Ultiworld Power Rankings, but could vault their way into the top four with a win this weekend. Youth and growth has been the story for the Aviators. Early this season, teenage rookie Daniel Landesman stood out, impressing fans with his calm demeanor and ability to find the end zone. Aaron Weaver nearly retired before the season, but instead put together an All-Star campaign as a captain and found a new role playing primarily on offense. This is not the same Aviators team that barnstormed through the regular season and represented the West at Championship Weekend last year. However, their steady growth over the course of the season gives reason to believe that Los Angeles could repeat.
Though Los Angeles lost their opener, the Aviators stormed back to take four straight and challenge San Diego for the division lead. The Growlers won the first three meetings against Los Angeles, but those account for the Aviators' only losses this season. Twice this season Los Angeles has put up 30+ points and has outscored their opponents by a comfortable three goals per game.
The Aviators have impact players all over their roster, but if they want to beat San Diego again, they'll need a few stars to have their best games. Colombian import Joc Jimenez burst on to the scene, leading the team with 39 goals and functioning as an emotional touchstone for the team in moments when they needed a lift. Sean McDougall has continued to round out his game, leading the team in assists and becoming a key release value for the offense. Rookie Calvin Brown joined the team in June after the college season ended, but has slotted right onto the O-line to give the Aviators another weapon in the backfield to navigate a tough Growlers defense.
The Aviators ended their season strong, finally figuring out how to beat the Growlers. It is one thing to do it in the dog days of the regular season, but will be more difficult to replicate that success in the playoffs.
Since their opening night win over the Aviators, the Growlers have kept a wire-to-wire lead over the division. With a high-flying offense and improving defense, San Diego looks to have everything they needs to make it to Championship Weekend for the first time in team history. The Growlers have perhaps the most fearsome cutting quartet in the country featuring MVP candidate Travis Dunn, who finished fifth in the league in plus/minus; Sean Ham, who finished sixth in the league in goals scored despite playing only in 10 games; Jesse Cohen, a hybrid offensive talent who can score at will; and Goose Helton, the two-time league MVP in his first season on the west coast. Stopping this group will take a gargantuan effort from the Aviators' defense.
Supplementing their offensive core is a cast of homegrown athletes who have, over the past few years, developed into a cohesive and strong team. Max Hume and Sam Fontaine have led the D-line this season, keeping possession after a turnover and notching important breaks. Wes Groth and Tim Okita have stepped up in the offensive backfield as facilitators, though don't be surprised to see Groth streaking deep out of a handler set–he is third on the team in goals scored behind Ham and Dunn. Players like Steven Milardovich, Dom Leggio, and Scott Radlauer can play on both sides of the disc and fill multiple roles in the Growlers' system.
This is the most complete San Diego team we have seen yet, and it is no surprise to see the success they had this season. While piling up wins and appearing dominant is nice for the record books, their season will come down to this weekend's game against Los Angeles and their performance at Championship Weekend.
How Los Angeles Could Win
Los Angeles first needs to be patient with the disc. The Growlers like to throw out junk looks and zones to get in the heads of opposing offenses and scare them into risky decisions. The Aviators have seen this zone develop over the past few seasons and have proven that they can get around it, but will need a team commitment to patience and smart disc movement to avoid costly and unforced turnovers.
On defense, anything they can think of to slow down the San Diego attack will be useful. The primary objective will be to stretch out points by shutting down the deep space. Any of the San Diego cutters can get open and score in one throw, and it is up to the Aviators' defense to limit those easy scoring opportunities. The Growlers are at their best when setting up a side stack to highlight isolation cutters; forcing San Diego to grind up the field and use more than a few throws could change the rhythm of the game and help the Aviators take control.
How San Diego Could Win
San Diego needs to play their normal game — they're is the favorite after all. That is the short answer. If the Growlers can isolate Dunn and Helton early in points to take advantage of both their athleticism and their throwing prowess, the Growlers' offense should be reasonably confident they can outscore Los Angeles.
On defense, the Growlers need to bring pressure to the Los Angeles handlers, especially while in a junk look. Brown, McDougall, and Weaver are all skilled throwers, but have all stepped into new roles this season and could become uncomfortable with loads of pressure in an important game. Forcing the Aviators to take early or speculative shots could gift San Diego a few turnovers.
Bottom Line
San Diego looks to be the more talented team on paper, but Los Angeles has been improving consistently throughout the season. If Los Angeles can navigate the Growlers defense and provide some pressure of their own, they have a good chance at advancing. If San Diego's cutters are able to dictate the offensive pace and the Growlers defense clamps down, I'd expect a first time participant at Championship Weekend.
The game can be watched live on Saturday, July 20 at 10:00 PM/ET on Stadium.
Alex Rubin
Washington DC Breeze vs. Toronto Rush
Who's ready for a grudge match? DC and Toronto will face off for the third time this season in the East Division semifinal after splitting the regular season series. Both teams won the home game of their two meetings. Now home field advantage is removed from the equation as the two teams will play on a neutral site field Saturday night in New York, with the winner moving on to take on the Empire.
The neutral site is certainly a significant aspect of this contest. Breeze coach Darryl Stanley pointed out that DC has never beaten Toronto north of the border. That was never more apparent than in the most recent matchup between these two sides. Toronto cruised to an easy victory to close out the regular season, 26-21. It is worth noting that DC was without several of its top playmakers as Cody Johnston, Jeff Wodatch, Max Cassel, and Garrett Braun all missed the game. That quartet has combined for 66 assists and 65 goals this season. While the Breeze still had Rowan McDonnell and Nate Prior, the offense struggled missing so many key contributors.
For the Rush, the defense played about as well as it had all season. There have certainly been times this year that Toronto has struggled to come up with crucial blocks, but they managed to force 21 DC turnovers in the contest. The unit should get a boost with the return of Brett Tan this time around. If Toronto's defense plays at the same level again, this could one of the toughest teams to beat in the league. It would add that element of grittiness this team has seemed to lack in close games.
How Washington DC Could Win
There needs to be a much higher level of consistency from the DC offense. They turned the disc over a lot against Toronto. It is likely that returning a good chunk of their offensive starters will resolve that issue. This team possesses a distinct blend of veteran leadership with young talent. The older guard is going to need to mentally prepare everyone involved so that the Breeze avoid a repeat performance of their final regular season outing.
How Toronto Can Win
The Rush have struggled this year in tight games. In fact, Toronto is 1-3 in games decided by two goals or less this season. The lone win was against Ottawa in a game the Outlaws choked away in the final minutes. One of those three losses came in DC, as well, in a game Toronto had control of late in the fourth quarter before allowing the Breeze to take over. The Rush are capable of winning comfortably and might need to build a bigger lead than most would expect to see this through. Otherwise, they could be at risk of dropping another close contest.
Bottom Line
This final meeting of the season for these two sides should be tighter this time around, with no home field advantage and DC having a near full strength roster. Keep in mind the first time these two teams played, it was a one-goal thriller. However, the X-factor here will not be on the field, but on the sideline. Peter Mancini will be coaching the Breeze as Darryl Stanley continues to coach Team USA at the World U-24 Ultimate Championships. Mancini was the architect behind DC's earlier win over Toronto, but it will be interesting to see how the chess match changes knowing this is an elimination game.
Chris McGlynn
Chicago Wildfire at Pittsburgh Thunderbirds
Last Saturday, the Pittsburgh Thunderbirds traveled to Chicago with their playoff lives on the line. A win would notch them a spot in the playoffs, and they got just that – a convincing 29-16 win over the Wildfire. Now, just a week later, the Thunderbirds are set to run it back, with an opening round playoff game against Chicago, this time on their home turf.
In both of their matchups this the season, the Pittsburgh Thunderbirds came up victorious. A 21-18 win in May, and last week's 13 point drubbing of a relatively depleted Chicago roster.
Both Chicago and Pittsburgh have shown flashes of brilliance throughout the regular season. After an 0-3 start, Pittsburgh went on a five-game winning streak, which was bookended by losses to the Indianapolis Alleycats. Chicago, with a new look team featuring standout stars like Matt Rehder, the return of Von Alanguilan, and a handful of others stepping into the Chicago ultimate scene, brought a level of athleticism to the Midwest that was tough to compete with.
Pittsburgh traditionally runs through a handful of high level players. Max Sheppard, Thomas Edmonds, Mark Federenko, and Alex Thomas do a lot of the heavy lifting for the Thunderbirds, as they move the disc with a fast-paced offense that can put up scores in a hurry. Sheppard has become a proven star throughout this season, becoming just the fifth player in league history to join the 50/50 club, with 57 goals and 55 assists on the year. Edmonds has become a key cog in the Pittsburgh offense himself, sitting in seventh in the league in completions with 517.
Despite the talks of their offense, Pittsburgh has lockdown ability defensively as well. Perhaps some of it can be attributed to the sloppy weather that has been seen throughout the Midwest, but Pittsburgh finds themselves second in the league in points allowed per game at 18.92.
For Chicago, Pawel Janas has proven to be an MVP candidate over the past several years. During the 2019 campaign, Janas tied for the league lead in assists with 69, while also leading the league in completions, with 627, and sitting in the top ten in plus/minus. Janas did all of this while still sitting out one of Chicago's games this season.
Janas can't do it alone, though, and he's surrounded by a handful of standouts. Matt Rehder has long been a top-tier player in ultimate, possessing size and athleticism that's hard to match up with. Drew Swanson burst onto the scene with his unique ability to garner blocks, picking up 22 on the season, and the Wildfire also added Von Alanguilan, an outstanding defender in his own right, to the mix.
How Pittsburgh Could Win
The athletic Thunderbirds have home field advantage, the 2-0 series lead, and are coming off a huge weekend. They've got all the momentum, and seizing the early energy advantage could allow them to jump out ahead of the Wildfire. In both of their victories over Chicago, Pittsburgh has put together big runs that separated the two teams. With the home crowd behind them, another one of those could be the finishing blow.
Sheppard and Edmonds deliverd subpar efforts in the team's first victory over Chicago, buoyed by the play of Sam VanDusen and the Pittsburgh D-line. That should give them confidence to play loose and confident, rather than forcing the disc and getting careless. The playmaking ability of the Chicago defense will punish them if they aren't dialed in.
How Chicago Could Win
For any team to beat Pittsburgh, they have to figure out how to shut down their top-end talent. It seems as though time and time again, Pittsburgh is able to find players like Edmonds and Federenko on reset cuts, while Max Sheppard has the uncanny ability to get open deep. If any team is loaded with the athleticism and defensive ability to slow down the fast-paced Thunderbirds offense, it has to be the Chicago Wildfire. With a number of bodies that can be effectively thrown at Max Sheppard and the rest of the Pittsburgh O-line, Chicago can work to find the right matchup, and keep fresh legs on the field.
Chicago also needs to be able to win back the disc after turnovers. Rehder and Janas combined for six turnovers in their earlier matchup against the Thunderbirds, and many of those turned into Pittsburgh breaks. The Wildfire may miss some shots, but they can't afford to give up the type of runs that buried them the previous two contests.
Bottom Line
Expect to see a tight game, with few turnovers, as both Chicago and Pittsburgh sit tied for fourth in the league with a completion percentage of 94.60%. Chicago is the type of team that will make opponents pay for their turnovers, ranking highly in defensive efficiency, but the matchup with Pittsburgh won't give them many chances to take advantage of their post-turnover firepower. It will be a battle between two teams who look to move on to the Midwest Divisional Championship. The winner will travel to Indianapolis, to take on the awaiting Alleycats July 27th.
Zakk Mabrey & Keith Raynor
Betting Lines
San Diego -1.5 vs. Los Angeles
Pittsburgh -2 vs. Chicago
Toronto -1 vs. Washington DC