We're to the final four! USA, Singapore, Japan and Latvia!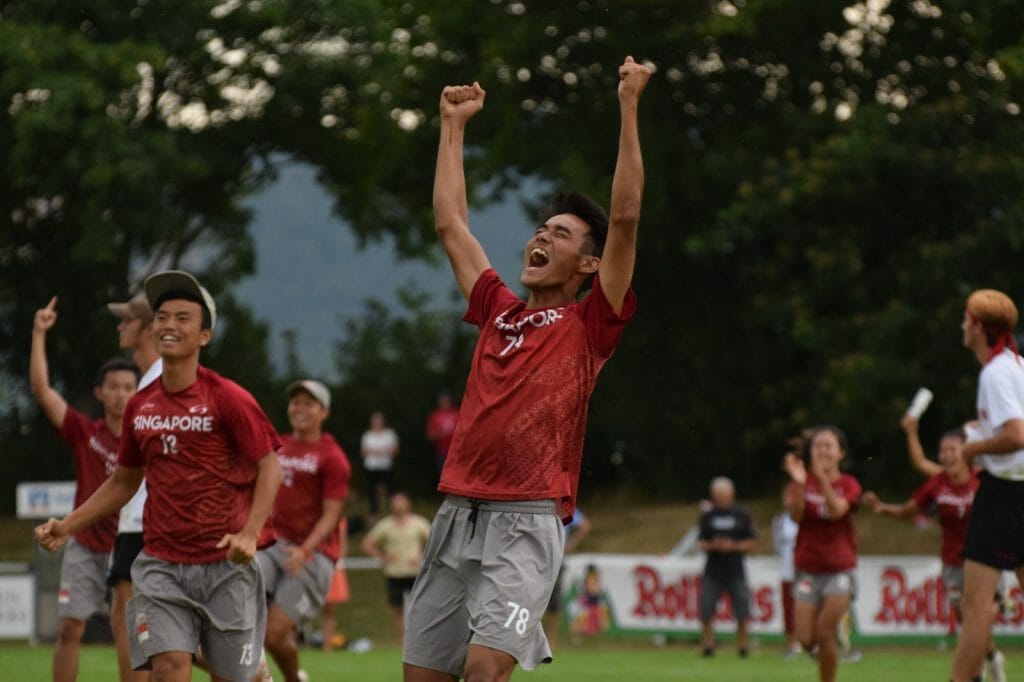 Ultiworld's coverage of the World U24 Championships is presented by VC Lookfly; all opinions are those of the author. Please support the brands that make Ultiworld possible and shop at VC Lookfly!
HEIDELBERG, GER —More drama took place in the mixed division. In the game between Australia and Sweden a rules curiosity stopped Sweden's comeback train and led to Australia taking the last spot in the quarter finals. Quarterfinal rounds also played out today and saw Latvia and Singapore reaching semis for the first time at a World event.
Pool E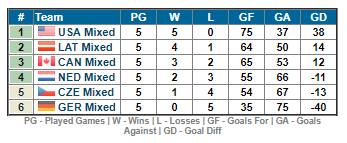 There were no surprises in the last round in Pool E. USA beat the Czech Republic 15-8 in a game without any consequences. Canada had a better showing then they had yesterday against Latvia and secured the third place in the power pool by defeating the Netherlands. Latvia dominated the first half against Germany and took down another big ultimate nation by winning 15-11.
Pool F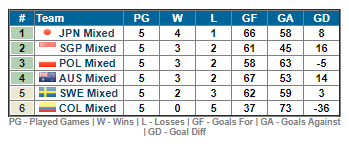 In the last round in Pool F there was a lot more on the line. Singapore needed a win against Colombia to get to quarter finals for sure. After a bumpy start and Colombia going up a break, Singapore cruised to an 11-4 victory. Japan and Poland were battling for first place in this power pool. Poland had the better start. They were using a lot of blady high arching throws to elude Japan's zone defense. They used the height advantage of their men to keep possession a lot. Poland even went up a break after a miscue by Japan's handling. Takumi Okubo got a block for Japan's zone defense to set up a Break to make it 4-4. From this point on Japan was in control. They made adjustments to their zone defense and had their women guard the deep space since Poland's men were always around the disc. Japan pulled away 10-6 and never looked back closing the game out 15-10.
In a game that was essentially a pre-quarter, Australia and Sweden knew only the winner would proceed to bracket play. Sweden started with a break but Australia fought back immediately and took the lead 6-3. Jonatan Angergård, who had six assists in the game, was a major factor that Sweden could steady the ship and get back a break before Australia took half 8-6.
Both teams were playing a lot of zone defense in still wind conditions. Sweden used their indoor throwing experience and threw lots of hammers. Australia criss crossed through Sweden's zone. Australia cranked up intensity at the beginning of the second half and converted Sweden's turns to score three breaks in a row.
Australia seemed to be very sure that they would not let Sweden come back into the game, and when Sweden scored on another hammer to make it 12-8, the Australians on the field were cheering louder then the Swedes. Sweden was not impressed and stacked their lines. They managed to get two breaks in a row within a very short time and Australia took a timeout to calm things down.
When Australia was not ready in time after the third whistle, Sweden called a time violation. They were of the opinion that they had already called one in the first half and that Australia should start the point from the middle of their endzone. Australia understood the talk about time limits in the first half as a warning and this communication error lead to a lengthy discussion. Eventually a spirit time out was called and coaches, spirit captains and scorekeepers going to the rule book for answers.
In the end there were no consequences. Australia contested the time violation penalty and scored with ease to make it 14-11. Sweden's momentum was stopped and Australia took the last place in quarters. Australia's coach Max Halden said after the game, "It is a pity that such an obscure rules discussion played into the final phase of such an important game."
Quarter finals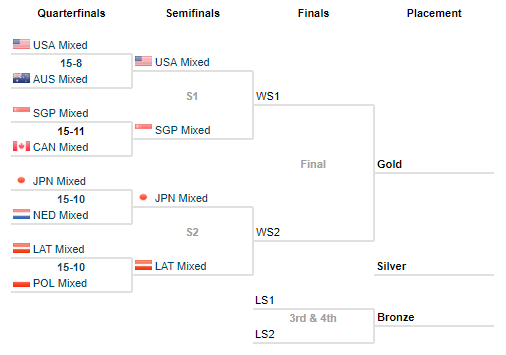 USA vs. Australia
Unbeaten team USA met Australia, a team that was coming into form at the right time and was full of confidence after a win against Japan in power pools.
Australia managed to get the first break but USA was really fired up after a monster layout catch by Anne Worth on a Joseph White deep shot. Both teams threw caution overboard which lead to a wild point with lots of turns. The US kept the upper hand and added another break immediately. Australia's defense was still able to cause trouble and got turns such as a Holly Reeve hand block but could not capitalize. USA took half 8-5 and added some more breaks to make it 11-6. The conversion rate of the US defense got better and Australia had trouble to get to the endzone without turning it over. Australian coach Halden attributed the offensive problems to clever poaches and to team USA backing the Australian ladies. Kya Wiya did a lot to keep Australia in the game. She was involved in all three of the Aussies second half scores. Wiya's team kept their heads up and battled until the end but were outclassed by the US who won 15-8.
Singapore vs. Canada
After a very disappointing Wednesday, Singapore was missing some injured key contributors, but they were confident before their game against Canada. Coach Benjamin Ho of Singapore said before the game, "We are used to playing the North American style, we even had a preparation game against the USA. It will be interesting how Canada can deal with our zone."
Canada did not deal well with it at all in the beginning turning the disc over on risky passes. In typical fashion for this Singapore team they punished these mistakes and got two breaks right away. Canada had one chance to get a break back but they turned it over and Singapore seldom offers second chances. At 4-2 for Singapore there was a collision between Syasya Syafiqah Binte Roslee, who was playing in the cup, and a Canadian player which led to 20 minute plus break in action because EMTs had to be called onto the field.
Singapore dealt well with the situation capitalizing on a deep shot that did not connect for Canada. Raphael Soh went for every other disc and Singapore worked it up the whole field for another break. Canada seemed to be rattled by the long break they turned it over on the first throw on the very next point but Julia Zhou got the disc back with a hand block and Canada managed to hold. Singapore's offense was flawless in this phase and their defense was able to convert at a very high rate. Soh perfect huck led to another break for Singapore making it 7-3.
After halftime Canada showed a different face. They got some layout blocks and were able to convert to get back into the game making it 9-8 to Singapore. Canada kept up the pressure with a beautiful sky in the endzone by Nigel Lendsay to make it 10-9.
Singapore's ability to advance the disc with their handlers with hardly any unforced errors was on display the whole game. On defense their zone, with 3 small but very agile and aggressive women fronting the person with the disc, frustrated Canada. Weiyun Chloe Ng was often the center of this tireless wall. Singapore got their first break of the second half when Canada had another unforced error and Singapore worked it into the endzone to make it 12-9.
At 13-10 Canada turned the disc over on an ill advised deep shot against the zone but when Singapore's flow got stopped by a stoppage the teams recognized a gender mismatch so the point had to be restarted. These gender mismatches are a regular occurrence at the tournament no matter if the games have game advisers like this one or not.
After the re-pull Canada's team made the very same ill advised shot to the endzone again which was a metaphor for their performance in this quarter final. They managed to hold, nevertheless, and even forced a turnover on Singapore's next possession and had a chance to make it 13-12. They could not convert this chance and at 14-11, Singapore converted their 4th possession for the win 15-11. Canadian coach Kathrin "Kpoh" Pohran commented after the game, "We expected a very efficient offense from Singapore with very good throwers and versatile sets. Our team's execution was just not good enough to win the game. "
Singapore's coach Benjamin Ho was more then happy after the game: "I am very proud of the team. This was probably their best game of their lives up until this point. They had the trust in each other: belief and faith which made this win possible. We are happy that we have so much support from home where a lot of people watched live on a Facebook stream. We want to bring back to Singapore the confidence that we can stand shoulder to shoulder with the big ultimate nations."
Japan vs. The Netherlands
After the dramatic end to the initial pool phase everything must feel like a bonus for the Dutch team. Before the game, Japan's coach Ito Yuma commented, "In the first days we were tired but we are rested now and we are looking forward to any challenge."
The Netherlands scored clean and were able to pressure Japan on their first offense by clogging the middle of the field. The Dutch got a chance for a break right away but on their pass to the endzone a foul was called and Japan managed to get the disc back and hold to make it 1-1. Japan's zone defense flustered the Netherlands little bit in the next points. Japan shut down all downfield options, leaving the player with the disc unmarked from time to time. Koh Nakamoto was racking up assists for Japan's D-line. Japan was very efficient after the Dutch turned it over, often after getting a little impatient. Japan was in total control with an early 7-3 lead but the Netherlands clawed their way back into the game with a three-point scoring run. The Netherlands' defensive intensity was definitely there but they needed several chances to convert breaks.
The Netherlands started the second half with another break after they got the disc via handblock. Defensive pressure kept rising but Hikari Sato made the play of the game by out jumping Lola Dam in the endzone to make it 9-7. Japan kept on backing all Dutch players and took away their favorite option: putting it up to their athletes. Coach Leo Sonneveldt told about the Japanese defense, "They did a very good job of seemingly offering up space but shutting this space down quickly." She added, "I was very satisfied with how my team reacted in halftime to the challenge presented to them. They knew that they had to work for each other and work with each other to have a chance against this Japanese team."
The Netherlands were still able to pressure Japan from time to time but Japan seemed to always find a way out. To make it 13-9 the Japanese put up a big huck to the breakside seemingly to no one but it was placed perfectly so only the offense had a play on the disc. In the end Nobumasa Ohashi caught the point with a beautiful layout. After Anniek Leinenga caught a beautiful huck and hit Walt Jansen in the endzone, the Netherlands made their last stand. The Dutch defensive pressure forced Japan to turn it over three times but Japan always got it back and managed to convert after a timeout. Japan closed out the game with another break 15-10.
Latvia vs. Poland
In a somewhat surprising quarter final Poland met Latvia. Latvia scored huge upsets with their small roster and no one living outside of Poland was predicting Poland to do this well before the tournament.
Poland had to risk a lot on offense from the start of the game. They got lucky with some deflections and bobbled catches and were able to stay in the game until 4-4. Latvia's offense is a well oiled machine, they were preserving energy by timing their cuts perfectly. Latvia pulled away before half 8-5 and added to the lead one more break to make it 10-5. After this point both teams were able to hold. Latvia was not bothering with too many passes anymore as Arvīds Orlovskis and Jānis Bernāns alternated in hucking it to each other.
Latvia had another very good performance on defense. Toms Ābeltiņš and Didzis Malderis made life very hard for polish standouts Maciej Pająk and Kacper Krasucki. The stars in this team though are their six active women: Helēna Dreimane, Katrīna Ance Gasiņa, Kristiāna Kazakupča, Kristīne Gūtmane, Undīne Vektere and Santa Siņica. Even late in the game they were able to control the Polish women.
Siņica told me how only six women can manage, "We are switching, helping each other out, sometimes the defense breaks down but teamwork makes the dream work." Latvia jokes that they came here to get gold, but are sounding more serious from day to day.
Semi finals
USA is facing Singapore. If they turn it over like Canada did, USA will run into trouble. For Singapore, another perfect performance will be necessary to overcome the only unbeaten team in the tournament. Latvia got some advice from Australian coaches on the sidelines today for their match-up against Japan tomorrow. They know how to beat Japan and Latvia seems to be on a roll. It will be very interesting what the Japanese coaching cooks up to stop Latvia's deadly connections.