The top four jockey for position heading into the semifinals.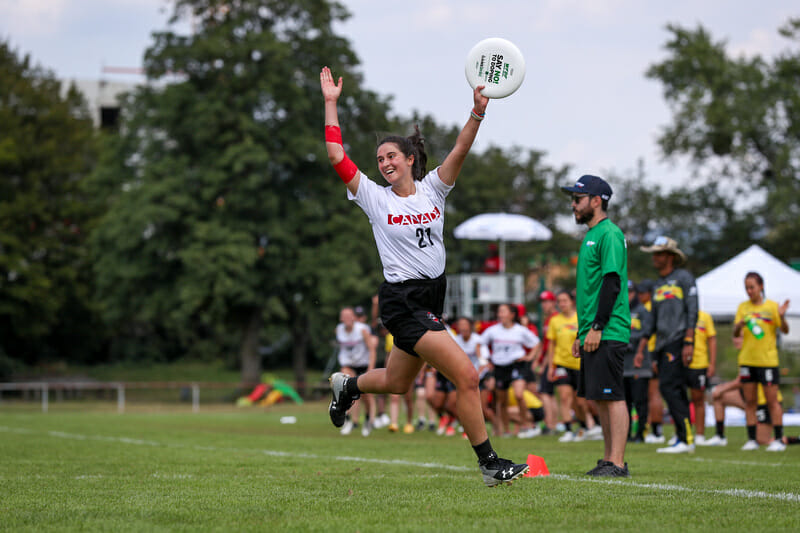 Ultiworld's coverage of the World U24 Championships is presented by VC Lookfly; all opinions are those of the author. Please support the brands that make Ultiworld possible and shop at VC Lookfly!
HEIDELBERG, GER — On day five of the tournament, the focus was on two matches in the power pools, as the four top teams matched up with one another to determine their semifinal opponents. As had already been decided yesterday, USA, Japan, Canada, and Colombia are headed to the semifinals. Based on Thursday's results, here's how the Power Pool shook out and what it means for the bracket.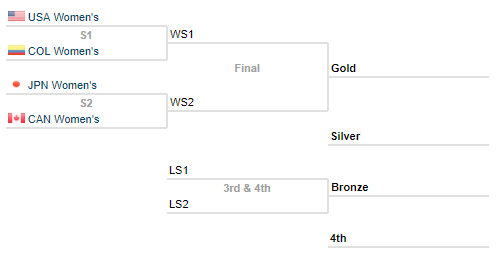 USA will match up against Colombia again, a rematch from pool play. Japan and Canada are also set to compete fr the second time this week, as they played against each other during the early stages of the tournament. By now, every combination of a final match up has been seen before, since there only was one power pool. Judging by the results seen there, USA is a clear favorite for gold, which is not very surprising given their history.
USA vs. Japan
USA got the better of Japan 15-12 to finish atop Pool C. This game for first place in the power pool was – according to the coaches – played with the same mindset as every other game, with the same systems and same lines, despite the raised stakes. Japan started the game with some great intensity and a lot of pressure, connecting on many of their unique throws. They managed to get two breaks early in the half, due to some errant long shots by the US that did not come off the way their throwers intended. The Japanese defense did a great job of poaching off of their opponents to put more pressure on the US team.
The Americans, on the other hand, managed to clean up their game and play a great second half, after being down 8-6 at half time. They managed to break Japan a couple of times, partly due to their intense defense and concentration, but also because Japan seemed to have some miscommunications and inaccurate throws that they avoided in the first half. According to USA coach Jason Adams, his team just played their system and did that very well. They played their full squad and will do so throughout the whole tournament. If there will be a need of some tighter lines, they have a system for that as well, but are opting not to use it yet.
Canada vs. Colombia
Canada came out on top of their matchup with the South Americans, 15-13. Although the game was very close, Canada looked in control the whole time. They managed to get a couple of early breaks and held on to them until the end. The game was a great display of athleticism on both sides. The Canadian side looked like they had their matchups picked out very well and tried to contain the strong Colombian side.
Canada had looked a little unsteady while playing offense during this tournament so far, but in this game they did a great job in valuing the disc and also converting four breaks. Colombia had some great plays and showed off their typical high-energy mentality, but some of their star players already looked a little tired, which is understandable after nearly a week of playing high-level ultimate. One can only hope that their overnight recovery pays off so everyone can see the Colombian side at full strength tomorrow against the USA.