Japan and USA will meet in the final again!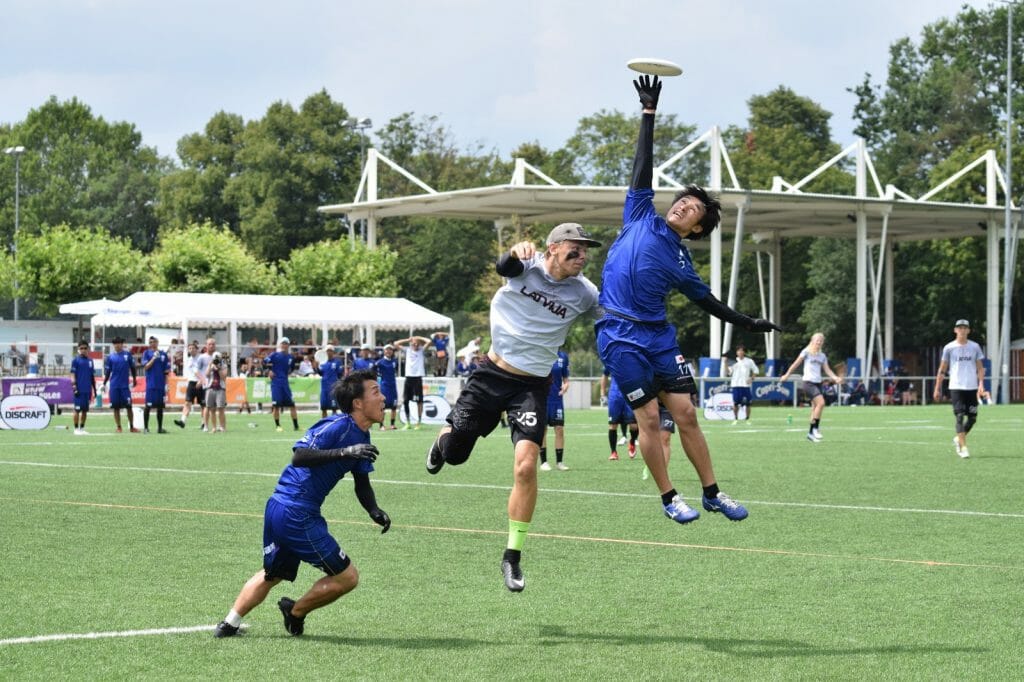 Ultiworld's coverage of the World U24 Championships is presented by VC Lookfly; all opinions are those of the author. Please support the brands that make Ultiworld possible and shop at VC Lookfly!
HEIDELBERG, GER — The final is set in the mixed division. The underdogs, Latvia and Singapore, came short of another shock upset and met in the third place game, where Singapore took bronze. In tomorrow's final, unbeaten USA will meet Japan in a rematch of the last WU24 Championships. The game in Perth in January 2018, ended 13-11 for USA.
Japan vs. Latvia
Japan came out in match defense for the first point and Latvia showed their typical style of offense. They left plenty of space deep for Jānis Bernāns when Arvīds Orlovskis got the disc and he put up a huck for his receiver to pull down in the end zone. After a Japanese hold, Latvia turned it over against a Japanese zone defense. They got it back and managed to hold and added the first break of the game. Japan's offense had a hard time finding open players with the disc on the sideline, so stall counts rose and turnovers happened. Both teams had trouble scoring on clean holds in the opening phase, so Japan got their break back. Risa Oe had a lot of playing time and was often involved in the scoring play, recording two first half assists and a goal.
Japan's zone often fell back to cover incoming cuts when Latvian females got the disc in handler space. This slowed down Latvia and led to turnovers. From time to time, Latvian players would feel the pressure when Japan switched it up and put lots of defenders close to the player with the disc. Latvia's answer to Japan's defensive schemes was to give Orlovskis every other disc and let him show off his versatile release points. When Japan's D-line would turn over the disc, Latvia put up a huck immediately to one of their tall guys before something could clog them down.
Latvia also got creative on defense. Their women switched and poached a lot to preserve energy, but during the end of the second half, Santa Siņica was matching up with Japanese male handlers. Latvia got their break back to end the first half on serve, 8-7 ahead.
The second half started with an Japanese hold and a series of errors that would cost the upstart Latvians the game. Orlovskis had an unforced drop and a casual scoober that was stopped by raised up hands of the Japanese cup. Two more throwaways and a perfect conversion by the Japanese defense led to five points in a row. That high point was a spectacular layout by Eisuke Tsujiko. Japan added another break to make it 14-9, putting the Latvians on the brink before an ambitious scoober by Siņica to Orlovskis fired them back up. Suddenly Japan had some unforced turnovers and Latvia found Didzis Malderis three times in the end zone for consecutive breaks in a furious comeback bid. Japan finally shook off their errors with a picture perfect huck from Yusuke Otake to Hikari Sato and won 15-13.
USA vs. Singapore
Singapore had a terrible start and went down 5-0 to an American team that was able to shut down their patented handler movement by being quick and agile enough to keep up with their opponents. "We met them in a preparation game and knew what they wanted to. Credit goes to my assistant coaches who came up with our defensive schemes," said US coach Mike Mackenzie after the win. After USA won the first half 8-2, Singapore managed to steady the ship a little, and lost in the end 15-6. The US scoring was impressively distributed, with the majority of the team earning individual scoring tallies.
Singapore coach Benjamin Ho praised his opponent: "Team USA has excellent athletes that made it hard to get open. The most problematic things for our offense were the American females poaching into spaces we wanted to attack and helping out on our deep shots often getting the defense on our men. The US did not get emotional like Canada did in quarters and were the more mature and seasoned team."
Bronze Match
Singapore earned a medal for the first time ever in world wide competitions by beating the other underdog team Latvia 15-12. Both teams did not play a clean game and the surplus of legs against 14 Latvians without any coaching staff might have been the deciding factor. "After more than a week of tiring and draining days of two games per day it is something special for us to reach the podium," said coach Ho with great pride.
Latvia's captain Jānis Bernāns explained the disappointment after the second loss of the day: "We are proud that we reached the top four in the world the very first time Latvia sent a team to this competition. We beat some big ultimate nations like Great Britain, Canada and Germany. Nevertheless we are not satisfied with today's results. It was hard for us showing the emotional reaction needed to come back from deficits when we only have 14 and a half players and basically never have a break during games."
Mixed Final
In the final, the two big favorites will meet at 13:00 Heidelberg time. Both coaching staffs are focused after impressive runs through the tournament.
"We are fired up for the final. The handful of players that played in Perth and me as the coach of the team back then are looking for revenge for 2018," said Japanese coach Ito Yuma.
"We used the time at the tournament to improve as a team, this was important since we had less time together then club or college teams would. We already know a lot about the opponents since Japan was a potential quarterfinals opponent and we are looking forward to the challenge," said Mackenzie of his club's preparation.