USA overpowers Japan with a strong first half surge!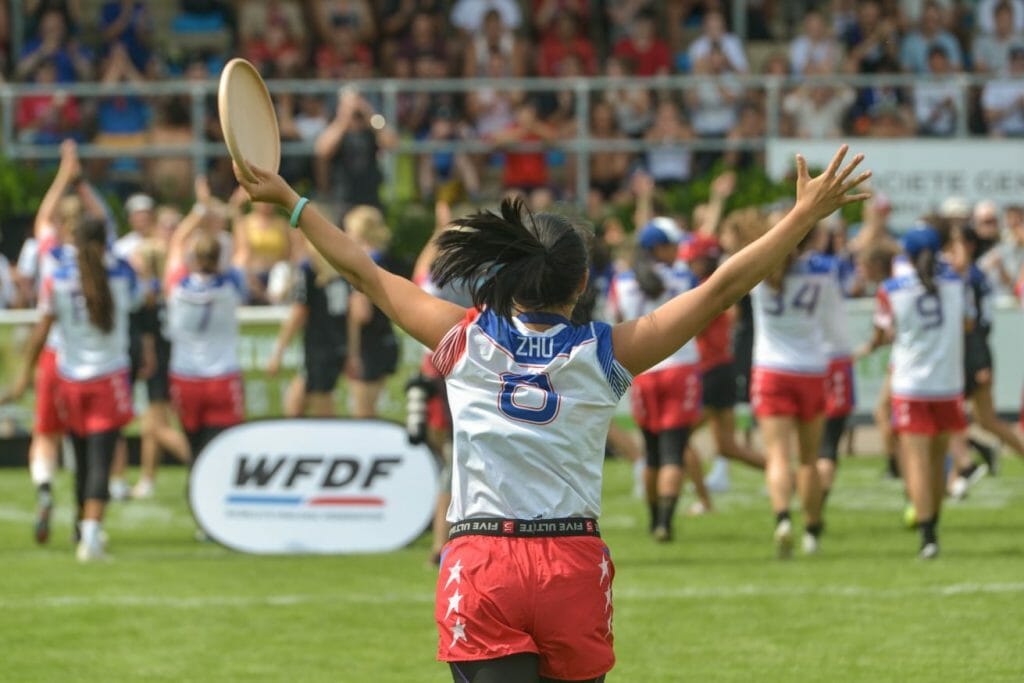 Ultiworld's coverage of the World U24 Championships is presented by VC Lookfly; all opinions are those of the author. Please support the brands that make Ultiworld possible and shop at VC Lookfly!
HEIDELBERG, GER — USA have done it again; they took gold with a 15-9 win over Japan. They went through the tournament undefeated and their closest game was their power pool matchup with Japan, where Japan were able to score 12. This power pool rematch was in USA's control all the way.
USA came out firing and managed to get two breaks early. They managed to contain the Japanese offense with their tight match defense, always staying tight and limiting the Japanese options. Japan looked shaken up at the beginning of the match. They simply did not connect on easy shots and had trouble with their system. After a couple of points, they did manage to find their flow back and go into a rhythm and scored three times. USA stepped up their defensive pressure once again with coming out in a zone setup. This payed off and USA took half 8-3.
Out of half, Japan managed to step up their defense. Japanese captain, Mika Yamauchi, said Japan changed their setup to put some more pressure on the US handler set. This payed off for the Japanese and they managed to get a couple of breaks back. Yamauchi says it was a lot of mental strength that won this game for the US squad, which her team lacked after giving up two breaks on their first two points. Although the team fought back strong, it was not enough. When Japan used their different defensive strategy after half time, the USA offensive line took a long time to get to mid field, but as soon as they were there, they worked with some very daring shots and connected on a lot of them. Both teams looked a little shaken now and then, as there were two multiple turnover points, but in the end the game got very clean and clinical.
USA coach, Jason Adams, talked about how his team had a great start and played with amazing intensity. Later in the game, once they saw how Japan used every opportunity they were given, USA cleaned up the game and won with great determination. When asked what the team will do to celebrate their victory, Adams said that all of the players had a very intense week and want to enjoy quality time with all their friends and family that came along to cheer for them and support them. Yamauchi, on the other hand, said that the Japanese team wants to look at the city, since they did not have any time to do that until now. Also the Japanese squad was looking forward to come together the night of the finals and celebrate after this very intense journey as a team.
This game sums up the women's division at WU24UC rather well. Throughout the week it was a very important factor for the teams to keep their mind set right and not be sloppy when pulling away. We saw some great comebacks and very intense fights from these young athletes, setting an example for women's ultimate in their home nations all over the world.