Who will take the final two spots in San Jose?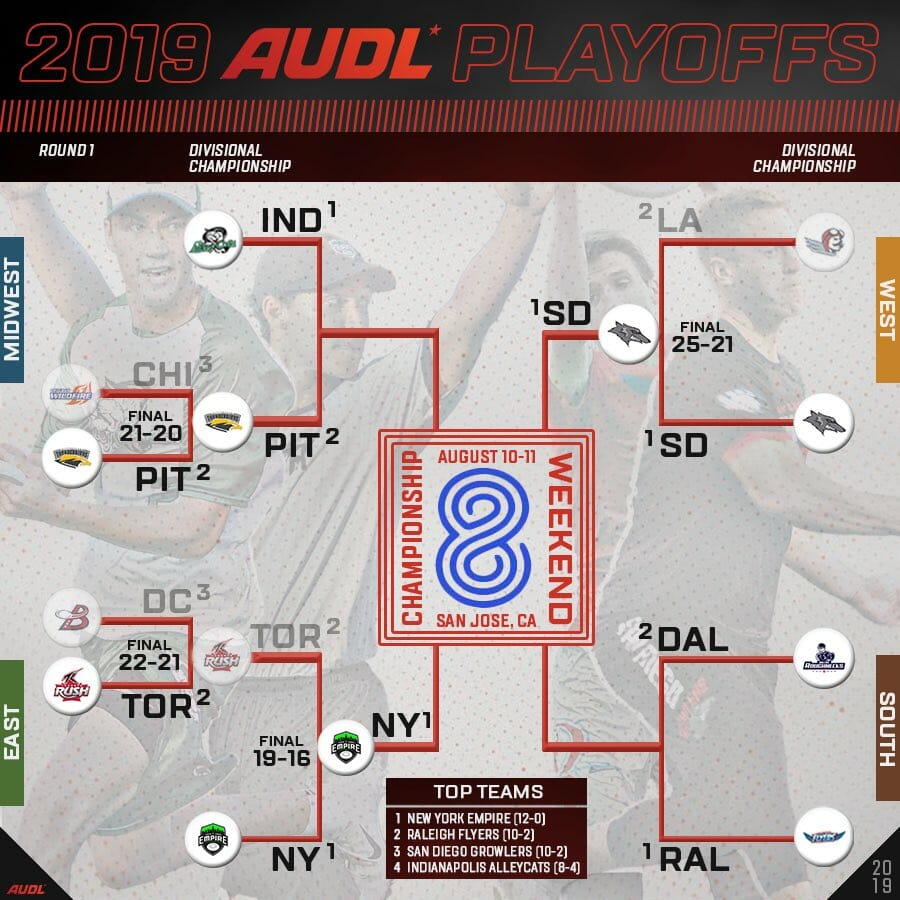 Throughout this AUDL season, Ultiworld will be publishing a weekly Throwaround, a chance for you to catch up on the amazing, funny, and interesting moments that you might have missed from the weekend's games.
Two Divisional Championships down, two to go. Championship Weekend is just two weeks away!
The Scores
Chicago 20-21 Pittsburgh
Los Angeles 21-25 San Diego
DC 21-22 Toronto [in New York]
Toronto 16-19 New York
Growlers Headed To First Championship Weekend
The San Diego Growlers won their first ever division title last weekend with a resounding 25-21 victory over the Los Angeles Aviators.
San Diego came out of the gate hot, taking an early 3-1 lead. The Aviators were able to stay close thanks to clutch plays from Tyler Bacon and Danny Landesman, but the team threw away a few blades forced by a high pressure Growlers defense. San Diego took that two break lead into the half.
In the second half, San Diego began to make mistakes of their own, with the handler core of Michael Tran and Tim Okita stifled by a sideline double team. They started forcing unnecessary shots downfield. Los Angeles converted their break chances with a fast break offense and took a 17-16 lead late in the 3rd quarter. San Diego recovered quickly, though, putting in a break of their own and bringing their lead to two on a Goose Helton buzzer-beater.
In the fourth quarter, the Aviators defense ran out of steam and the Growlers started to run away with the game. Once the dynamic San Diego offense rediscovered its footing, there was little Los Angeles could do to stop the skilled and practiced Growlers throwers.
Tran led the San Diego offense, scoring six goals and completing 54/56 of his passes. Backfield partner Okita also took on a heavy throwing load, completing 61/64 of his passes and tossing three assists. Downfield, Helton (who flew in to San Diego from Masters Nationals in Colorado to play in this game) won his matchups and threw six assists of his own. MVP candidate Travis Dunn had a well balanced game, catching four goals and throwing four assists as well.
San Diego has been building towards this moment for five years. Their group of players is nearly entirely homegrown (save for AUDL journeyman Goose Helton) and is looking forward to its first Championship Weekend together. The Growlers have looked dominant this season as other West contenders have taken a step back. San Diego will be either the two (if Dallas wins) or three (if Raleigh wins) seed at Championship Weekend, crucially avoiding a semifinal against the undefeated New York Empire.
Los Angeles heads into the offseason with its head held high. The Aviators had a better season record than most predicted and will rely on its young talent stepping up to compete next season and beyond.
-Alex Rubin
LA/SD Highlights
Los Angeles Aviators v. San Diego Growlers Highlights
New York Heads To Champ Weekend Undefeated
The New York Empire took down the Toronto Rush 19-16 in the East Division Championship game and will head to their second straight AUDL Championship Weekend.
This year, it was no surprise upset on the road that delivered New York to the semifinals: their undefeated season continued with a home playoff win over a Toronto team that couldn't match the Empire's firepower.
Jibran Mieser, playing on the D-line, was the unlikely star on a team packed with talent, landing three layout blocks which all led to breaks.
New York took an early lead in the first quarter and never trailed. Credit to Toronto: they hung with New York all game and even closed to within one in the fourth quarter. That they were able to remain close in the game after battling from behind to claim a one point win over the DC Breeze a day prior is especially impressive.
New York will be the one seed in the playoffs, and Beau Kittredge will make his sixth straight appearance at Championship Weekend while seeking a fifth title.
NY/TOR Highlights
New York Empire v. Toronto Rush Highlights
Indianapolis v. Pittsburgh: Midwest Championship Game Preview
The Indianapolis Alleycats and Pittsburgh Thunderbirds are set to match up for the fourth time this season: this time with a trip to AUDL Championship weekend on the line. Throughout the regular season, both teams showed bits of greatness, but the Alleycats hold the series lead 2-1.
In the wild Midwest Division this year, the Alleycats picked up two key wins in Pittsburgh that were able to set them apart. A 19-16 win in early May showed the Alleycats strength. Later in the season, a 23-20 victory on June 29 locked up an Alleycats playoff spot.
For Pittsburgh, the two losses to Indianapolis bookended what was an outstanding middle stretch of the season. Between those two losses, the Thunderbirds went 5-0, picking up wins over each of Minnesota, Chicago, Detroit, and Madison. Throughout that stretch, the Thunderbirds showed an ability to dominate games, especially on the offensive side of the disc.
In their previous matchup in the last week of the regular season, the Alleycats had already clinched home field advantage throughout the playoffs and were looking to rest many of their players. With Pittsburgh needing one win on the weekend to advance in a back-to-back with Chicago and Indianapolis, they brought a full and energized group to the game. They pulled away quickly and easily took down the Alleycats, bringing life and energy to the team right before the playoffs.
After defeating Chicago last weekend in a gritty back-and-forth game, the Thunderbirds have to be coming into Indianapolis with high energy and renewed confidence.
How Pittsburgh Could Win
Throughout the season, Pittsburgh has shown explosive ability offensively. The combination of Max Sheppard, Thomas Edmonds and Mark Fedorenko have frequently done heavy lifting for the Thunderbirds' offense. Each of these players seem capable of getting open at will, and if they are able to continue to do so, they are a tough team to stop. As much as this game is about these three heavyweights, players like Alex Thomas and Dylan Best have been stepping up throughout the season and will need to continue to do so this weekend for the Alleycats to be successful.
Defensively, Pittsburgh has managed to lock opponents down, finding themselves third in the league in points allowed per game, allowing just 19. This is buoyed by some sloppy weather games and matchups against the woeful Detroit Mechanix, but still a sign of the potential the Pittsburgh defense has. With the Alleycats offense operating at a high level of efficiency throughout the year, it will be on the defense to figure out a way to slow the team down.
How the Alleycats Could Win
Figure out a way to slow down the top end of the Pittsburgh roster. Pittsburgh is a team that has heavily relied on their top players to win games throughout the 2019 season. The Alleycats, however, are a team with better depth. Expect the Alleycats to throw a handful of different bodies and looks at the Pittsburgh O-line in an effort to wear their legs out and force turnovers. There's also a high chance that a few of the Alleycats O-line stars, like Travis Carpenter and Rick Gross, see some transfer over to defense to help take on some of the tough matchups and slow down Pittsburgh.
Offensively, the Alleycats need to keep doing what they have been throughout the season. Alex Henderson has been a standout, with a high efficiency rating and completion percentage, while players like Travis Carpenter and Keenan Plew have been able to buoy a lot of the workload for the offense with a high number of touches. If they are able to stay efficient throughout the game, and limit turnovers, they will be able to pull out another victory.
Bottom Line
This game has a high potential to turn into a shootout. With outstanding offensive talent cleating up for both sides, a close, high scoring game seems likely. Pittsburgh standout Max Sheppard, who became just the fifth player in league history to record at least fifty goals and fifty assists in a single season, looks to carry the Thunderbirds to championship weekend, while Travis Carpenter, who has become as close to a household name in the AUDL as it gets, looks to push the Alleycats past Pittsburgh.
-Zakk Mabrey
Raleigh Flyers v. Dallas Roughnecks: South Division Championship Preview
Is this finally the year that the Raleigh Flyers can take down the Dallas Roughnecks in a big spot?
Raleigh hasn't advanced to Championship Weekend since the Roughnecks joined the South Division in 2016 and has suffered some heartbreaking losses in the playoffs in that stretch. Last year, the Flyers had a six point lead in the second half but collapsed and lost 20-19.
This year, though, feels different. Raleigh has been the better team all year. Although they blew a lead in the season opener away at Dallas, they went on to comfortably win their next two games — both in Raleigh — 27-19 and 22-15.
The departure of Jack Williams this offseason opened up more touches for Jacob Fairfax, who's had a tremendous season. He leads the team in assists and sits at third in goals, but, more than that, he makes the offense hum. He — along with Terrence Mitchell, also a mainstay O-line cutter — has also played in every one of Raleigh's games this season.
Dallas may not be on quite the same level they have been in years past, but they will almost certainly hold the mental edge in the contest after years of success against Raleigh when the games matter most. Carson Wilder, Jay Froude, and Abe Coffin have been one of the best offensive trios in the league, and, with a full-strength roster this weekend, will be a much tougher test than the team that showed up in Raleigh a few weeks ago for their final regular season meeting.
How Raleigh Could Win
It's simple: the Flyers need to play to their ability and avoid getting in their own way. Most (maybe all?) of the losses Raleigh has taken against Dallas in the last two seasons were caused by mystifying mistakes from the Flyers down the stretch of the game. It's been fairly clear that Raleigh is the more talented team, but Dallas is scrappy and plays hard from start to finish. The Roughnecks have historically done a great job of taking advantage of Raleigh miscues.
If the Flyers avoid the decision-making and execution errors that have plagued them in past matchups with Dallas, they will win comfortably. In their two wins this season, they largely avoided turnovers from their O-line and created enough pressure on Dallas' handlers to generate turns of their own. There's no reason that should change.
How Dallas Could Win
The Roughnecks have to be the aggressor and get big, high-quality minutes from their stars. They cannot expect Raleigh to choke away a lead — they need to establish themselves early in the game and try to stake out a lead.
Does Dallas have an answer for Raleigh's impressive bigs like Henry Fisher and Mischa Freystaetter? It hasn't seemed like it most of this year. Doing better against those two could be a difference maker in the game.
The Roughnecks also need a strong performance from their O-line backfield, which has been a weak link this season. Brandon Malecek, Henry Furuta, and Dalton Smith need to control the pace and avoid turnovers: Malecek is the team's touch leader but has just a 92% completion percentage this season, not a great number. Raleigh's top three in touches — Eric Taylor, Noah Saul, and Bobby Ley — are all at over 96% on the year.
Bottom Line
Raleigh is a 3.5 point favorite for a reason: they're the better team, and they're playing at home. But Dallas is filled with veteran players who have overcome the odds before. After all, this is a team that was in the AUDL Championship just a year ago despite all of the hype surrounding Raleigh throughout the season. Expect a battle.
-Charlie Eisenhood
Championship Weekend Scenarios
With the best regular season record, New York is locked into the #1 seed.
If Raleigh wins, they will be the #2 seed, San Diego will be the #3 seed, and the winner in the Midwest will be the #4 seed.
If Dallas wins, San Diego will be the #2 seed. Dallas will be the #3 seed with an Alleycats victory. A Pittsburgh victory would land the Thunderbirds the #3 seed and bump Dallas down to the #4.
Indianapolis can only claim the #4 seed, regardless of the outcome in the South Division.