Some thrillers capped off an interesting first day in Blaine!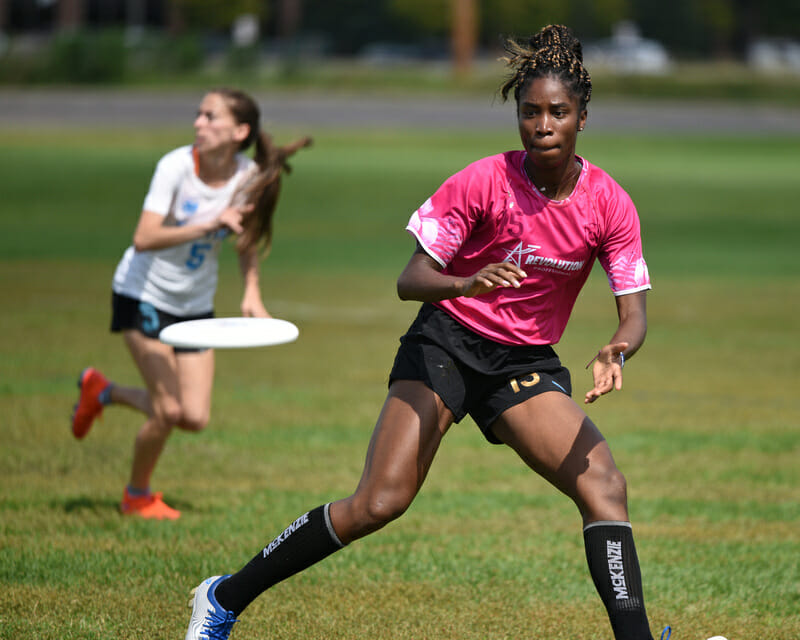 BLAINE, Minn. — Day one of the US Open is in the books. There weren't a ton of surprises, but there were definitely enough upsets and a few barnburners to keep the day interesting.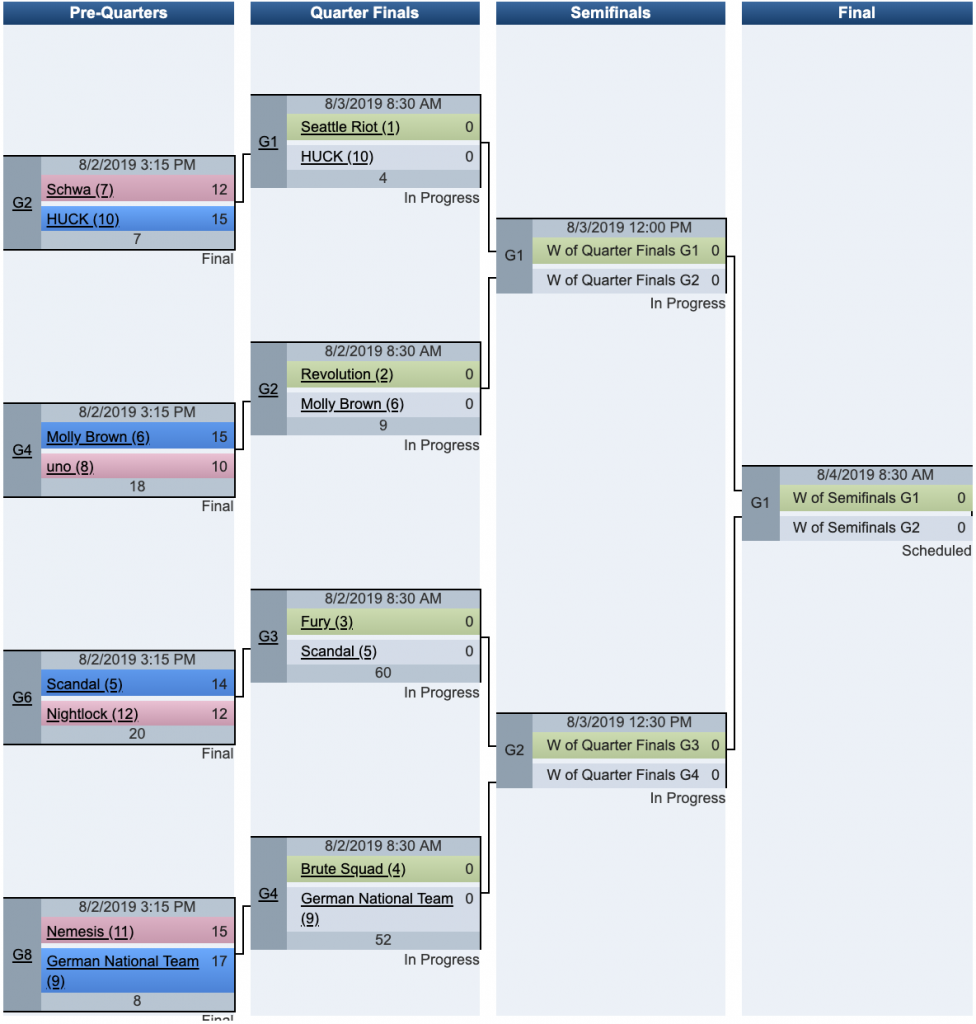 Classics In Crossovers
It will come as little surprise that the pool winner crossover games were both classics. The top four seeds — Riot, Revolution, Fury, and Brute Squad — all went undefeated through pool play, setting up Riot vs. Fury and Revolution vs. Brute Squad matchups to determine bracket placement. Both games went down to the wire.
#3 Seattle Riot fended off #2 San Francisco Fury thanks to a transcendent performance from Jack Verzuh. They simply could be not stopped in what was Verzuh's finest club performance since the 2018 WUCC final. The 2019 Callahan winner put up a massive stat line of six goals, three assists, and just one turnover, and repeatedly made dispiriting, contested catches over multiple defenders.
Through Verzuh's heroics and a lack of sharpness from Fury's D-line, Fury simply could not take the disc away from Riot. San Francisco got only two breaks all game, both of which came in the second half as they tried to mount a late comeback, but largely struggled to generate break chances.
What kept Fury in the game was an offense that was almost as impressive as Riot's. Sarah Griffith nearly matched Verzuh's offensive stat line with six goals and two assists, and apart from surrendering back-to-back breaks at 2-2, their offense was neck and neck with Riot's. Until, that is, the final point of the game, when Riot was able to break to avoid double game point.
The win for Seattle likely won't have much in the way of ramifications for this tournament, as both teams will be in quarterfinals tomorrow regardless. But it was yet another classic battle in the rivalry that will still go down as one of the games that defined the opening day of ICC 2019.
The other crossover was no less captivating. Just two years ago, at the 2017 U.S. Open, reigning national champions #1 Boston Brute Squad took the field in pool play against a Medellin Revolution team that had yet to prove itself on the world stage1. The game ended in a stunning 14-11 upset victory for Revolution that kicked off their Cinderella run to the tournament championship. Friday, two years later, the two world renowned squads clashed in the pool winner crossover and produced an instant classic of their own.
The first half of the game featured four lead changes that culminated in a two break run by Revolution to take the lead and the half at 8-7, up one break. The squads largely traded back and forth for the second half, and when Revolution held for 14-12, the victory seemed to be in their grasp. However, the Boston side ran off two breaks late, in addition to a pair of holds, and secured a 16-15 victory in the time cap.
Revolution played extremely clean and efficient offense for long stretches of the game, led by stacked O-lines featuring both Cardenas twins. The pair were responsible for 13 of Revolution's 15 assists and generally lit up the stat sheet. Manuela finished at two goals and five assists, while Valeria turned in one goal and eight assists. Their favorite target downield was Maria Angelica Forero, who posted five goals.
Despite the late heroics of the D-line, Brute Squad's offense was also clicking for the majority of the second half. The attack was balanced and dynamic, with cutters creating underneath gainers that they could then huck from out of motion. The wealth was spread out, with 16 Brute players notching at least one goal or assist, paced by Amber Sinicrope's four assists and Jessie Grignon Tomas' three goals. Boston will look to carry their momentum into their quarterfinal matchup with the German National team while Revolution will square off against Denver Molly Brown– Manuela Cardenas' American club team.
Surprise Quarterfinalists
The German National Team and Tokyo HUCK both surprised by keeping their tournaments alive on Friday, and in doing so, kept the international flavor of the tournament going into quarterfinals. The German National Team upset #10 Chicago Nemesis in prequarters behind their impressive deep game and unstoppable upline cuts. Vera Forsch was a top cutter for the Germans, but it was Kyoko Hosokawa who shone brightest, putting up five goals.
Nemesis played tight with them the whole game, and even took the lead at 14-13 after trailing 8-6 at halftime. But Germany broke right back to take a 15-14 lead, and then won broke again at the very end to win 17-15 in overtime. The win for Germany came as a surprise, but maybe they did show flashes of their potential in pool play, despite going 0-2. They were able to put up double digits on both Fury and Molly Brown. But it was the win over Nemesis that really made their day noteworthy, becoming the first European side to make quarterfinals at the US Open.
Tokyo HUCK also turned an 0-2 pool play record into a quarterfinals berth with a surprise win over #7 Portland Schwa. Schwa looked awfully formidable in pool play, playing to within 15-13 of Revolution, and finishing off a 15-7 victory over San Francisco Nightlock on a 13-3 run. But HUCK were better than their 0-2 record suggested, giving Brute Squad and Scandal tough games.
Despite Schwa's positive momentum heading into the game, the downfield fireworks of Julia Sherwood, and the tireless back motion of Laura Bitterman, HUCK overcame the Oregon squad in the prequarter round. Reona Oshima was unstoppable, putting up a game high six goals for the Japanese side. Throughout the game, the Japanese women used their ability to consistently break the mark to open up both the open and break side passing lanes. Schwa defenders were forced to respect the break cut so much that it freed cutters up for open side gainers. HUCK will look to bring that same level of throwing prowess to the quarterfinal matchup against tournament no. 1 seed Seattle Riot.
Scandal, Molly Brown Maintain Expectations
#4 Washington DC Scandal missed out on an opportunity to send the women's bracket into chaos when they let an 8-5 halftime lead slip away against Boston in pool play. Brute cleaned things up offensively in the second half, and rode their trademark defensive pressure to a 5-1 run to end the game 15-13.
"Scandal played well and worked through our D pressure for most of the game, even though I thought our pressure was pretty good. They generated a couple turns early and we had some miscommunication turns that they put away to convert breaks," said Brute Squad head coach Ariel Jackson. "In the second half our pressure started yielding turns and we cleaned up our O a bit more. It was a very close game that could have gone either way."
Scandal didn't put up super impressive scorelines in either of their other games against HUCK and Nightlock, but their results indicate a team that put together a day one to match expectations; nothing less, and nothing more. But considering the chance they gave themselves to have a special day, which went unfulfilled, that probably left them with a sour taste in their mouth.
#5 Denver Molly Brown didn't come close to a big upset like Scandal did, but they, too, gave up a first half lead against a higher seed. They went up 6-4 on Fury, before giving up four straight goals into half time, and eventually losing 15-10. The result isn't a disaster for Molly Brown, but like Scandal, they were only able to maintain their status quo with a couple of wins over the German National Team and UNO.
Scandal and Molly Brown still have a chance to create a big weekend for themselves with a win in quarters. Scandal will play Fury, while Molly takes on Revolution. But through day one of the US Open, neither team used their opportunities to move the needle.
---
though the Colombian National Team's performance just weeks earlier had teased the potential to those who had tuned in ↩