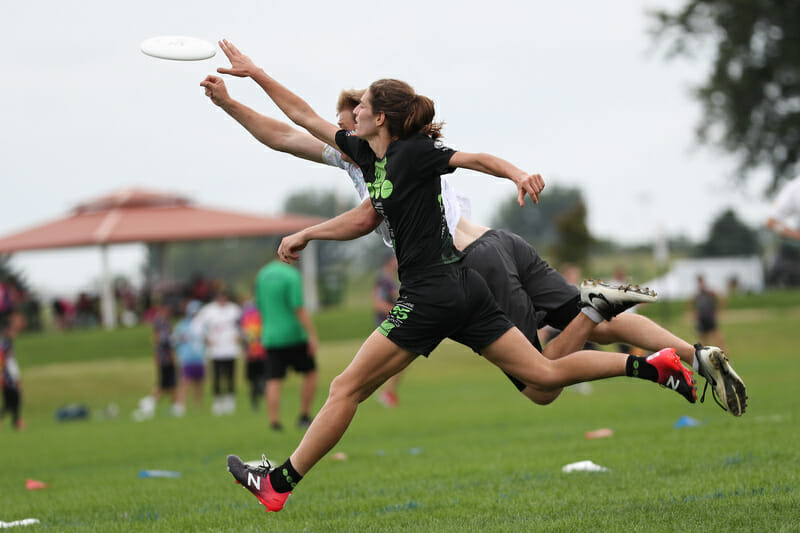 Ultiworld's reporting on the Club Mixed division is presented by Universe Point cleats. All opinions are those of the authors. Please support the brands that make Ultiworld possible and shop at Universe Point!
BLAINE, Minn. — The first day of mixed play at the US Open didn't disappoint, with top seeds reasserting their dominance and international teams showing a high level of parity with top US club teams. And after a slew of close games, it's hard to count any of the remaining quarterfinals teams out. Here's a summary of the day's highlights.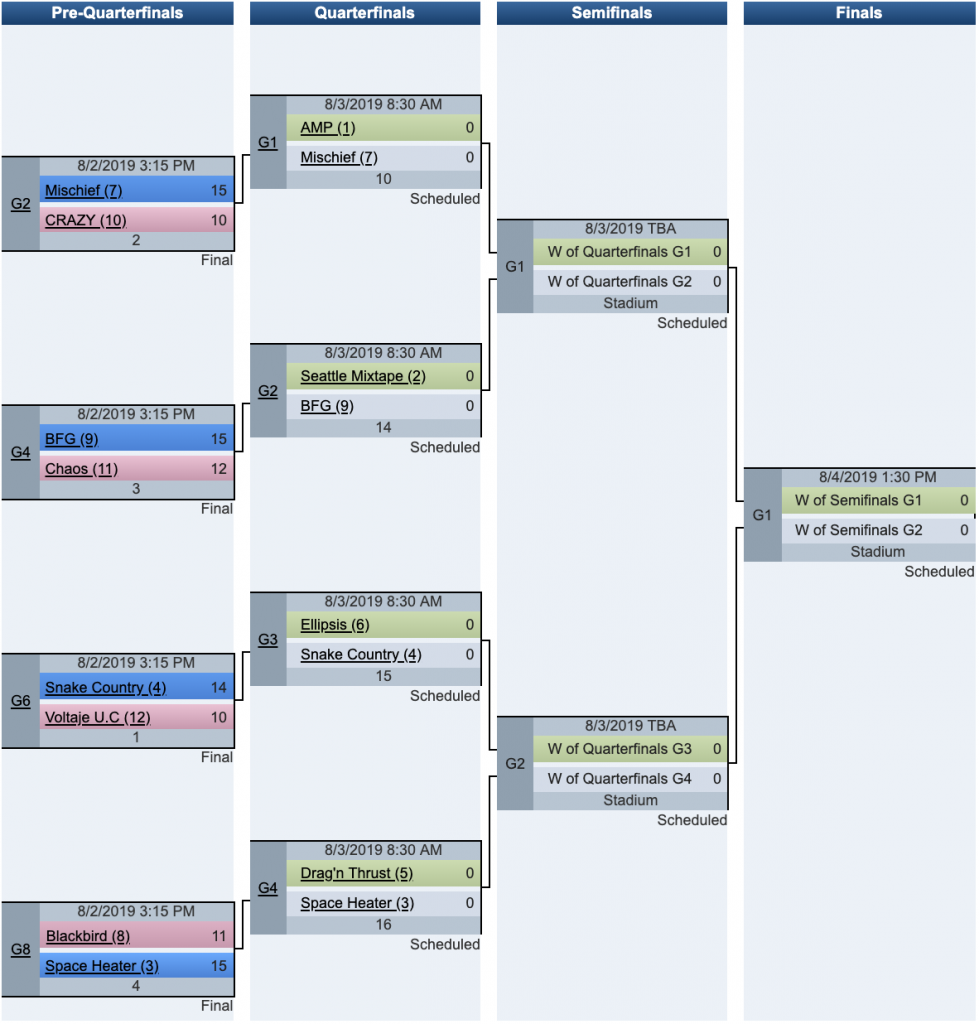 Pool Play
Pool A went mostly to seed, with Philadelphia AMP coming out on top. They won both their games easily, going 15-6 against Tokyo Chaos and 15-11 against San Francisco Blackbird to advance to quarterfinals. Robert Roos tied Anna Thompson for the most assists for AMP, with Michael Ing not far behind. Natalie Bova came out of pool play with the most goals, establishing herself as an important player to watch for their offense.
Seattle Mixtape had a bumpier ride through their pool than they were expecting, though it's likely a result of missing some serious roster pieces. In the absence of standouts like Kieran Kelly, Ellen Goldberg, and Jenn Cogburn, not to mention U24 star Abby Hecko, Mixtape had to rely heavily on Adam Simon and Bryson Fox to pad the stats sheets. In their game against Bucaramanga Voltaje, Mixtape struggled to contain Daniela Hernandez, the MVP of the Colombian mixed team. In the end, they pulled away and won 15-12. Their next game against San Francisco Mischief was much tighter. Mischief took to the field a little disorganized and went down two breaks to start the game. But once they cleaned up their game, depending on Lily Steponaitis to generate blocks and Lexi Zalk to control cutting lanes, they made up serious ground. Mischief lost 13-12 to Mixtape, but with more time, they might have continued their run and eked out a win.
Pool C saw something of a shake-up, but it wasn't a fluke. Both Ellipsis and BFG came out playing much better than their seed suggested. In the first match-up, Seattle BFG vs D.C. Space Heater, BFG came out with a patient, highly systematic offense. They looked unstoppable when they stuck with it, relying on Alexa Kirkland and Jay Boychuk to make big plays on offense. Space Heater didn't maintain the same kind of structure, opting instead to showcase their skill set of precise and unpredictable throws. Alan Kolick continues to make a huge impact for Space Heater, throwing 30 yard hammers for scores and beating everyone in the air. Jenny Fey also called him "the best poach defender in the game," and it was easy to see why. But in the end, BFG's system-based offense prevailed and they took the game 15-12.
For Melbourne Ellipsis, the game against BFG was the one to win. Bringing only 16 players to the tournament meant that a win in the second game launched them straight to quarters, with just a seeding game left in the day. By the time that afternoon game rolled around, BFG had exhausted some of its patient offense. BFG and Ellipsis traded points and both opted for a game full of big throws. In the end, Ellipsis' elite throwers found their deep cutters more reliably. They benefited heavily from Cat Phillips and Caroline Ma's expert throws, and on Tom Tullet for well-placed defense and handler motion. Tommy Li had a standout game for BFG, but it wasn't enough to stop the Australian powerhouse. Ellipsis took the game 14-13.
The final pool saw Minneapolis Drag'n Thrust upset Boston Snake Country to come out on top. The showdown was a game to see.
Snake Country jumped ahead 3-1 early. The Drag'n O-line switched out of their vert, which helped with resets, and used their D-line to generate momentum. Both teams had standout players, so the star match-ups were especially good. Brian Schoenrock and Peter Prial duked it out until Prial hurt himself on a monster shoulder-height bid, keeping him out for the rest of the game. Erica Baken was especially important to Minneapolis' win. She controlled the offense movement as a handler and managed some absurd bids to maintain possession during key moments. Drag'N took the game 15-12, but Snake's captain Anna Beddor wasn't too shaken by the loss. The team was missing a few key players this tournament, and they were working to catch up on chemistry formation, as they have a traveling team without much practice time under their belts yet.
Crossovers
The winners of the pools automatically secured a spot in the quarterfinals but moved on to play a seeding crossover to determine which side of the bracket they would land in.
The four teams who advanced out of the pools to the crossovers were AMP, Ellipsis, Seattle Mixtape, and Drag'n Thrust.
AMP found a good challenge in Ellipsis, who leaned heavily on Tom Tulett to create scoring chances for the team. Rosie Dawson stood out in the crossover, scoring four times for the Australians. On AMP's side, the play was more distributed, with Bobby Roos, Danielle Walsh, and Emily Shields all creating scoring opportunities with well placed puts. Ellipsis pushed last year's club champions to the limit, giving them a closer game than they've had all season, but AMP took the crossover 16-15.
The Drag'n Thrust-Mixtape match-up was a much more lopsided game, but not in the way you might have guessed: Drag'n Thrust took the game 15-9. The Minneapolis team was running hot all day long, and after trading points with the Seattle team for most of the first half, they edged ahead by two heading into half. A dropped pull immediately after halftime launched a string of unlucky Mixtape mistakes in the second half. Becca Ludford and Sarah Meckstroth took over the cutting lanes and dominated the field, while Baken and Kat Ritzmann again had stellar games. Mixtape couldn't keep up with the talent of the Drag'N women, and the hometown team ran away with the crossover.
Pre–Quarters
The teams who had lost one or both of their pool play games went straight into the bracket, landing in the Pre-quarters. All twelve teams had the chance to advance through the championship bracket, but the pre-quarters results didn't shock, going entirely to seed.
Mischief topped Japan's CRAZY 15-10 in an athletic and fast-paced match-up. The San Francisco team went up early and held their lead. Though the players from Japan were offensively outmatched, they put some outstanding defensive pressure on Mischief. Narumi Tomoda made a big impact on the game, with well-timed poach blocks and several assists. Hazuki Irie led the team in scores, putting up three goals.
The way BFG was playing all day long, it's no surprise they won their pre-quarter. But the 15-12 win over Chaos was closer than it had any right to be, a testament to Chaos's gritty defense and fast play. Wesley Groth had three assists for the team out of Tokyo, and Ryotoa Tomioka led the scoring with three goals. Young star Kaia Roast had a standout game for BFG, throwing five assists.
Snake Country topped the Colombian team 14-10. Voltaje went down early but never let their energy dampen. Most of Voltaje's turns came from an effective four-person zone and suffocating marks. Their fast break opportunities, utilizing the strengths of Michael Espinoza, Luisa Sanchez, and Gabriella Hernandez, often connected for scores. But when Snake got them to slow down their offense, they tended to get stuck. Snake Country managed to exploit that weakness and kept their lead throughout the game.
Space Heater started to hit their stride in their win over Blackbird. This was maybe the highest parity in any of the pre-quarters game, and the only one between two US-based club teams. After two losses in pool play, Space Heater needed to have a great game to beat the San Francisco powerhouse. And since Space Heater has only had one practice so far this season, they needed to find some better chemistry quickly to stay alive in the tournament. It was a one-point game through the second half, until Space Heater found the gear that got them to semifinals last year. And just like that, they ran away with the game, winning 15-11.