The 2019 AUDL champion is set to be crowned!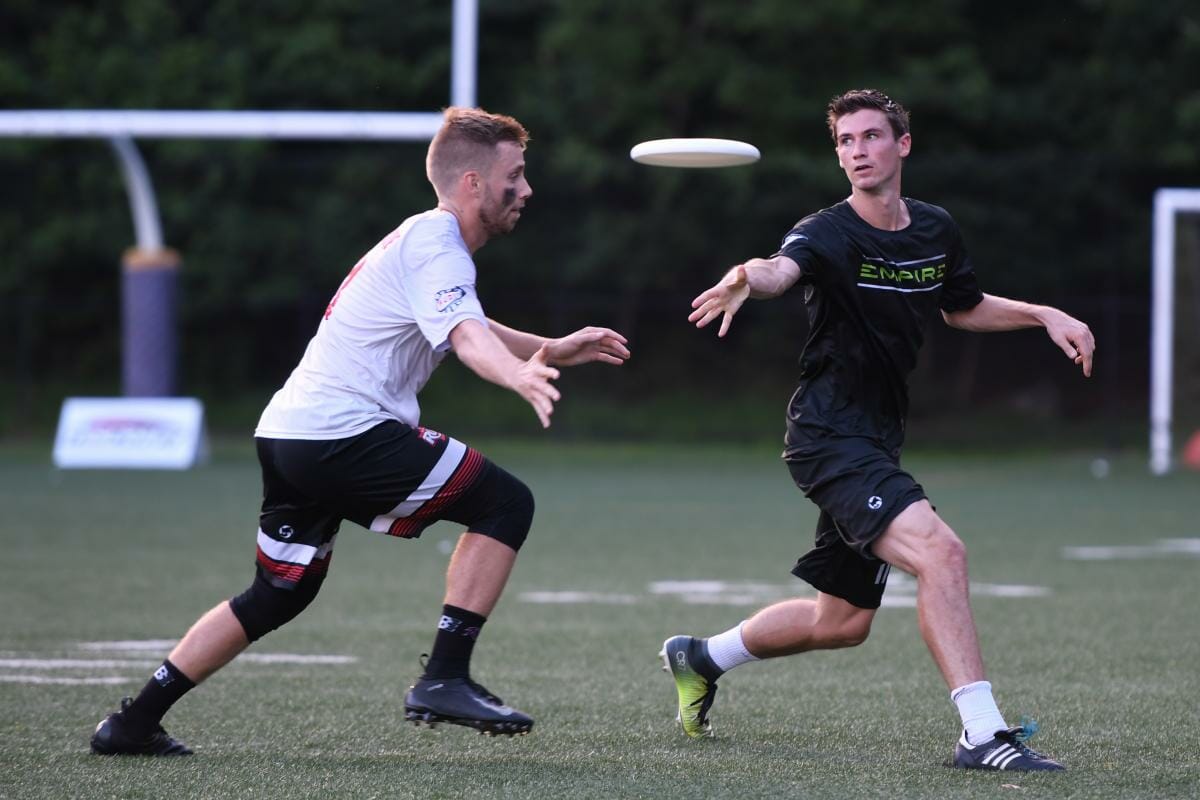 Throughout this AUDL season, Ultiworld will be publishing a weekly Throwaround, a chance for you to catch up on the amazing, funny, and interesting moments that you might have missed from the weekend's games.
The 2019 Championship Weekend is finally here! Game action kicks off Saturday afternoon from Foothill College Stadium in San Jose, California.
The New York Empire take on the Indianapolis Alleycats on Saturday at 4 PM Pacific, and the Dallas Roughnecks will face the San Diego Growlers at 7 PM. The final will take place Sunday at 12 PM.
Games will be streamed live on Stadium.
Undefeated New York To Face Off Against Battle-Tested Alleycats
The Indianapolis Alleycats (O/U: 42.5) and New York Empire (-2.5) are set to face off in the first AUDL semifinal. The Alleycats, who came out of the wild Midwest division, finished the regular season with a record of 8-4 and handily defeated the Pittsburgh Thunderbirds in the Midwest Divisional Championship. For the Empire, it has been a season of dominance, as they enter the matchup with an undefeated record of 13-0.
Cross-divisional matchups are tough to analyze in the AUDL, as they are so infrequent. Outside of a few matchups per year, teams are relegated to playing against divisional opponents, and playing levels, skills, and styles vary widely from region to region. The Alleycats, for example, took on the Atlanta Hustle in an early season game, and despite finishing with a much better record on the season, the Alleycats were thoroughly outmatched by the athleticism and pace exhibited by the 5-7 team from the AUDL South.
On paper, though, the Empire look like the heavy favorite. The Empire have several players who would play at an MVP caliber no matter the team they found themselves on. Ben Jagt has been spectacular this season: he leads the team in plus-minus (+93), goals (56), assists (56), and points played (332). No other player in the league has 50+ goals and assists. Evan Lepler just named him the #1 player at Championship Weekend.
But his teammates aren't far behind. Jeff Babbitt, Grant Lindsley, and Jack Williams are all transformational talents. Babbitt is a top ten block getter (19) in the league, and Lindsley and Williams have been alpha cutters on some of the world's best teams.
"There is no denying that New York is the Golden State Warriors of the AUDL right now," says Alleycats standout Travis Carpenter. "However, as we just saw last season, sometimes having a team full of superstars can end up causing issues when it matters the most."
Despite an undefeated run through 2019, the Empire have had much closer games than might expect. Of their 13 games, 12 have been decided by five points or fewer, and they've had three one point wins. Tight games have become the norm for the Empire, and having a heavy load of top-end talent helps to bring a clutch aura around the team, allowing them to take control with timely big plays that swing the game's momentum.
For the Alleycats, enough can't be said about players like Travis Carpenter (58 assists), Keegan North (32 assists, 28 goals), and Keenan Plew (22 assists, 20 goals). Three of the workhorse players for the Indianapolis O-Line, they have the ability to help the Alleycats grind through possession after possession and have helped bolster the Alleycats offense to elite levels, with a 94.6% completion rating to date.
While matching up against such top end talent, it will be up to the Alleycats D-line to play team defense and be able to make big plays. Players like Nick Hutton are accustomed to making highlight plays on the D-line: that will surely need to continue for the Alleycats to have a chance at Championship Weekend. Once given the break chances, it'll be on the heady Brett Matzuka to continue to efficiently push the Alleycats into scoring position.
How New York Could Win
For New York, they have the players to be one of the greatest teams in AUDL history. It will be on them to not be lazy early in the game. If they can roll out a few quick breaks, then they should be able to put the game away comfortably. As we have seen throughout the year, though, the Empire have made a habit of letting teams hang around deep into the game. That can't happen at Championship Weekend.
Offensively, New York should look to exploit some matchups. They have good team speed and a lot more size than the Atlanta team that trouble Indy during the regular season. If the Empire can be dynamic with their athletes in space, something they've been all season, they will be tough for the Alleycats to slow down.
Defensively, New York has a couple of key matchups to win. Travis Carpenter and Keenan Plew garner a lot of touches for the Alleycats offense, and slowing them down would go a long way in stopping the Alleycats offense. Jeff Babbitt does a great job of taking away deep shot opportunities and eating up space in the middle of the field on defense, but it will be on someone to stop the churning underneath cuts that the Alleycats thrive on to take them out of their element.
How Indianapolis Could Win
Ride high off the emotion. The Alleycats are a team packed with players who have been together for years. Carpenter, Plew, Cameron Brock, and Kyle Cox have been members of the team since the AUDL started in 2012. Levi Jacobs, Rick Gross, and others are not long behind them. For the team, this season has been an emotional high, and if they can continue to ride that wave, it's not impossible that they could pull off the upset.
Offensively, it will be about continuing to do what they have done throughout the season: grind unders, make smart throws, and move the disc without too much risk-taking. When the Alleycats are working through their offensive system, they have looked very good. There will be times when New York has players who can simply overpower their matchup; it will be on the Alleycats to just continue to work through the second and third options and not give in to taking the 50/50s.
"I think the type of team that pulls upsets in these situations are the ones that are systematic, confident, and organized," says Carpenter. "That is exactly what the Allleycats are this year."
Defensively, Indy needs to rely on playing together as a team and avoiding getting stuck in unfavorable one on one isolations. Expect to see switching, transitional junk looks, and some other quirks designed to disrupt isolated lane cutting.
The Bottom Line
New York has the better top players and better depth on both lines. They should be considered the heavy favorite for the weekend. If they are able to make the game into a battle of one on one matchups, they will be nearly unstoppable. The Alleycats need to turn it into a slog to have a shot at a win.
High Flying Offenses To Clash In Second Semifinal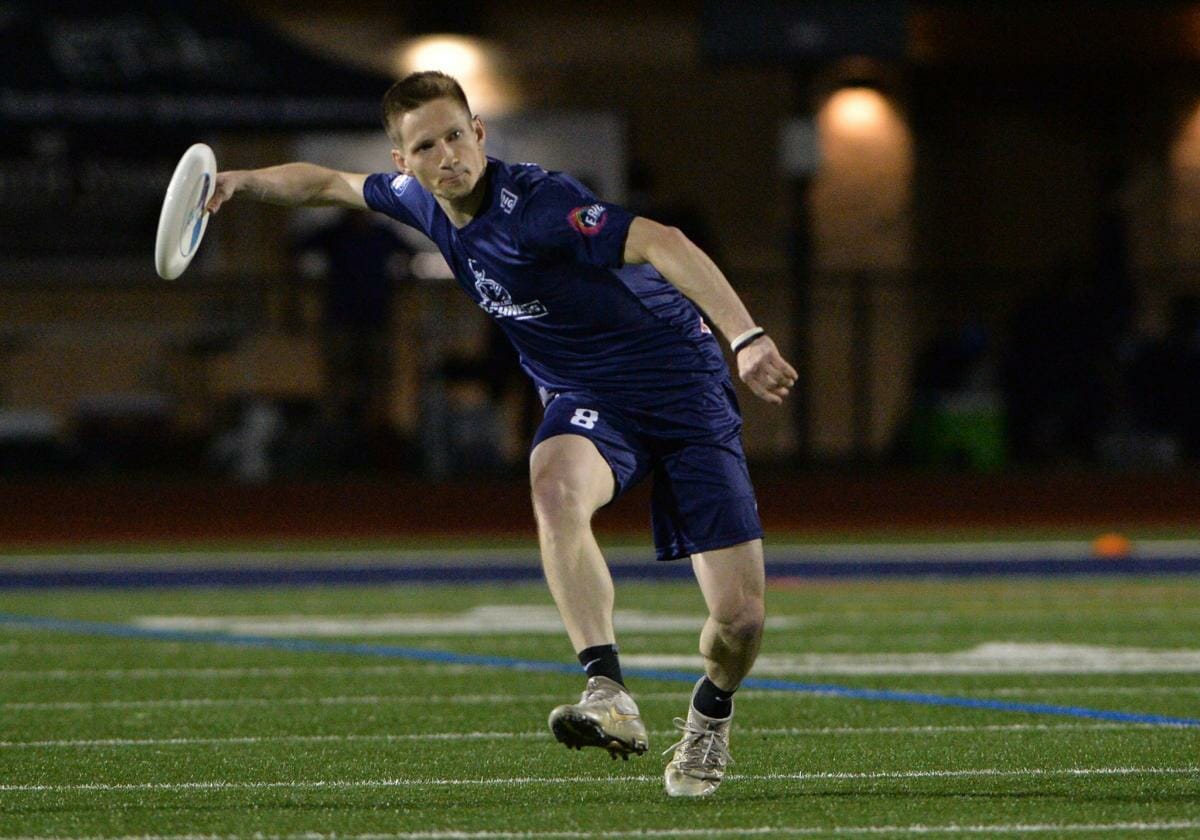 In the second AUDL semifinal, the first time participant San Diego Growlers (-3) will face off against the Championship Weekend mainstay Dallas Roughnecks (O/U: 43.5) in a highly anticipated showdown. Each team comes in to this game with an exciting offense and incredibly talented athletes playing on defense. Though San Diego might be less experienced, do not expect them to roll over and play to Dallas' strengths. The Growlers have been building to this weekend since their inception and are hoping to make their first Championship Weekend appearance a memorable one.
San Diego finished the regular season 11-2, decidedly winning the West Division. They dropped a fluky game to Seattle early in the season and a late game to a charging Los Angeles Aviators team desperate for a win. On the whole, though, San Diego has not looked uncomfortable much at all this spring and has built confidence throughout the season.
The Growlers are led by MVP candidate Travis Dunn as the centerpiece of a dynamic cutting core. Dunn (52A, 37G) can do damage as a downfield threat or as a thrower. He is at his best catching initiation cuts in space and using his throwing arsenal to hit continue cuts to Jonathan "Goose" Helton, Jesse Cohen, and Sean Ham, who led the team with 47 goals.
Helton is one of the most experienced players in the league and is one of the few players on this Growlers team with Championship Weekend experience. In addition to his off-field value, Goose adds a dynamic receiver to an already impressive offense and has throws to rival the best players on the field. If San Diego is able to pull off the underdog win, it is likely because Helton played his best game.
Additionally, the Growlers have one of the strongest defenses in the league. This season, they gave the West Division fits with a transition zone look that stifled pull plays and forced teams out of their rhythm. In matchup defense, the Growlers can hang with any team. San Diego trots out a stable of athletic defenders that can play with the best. Dallas has some excellent athletes downfield, but will need their best efforts to escape the blanket coverage San Diego is known for.
Finally, San Diego is one of the most consistent teams in end-of-quarter situations. They have a tall line of players like Trevor Purdy and Scott Radlauer who can swarm jump balls, and throwers like Helton and Dunn who can launch full field hucks at a moment's notice. San Diego has mastered the art of stealing a break by scoring at the end of one quarter and holding on the first point of the next quarter. They played in plenty of close games that were turned because they've been better in the 'special teams' situations.
Dallas finished the regular season 9-4 to take second place in the South Division, before soundly defeating the Raleigh Flyers on the road in the South Championship Game to advance to their fourth consecutive Championship Weekend. That win extended Dallas's impressive streak of making it to the final four every year of the team's existence; the Roughnecks will hope to use their experience as an advantage while facing off against a Growlers team full of Championship Weekend rookies.
In June, Dallas lost to Raleigh by nine goals. In early July, they lost by seven. By the time the playoffs rolled around, Dallas had the Flyers figured out and rolled to victory. However, at Championship Weekend, the Roughnecks won't have the luxury of being able to make adjustments between games. They will have to face new opponents each game. The Roughnecks will need to be able to make in-game adjustments in real time in order to win.
Abe Coffin (41A, 20G) is the engine that runs the Dallas offense. While he has shown tremendous talent in the past, this season has been a breakout for him after taking last season off. He has improved his completion percentage and his statistical output since we last saw him on the field in 2017, and he continues to grow as an emerging leader in the post-Beau Kittredge/Jimmy Mickle Roughnecks team. Dallas almost needs him to have a big game in order to win. In an electric playoff performance against Raleigh, he delivered a whopping nine assists on 100% passing.
Jay Froude is another player to watch for the Roughnecks. He seemingly has a permanent place in the AUDL Top Ten Plays of the Week with his high-flying, acrobatic style of play. Don't be fooled–he can win with his throws, too, and has a lot of Championship Weekend experience from his years in Madison as well as Dallas.
Dalton Smith is a wildcard for this Roughnecks team. He takes a lot of touches and makes smart decisions with the disc. His role is not to take the shots, and he does not rack up a lot of counting stats, but he is a vital member of this Dallas team and helps the offense hum along. He can also let some throws rip, though. If Dallas has a big offensive showing, it would not be surprising to see Smith near the top of the stat sheet.
Dallas has five defenders who recorded double digit blocks on the season and has had one of the league's most impressive defenses this season. Like San Diego, the Roughnecks have plenty of athletic defenders who can hang with even the best offensive cutters. Facing threats like Ham, Dunn, and Helton, Dallas's defense will have its work cut out for it. The Roughnecks may have to cross over some offensive players like Froude in order to limit the Growlers' scoring chances.
How Dallas Can Win
Although they are "Vegas underdogs," Dallas should be considered the favorite in this game and can win by patiently playing their game. San Diego has a tricky defense to figure out, especially for first time opponents, but does not have the depth of a perennial powerhouse like Dallas. The Roughnecks can lean on players like Coffin and Froude if the going gets tough, helping to work through the Growlers' teamwork and built-up chemistry.
How San Diego Can Win
San Diego likely needs the game to turn into a shootout to win. When the Growlers offense is clicking, they can really pile up the scoring. Sean Ham is one of the strongest deep threats in the league, and Dunn and Helton are two of the most multi-talented cutters. What they lack in experience San Diego makes up for in team chemistry and trust. The Growlers homegrown handling duo-Michael Tran and Tim Okita–is underrated and has stepped up this season in a big way.
Additionally, playing on the west coast, San Diego could have a bit of a home field advantage. While the games will be played in San Jose, the Growlers will be playing their third game of the season at Foothill College Stadium. There is a funky stadium wind in San Jose that always seems to affect visiting teams–perhaps San Diego can use their experience playing at this site to their advantage to steal a few early points.
Bottom Line
We are probably looking at another appearance in the championship game for Dallas, but do not count out this San Diego team. This game will likely be a high scoring affair, as both offenses are capable of putting up 25+ points a night. Dallas has a bit more defensive depth, which could make the difference in a matchup between teams who both will feel like they have a shot not just to win this game but the final as well.