The most competitive EUCR of them all!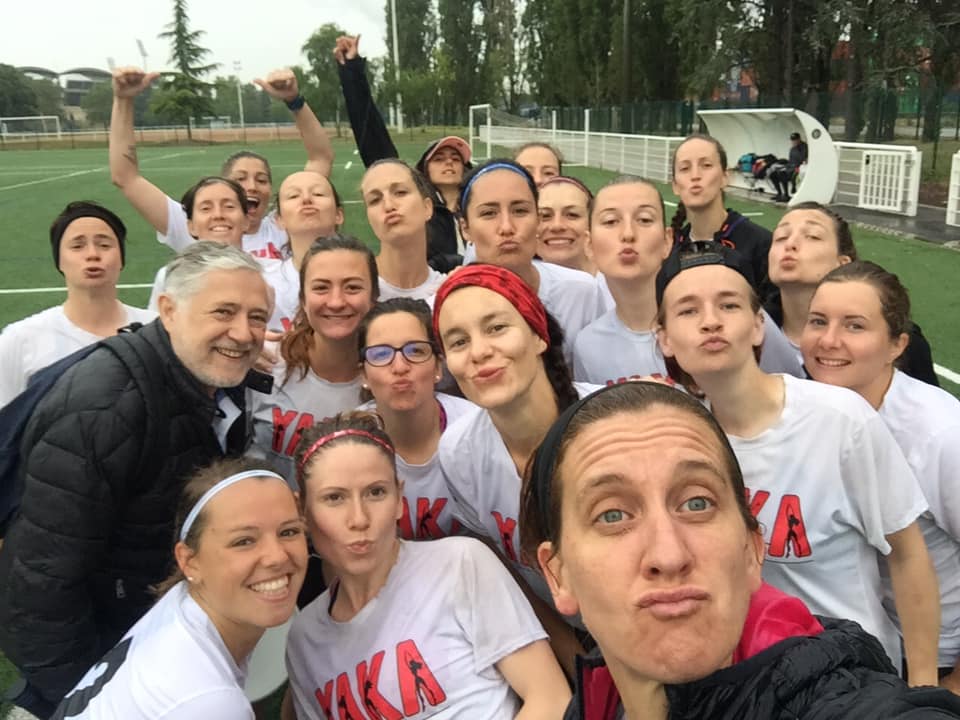 With only two available allocations to EUCF in Carole, Italy in late September the Women's division in the South region is surely the most difficult to qualify through. Ten teams in the division, split into two pools of five. The winner here will get the first seed at the EUCF. Everything will be on the line in Paris' most ultimate outskirt; Noisy-Le-Sec. With the qualifying potential being so precious let's break these teams into three theoretical subsections.
Tournament Profile
Dates: 31 August – 1 September
Location: Noisy-Le-Sec (Paris), France
Weather: Mostly sunny. 32 C on Saturday, 22 C on Sunday. Winds 6-18 km/hr
Number of teams: 10
Number of bids to EUCF: 2
Team Breakdown: Italy-3, France-3, Switzerland-3, Spain-1
Format
| Pool C | Pool D |
| --- | --- |
| CUSB Shout | FABulous |
| DetoNantes | Tequila Boom Boom |
| Yaka | Freespeed |
| Zagalicas | Frasba Lac |
| Swarm | Discjontes |
After pool play the teams all play their peer from the other pool in a placement game. Therefore, the top team from each pool makes the final. However, there is a game to go between the loser of the final and the winner of the two second place pool finishers. This means you have to finish in the top two of your pool if you want a chance to qualify for the EUCF.
The Contenders
These three teams are the most likely to qualify out of this region. They are all good enough to represent the region, and at least one will be forced to miss out.
CUSB Shout (Bologna, Italy), the reigning EUCF champions, will travel to France with high hopes to qualify, though they're not quite the outfit that won them the crown last year. Notably absent will be Anna Ceschi who has moved stateside to study, and play with Raleigh Phoenix.1 They won't have the services of their 'Yaka crew' from last year either, as Aline Mondiot, Daniela Rodriguez, and Annika Wolfsteiner are all out of the Shout fold. They have, however, acquired Mantis sensation Silke Delafortrie, and have seen roster improvements across the ranks of their Bolognese soldiers. Laura Farolfi, Greta Melega and Elisa Frangipani all return from EUC injuries, and the roster is deep with talent and a wealth of championship experience. As strong champions last year, they will have swagger but will still need to be exceptional on Sunday to afford themselves an opportunity to defend.
The northern Parisian's, Yaka (Noisy-Le-Sec, France), are back, and after taking last year off after WUCC. It could be argued that the South Region's limited allocations were, in part, a result of Yaka's absence in last years EUCF. Regardless, they're back, and their roster looks mighty strong. Captain Aline 'Rasta' Mondiot, fresh off her Eurostar debut, will have her team looking to rally around her infectious winning vibes. So much of this roster featured on either the Mixed or Women's French National teams in Györ, and they will all play with a hometown pride which will indubitably lift them. They will also feature their Dutch ex-EuroStar, Paula Bass. If they qualify this weekend they'll also get US based cross-Atlantic star Robyn Fennig. Is it at all possible they don't make this final?
Freespeed (Basel, Switzerland) are coming in hot. Many players featured on the silver medaling Swiss national team at EUC. That team was well drilled, and found ways to win tactically, and athletically, especially in games which they were touted as underdogs. Laura Kunzelmann is a legit two-way threat, and Linnea Siebert is a 'huck from anywhere' menace to opposing defenses. This team has years of club culture and style, and they can trade with anyone. What's more? One might say they have the strongest remote compliments of any. Levke Walczak is one of the brightest rising stars out of Germany who has been playing just about every tournament on the calendar, including the EuroStar campaign that just wrapped up. On top of that they add Swedish all rounder Sarah Eklund who EuroStar'd in 2018. They'll make the final….. right?
The Potential Upsets
These teams are really good, but they're in tough for a sniff at EUCF. They're capable of beating any in the top group but will have to be scintillating to to do it in a qualifying game. Only one of them will likely get a chance to play in to that rank if the other three teams above take care of business. Whichever team gets second in their pool will still stand a swinging chance of a single victory to spoil their way in, though the odds will be stacked against them.
FABulous (Bern, Switzerland) play with style. They get incredible throwing range out of the 'DoubleHauser's', Olivia Hauser and Laura Niederhauser, who both run the show behind the disc and both have deep backhand rips ready and willing. They play a great long game with strong upfield hands and Yannicka Kappelmann who can always get open. FABulous are the Swiss champions and are perfectly capable of winning their way into a final, but they'll have to be at their best. One thing's for sure, from Rosengarten to The Clock Tower, the supporters back home will be ready to 'Feel the Bern!'
Frisbeurs Nantais DetoNantes (Nantes, France) were, for a brief fleeting moment, your French National Champions by way of leading the game 7-6 against Yaka before inclimate weather forced a cancelation. The title didn't last long as the French Federation adjusted the outcome to be a shared championship as the game had not yet reached half. These ladies will have lots to prove after having to see an asterisk next to their championship effort because of poor weather in Lyon, and they'll get their opportunity to rectify this weekend. Their star player Maelle Barentin may soon be revered as the best in France with size, speed, throws, and an incredible layout trigger. As always she'll have her favorite running mate Justine Bru to distribute a wide range of spectacular upside down break throws across the grounds. With a modestly sized roster, it's no wonder they've added the services of Parisian veteran Do Nha My Vuong to provide further handling services in hopes of taking at least one massive upset victory to get through. They start in the same pool as Yaka and Shout and will need at least one victory against those powerhouses in pool play to earn a chance to qualify for the EUCF.
The Rest
The remaining 5 are a quality collection of teams, each with a swinging chance to play their way into a top 5 spot, though it would be astounding to see even two of these teams able to win their way out of the bottom five with the strength of those aforementioned.
Tequila Boom Boom (Rimini, Italy) enter the competition with a name that could have conceivably been born of Paganello folklore, Captain Nicole Lafiata led her team to a second place finish at Italian Nationals, and they'll hope for more in France.
Swarm (Zurich, Switzerland) are a new branding of the old ZUF team that has been to the EUCF before. They only have 13 rostered players for the EUCR, but are lead by one of Switzerland's finest players, Isabelle Güttinger. These Swiss women will be hoping to get early leads, and trade out for quick finishes, they'll be hard pressed for a victory on Saturday, unless they can get one from the Spaniards, and will feel the fatigue on Sunday.
Frasba del Lac (Como, Italy) has a few members from the Italian Women's National team from EUC. Team captain, Claudia Acerbis, and Sara Bounous will be relied upon to make the tide rise for the lake landers.
Ladies Jonctees (Dijon, France) from the mustard town, are fast young and fit, with some verteran leadership and nurturing. They come off of an indoor championship where they defeated Yaka in the final, but things are a bit different on grass. Laetitia Bousseau has an agile team surrounding her. They have the ability to out-run any team in the competition, and with that anything is possible.
Zaglaicas (Region of Murcia, Spain) also has a small, 13-player, roster. This team looks to have travelled the furthest to get to Noisy-Le-Sec. The South East Spaniards have their work cut out for themselves and will be hoping to turn some heads, to improve, and to have a whole lotta fun.
All the action is at the top of the table, and it all starts tomorrow!
---
You may have seen her help Phoenix to hand the EuroStars their only defeat of the tour! ↩