Enjoy your holiday? We're back with the big stories in ultimate.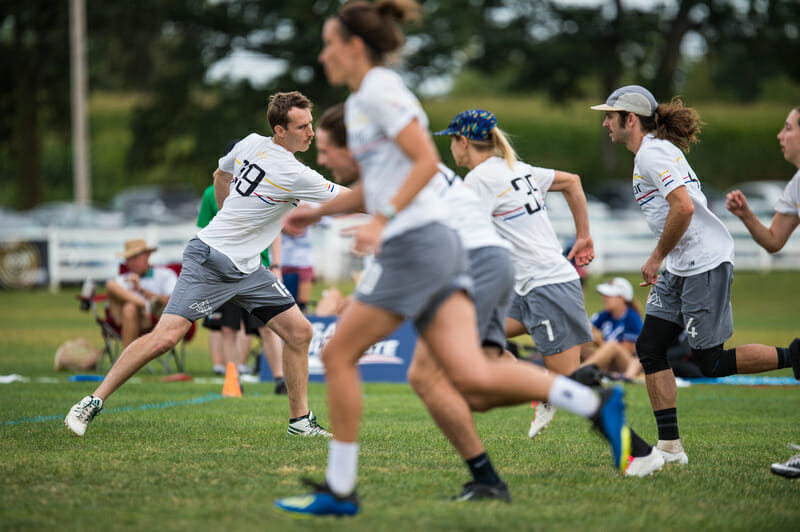 Welcome to Opening Pull, your weekly wrap-up of the previous week in ultimate. We've gathered the news you need to know and highlights you need to see, and we'll let you know what's coming up in the next week. 
PoNY, Drag'N Thrust, and Fury Take Down Pro Championships
The club regular season officially concluded in Philadelphia on Monday, when #2 New York PoNY, #1 Minneapolis Drag'N Thrust, and #4 San Francisco Fury won the finals in the men's, mixed, and women's divisions, respectively. Each went undefeated on the way to their title.
That wasn't the only thing the champions had in common: each held a significant lead at halftime. PoNY led #12 Chicago Machine before they came back to force double game point, which ended with New York scoring to make it 12-11. Drag'N Thrust was up on #2 Philadelphia AMP and held on for a decisive 13-9 victory. Fury had the oddest ending, when #5 Denver Molly Brown mounted a dramatic comeback that was cut short by inclement weather, with Fury up 12-11 as the game was declared finished.
For more, check out our day one and day two coverage. We will have full recaps of the finals and the tournament this week!
USAU Club Ultimate Sectional and Regional Bid Allotments Finalized
USA Ultimate released the final counts for this year's club Sectional and Regional bids. The women's division of Great Lakes has the fewest bids of any region, with just nine. The sections of Alaska and Hawaii, across all divisions, sadly have zero bids. We await the final numbers on bids to this year's National Championships.
EUCF Field Set After Two Regionals Weekends
After the European Ultimate Club Regionals – South concluded this past weekend, the stage is now set for the European Ultimate Club Finals. Here are the EUCR winners; you can click each division to see the full results and the rest of the qualifiers. All of the qualifiers will fight for the European club crown in Carole, Italy from September 27-29.
For more, check out our EUCR coverage.
Central
Women's: Mainzelmädchen (Mainz, Germany)
Men's: Bad Skid (Heilbronn, Germany)
Mixed: GRUT (Amsterdam, The Netherlands)
East1
Women's: Cosmo (Maribor, Slovenia) / 3SB (České Budějovice, Czech Republic)
Men's: FUJ (Prague, Czech Republic) / FWD>> (Vienna, Austria)
Mixed: Flow (Wroclaw, Poland)
West
Women's: Dublin Gravity (Dublin, Ireland)
Men's: Clapham (London, UK)
Mixed: SMOG (Northern England, UK)
North
Women's: Cosmic Girls (St. Petersburg, Russia)
Men's: RealFive (Dzerzhinsk, Russia)
Mixed: PuTi (Helsinki, Finland)
South
Women's: CUSB Shout (Bologna, Italy)
Men's: CUSB La Fotta (Bologna, Italy)
Mixed: Discover Lisboa (Lisbon, Portugal)
Higlights
.@SeattleRiot's Valeria Cardenas catches the D and throws a score to Sam Rodenberg in their 15-14 pool play win over @scandalultimate at the @USAUPRO Champs. Clip by @NKolakovic #USAUltimate pic.twitter.com/10lETSNYEi

— USA Ultimate (@USAUltimate) September 1, 2019
USA Ultimate Forms Committee To Nominate BoD Candidates
The Board of Directors at USA Ultimate passed a resolution that restructured the nomination process for board candidates. A five-person committee formed of non-board members will be charged with overseeing the identification and evaluation of potential board members. They are currently accepting applications for the committee. USAU also stated they would be releasing information on the application process for open board seats on September 4th.
Coming Up
Following the conclusion of the club regular, it's shaping up to be a quite few days in the world of ultimate. The final national strength bid allocations are the top headline to watch for.
---
Inclement weather caused some game cancellations, so the finals were not played. ↩