Can Grut get another gold in Caorle over Salaspils?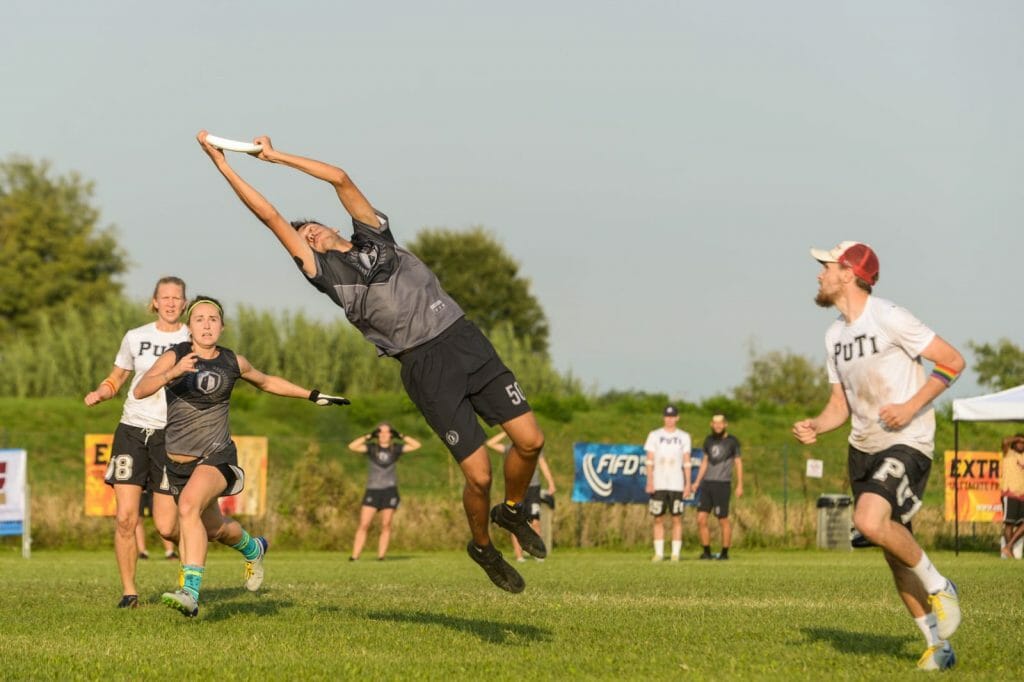 EUCF coverage is presented by Tokay Ultimate cleats. Support Ultiworld Sponsors, and check out Tokay, the cleats you were looking for.
Day two at Caorle Airport fields began with teams finishing up their final two pool games. The day finished with semifinals and after all the dust settled, we will see Grut and Salaspils in the final.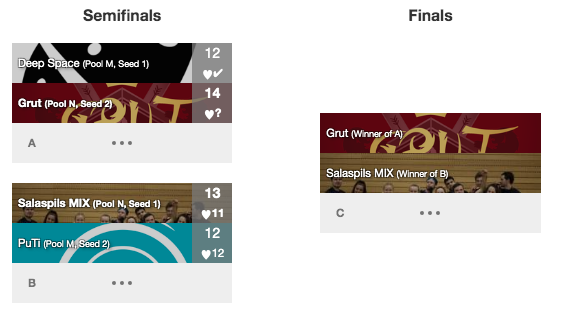 Pool M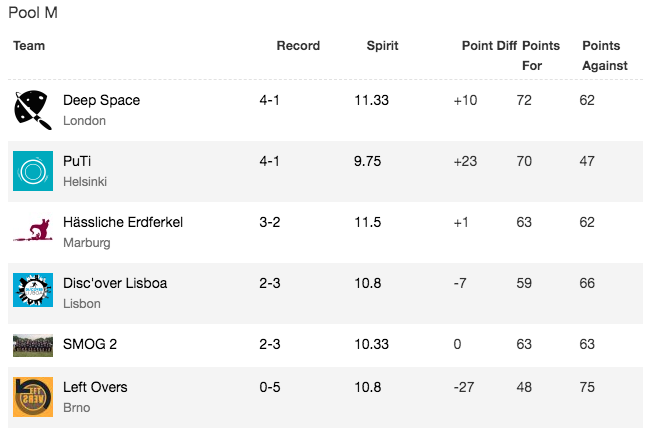 Disc'Over Lisboa (Lisbon, Portugal), who had been fighting hard all weekend, faced the dominant PuTi (Finland) this morning. Despite their best efforts PuTi gained the upper hand and beat them comfortably. Disc'Over then went on to beat LeftOvers (Brno, Czech Republic) in the same fashion.
LeftOvers, unable to claim a win yet this weekend, found themselves tantalizingly close to a strong Hässliche Erdferkel (Marburg, Germany). They started out strong, trading points until half time when Hässliche Erdferkel eventually broke them and took the lead. They fought back getting some breaks of their own and while they were able to take the game to 11-11, they couldn't bring the Germans to the finish line and came away three points short of the win.
The most exciting game in Pool M was between Deep Space (London, UK) and PuTi. PuTi had already earned a spot to the semis in this match. However, Deep Space were in a do or die game as they would have given up the second spot in the pool to Erdferkel if they had lost the game. After a close start with both teams breaking, Deep Space, who had won the first half, eventually cracked the code and took a shock win over the, so far undefeated, PuTi. Their patient offense was rewarded after a tough battle and they came out top of the group.
Pool N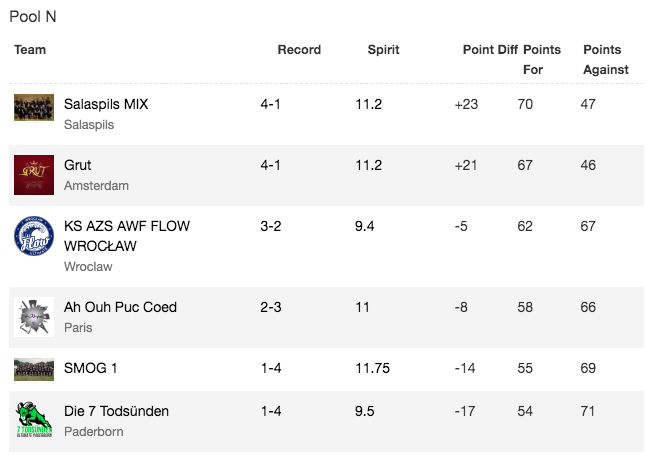 One pitch over, another battle was taking place; an exciting match up between Flow (Wroclaw, Poland) and Salaspils (Salaspils, Latvia) with the Poles taking a double game point win. Both teams were hungry for a spot in the semi finals and tensions were high. Flow's defense caused Salaspils offense to panic leading to multiple turnovers. These turnovers, coupled with some huge blocks from Daniel Blach, and Gabriela Pisarczuk, helped Flow take the lead. Salaspils' own defense was not left wanting as Reinis Otisons, Didzis Malderis , Santa Možeika, Toms Abeltinš and Dace Cirule were all able to snatch the disc back on occasion. Both sides were battling it out getting several breaks each but in the end Flow's patience and persistence was rewarded and they took a badly needed win over the Latvians.
With Salaspils claiming an easy win against Ah Ouh Puc (Paris, France) they sailed their way into a well earned spot in the semi-finals, their only loss all weekend being against Flow in the first game of the day. Unfortunately the Polish team then went on to lose to the ever energetic Grut (Amsterdam, The Netherlands) whose hard and fast defense left them unable to get into the flow of the game. This important win along with a victory over Smog 1 sent the young Dutch team into the semi-finals.
Semifinals
Salaspils nearly spill their chance at the final
Though they came out victorious in the end, Salaspils faced a strong PuTi and had to fight hard to take the win from them. They had a rocky start granting PuTi multiple break opportunities in the first point. Martinš Gusars came to the rescue with a big defensive play and this move set the tone for what was to be a game froth with exciting interceptions.
The first half continued in this dramatic fashion with many twists and turns. After PuTi gained a break thanks to Roni Hotari's heads up defense the Latvians retaliated with an endzone throw so good that two of their own players fought over it. This leveled the teams but PuTi soon pulled ahead yet again to take half with the offensive help of Raakel Sariola's forehand hucks and Katriina Ranatanen's quick reactions 8-6.
PuTi continued to take the lead as the second half began and looked as if they were heading towards a comfortable win as Salaspils struggled to keep hold of the disc. Salaspils, however, were not giving up that easily and fought back getting three breaks in a row and clawing their way to a double game point finish. Not to disappoint their fans Salaspils finished the game with a high stall hammer to the waiting arms of Reinis Otisons 13-12.
Grut found the Deep Space on the pitch and took the lead
The match-up of Grut and Deep Space was a test of energetic, organic offense versus tried and tested plays. The former won out as the Dutch youth conquered the experienced Londoners. Grut hit the ground running claiming the first score quickly with a fast throw from Walt Jansen to Lola Dam who took it down expertly as a player from Deep Space flew over her head. As the game pressed on Grut proved they were always there to back each other up as an overthrown disc from Janne Jansen was collected by an alert Lola Dam and another from Nick Coumans was saved in the arms of Joris Steneker. The Londoners also showcased their talents with some quick movements between Ange Wilkinson, Conor Hogan and, Joyce Kwok as well as lofty throws from Sam Vile to a quick Gus Morse.
Grut began to tear away from Deep Space who were struggling with some miscommunication on offense and unable to match their pace on defense. As the first half came to a close Grut had twice as many points as Deep Space 8-4 and weren't showing any signs of letting up as the second half began with Grut racking up goal after goal. While Deep Space were playing well they didn't seem to be able to come between the long-established connections that many Grut players have been nurturing since they began playing.
After some failed attempts, Deep Space finally started to notch some breaks and began to chase Grut down the scoreboard. Sadly, for them, it was too little too late and Lola Dam caught yet another goal for the win 14-12.
Finals Preview
We are set for a rematch of Grut vs Salaspils. The two teams met for the first time in the Windmill final back in 2018. Grut were the victors there, but at this tournament they met in pool play where Salaspils took a commanding 15-7 win. Grut has told Ultiworld that they were not at all happy with their performance that game and they know they have what it takes to challenge the Latvians. Salaspils are also trying to stay humble after a very tough day two where they suffered a loss to Flow and just barely squeaked by a fiery PuTi. What's for sure is that there will be a battle of two teams that play with aggressive, fiery passion, and we are in for a show in what will be the last final of the day. The matchup will be streamed on the EUF youtube channel and fanseat.